6 Reasons Investing in Digital Marketing is the Safest Bet For Doctors
Posted on

Let's start this blog post with a statistic that is enough to encourage any medical practice owner or marketer to invest in digital marketing.
87% of potential patients start their search for a new healthcare provider online. (Source)
Eighty-seven!
That's a huge market opportunity not to be a part of and definitely, the biggest reason why every doctor should consider digital marketing.
Nevertheless, here are six more reasons along with tips on how exactly to do it. Read on!

Why must doctors invest in digital marketing?
Here are six of the many reasons doctors must invest in digital marketing:
1. Digital marketing helps doctors build lasting relationships with patients
A significant percentage of medical practitioners in the US confirmed that their third biggest challenge in 2021 is retaining and re-engaging patients.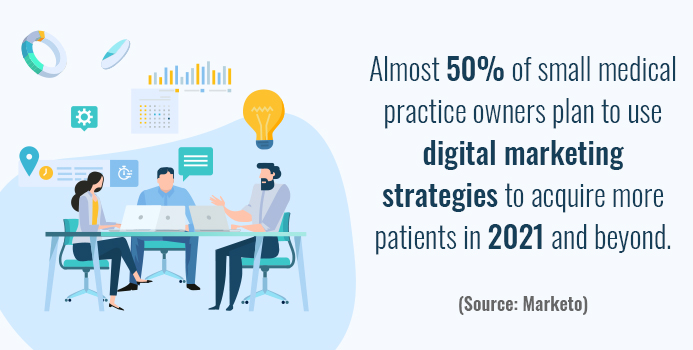 Over half a million new medical practices are launched every month in the US, so "losing" patients to competitors is a lot easier today than it might have been 10 or 20 years ago. However, if you know your target audience well and your USPs even better, digital healthcare marketing is a proven tool to keep your patients coming back for more.
Unlike traditional healthcare marketing strategies, digital marketing doesn't stop at attracting patients. It goes beyond to ensure that your patients become your brand ambassadors.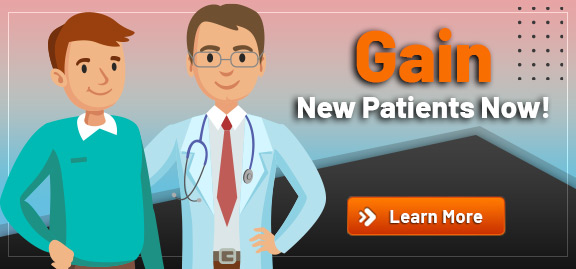 Some of the many ways digital marketing is better than "traditional" healthcare marketing are:
Using digital testimonials or reviews from happy patients instead of the old "word of mouth." The reviews usually get posted on your website and promoted in social media campaigns.
Automated but personalized thank you and follow-up emails instead of the standard, fixed-format letters for all patients. You can reach larger audiences in less time and for a lot less money.
Once they leave your office, engage patients on social media, keep your services on their minds, and have them schedule their next appointment.
Retargeting to have them try "a new service" that compliments what they have already tried.
2. You'll learn more about your patients' expectations from your brand
Another challenge for small medical practices has been to attract, capture, and convert leads into patients. To successfully do that, a small medical practice needs to identify its target patients' needs to fulfill those demands.
Effective digital marketing helps small medical practices learn the online habits of patients so they can better target ideal patients. It relies on proven market research to decide the next course of action. Savvy healthcare marketers do not make assumptions. Instead, they use digital marketing tools to learn what their target patients need. Tools like SEMRush, Google Analytics, and SurveyMonkey can help you identify what your patients expect from you and how you can address their needs with a highly personalized proposal and, eventually, convert them into loyal patients. Don't forget to use social media and your existing audience to see what they like, what kind of posts they react to the most, and what questions they had in the past.
Once you do the research, create patient personas. This will allow you to create personalized and targeted healthcare marketing campaigns for specific patients and, eventually, turn them into brand ambassadors.
3. Digital marketing helps you boost conversions
Your potential patients could be anywhere online. Social media. Email marketing. Google ads. And so on. You could use many digital marketing platforms to reach your target audience and get them to try your services. Each channel asks for a different approach, of course.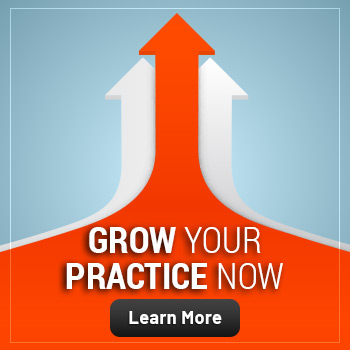 Still, once a strategy is created, it is easy to adjust the messages to different audiences and boost conversions. Some potential patients are more receptive to personalized email messages, while others prefer a combination of targeted ads and blogs to feel engaged enough to schedule an appointment with you.
Using digital marketing's multichannel approach will help you find and engage potential patients wherever they are and using whichever platform they prefer.
4. With digital marketing, you can compete better —and win
Digital marketing doesn't demand that small medical practices have an arsenal of advanced tools and massive budgets to get noticed, attract patients, and expand. Sure, some digital marketing tools will be needed, but many things depend on the experience and knowledge of digital marketing specialists. In-depth knowledge of your target audience and USP means more than any fancy tools – especially with the help of a reputed digital healthcare marketing agency. Sometimes partnering with a reliable and experienced healthcare marketing agency can do more for your campaigns than investing hundreds and thousands of dollars into campaign planning.
5. Digital marketing is cost-effective
Many small medical practices can't afford TV, radio, or billboard ads. However, most of them can afford digital marketing strategies to reach out and engage their target audiences.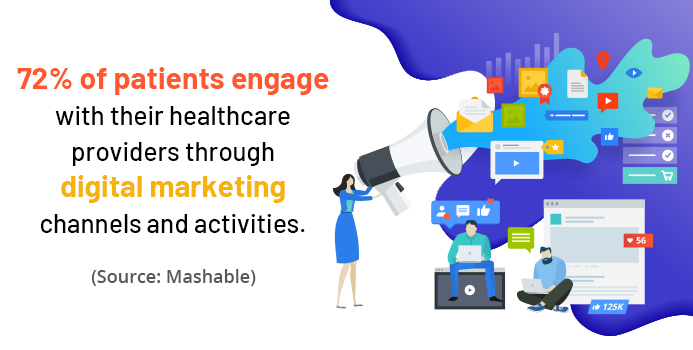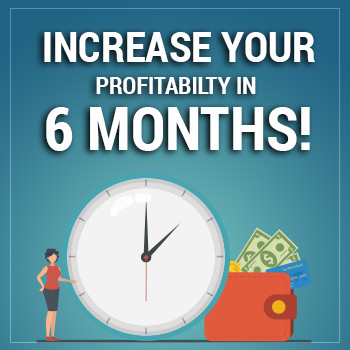 How affordable are digital marketing methods compared to traditional healthcare marketing ones?
Let's consider email marketing and social media marketing. The ROI of email marketing is 4400%. This means you get $44 for every dollar spent on an email marketing campaign. Now compare this with events/tradeshows and TV/radio advertising. That's a no-brainer!
Next, let's consider the cost involved in claiming and optimizing a Google My Business Profile. This digital marketing strategy will boost your local search visibility, increase local traffic to your website, and positive Google reviews will help improve your medical practice's online reputation. All of this free-of-charge!
6. Digital marketing allows you to measure ROI
Unlike traditional healthcare marketing techniques, digital marketing is targeted and offers credible ways to measure what's working and what's not. This means you can invest a small amount in digital marketing and see results first before going all-out and investing more.
Having trouble associating your investment with returns? Take these basic steps:
Start with setting up a landing page to capture your campaign's inbound traffic.
Monitor how many visitors are landing on the page. You can also see how many bounced, how many engaged with the content, and see how many scheduled appointments. You can track all of these metrics in Google Analytics.
You can also do A/B testing to identify the most successful digital marketing techniques.
Conclusion
So, what are you waiting for? 2021 is probably the best time to catch the digital marketing train.
If you feel overwhelmed by so much information, contact us to see how digital marketing experts at Practice Builders can get you going faster. We will assess your existing healthcare marketing strategy and identify opportunities to level up and get ahead of your competition. Schedule a free consultation with us today to explore your options and to see what a top digital healthcare marketing agency can do for your medical practice.