How Much Revenue Are Missed Phone Calls Costing Your Practice?
Posted on

Every time the phone rings at your practice, you get a brand-new chance to delight your caller with great customer service. Each call that comes in to your medical practice is also a chance to build revenue by helping a potential or existing patient. However, too often these calls turn into a missed opportunity.
Your practice, like other practices, must be spending a lot of time, effort and money trying to get more patients to call in for an appointment. Most practices are spending thousands of dollars on marketing efforts just to get the phone to ring. After spending a major chunk of their revenues, the average practice misses almost 34 percent of calls.
What a waste of marketing dollars!
However, why so many missed calls? This is because the telephone takes the lowest priority in a busy office where the staff is handling patients who are scheduled for consultation, speaking on the phone with another patient, responding to the doctors' needs and handling last-minute requests. On such busy days, it is easier to call back a patient instead of taking the phone call. However, for the potential patient who has evaluated and explored a procedure for weeks and is finally set to take the next step, the recorded words, "Please leave a message" may make him or her call elsewhere. In fact, according to studies, only 15 percent of potential patients actually leave a message on voicemail.
A patient's decision to move forward with treatment is an emotional one. Most new patients will want to gauge if your practice is welcoming, friendly, well-informed and, most importantly, sensitive to their needs. You can say all you want on your website, but when a patient reaches your voicemail, they may not feel any care or compassion.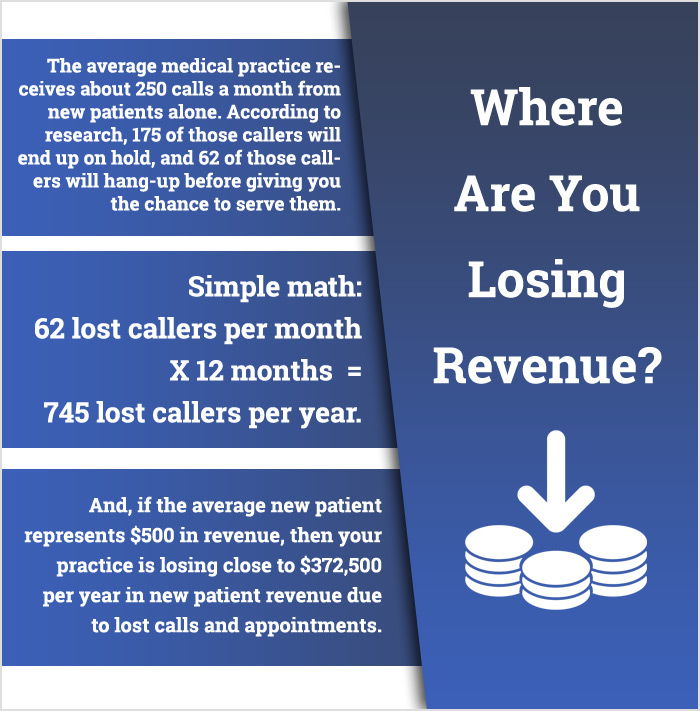 Where are you losing leads?
Regardless of the nature of your business, your sales funnel is likely to leak at some point. The key is to find where these leaks are and take proactive steps to close them and ensure leads progress smoothly.
In order to identify weak points in your sales funnel, you must first understand each phase that a potential patient goes through before becoming a loyal patient. Optimizing these stages is the first step in spill-proofing your sales funnel.
Marketing strategy: Successful lead generation starts with an effective, multi-platform marketing strategy that maximizes the number of leads your practice receives. Getting high-quality leads is critical when it comes to expanding your patient base.
Website design: Once a prospect finds you, he or she will visit your practice website to do further research on your services. A user-friendly website that provides useful information will significantly improve the likelihood that a visitor will either fill out a contact form or call your office. A slow-loading site, irrelevant content and lack of call-to-action will negatively impact your conversion rates.
Response time: This is the most critical component in converting leads into patients. According to studies, following up with leads within 12 minutes of receiving them increases the likelihood of conversion. However, conversion rates may drop off significantly if the lead is followed up within an hour.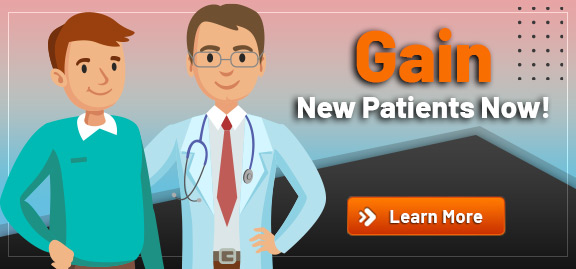 First contact: If your front-desk staff has not been trained on phone etiquette and sales techniques, you could be losing many leads each day. Sales are difficult to master, and most front-desk staff does not have the skills to promote your practice. However, taking the time to train your staff to successfully close leads will increase the number of new patients you see each month.
Lead nurturing: According to studies, for every nine leads that your practice receives, only one schedules an appointment. Following up on leads that have yet to convert is critical to growing your practice. Staying in touch with leads through newsletters and emails keeps you fresh in their minds so that when they need to schedule an appointment, they know whom to call.
The consultation: From interaction with your staff to wait times, the patient's experience at your practice determines whether they become a regular patient or not. Often, patients form an opinion about your practice even before entering the exam room. Your staff is an extension of your reputation. It is important your office conveys a sense of friendliness and professionalism.
Follow-up: Just because a prospect does not schedule an appointment does not mean you should hang up your hat. According to experts, practices that followed up at least three times with leads had a 36 percent higher conversion rate than practices that followed up just once. Your staff should be persistent in a way that displays a genuine interest in prospects' wellness and healthcare. Without persistent follow-up, your conversion rates will continue to remain flat.
Once a prospect becomes a patient, your efforts should shift to staying engaged, delivering value and keeping the patient satisfied. A happy patient is much more likely to spread the good word about your services and send referrals your way. Loyal patients are more likely to write positive online reviews for your practice. A good online reputation translates into more qualified leads and a better conversion rate.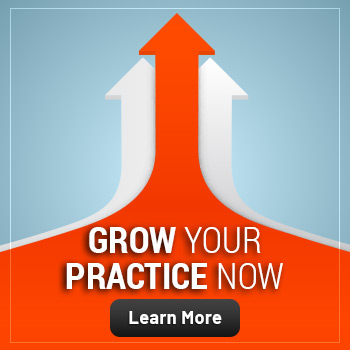 The main goal: Increasing the conversion rate.
The three key goals of any successful practice are maintaining a high conversion rate, growing the patient base and retaining current patients. If you are promoting your practice, every time your phone rings, you have paid for that ring. However, when that phone finally rings and you ask the patient to hold, you may return to the line to find your patient is no longer there. This is an area most practices struggle with.
According to AT&T, most businesses place 70 percent of callers on hold. A staggering 35 percent of callers who are put on hold hang up in less than 45 seconds. Lost calls equal missed appointments, and in the long run, lost revenue.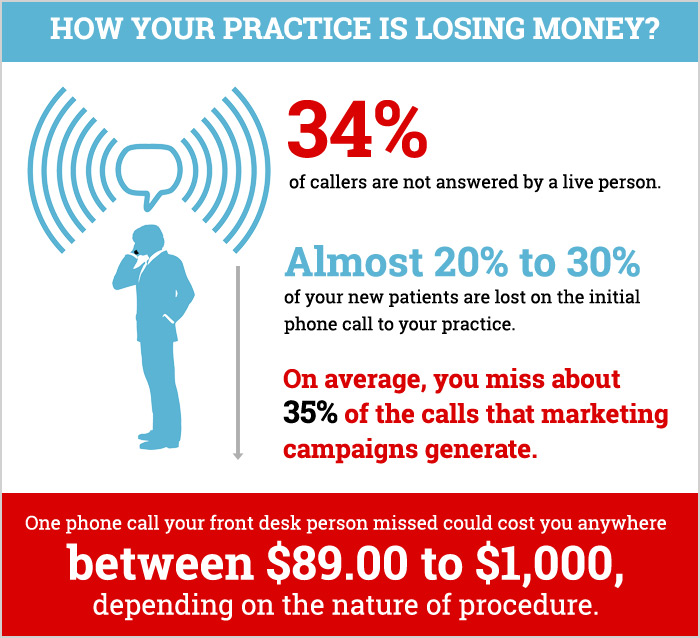 Are you thinking your top concern is getting more patients to call you? While this may be true for some practices, the real challenge begins when potential patients start calling your practice. Are you equipped to convert leads into customers?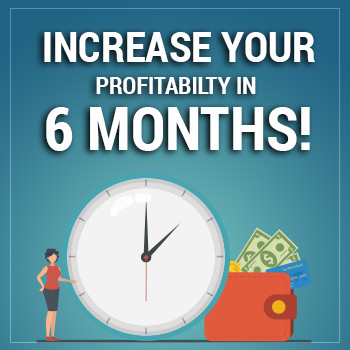 The first contact most new patients will have with your practice is with the front-desk person. If this call does not go as expected, the chances are that prospect will not call back. Unfortunately, many practices face this problem and often wonder why they are not able to improve their conversion rates. If you, too, are getting abundant phone calls but few consultations, it is time to find out the reasons and fix the situation by doing the right things.
Nearly 50 percent of new patient calls are lost at the front desk.

Here are some effective ways to help you improve conversion rates:
Make sure your staff is cross-trained in key functions such as scheduling appointments, following up with patients and providing basic information.
Make sure your EHR has a "quick consultation" facility. This feature will require your staff to only take down the name, date of birth and phone number for the patient. Your staff can quickly schedule the appointment, write the patient's name on the list, and call back to discuss the rest of the formalities. A quicker discussion will help keep the phone lines free for other patients to call in.
Create a set of call-answering guidelines. For instance, your staff must answer the phone after two rings and have others in the office handle the front office when calls are on hold.
Convey to your staff that the goal for everyone who answers the phone is to convert that caller.
If you are using an automated answering service, consider setting it up such that the calls are not routed to a voicemail for scheduling an appointment. Even one patient a day can prevent your practice from having the extra dollars you need for staff, marketing, admin, etc.
Train your staff to close leads efficiently
The value of each incoming call and the skills of the person answering the phone are underestimated in many practices.
Not everyone is adept at phone etiquette, so providing a script for your staff to follow when answering inbound phone calls is vital to improving conversion rates. In the phone handling training program, your training firm must cover the following key areas:
Answer calls with a scripted greeting that should be used consistently by all staff.
Answer calls after two rings, and note the day and time of the call.
Do not put the patient on hold for more than a minute. Try not to put them on hold multiple times in one call.
Learn to convey friendliness, professionalism and compassion over the phone.
Understand how to convert a simple inquiry call into a friendly conversation by asking the right questions.
Gather vital information like the caller's name, contact details and referral source during the call.
Keep the necessary information nearby, and help the caller if needed. You must learn important information such as the practice's credentials, services and associated costs or insurance concerns.
Telephone training must be a part of your staff orientation. You can plan the best marketing campaign with plenty of calls to action, but if your staff does not have the necessary training to convert those calls to appointments, you are wasting away those hard-earned dollars.
From missed call to appointment confirmation
Almost nine out of 10 medical practices lose revenue every time the phone rings. Even if you are losing just one lead per day when the phone rings, with a case size of approximately $1,000, that would be a significant amount in new business opportunity each year. This is even more relevant if you are handling advertising-generated leads. Moreover, with case sizes larger than our estimate, the lost opportunity size is staggering. A professional training course can make a significant difference in converting leads to new patients.
In nearly all of the revenue loss situations, the problem is due to the complete absence of staff training in phone handling skills, leads closing and converting leads to an appointment.
Practice Builders can help you train your staff and provide tools for measuring and monitoring their performance. If you would like to know more about our training modules, or if you want to know how call handling training can make a significant difference to your bottom line, we can help you understand the numbers.