Plastic Surgery Website: Your Most Important Marketing Asset
Posted on

For plastic surgeons, their practice website serves as their storefront. Potential patients will not casually drop by your office to witness treatments or surgeries as if they are shopping for gadgets or furniture. Instead, today's tech-savvy patients search online. When they find your practice online, they click over to your website to learn more about your services. Whether these visitors stay, and eventually become new patients, will depend on what kind of the first impression your website makes.
Your plastic surgery practice website has to assure visitors you are professional, highly skilled and cost-effective, too. It also has to convince them that you are caring, accessible and friendly. Trust and comfort are essential when it comes to selecting a plastic surgeon.
What is the purpose of your website?
Two critical factors make your plastic surgery website indispensable for your practice. The first is that it needs to act as an information source for your potential as well as existing patients. The second is that your practice website needs to serve as a marketing tool. The content and design of your website should compel your online visitors to contact your practice, and not move on to the next website.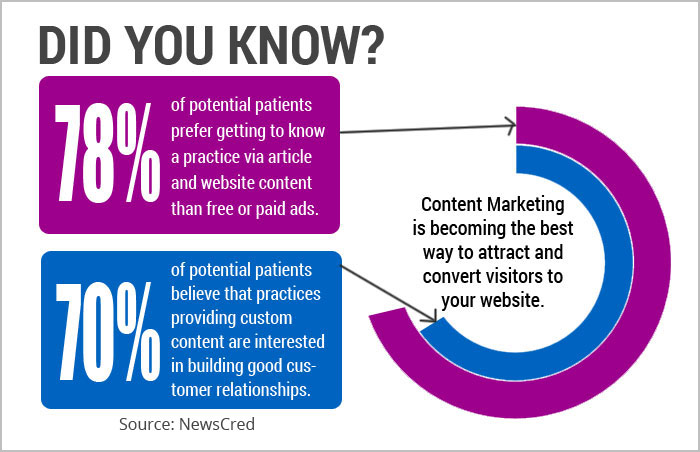 Your website deserves more than just cosmetic consideration. When it comes to a website, most people prefer esthetics over functionality and style over conversion rate. However, in order to build an effective website, it is advisable to focus on three main areas:

Psychology
Readability
Conversions
Psychology outplays everything!
If you can manage to get the psychology right in your website design, you will be 80 percent on the way to gaining new patients.
In order to include psychology right in your website design, you need to know your target audience and make sure you understand their needs. Do not get caught up in trends and try not to be generic. If you effectively communicate with your target customers, they will be much more likely to hit the contact button and become a patient.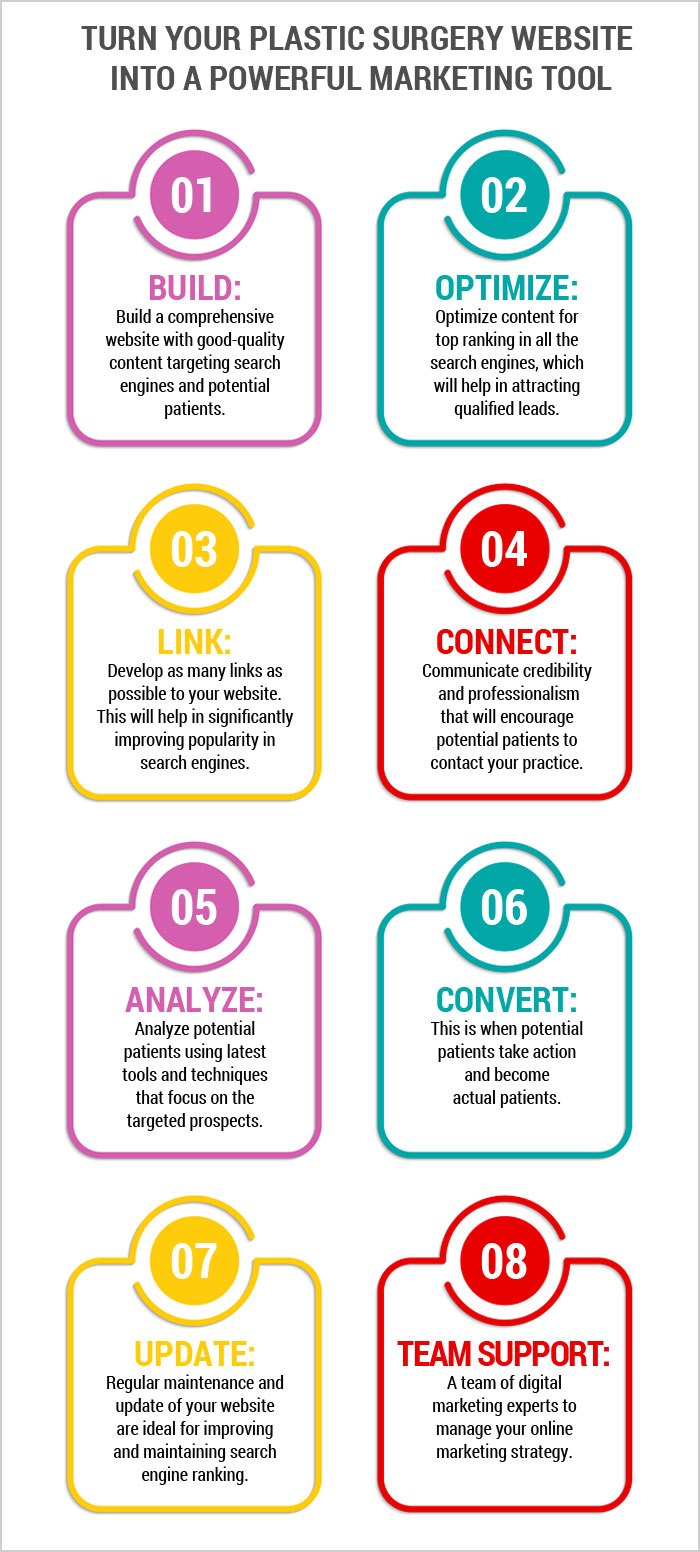 Put readability above esthetics.
Make absolutely no mistake about it. The purpose of content is to be consumed and understood. No doubt your website needs to look good, but just a beautiful website will not help you grow your practice. Websites do not just inform your visitors or make your practice look fancy and stroke your ego. The primary goal of a plastic surgery practice is conversion.
If your website's design and content are not focused on conversions, you could be leaving a lot of money on the table.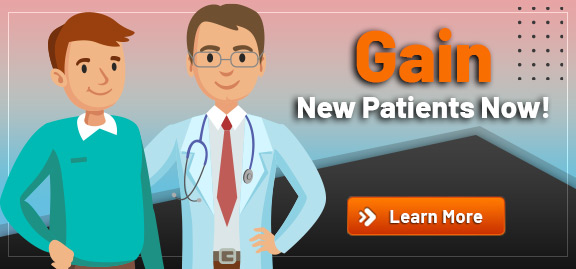 How can you enhance your plastic surgery website?
Can online searchers easily find your plastic surgery practice website? Most plastic surgeons are not able to rely on referrals from other physicians on a consistent basis. They have to depend on their potential patients doing online research to find out about their practice and services. This is where search engine optimization (SEO) can help you. You can significantly improve your website's online visibility by implementing effective SEO tactics based on the latest best practices. Getting found online is what drives traffic to your website. From that moment onward, your website's design should feel welcoming and be easy to navigate.
A professionally and esthetically designed website is the first thing a potential patient will see and will be the primary factor when deciding whether to contact your practice. Just as a rule of thumb, if your existing website is more than two or three years old, signs of aging are likely to have set in. Not just in appearance, but also in effectiveness.
Giving your plastic surgery website a professional makeover is the first step in creating a marketing strategy that will set your practice apart from competitors and help you grow your business. However, to be fully effective, that makeover has to go deeper, below the surface. Here are the five must-have elements of a successful plastic surgery website: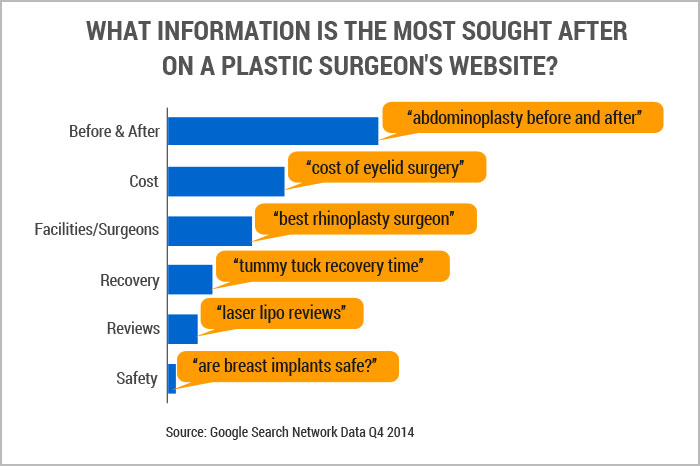 1. Relevant and engaging content: It is important to tell visitors what treatment options you offer, primarily for two reasons: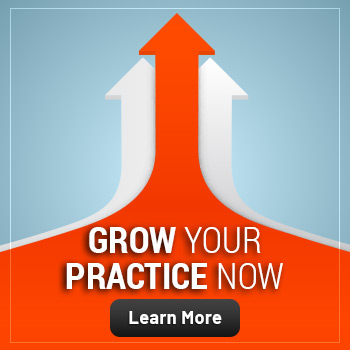 You need to inform potential patients of the full range of services available through your practice.
Seeing what is available or possible can plant "seeds of interest" in the minds of visitors. It is a subtle form of selling that can help grow your practice.
Some plastic surgeons make the mistake of listing all of their procedures on a single page. This forces your potential patient to sift through all that content. If your web pages are too long, most people will not even scroll down past the top 25 percent of the page. Your content has to be short, bite-sized and user-friendly in order to keep visitors engaged. Each major procedure or treatment should have its own page.
If you specialize in a particular treatment or surgery, make that clear right up front. It is helpful to show products and services you offer beyond surgical and nonsurgical procedures. A successful plastic surgery website should also include:
Surgeon bios
Separate landing pages for procedures and special offers
Awards, certifications or other surgeon or practice recognition
Financing and insurance options
Any extra services you offer, such as concierge services for out-of-town patients
2. Image galleries are your best patient testimonials: Most plastic surgeons post before-and-after photos of their patients on their website. However, are you displaying good enough examples? Including a variety of pictures reinforces your experience and skill. It also gives potential patients a better chance to spot a satisfied patient who looks similar to them, or who have had a similar problem corrected.
Most plastic surgeons post before-and-after "mug shots." The aim is to provide visual information, but your image gallery must communicate with potential patients at an emotional level. It is a good idea to include different angles. Consider better lighting and background options. Add a brief explanation of the patient's situation, their esthetic goal and the final result. These little gestures will put images into context, thus making them more relatable. The more relevant your "before-and-after" pictures are, the more they convince your potential patients to move forward. In essence, before-and-after pictures are silent salespeople.
3. Landing pages: Where visitors convert to leads and leads convert to actual patients: It is a good thing to drive traffic to your plastic surgery website. However, in order to gain new patients, you need to convert those visitors into actual patients. This is where landing pages come in. Unlike other general pages on your website, landing pages are specific pages where your visitors "arrive" after browsing your website. In other words, a landing page is where a visitor is likely to take his or her next action. That action can take the form of: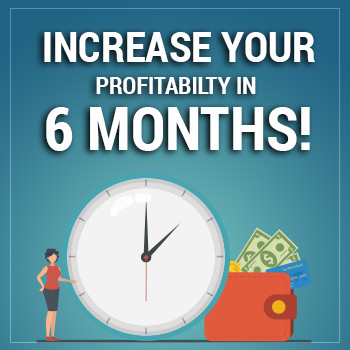 Filling out a contact form
Subscribing to your blog or e-newsletter
Downloading educational content such as e-books and videos
Requesting additional information
Scheduling a consultation
Landing pages come in many designs and formats, depending on their purpose. In order to convert leads effectively, the design and content of each landing page must motivate your visitor to take the next step. Landing pages act as the gateway to valuable information. For instance, if you are making an offer to your visitor, they may give you their email address and some additional information just to take advantage of the offer. So your offer has to be enticing enough to encourage them to take action.
4. Patient reviews: Nothing beats word-of-mouth: Potential plastic surgery patients are like any other customer – their buyer journey starts with research. Customer testimonials and online reviews feature prominently in their decision-making process. Therefore, one way to grow your plastic surgery practice is to strategically grow and improve your online reviews. In addition to quality, the quantity of online reviews also matters because it reinforces the fact that a lot of patients have benefitted from your treatments. No one wants to be a guinea pig. To further strengthen the credibility of your practice, you can consider creating an awards and honors page on your website. Professional accreditations from medical associations, local publications and public "contests" will affirm the personality of your practice. You can also include icons or links for your social media accounts on your website, where they can be instantly visible to visitors. These can serve as indirect testimonials, highlighting that your practice is trustworthy and engaged with patients.
5. Blog: Useful content that attracts attention: A blog is the most effective tool you can add to your website. Blogging offers extended marketing benefits for any plastic surgery practice and helps you:
Brand yourself as an expert in plastic surgery
Attract potential patients and keep them interested in your practice
Educate existing patients about your services
Increase SEO by producing more searchable content. The more unique and useful your content is, the brighter are your chances to show up in search results.
The majority of potential patients say blogs help them discover medical practices. Educating the masses not only increases awareness of your plastic surgery practice, but it also enables you to have in-person talks with better-informed individuals. Your blog is the best place to share a new five-minute video about a procedure or write a few sentences to set the stage. Infographics are a useful type of visual content that can have far greater impact. This is especially applicable for plastic surgeons.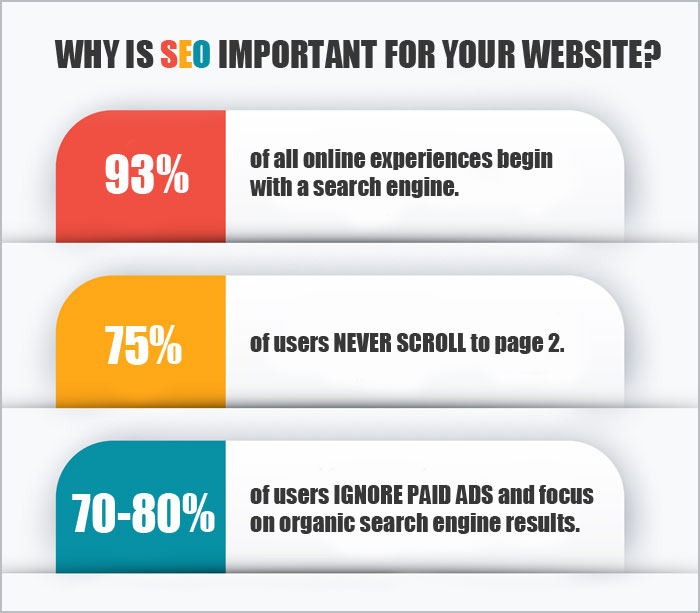 In conclusion…
There has never been a better time to be a plastic surgeon. With increasing public interest in esthetic treatments and surgeries, you have more opportunities than ever to attract new patients. However, at the same time, you face more competition than ever. It requires innovative, strategic marketing to set your practice apart and build your brand.
Whether you are trying to attract new patients or help existing ones, your plastic surgery website is essential to helping you connect with potential as well as existing patients. The elements mentioned above of a successful plastic surgery website will help establish your practice and build a brand among potential patients. Moreover, by ensuring you include all of these key elements, your practice's website will be off to a great start.
However, when building the best plastic surgery website, it is better to work with an agency that specializes in plastic surgery website design and understands healthcare marketing.
Contact Practice Builders to learn more about what we can do to give your plastic surgery website the professional touch it deserves.