The Best Marketing Strategies for Concierge Medicine
Posted on

Have you considered starting a concierge medicine practice? Because this healthcare model is still not mainstream, many patients may not be aware that retainer-based care is an option for them. That's why marketing is critical for concierge medical practices. Marketing empowers independent clinicians to reach patients who would most benefit from concierge-style healthcare. In this article, we'll explore the best marketing strategies for concierge medicine practices.
It seems that many patients and doctors are fed up with the traditional insurance-based American healthcare system. More are turning to concierge medicine, which began to take root over 20 years ago as an alternative practice model. Basically, it offers patients more time with their doctors and 24/7/365 access while offering doctors greater focus on each patient's needs.
Thanks to the retainer-based structure, concierge providers can serve a smaller patient base and devote more time to each patient. Concierge medicine is also known as direct pay, direct primary care, membership medicine, or boutique medicine. With more focus on each patient and no interference from health insurers, concierge providers typically see better outcomes because they can deliver more personalized, patient-centered, and timely preventive care.
Why Doctors and Patients Choose Concierge Medicine
Concierge medicine allows doctors to build a patient base that's secured by direct subscribers rather than insurance payers. Concierge medicine is a doctor-patient relationship in which a fee or retainer is paid monthly or annually in exchange for highly personalized care.

Many physicians want to spend more quality time with their patients without the limitations of traditional healthcare where patients and providers often feel rushed, and doctors must rely on insurance reimbursements to make a living. Instead of having to see 30 to 40 patients per day, concierge physicians typically see 6 to 10 patients per day. Instead of typical 10-minute visits, concierge patients benefit from 30-minute routine visits.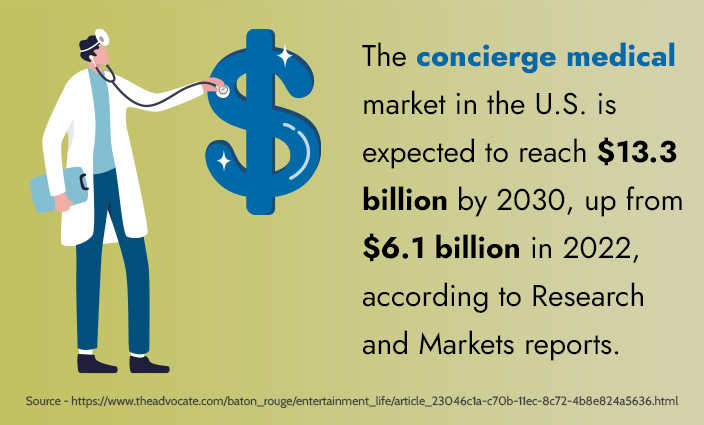 What Types of Patients Seek Concierge Care?
It pays to know what types of patients are most attracted to concierge care. The patients who are most inclined to seek out and enroll in concierge care membership programs include:
Self-employed patients – Without employer-funded health insurance, monthly premiums are usually cost-prohibitive. But with monthly primary care subscription models, self-employed people can have a doctor to call on with predictable upfront costs.
Self-pay patients with chronic conditions – People who are in good health can get by with occasional self-pay visits, but those with chronic health problems often need frequent visits that add up quickly. Concierge care can be a more affordable option for regular follow-up visits.
Patients with complex health challenges – Those who need more time to address all their health concerns benefit from seeing a doctor with complete control over his or her schedule.
Patients who have more money than time – People with greater financial resources are willing to pay for on-demand personal care. Busy executives with tight schedules may benefit from care with minimal or zero wait time. Some affluent people want more privacy and prefer having a personal physician on retainer.
Medicare patients – Some Medicare patients have difficulty finding healthcare providers who meet their needs. For them, direct care is a viable alternative to ensure they get the medical services they need when they need them.
When it comes to medical marketing for doctors, concierge medicine marketing leverages strategies that are designed with these patient types in mind.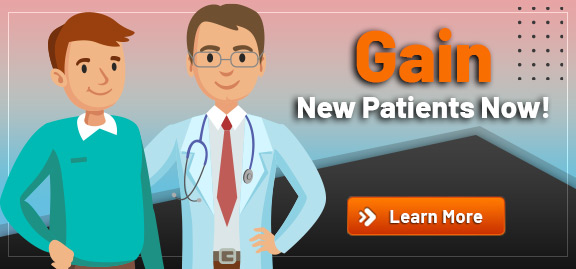 Concierge Medicine Marketing: Best Tools for Practice Growth
When the influence of insurance companies is removed from the healthcare equation, doctors need other ways to build their patient base. Concierge medicine marketing plays a critical role in influencing patients to switch away from the insurance-based healthcare model. The following digital marketing strategies can help you tap into this growing niche market and should be included in your medical practice marketing plan.
Search Engine Optimization (SEO)
SEO is a marketing strategy that helps prospects find your practice on Google searches. Ideally, your concierge practice should be listed and ranked for searches that are:
Branded – This is when the user has already heard of a practice and searches for it by name.
Transactional – This type of search occurs when the user needs more immediate care and their search terms point to matching providers. This search often returns localized results, including Google Business Listings.
Informational – This type of search occurs when the user has a specific health problem and wants to learn more about his or her treatment options.
With an SEO keyword strategy, you can reach prospects who Google "self-pay doctors near me" or "concierge medicine near me." Such prospects probably need care very soon, so having your practice appear in this type of search is to your advantage. Using relevant search terms fuels your concierge practice for organic (unpaid) search.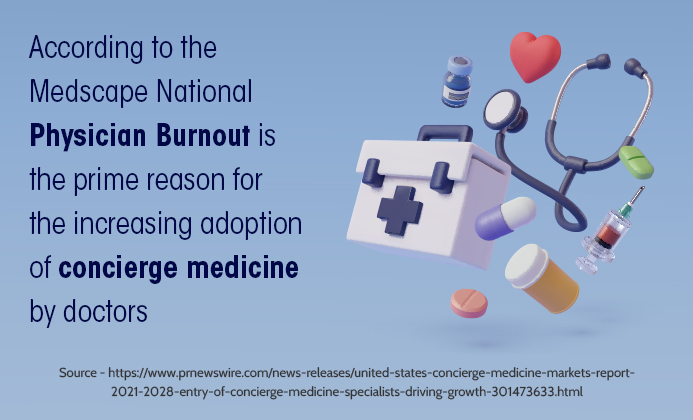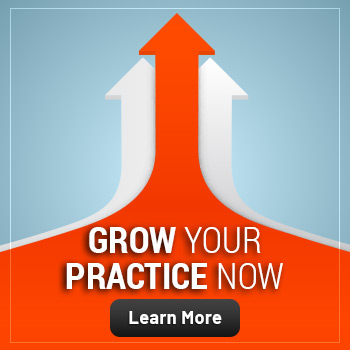 Paid Search Advertising
Pay-Per-Click (PPC) and Google Ads are forms of paid search. In other words, practices pay for placement in search results. When you use Google Ads for your medical practice, you only pay when a user clicks on your ad. Paid results look like organic results but are usually placed near the top of the search results list.
Paid search tends to deliver faster results for as long as your ad is running but ceases as soon as your campaign is turned off. With organic search, you need time to build gains, but your visibility remains steady. The best way to maximize online visibility is by having organic and paid search working together for your concierge practice.
Reputation Management
Your medical practice marketing plan should include online reputation management. This matters now more than ever because most healthcare consumers read online reviews to help them make the most informed decisions about their healthcare providers. Online reputation management is a must when you are marketing your concierge medical practice.
When concierge primary care providers give more time and attention to patients, it fosters patient loyalty and a better doctor-patient relationship. When patients share their positive experiences in online reviews, it focuses prospects on your practice. Higher ratings and solid reviews nurture consumer confidence.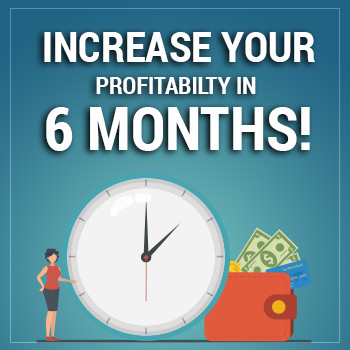 Social Media Engagement
Even if your patients don't see you every day, many of them are on social media platforms daily. Whether you are just starting a concierge medicine practice or have an established practice, social media can help your concierge practice stay connected with patients and prospects year-round.
Social media gives providers like you a platform for sharing health information, dispelling myths, and mitigating the impact of medical misinformation online. Social media positions your practice as an authority and helps you build trust.
Although it takes time to build a social media following, you'll find the effort well worth it. Once you have an engaged audience, you can educate them about the advantages and benefits of concierge medicine. Prospects who see your posts are likely to view your engagement as positive proof of your care quality.
Using These Marketing Strategies for Concierge Medicine
Compared to conventional, traditional medical practices, concierge or direct primary care practices face a greater challenge when trying to reach prospects. The good news is that digital marketing strategies are more effective than traditional marketing strategies at targeting a specific audience such as people looking for alternatives to insurance-based health practices.
Don't restrict your concierge practice marketing to just one or two strategies. Use organic search, paid search, online reputation management, and social media together to give yourself the best chance for marketing success.
Reaching prospective patients who are searching for concierge or direct primary care can be challenging because you first must educate them about this newer care model. That's why you should consider partnering with a concierge practice marketing expert who has successfully marketed other concierge practices.
The marketing strategies listed above will surely help grow your concierge practice. To learn more about them, look to the healthcare marketing experts at Practice Builders. Call us at 855-898-2710 or email info@practicebuilders.com.