5 Ways to Improve Your Medical Practice's Profitability
Posted on

As a medical practice owner, your goal is to improve revenue and increase the bottom line. However, your patients do not care about your profitability. They want value for their money, and this can go well beyond how your staff makes them feel and how convinced they are with your expertise and services.
The fastest and most effective way for a medical practice to reach its maximum profitability is to get its services and pricing right. The right services at the right price can boost your profits far more quickly than increasing patient volume. It is critical to keep in mind that offering the wrong services at the incorrect price can shrink your profits just as quickly. While it is natural to feel apprehensive about improving pricing for fear of losing your patients, the consequences of not managing your pricing can be more damaging. This is because a 10 percent increase in pricing can result in a much better return than a 10 percent reduction in costs – or even a 10 percent increase in patient volume.
Regardless of the number of patients you are attracting or how much revenue you are generating, your profit margin marks the difference between a thriving practice and a struggling practice. This is the reason successful practitioners place extra emphasis on profit as they create their healthcare marketing strategy.
Achieving success and maintaining profitability in the healthcare industry requires practitioners to create a delicate balance between patient care and practice management. If practice owners cannot keep up in a cutthroat and technology-focused environment, they may lose control of their workflow. With the healthcare industry becoming increasingly competitive, it is important for practitioners to focus on pulling together excellent patient care and reduced costs in their practices.

Medical practitioners require business training and marketing skills to remain profitable. Rather than bearing the burden of operational management, a medical practitioner should understand how implementing a few effective strategies could make their practice more profitable. Here are five of the many proven ways to increase profitability and improve the overall health of your medical practice.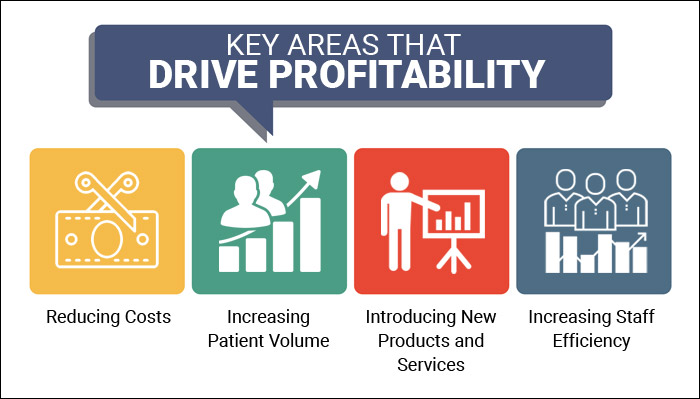 1. Fine-Tune Your Pricing: The way you price your services sends a strong message to your target audience, and it must be consistent with the value you are delivering.
Often when we talk about increasing profits, we focus on decreasing costs and tend to overlook the importance of pricing. While it is important to be realistic about how much you can actually reduce costs, merely cutting costs may not lead your practice to higher profit margins. In fact, according to a study, financially stable medical practices have only 2 percent lower costs than unstable practices. Instead, the biggest difference between the two types of practices was pricing. On average, profit-making practices had 13 percent higher fees than loss-making practices. You can only reduce costs to an extent, and raising prices can prove to be a more assured way to profitability.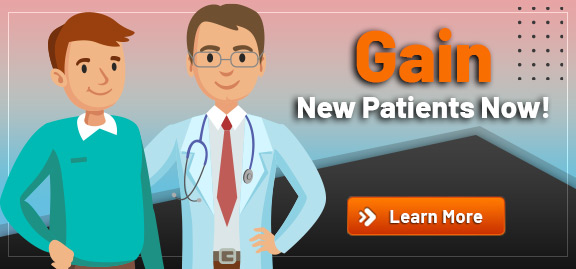 Be sure to explain your pricing to every patient by speaking directly with them and offering detailed bills. If you want your patients to understand what exactly they are paying for and what quality of service they can expect from you, they may not mind paying higher fees. Most patients will be willing to pay a little extra for routine treatments if it means having a doctor who is dedicated to their all-around welfare.
Your pricing strategy must consider the value of your product or service, rather than the costs incurred to create it. It is critical to understand how much value your service will generate for your potential patients, and then put yourself into your patents' shoes to determine a profitable price. No doubt your patients will evaluate your offerings and their best alternatives, but they will eventually choose the product that provides the best value for money.
2. Make Operational Changes: It is important to attract more patients while reducing operational and marketing expenses. In order to increase your sales, try upselling and cross-selling by offering new services that complement your current offerings. You can also consider switching to a relationship-based model that can get patients coming back to you when you offer a bundle of visits at a discounted price. Other operational changes that can increase your profits are motivating your new and existing patients to try your services with discounts, specials deals or giveaways.
It is critical for medical practice owners to employ successful management techniques such as Lean Six Sigma in order to eliminate inefficiencies in processes and improve profitability. In a medical practice, duplicate steps in patient registration can hamper staff productivity and patients' satisfaction, both of which will directly impact your bottom line. You should also take an honest look at your day-to-day processes to look for outsourcing opportunities that can help you reduce costs and increase profit margins. The point is, medical practice owners will have to think outside the box to reduce expenses and eliminate inefficient processes.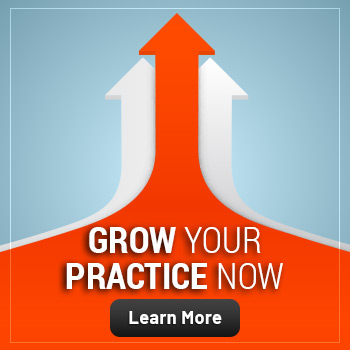 3. Implement Strong Patient Support: Patient loyalty is essential for practice growth and profitability, and profitable growth can be achieved by creating loyal patients. Poor patient service can severely impact your medical practice's reputation – and eventually profits. One negative experience can result in a bad online review, which could significantly reduce patient retention and lead generation. According to a recent study, 91 percent of patients who were unhappy with their experience would neither go back to the same medical practice nor recommend it to family and friends.
Since acquiring a new patient is six to seven times costlier than retaining an existing one, practitioners must provide experiences that will translate into revenue and profits for practices. You must establish and hold your staff accountable for ensuring patient service is being implemented across the practice. These high standards will prevent adverse situations from arising and ensure patients receive the best-quality care.
Your staff must also be proactive in assessing your patients' needs and implementing a strategy to accommodate such requests. You must pay attention to creating benchmarks to measure your strategy's effectiveness and make necessary revisions by gathering feedback from staff members. This will help you maintain patient satisfaction, which will lead to better retention and increased profitability.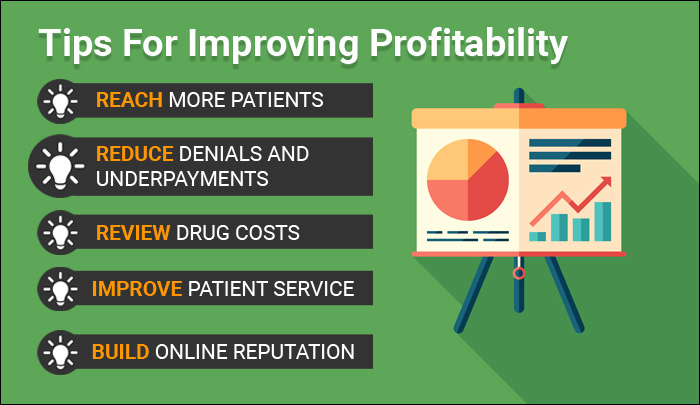 4. Invest in Technology: A lot of medical practices waste hundreds of dollars and hours handling routine administrative tasks that make workflow inefficient and reduce productivity. Practitioners lose precious time searching through paper documents and handling insurance claims. The days of pen and paper medical records are over. In fact, practitioners can save thousands of dollars by eliminating paper. It is high time that practitioners start incorporating electronic medical records (EMR) software. EMR software will allow you to access your patients' medical history with the click of a button.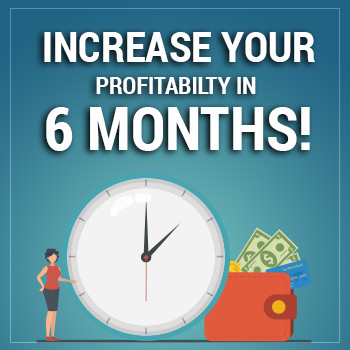 In order to cut costs, many practices shy away from investing in technology, which compromises their efforts to become profitable. Leveraging the full benefits of newer technologies is only possible if you have the means to access them. Having the latest tools and technology can enable practices to automate their processes and make inroads toward increased profitability.
In addition, it is important to include technical upgrades in your annual budget. This is because the advancement of technology is inevitable, and if you avoid continuous upgrades, you may have to pay larger amounts later to catch up on technology. By actively budgeting for these investments, you can reduce the impact of technical upgrades to your cash flow.
5. Maintain Your Online Reputation: Whether you realize it or not, you already have an online reputation. You are listed on third-party rating and review sites, and what those sites say about your practice and staff is more important than ever. Your practice's online reputation is critical to increasing your patient volume – and ultimately your profitability. Most patients read online reviews to evaluate their healthcare providers. Taking control of your online presence and understanding how to manage your online reputation is critical to retaining your existing patients and attracting new ones.
There are a number of social media networks, and some will work better for your practice than others. It pays to understand which platforms are best for your practice and market needs. You can also consider giving your website an audit. You can run some analytics on it and see what pages are bringing in patients. You must update your website regularly with relevant content and graphics. Make sure your website is mobile-friendly and loads fast.
Your online presence can help you reach the majority of your target market, so embrace social networks, update your website, write blogs and stay active in online groups and forums. Here are four ways to strengthen your online presence:
Make sure you have an engaging and up-to-date website.
Set up social media accounts to engage patients outside the exam room. According to research, some medical practices are gaining almost 20 percent of their new patients from online forums and social media.
Claim your profile on online listings and local business directories, and make sure your information is accurate. Updating your listings also helps improve your search engine rankings.
Encourage online patient reviews. You must ask your patients to post positive and encouraging reviews of your medical practice on relevant sites. Online reviews will not only improve your practice's visibility in Google's search results but will also positively influence potential patients.
Wrap-up
The profitability of your medical practice depends on your ability to lower costs and increase revenue. The best way to do so is by building efficient processes in your practice and focusing your sales efforts on existing patients. You must also look for ways to optimize your medical practice marketing and operational processes. In addition, it is critical to segment your patient base and utilize targeted upselling and cross-selling techniques. Taking these simple measures consistently will improve your practice's profit margins significantly.