6 Key Design Elements of a Successful Medical Website
Posted on

Designing a medical practice website is not an easy task.
Think back to the last time you searched for a medical practice online, only to discover that their website was stale, challenging to navigate and an esthetic nightmare. Did you stay on that website and weed through the mess? Or did you continue with your online search for the next medical practice? We would put money on the latter, and we do not blame you. No one wants to spend time on an outdated and complicated website.
With so much competition in the medical community, it is critical to pay close attention to details when designing your website in order to ensure you are building a website that can take precedence over your competition and help you attract more patients. The online landscape is evolving, and while you do not have to waste time and resources to include every element in your website, there are some that have become vital to the success and credibility of your medical practice.
For those of you who are planning to design a new website, the following six essential elements will go into building a successful medical practice website and, more importantly, a website that will work for you:
1. Space
Space is one of the most critical design elements because it dictates everything – from content flow to readability. Designers have started to use space in innovative and flexible ways. Most of the designs include a lot of white space, increased spacing between text and an overall focus on consistency in spacing. For instance, similar elements include similar spacing. The amount of space between text should be the same.
Space is also critical when it comes to creating a central point for readers. A graphic or text paragraph surrounded by space will appear larger and more prominent than one that is crammed into a tighter location in the design.

Here, it is important to note that space is not always white – it could be a background color or texture.
How to use space: You should start with navigation menus. Make sure the elements are organized in a way that ensures fixed spacing between them. This will make each button or graphic stand out more prominently.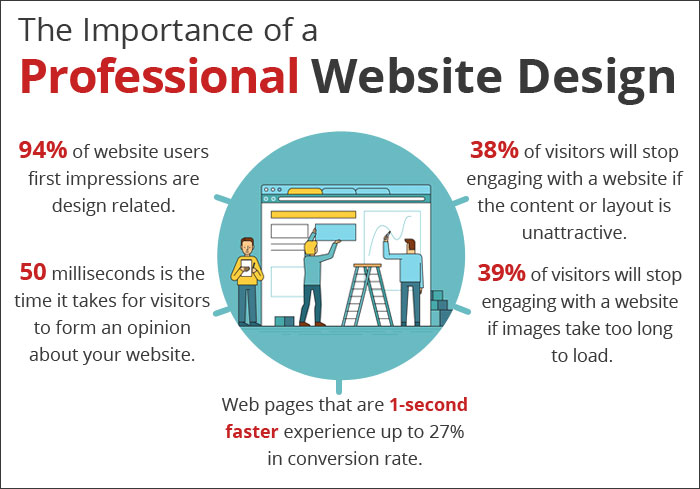 2. Simple Navigation
Navigation is the "GPS" of your practice website. Navigation menus are the buttons that direct visitors to pages, let them know what page they are on and how to return to the homepage. Unless you have an impressive and established visitor profile, a complex website is not the way to go. Too many widgets, calls-to-action and general clutter will distract and overwhelm your visitors, ultimately making them click the "back" button.
Visitors will not waste time on your website if they cannot quickly and easily find the information they need. It pays to keep things simple. Well-labeled navigation that is prominently positioned at the very top of the homepage will help to direct your visitors to the pages they want to visit.
It is a good idea to group similar heads under the same category in order to streamline navigation. Too many clicks can result in loss of business. So, aim to keep critical information accessible in three clicks or fewer.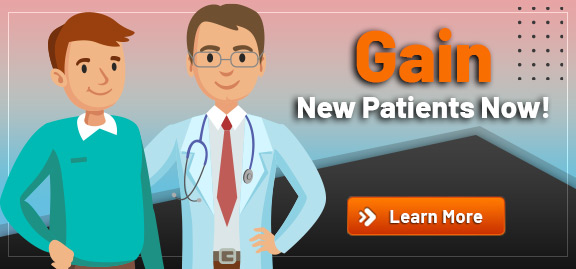 How to simplify navigation: A search function will allow your audience to search for key pages and topics within your website, and especially your blog, that will address their unanswered questions.
3. Responsive Design
Mobile-friendliness is standard for website best practices. Today's patients are on their phone 24/7, and if they cannot load your website from their smartphone, rest assured they will exit their browser in the blink of an eye.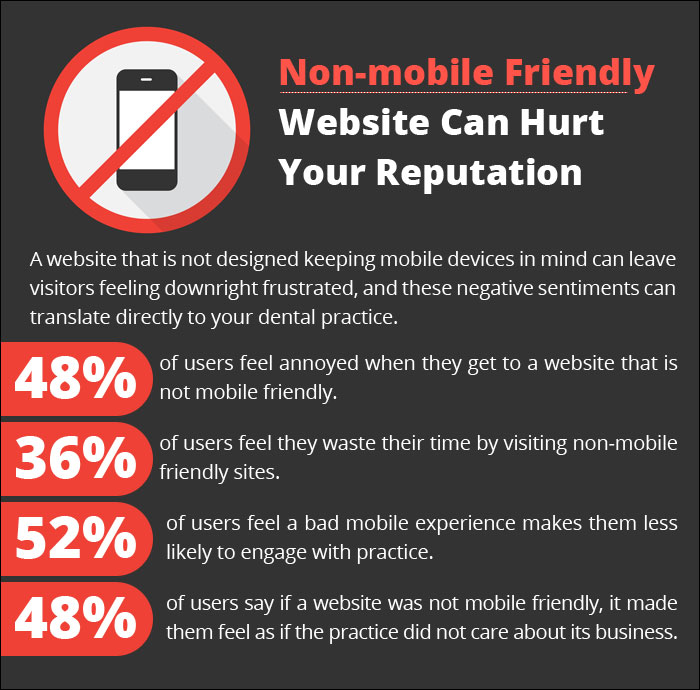 Patients are using their smartphones more than ever to decide which healthcare provider to select and where to go. In fact, 76 percent of those who search for a local provider on their smartphone visit the business within a day, and nearly 28 percent of those searches result in an appointment. Every second, 25 percent of visitors are using smartphones for browsing websites, and this is why your website should be mobile-friendly. It is also important to consider the following:
Does your website load quickly on multiple browsers?
Does every section on your website scale correctly on a smartphone?
Is critical information on your website easy to find on a mobile device?
If you could not answer "Yes" to these questions, then maybe your website is not mobile-friendly.
This means your website will not show up on mobile device precisely as you want it. Be sure that your website developer is including techniques to ensure your site can be viewed on multiple devices without an issue.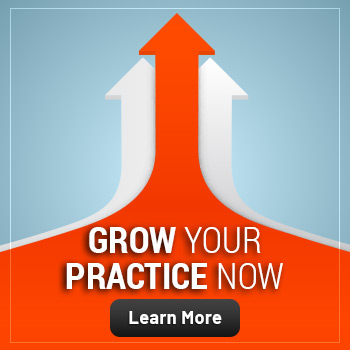 How to check your site for responsive design: Many tools can simulate how a web page will appear on different screens. Search engines such as Google can also check mobile-friendliness of a website to prepare search results for mobile devices.
4. About Us Page
Once on a medical practice website, 52 percent of visitors want to read "about us" information.
Your message is how patients connect with your brand. The "About Us" section is where you get to tell your story.
Your "About Us" page should tell target users who you are and what you do. Since this page is one of the most visited pages on a website, it should be personal, compelling and up-to-date. It must outline your mission, vision and goals. This page can also be used for displaying patent feedback, testimonials and success stories. This type of section can serve as a doorway to other pages or social media profiles.
The biggest problem that often happens with About Us pages is that they get wordy. It is important to keep the page simple and give readers enough information to be informed but not bored.
How to use the About Us page: You can use the About Us page to give your practice a little personality. You can also consider including photos of your team and a short biography of your practice.
5. Contact Information
A potential patient has found your website, he or she likes it enough to stay, and your relevant content has clearly conveyed that you are the right fit. Now, the next step is to make it easy for them to contact you. You must display your contact number, email and contact form prominently. This may seem like a standard rule, but if a potential patient has navigated his or her way through your website and has made the decision to contact your practice, do not make them revisit the homepage to figure out how to contact you. Chances are you will lose them on the long, desperate journey back to your homepage. In fact, contact information and other critical information should be displayed on every page. A good way to include contact information on every page is to use headers and footers. Neatly designed headers and footers will not clutter up your website but will help to highlight relevant information.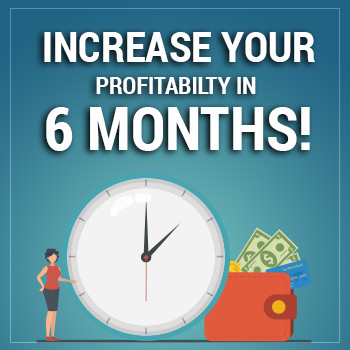 How to display contact information: In order to attract more patients and establish your credibility, you must provide complete contact information on your website. Make sure your contact information is visible on every page of your site. This will make it easy for patients know how to reach you or to book an appointment.
6. Quality Content
On average, visitors only read 20 percent of the content on a web page.
Strategic, engaging and relevant. This should be your goal for content. Your website visitors are only going to read a fraction of your content, so make sure they are receiving the right message. If it is a thick wall of text, your visitors will not be able to read it. There is no alternative to useful and high-quality content. Whether you create web page copy or write a blog post, only good-quality and relevant content can engage patients.
Good-quality content is an asset to your website. Your website will not sustain for long in the absence of engaging content.
How to provide high-quality content: The purpose of providing high-quality content is to help new patients find the information they need. The more relevant content you have on your website, the better your practice will do. You can start a blog and update it regularly with informative articles.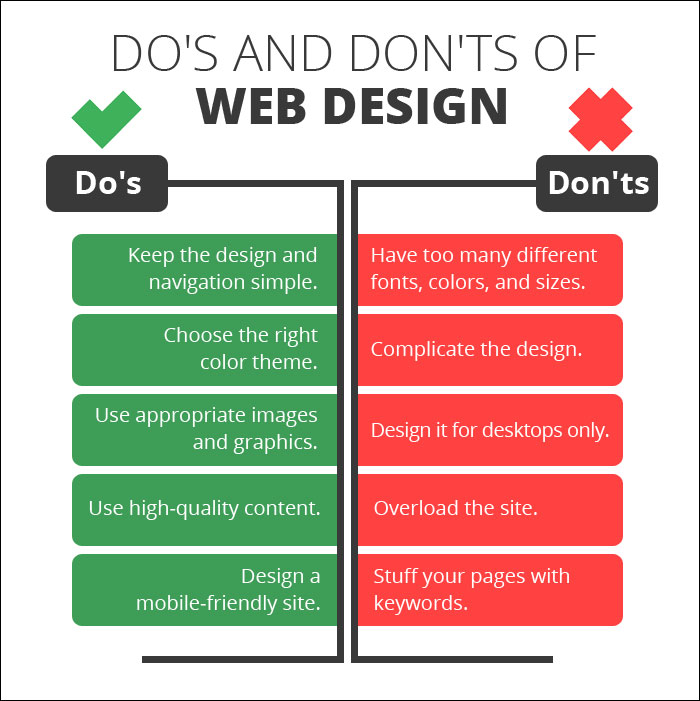 Conclusion
Your website design is an important part of your medical practice's success. From instantly appealing to your visitors to providing them with an unmatched user experience, your website is the gateway through which potential patients can discover your practice and ultimately your services. Conscientious medical website design can help your practice make a splash with your visitors and lead them down the path toward becoming loyal patients.
How does your medical practice website fare? Does it hold up well under the scrutiny of these six elements, or does it require a boost?
If you need help building a website that drives your medical practice, talk to our team to find out what we can do for you.