Is Concierge Practice the Right Decision for You and Your Patients?
Posted on

Jam-packed waiting rooms, busy schedules, longer wait times, doctors too stressed to listen to their patients — such feedback is common when we talk about healthcare practitioners.
However, what may come as a surprise to us is that these sentiments are conveyed by both doctors and patients. This is why many medical practitioners are seeking a solution called "concierge medicine."
What exactly is a concierge practice?
In the hospitality industry, "concierge" means personalized service. For instance, we can request a hotel concierge to make lunch reservations for us and say thanks with a tip that can be paid before or after the services are rendered.
Similarly, in the medical world, concierge practice, also known as boutique practice or direct care, is about delivering personalized services, from a doctor to his or her patients. A concierge practice charges patients an annual fee in exchange for personalized and enhanced services that are usually not covered under insurance plans.
The patient pays an annual fee for personalized care, as defined by the physician. The personalized and enhanced medical services may include unlimited office visits, easier and quicker appointments, less waiting time, immediate access to the physician through a phone call, texting or email consultations, easy renewal of prescriptions, home visits and wellness services such as annual checkups. However, concierge practices vary widely in their structure, payment conditions and range of medical services covered.

According to research conducted by Concierge Medicine Today, more than 12,000 physicians in the U.S. operate concierge practices. Most concierge practices bill patients' insurance for regular services and charge an additional annual fee for round-the-clock access to doctors, extended appointments and other services, such as house calls.
Merritt Hawkins, a healthcare search firm, conducted the 2014 Survey of America's Physicians and revealed that a huge percentage of physicians are planning to pursue the concierge model. Some of the key findings from the survey are:
Seven percent of physicians are already practicing concierge medicine.
More than 13 percent of physicians plan to transition to concierge medicine at some point in their careers.
Younger physicians, aged 45 or younger, are more likely to consider concierge practice.
Physicians who convert to concierge from traditional practice can retain about 25 percent of their existing patients.
However, concierge practice is not a substitute for health insurance. The annual fee or retainer, no matter how expensive, does not cover out-of-office visits to specialists, ER, hospitalization, major surgery or high-end diagnostic scans. On top of that, patients' insurance or Medicare does not reimburse the annual fee, while some of the cost may be covered by the patients' health savings accounts.
Concierge medicine comes in many variations. In some concierge practices, patients pay an annual fee in addition to office visit fees; in others, the annual fee is inclusive of all in-office care. There is another option known as the hybrid practice, where the doctor continues to see all patients but schedules a few hours each day for patients who pay an extra fee.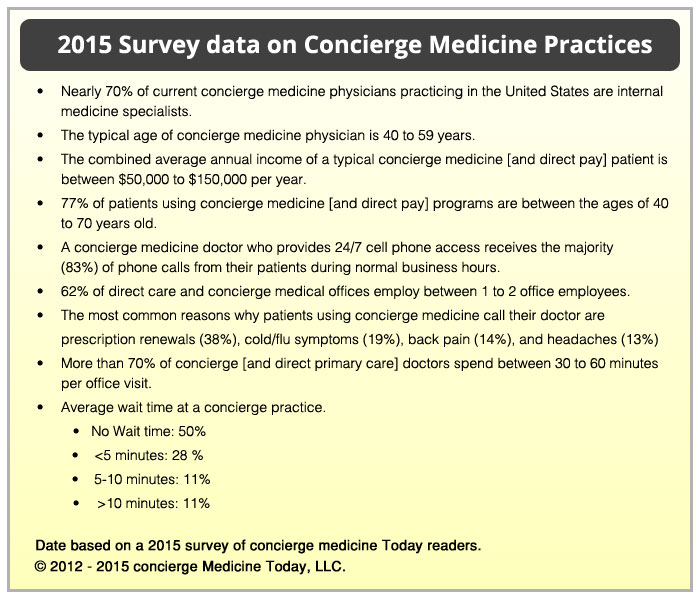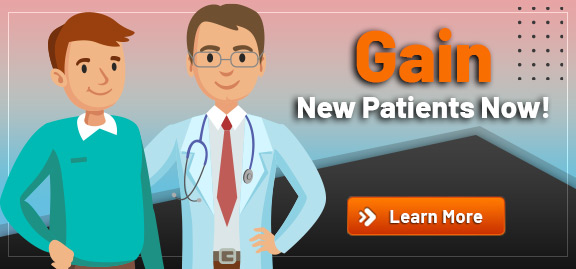 Are you thinking of switching to concierge practice?
Physicians who switch to concierge practice say they do so because they were fed up with the assembly-line medicine and ever-rising overhead costs. The flat and reduced insurance reimbursements further fueled their decision to opt for a concierge practice. According to most physicians, the only way to keep afloat is to see many patients and spend less time with each one.
However, critics are of the opinion that if too many doctors choose concierge practice, we will be left with fewer doctors to go around, making it tough for patients to find a physician.
Critics have apprehensions about the impact of the concierge practice model on the health of patients. This is primarily because concierge practice works on the convenience side, and getting extensive consultation may not necessarily mean better care. Industry experts are of the view that concierge care may lead to overtreatment, which will not benefit the patient.
In case you are considering converting your traditional practice to a concierge care model, keep the following tips in mind:
Assess your existing patients: Is your current patient base looking for 24/7 Internet access? Will they prefer home visits? It is critical to understand which services will appeal to patients with this kind of arrangement. It is equally important to gauge which services and facilities patients will want to pay extra for. A patient survey will also help you evaluate patient loyalty. Are your patients emotionally attached to you and the practice? Will they follow you wherever you go and whichever new services you offer to them?
Create a package and fee structure: Your menu of services and fee structure will depend on your potential patients' needs and their willingness to pay for premium-level care. You will need to put together a complete package — wellness package, weight management, exercise tips and comprehensive tests with everything from stress testing to a full body test. You may continue to see sick patients, but your focus will be toward preventive medicine. Later, based on your potential patient population, you can calculate what you need to charge to deliver excellent-quality services.
Create a schedule: Transitioning from a traditional practice to a concierge practice is labor-intensive. A realistic plan, complete with milestones and benchmarks, will help you keep things on track and maintain continuity.
Pay attention to legal issues: You will need to work with a reputed healthcare attorney who is familiar with the legal procedures and requirements for structuring a concierge-style practice.
Create promotional literature: In order to reach out to existing and potential patients, you will need to promote a new brand image that is consistent with the premium level of services you will be offering.
Have meetings with insurers: As a rule, health plans cannot stop physicians from opening concierge-style practices. Insurers will continue to cover contractually obligated office- and hospital-based services. Still, insurers are being careful. You must be prepared to share whatever promotional material you have and to make any reasonable changes.
Send an introductory letter to patients: Send a letter to your current patients explaining your transition from a traditional practice to concierge-style practice. This may be the hardest step in your transition. It is critical to have a well-crafted letter in order to recruit established patients to your new practice. Keep the letter short and crisp, and invite patients to contact you for further information. Moreover, even the most professionally written letter may not win over all hearts and minds. Some patients will unconditionally follow you, others will wish they could, and some patients will be angry.
Follow up with patients: After sending the introductory letter, you can invite patients for one-on-one meetings. These follow-up meetings will give you the chance to talk in greater detail about your concierge practice and the premium level of services you will be offering.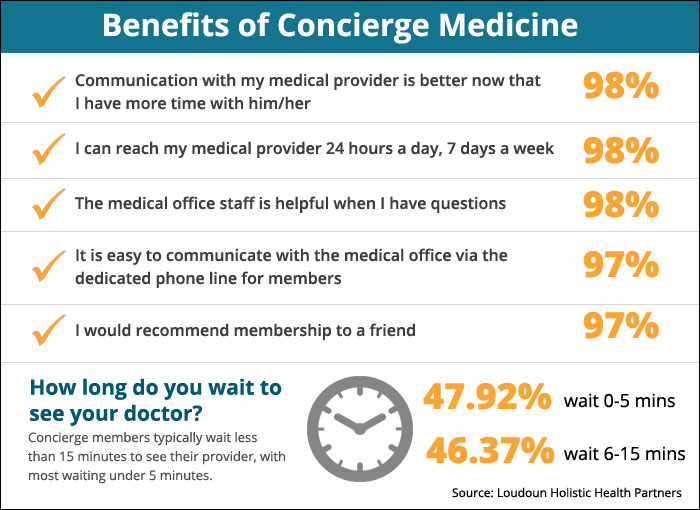 Different flavors of concierge practice
Most concierge practices can be categorized as fee-for-service care (FFC), fee-for-service extra care (FFEC) or hybrid concierge.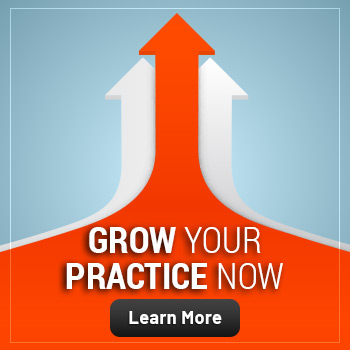 In the FFC model, patients pay an upfront annual fee that covers most of the services offered by the physician. However, there is an additional patient charge for vaccinations, lab work, X-rays and other services that fall outside the annual fee structure. FFC is usually known as a no-frills, low-cost variation that includes fewer services in the fixed price.
In the FFEC model, the patient pays an annual fee, but the extra services that fall outside the retainer are billed to the patient's insurance provider by the physician.
The third business model is called a hybrid concierge model. In this model, the patient gets two choices. First: Pay annual fee for specific services with insurance billing for services not part of the package. Second: Opt out of the enhanced services package so that the practice bills all services to the insurer.
However, in all three business models, the practice is responsible for determining what services are included in the package. The practice also decides whether or not to accept cash and/or credit card payment. In addition, the practice decides on the frequency of fee (monthly, quarterly or annually).
For most physicians, the key benefit of adding a concierge service to their practice is the ability to spend quality time with patients. Personalized service and longer visits usually result in increased patient satisfaction. According to a study conducted by the University of Michigan, School of Public Health, patients are happier with their medical care when they have extra time to spend with their doctors.
Some pros and cons!
Better patient care will be a clear result of having the extra time to spend with them. For doctors who treat chronic illnesses, concierge arrangement can vastly improve the quality of care and overall health of their patients.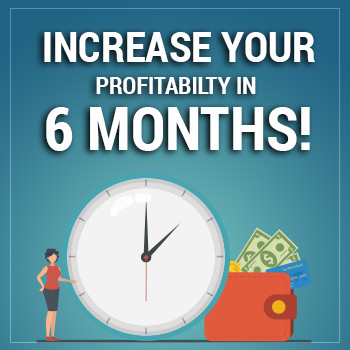 Concierge practice can also help patients feel they are getting value for their money. After paying an up-front fee, unlimited access to their doctors with extensive consultations can feel very comforting, especially for patients with chronic health problems.
In a time where insurance reimbursements are decreasing, and costs are increasing, considering a retainer may be a good way to increase revenue, but the decision to switch from a traditional practice to a concierge practice comes with some drawbacks.
You may lose patients who do not want or cannot afford your payment structure or amount. Even if you are lucky enough to gain a significant number of patients after the transition, that initial loss could be upsetting for your practice. The loss of existing patients and the cost of attracting new patients are why most practices do not forsake the traditional payment system of commercial insurance and Medicare.
You should also consider the new demands that personalized services will place on your practice. Some concierge practices offer a broad range of services, including 24-hour access to the doctor, transportation and home visits. If your practice still has limited staff, you may not be able to meet every need without hiring outside help, and that may prove costly. You may choose to see fewer patients, but that may not be feasible considering your financial goals. Providing a flat fee for regular visits will not justify the cost for most patients, and therefore you will have to include additional services to make concierge practice worth it.
For some physicians, concierge practice is an excellent way to increase profits, save time, develop better relationships with their patients and provide quality care. For others, it may mean loss of profits and patients. If you are planning to make a switch from your traditional practice to concierge practice, it is important to consider its impact on your profitability and patient care.