Is Your Dental Practice Optimized for Voice Search?
Posted on

In a world where smart devices like Alexa and Siri are becoming the norm, voice search has extended way beyond the home and into the pockets of tech-savvy people who now take this technology with them on the go. Smartphones and mobile devices are not just for calling. In fact, they are being used to access local businesses for information such as business hours, directions, reviews, services and much more.
Here are some latest stats to convince you that we are in the middle of the voice search revolution:
Around 20 percent of all searches are voice-related. (Source: Google)
Nearly 58 percent of people have used voice search to find local businesses in 2017. (Source: BrightLocal)
Almost 30 percent of web browsing sessions will be done without a screen in 2020. (Source: econsultancy)
Amazing, no? And the fun has just begun.
However, there is more to voice search than just convenience of searching. Voice searches are changing the way search engines handle queries, how people search for the information and even their attitude toward search engines.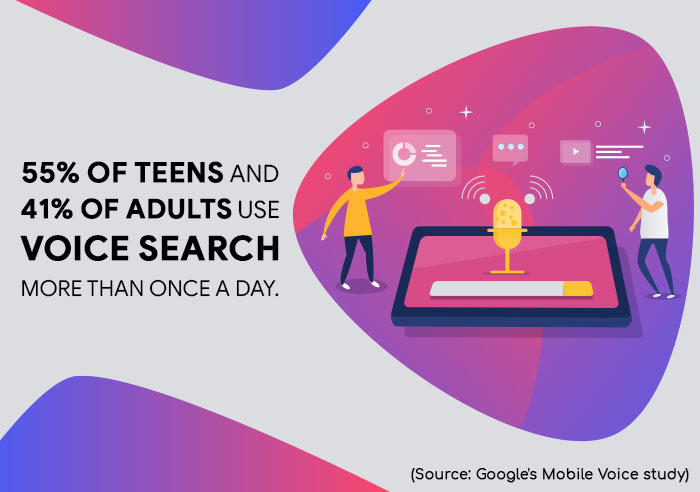 Why Is Voice Search Gaining Popularity?
There are a number of reasons for the growing popularity of voice searches.
The biggest reason is convenience.
The average person can type almost 40 words per minute but can easily speak minimum 150 words per minute. This allows for greater specificity with less effort. In addition, a lot of search users conduct voice searches due to difficulties typing on certain type of devices.
Another reason for the growing popularity of voice search is its integration with the latest products and technologies. Sales figures for Amazon's Alexa indicate that people are ready to embrace smart technologies, are increasingly relying upon voice searches and are likely to further drive interest in such services.
Google recently reported that 70 percent of voice searches via Google Assistant are conversational queries that resemble the way one person would talk to another person. This means voice searchers are no longer asking, "dental practice near me" but instead are asking, "Which is the best dental practice near me to get a root canal done?"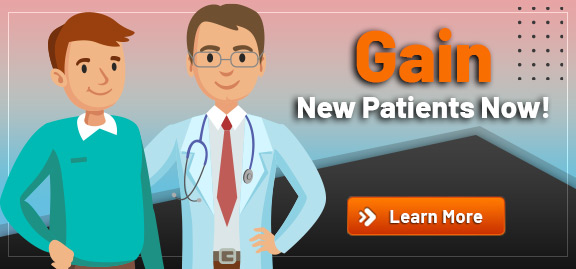 3 Essential Elements of a Voice Search
There is a basic difference in how users conduct voice searches versus how they write text search queries. Here are the basic elements of a voice search:
1. Voice searches are longer and include conversational words: When we type, we tend to use short phrases because it saves effort. On mobile, searches are intelligent conversations with the virtual assistants. When users search for dental practices via typing on their phone or computer, they might write "dental practice in San Diego near me." However, if someone is using voice search, he or she will probably ask a question like, "Which dental practice is best at root canal treatment?" If you start observing these natural language phrases, you will get an idea of your potential patient's mindset and you can then tie it back to your dental marketing funnel.
2. Most voice searches have local intent: According to the 2016 Internet Trends Report 2016, almost 22 percent of people who use voice search do so for locating local information. Google recently announced that "near me" searches have grown over 130 percent year-on-year. People are extensively using voice search for searching local businesses near them. Now, given that people have local intent when conducting a voice search on their mobile phones, it is vital to get the keywords right.
3. Searchers want immediate results: Both millennials and adults use voice search for making calls and asking directions. However, even when they are looking for local information, they may not visit your website. Searchers have a clear goal when they are looking for a local business. Suppose a searcher wants teeth cleaning done and performs a voice search for dental clinics. Google returns the nearest practices with their addresses, distance from the user's location, business hours and reviews. On the basis of the reviews and his or her preference, the user selects a practice and clicks the "call" button to schedule an appointment.
How Voice Search Impacts SEO
In a recent survey of SEO trends, voice search got the third spot. This means that local dental practices should start preparing for this revolution in order to avoid being left out by search engines. But how exactly will voice search change the current SEO scenario?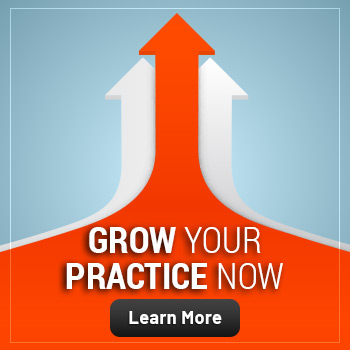 Having a responsive/mobile-friendly website is necessary: Voice searchers are increasingly using smartphones and tablets to search online, and this trend is likely to accelerate. A large percentage of potential patients might be using their smartphones to view your website, so if your site does not load properly on a mobile device, visitors will bounce. Obviously if you fail to adapt, your website rankings will plummet.
Directories will become more critical: According to BrightLocal, 97 percent of people use voice search to find online reviews for local businesses. Since online directories manage such searches, it is safe to assume that dental practices will have to update and optimize their Google My Business listing and other similar services. The more updated your Google My Business listing is, the better the chance that your practice will appear on Google's local 3-pack.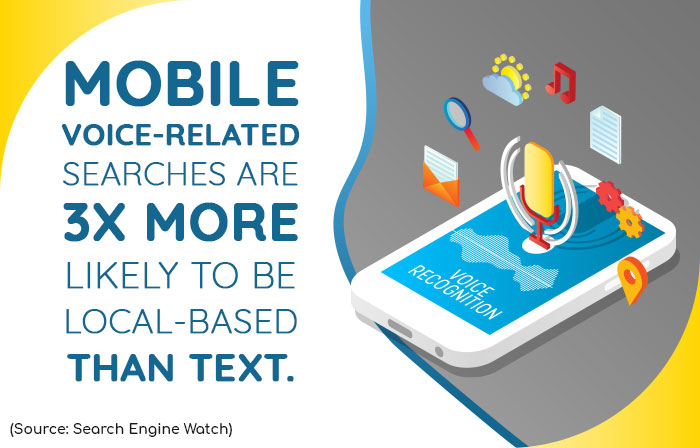 Keyword stuffing will not work: Though this strategy worked in the past, now things have changed. Voice searches are different from typical keyword queries because voice searches are conversational. So a web page stuffed with keywords will not provide enough value to the searchers. In other words, keyword stuffing will make the text look spammy, which contradicts the user-centric vision of Google.
How to Optimize Your Dental Practice for Voice Search
If you are looking to optimize your dental practice website for voice search, the typical SEO rules will apply: unique and relevant content, mobile-friendly website and considering the needs of your target audiences. Here are some ways to make your dental practice voice search-friendly.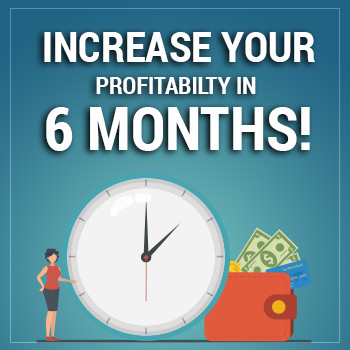 1. Include long-tail keywords: Your search focus should shift from short-phrase keywords to long-tail keywords or even complete sentences, considering the conversational tone of voice searches. This is critical because voice searches use natural language.
2. Create conversational content: Per ComScore, voice search will account for more than 50 percent of all mobile searches by 2020. If dental practice marketers want to seize this opportunity, they will have to focus on developing conversational content that provides instant and accurate answers to searchers' queries. This does not mean long-form content will not be effective. It means the content should be written in a way that helps users accurately and instantly.
3. Optimize for local SEO: Considering the local intent of voice searches, dental practice marketers will need to keep key content areas, such as contact information, updated. It is critical for dental practice marketers to have their websites optimized for mobile, local SEO and voice search.
4. Leverage the FAQ page on your website: The frequently asked questions (FAQ) page on your website can be used to drive voice traffic by optimizing it for long-tail keywords. Online tools can be used to compile keywords that can be marked up with schema to answer search queries.
5. Use rich snippets: In order to create a powerful trust factor and appearing in the answer for a voice search query, it is critical to add rich snippets on your page. These rich snippets will put your page in position zero on search engine results pages.
Include Voice Search in Your Dental SEO Strategy
The growth of voice search is one of the key SEO trends to keep an eye on in 2019. Following these voice search optimization tips can be a great start toward climbing your way to the top of the voice search. No dental practice, regardless of its size or location, can afford to opt out of voice search. If a potential patient does a voice search, comes to your dental practice website and has a bad experience, you have lost a patient.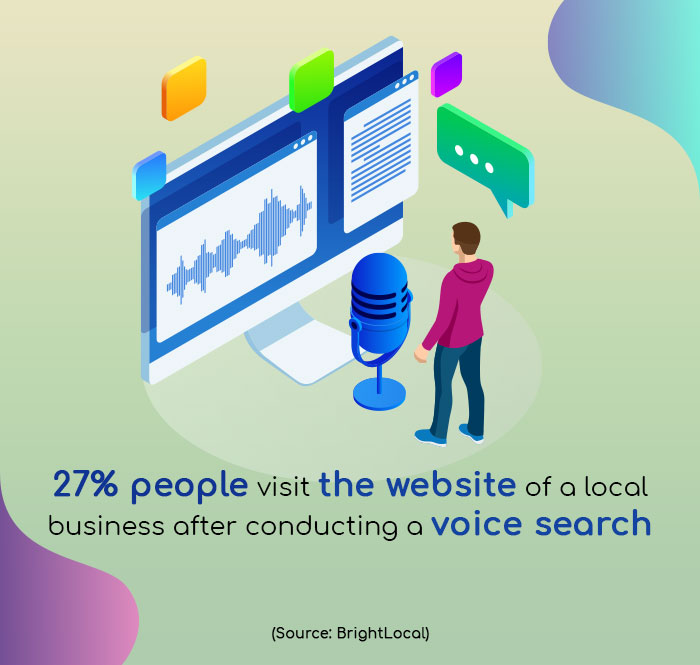 As a dental practice owner or marketer, your goal should be to enable potential patients to find and visit your dental practice. If people are increasingly using voice search to gather information, optimizing your website and updating your dental practice healthcare marketing plan makes sense. Are you thinking of including voice search in your dental practice marketing strategy?
Try our free assessment report today and find out how other dental practices in your area are doing with voice search optimization. Call our experts if you are ready to take your dental practice to the next level.