The 'Secret' Doctor Healthcare Marketing Strategy That Will Make or Break Your Practice
Posted on

There is a secret healthcare marketing strategy we have seen over the years that makes and breaks more medical practices than any other approach.
The reason we call it is "secret" is not that hardly anyone knows about it, but because hardly anyone does it. Yet it is so vital that it can make or break your medical practice. It can be the difference between failure and success.
Hunting Versus Farming
Just imagine yourself as a hunter. You wake every morning, gather weapons and step out to hunt. Some days you come back with your hands full, and your family enjoys a feast. Other days, all of you sleep hungry. You feel the same pressure to hunt successfully every single day – it is a constant battle.
Now imagine yourself as a farmer. You plant good-quality seeds and wait for them to be ready for the harvest. In the meantime, you take care of them and treat them well. You water and look after your crop. When it is ready, you start harvesting.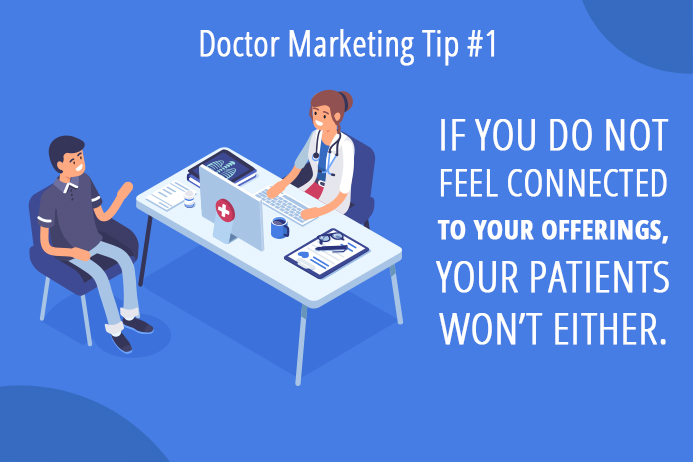 If you ask us, the majority of medical marketers are hunters – not farmers:

They do cold calling to generate new leads.
They spend massive amounts of energy and time trying to attract more patients and would do anything to close the sale.
They are desperate advertisers because they try to compete on price just to attract more patients.
They waste time pestering people who are not interested in their services.
The Transition From Pest to Welcome Guest
How do you feel about a good friend who shows up at your door in the evening? Now compare this with a stranger selling door-to-door who interrupts your family time.
What is the difference? Your friend is dear to you, someone you have a connection and relationship with. The salesman is an intruder. You do not know where he is from, who he is and what he is selling. Your friend is adding value to your life, whereas the sales guy is there to interrupt you.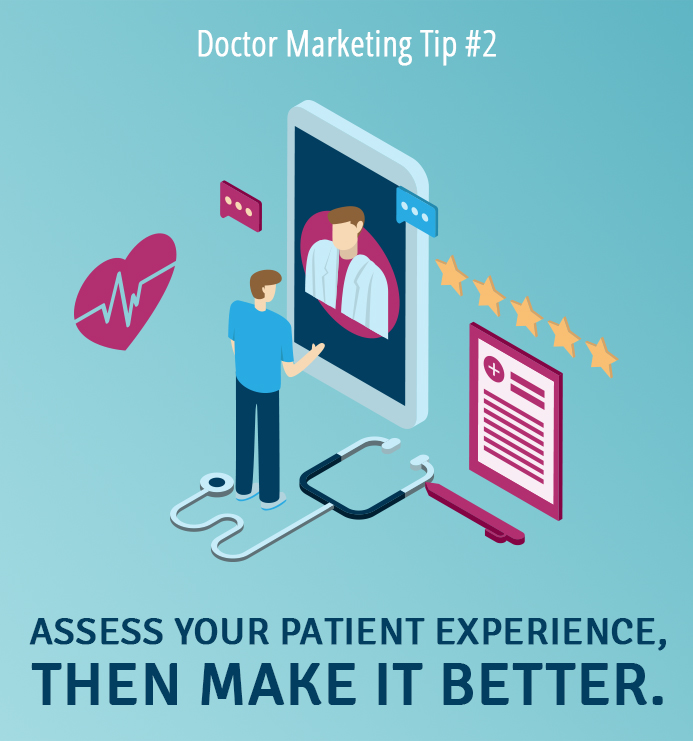 Would not it be awesome if you could approach a potential patient and be treated by him or her as a welcome guest rather than an intruder? Suddenly, selling becomes more comfortable and more pleasant when you are welcomed with a smile and open arms and when the prospect is interested in your offerings.
This is the transformation we would like you to make in your healthcare marketing. We would like you to transition from being an intruder to a welcome guest. Here's how.
Understanding the Goal of Doctor Marketing
Most medical practice owners are clueless about the purpose of their healthcare marketing. They slap the name of their medical practice on their advertisements with a decent logo and some meaningless tagline claiming to be the leader in their specialty or market.
If you ask them what the goal of their advertising is, most will say it is to attract more patients and to get their name out there. This is wrong. This is almost equivalent to flushing your precious money down the drain.
The entire purpose of doctor marketing is not to make an immediate sale – it is to find prospects who are interested in what you do and put them on your follow-up list so that you can build bonds with them, position yourself as an authority and create a relationship built on trust.
After doing this, the patient comes as a natural consequence.
This might require a mindset shift, but it is an important concept to understand.
Delayed Gratification
Some prospects reading your marketing messages might be ready to book an appointment immediately, but the majority of patients are not prepared to schedule an appointment on the day they see your ad – even if they want to use your services.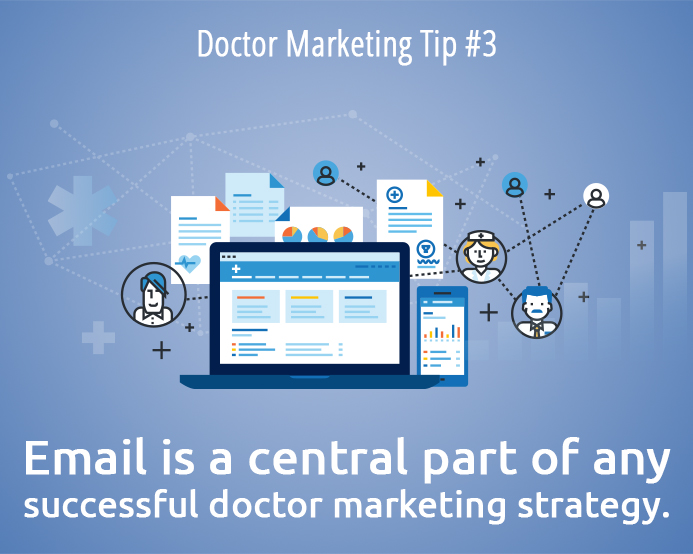 If you do not put them on a database, then you might lose them. Your prospects might be ready to book an appointment in a week, a month or six months down the road. But because your paid advertisement was a "one-shot" approach, you have wasted that opportunity. The chances of your prospects remembering the one-shot ad from six months ago are incredibly slim.
This also has a secondary impact on prospects who are ready to book an appointment immediately. They see you are not desperate to sell your services. They also know that you are interested in building a relationship first rather than just going for the sale.
This kind of doctor marketing is similar to farming. It is an investment because as your database or email list grows, so does your medical practice and profitability.
Doctor Marketing: Promote Your Practice Farmer-Style
You need to accept the fact that most prospects will not buy right away.
You will have to put them on an email list or database for contacting them through email or direct mail (preferably both). Mail relevant content to them regularly to stay in touch, positioning yourself as an expert in your specialty. And, like a farmer, wait for your prospects to become ready for harvest.
This rich database of prospects and the relationship you will build with them can be the most valuable asset in your doctor marketing strategy. It is the golden goose.
Now when the prospect is ready to schedule an appointment, you are a welcome guest or a dear friend rather than an intruding sales guy.
The most crucial thing you can take away from this message is to become a healthcare marketing farmer. It is a simple process:
Market to find prospects who are genuinely interested in your services.
Offer a free consultation or invite them to an open house or a webinar. The idea is to offer free interaction that suggests a solution to a problem they have. This positions you as an educator rather than a sales guy.
Add them to your database or email list for future follow-up.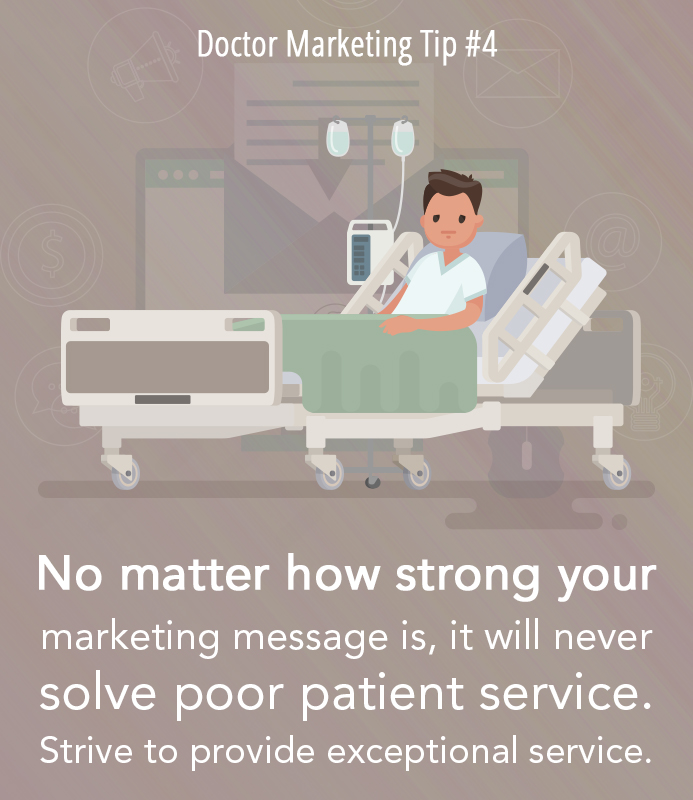 Conclusion
Continually nurture your leads and provide them with value. Be sure to offer valuable information with an occasional discount or special offer. It is essential to stay in regular contact – at least once a month, otherwise the prospect will forget you and your relationship will be relegated to that of a cold prospect and intruding salesperson.
If you become a doctor marketing farmer, you will have a continual and abundant harvest as your prospect list will grow both in number and quality.