Roadmap to a Scintillating Online Reputation for Healthcare Practices
Posted on

Online reputation management is a high-value activity with a direct impact on your marketing, your patient service and your revenue. Take the time to develop a reputation management strategy that can help you achieve clear medical practice goals and maximize your reputation.
Reactive online reputation management will waste your resources for very little return. You will miss the opportunities to build a comprehensively strong reputation that can withstand any slings and arrows with less fire-fighting. By telling your own story, you can establish your reputation and add positive patient experiences to reinforce your narrative. Here's how it is done.
1. Listen to your patients
If you want to be heard above and beyond the social media "noise," you need to listen to your patients so when you do speak, you get it right. When individuals feel that a medical practice is listening, they trust it more. Therefore, you should be actively gathering patient feedback:

Set up Google Alerts: Set up alerts for your practice name, your product names and key terms in your market. Google will send you a signal whenever these terms are mentioned online.
Use social media listening tools: Another reliable way to find out what patients are saying about your brand is to use tools like Mention, SocialMention and Buzzsumo. These tools give you visibility into social networks and online reviews.
2. Hear
Have a robust strategy in place to respond to social media feedback and online reviews. To prove to your patients that you understand their needs, respond appropriately. Making sure responses are timely and thoughtful is also a quick way to turn a negative review into an encouraging one.
3. Know your target audience
If you are only focused on reputation and money, you will risk overlooking the people. Don't ever make that mistake!
Understand your target audience to build trust and connection. You may need to do research, and a great place to start is your website. Bounce rate, behavior flow and time on page are some of the metrics you should regularly be watching for any signs of mismatches between what your patients are looking for and what you're providing them.
4. Make it about PATIENTS
Think about and address whatever matters to your target audience. Give them a public platform to show you what they want, are interested in and expect. Whatever matters to them should become your priority.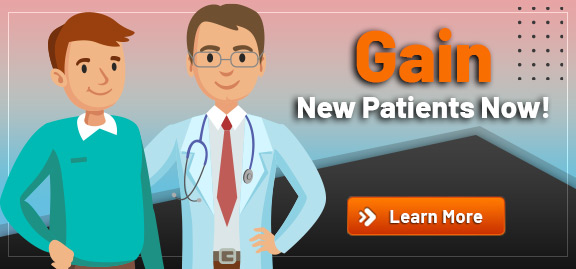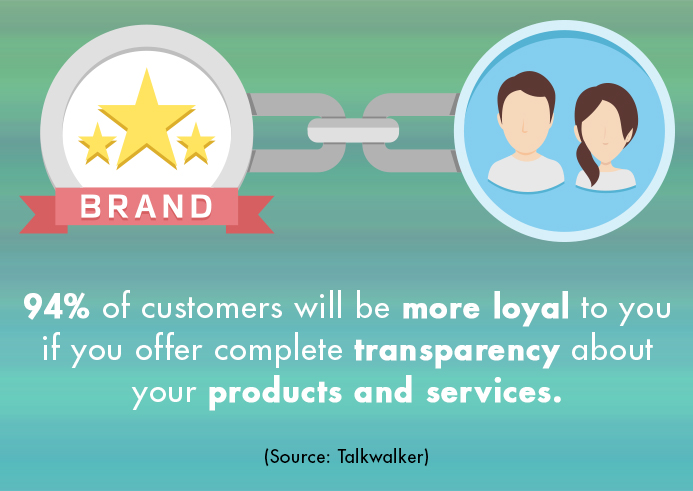 Conduct online surveys: Make it easier for patients to share their thoughts with you through surveys. You can use the information to find out where your patients are encountering problems when dealing with your brand. Is your website too complicated? Is your marketing messaging inconsistent? Once you identify what patients are looking for, you can make the appropriate changes to things like price, convenience, functionality, compatibility and patient experience.
5. Be patient-oriented
Marketers like to think that face-to-face interaction and social media are a set of tools for marketing purposes. In reality, social media is a robust set of tools for patients to share and influence opinions about your brand.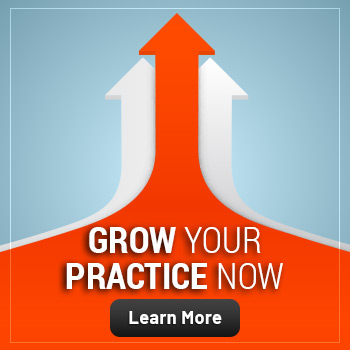 Solicit online reviews. Because patients' voices are the core of your online reputation, you need to amplify them by actively asking for online reviews. You can use surveys to uncover valuable insights into what works and doesn't work for your patients.
6. Ask, "How can I serve you?"
Take the "I" mentality one step further when you are advertising. Focus on building relationships. Serve your patients by providing useful and free resources:
Share your expertise: Establishing yourself as a thought leader is a great way to boost your online reputation as well as gain new patients. You could start by answering specific questions on Reddit and Quora.
Create useful content: The content you share must provide real value to patients. It should not be a sales pitch wrapped in jargon.
7. Aim for ongoing engagement
Your patients will recognize in a heartbeat if you are trying to get something from them – and they will not stick around.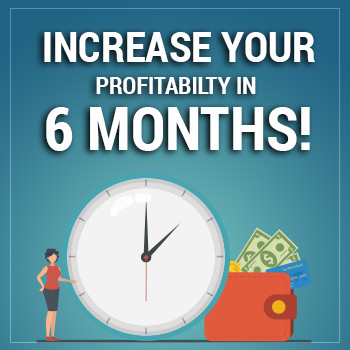 A random Facebook post or tweet will not support your online reputation management campaign. You must continually reach out to patients – offering useful content, asking questions and providing platforms for discussion and reviews.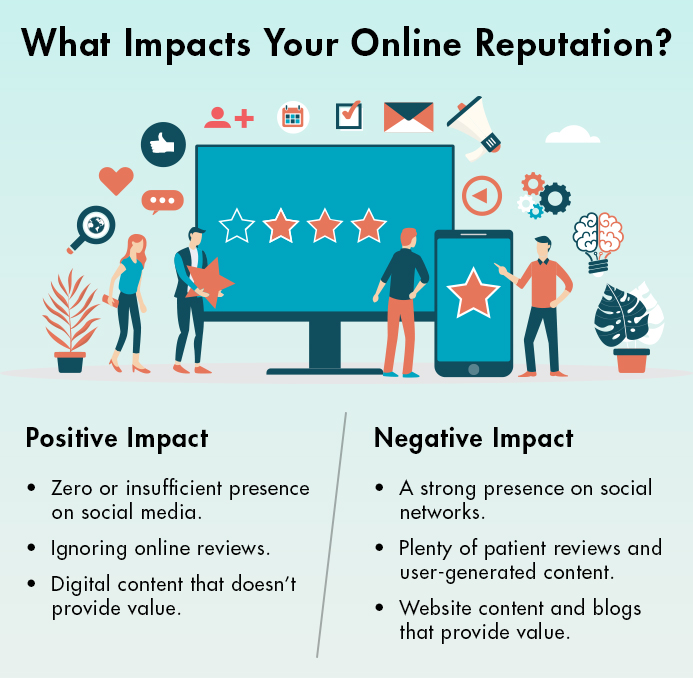 Publish a blog: You can write about topics that are important to your patients. This not only lets you address the conversations that are taking place about your medical practice online, but it also sets your healthcare brand apart from competitors.
Be active on social media: While you don't need to post something every day, you should aim to post once per week to keep your brand top-of-mind.
8. Be original
Authenticity will set your healthcare brand apart from the competitors in today's competitive market.
Own up to your mistakes on social networks: Patients don't expect medical practices to be perfect; they want them to be honest. Medical practices that can do this will foster trust, which is the foundation of online reputation.
9. Focus less on fabrication, more on facilitation
Do not waste time and resources whitewashing your healthcare brand. Instead, invest your resources into giving the target audience the tools to tell the truth about your brand. Enable patients to post the facts in the form of online reviews. Online reviews are what most patients trust – and what they trust, they will try.
Encourage positive reviews instead of deleting negative ones: 85 percent of people trust online reviews as much as a personal recommendation. As such, you are sharing positive reviews to increase trust in your services. It is also a reliable way of encouraging more positive feedback.
Use negative feedback to fix issues: If you find patterns in negative reviews, take the time to investigate your internal processes to see if you can alleviate patients' problems.
10. Be real
In the healthcare market, being genuine is more powerful than being perfect because real creates trust. Give patients chances to interact with you and your brand so they can see that you always tell the truth. Use negative reviews to show you care about your patients.
Acknowledge your mistakes and offer a resolution: Make sure that you own up to any errors on your part and provide a recommendation. This will not only satisfy your current patients, but it will also speak volumes to potential patients about how much you care for their well-being.
Tell your story: If you encounter a review that is not factual, explain what happened calmly and professionally. By providing an explanation, you can negate the impact of the bad review.
Conclusion
Every medical practice makes mistakes. You will, too. But when that happens, instead of burying your head and wait for it to blow over, you must get out in front of it. Fix the problem by dealing directly with the upset patient. You may not have many chances to tell your story. So when you do get a chance, make it honest and humble.