51 Effective Ways to Market Your Practice
Posted on

Marketing your medical practice is mandatory if you want to maintain a healthy business. But it isn't as daunting as it sounds. In fact, many of the tasks you and your staff do on a regular basis contribute to your complete healthcare marketing package. Keeping these tidbits on your radar will help you put forth some extra effort into making sure you do a top-notch job so you can yield big rewards: more (satisfied) patients and higher profits!
Here are 51 effective things you can do to market your medical practice:
1. Host a website. Prospective patients are looking for you online. If you don't have a website you're losing business.
2. Keep an updated blog. Your blog is a great place to write informational articles on health topics pertinent to your patient base. Updating it at least once a week with new, relevant content will keep the bots happy, boosting your search engine rankings.
3. Tweet. With a maximum of 140 characters, Twitter offers a quick and easy way to partake in social media, where prospective patients will be searching for you. Post links to important health information, offer your professional insight on health trends and re-tweet articles of interest in your field.
4. Start a dialog on Facebook. Gain followers and keep them engaged with useful content on your Facebook page. Ask how they manage stress, control sugar intake or any other relevant question that will keep people chatting.
5. Focus on keywords. When writing your blogs, website pages and other online marketing materials, keep in mind keyword phrases that your clients use to search for you or your content. Make sure to pepper these keywords into your marketing materials for better search engine rankings. To identify relevant keywords, think about the questions that patients ask you a lot, and look at the keywords in the "related search" fields when you conduct online searches.
6. Solicit patient testimonials. Patient testimonials from satisfied patients are your best form of advertising! When you solicit testimonials, be sure to get patient approval to post on your website and other marketing materials.
7. Give back to the community. Whether you give financial support to a local little league team or participate free of charge in a community-sponsored health event, you'll establish a positive reputation for your practice in your local area. Make sure to take pictures and post them on your website and social media accounts, and link back to the charity or organization you supported.

8. Post staff photos on your website. As prospective patients seek you out online, they'll enjoy virtually meeting your practice's staff. Seeing pictures beforehand will ease patient anxiety at a first-time visit.
9. Don't neglect your Contact Us page. Your Contact Us page is one of the most highly trafficked pages on your website. Put a friendly call to action along with an easy way for potential and current patients to get in touch with you.
10. Update your contact info if you move. Keep track of all your contact pages on your website, Facebook, Healthgrades, etc. If you move, be sure to update the contact info on all of them so they remain accurate and consistent. Your patients will get confused if they search for you and find contradicting addresses and phone numbers.
11. Keep your practice clean. You won't attract or keep many patients if your office smells bad or is run-down and shoddy. Take pride in your office's appearance!
12. Learn to say you're sorry. The old adage "the customer is always right" holds true in the healthcare industry. Even if you disagree with your patient, treat him like a loyal paying customer whose business you want to keep. A little humility goes a long way toward resolving differences.
13. Measure your social media metrics. Posting on Facebook, Twitter, Instagram, etc. isn't enough; you have to measure how well your posts are helping you reach your goals. For example, how many people has your social media campaign converted into patients? How often do your followers comment on your posts and engage in a dialogue? How many times are your posts shared by reputable sources, like medical journals, doctors, etc.? These are all metrics you need to measure.
14. Participate in local or regional trade shows. Expand your practice beyond just your local town. Participate in trade shows or health fairs pertinent to your field of expertise. Especially if yours is a specialized field, you may rely on those out-of-town patients!
15. Keep patients comfy while they wait. A pleasant waiting room experience is part of overall patient satisfaction. Make sure you're offering a clean, inviting, relaxing space with entertainment options such as toys, a TV, books, magazines, coffee and water, etc.
16. Craft patient surveys. The best way to find out how you're doing and how you can improve is to ask past and current patients to participate in a survey. Be sure to actually make some of the changes in your practice that your patients report.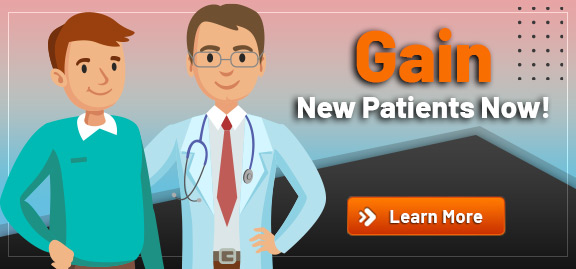 17. Write effective staff bios. As prospective patients look you up online, your staff bios will introduce them to the face of your practice. Prove to them up front why they are in capable hands if they pick your pracitce.
18. Focus on conversions. Make sure that your paid marketing efforts translate into new patients. If you aren't seeing results from any particular method, drop it for something new. A great way to do this? Install Google Analytics on your website.
19. Give away premiums. Items with your logo on them such as pens, magnets and calendars are a great way to keep your logo and your practice at the forefront of people's minds.
20. Update to a responsive website design. One single website that converts to display properly on different (mobile) devices is all you need to maintain to keep search engine rankings high and grab those new patients.
21. Start a referral program. Give current patients a free consultation coupon to pass along to a friend or family member, or offer patients a discount for their referrals. Word-of-mouth is still a viable marketing source!
22. Publish a free newsletter. Write a short monthly newsletter filled with articles, recipes, health tips, upcoming community and practice events and coupons or discounts for your services. Distribute this via email and offer recipients the option to opt into your other email marketing efforts.
23. Post videos on YouTube. Whether you create videos of yourself promoting your practice, explaining your professional background or instructional exercise videos, YouTube is a great resource for garnering followers, search engine rankings and more business.
24. Sponsor a giveaway. Hosting a giveaway with exciting items like a new bike, gift basket or gift cards for your services will enable you to collect contact information which you can then use for your marketing efforts. Make sure to include a check mark on your sign-up ticket where the person can indicate it's OK for you to send them more information about your practice.
25. Get on Healthgrades and Yelp. Prospective patients are searching for you on Healthgrades and Yelp. Register your practice on these sites so you can keep your profile up-to-date and accurate.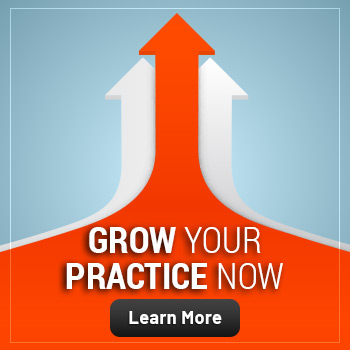 26. Keep tabs on patient reviews. Take control of your reputation management. If you find negative reviews on Healthgrades or Yelp, be sure to address patient concerns.
27. Google your practice. Look at your online presence from an outsider's perspective. Think about if you were a patient looking for a physician, would you choose your practice?
28. Add or claim your listing with Google My Business. Register your practice with Google My Business so that your operating hours, phone number and directions to your practice come up when prospective patients search for you with the Google search engine and Google Maps.
29. Send cards to your patients. Thank-you cards are a great way to let patients know you value their business. Don't forget birthdays, holidays and even sympathy cards.
30. Sit in your waiting room. Sit in your waiting room for 20 minutes to see what your patients' waiting experience is like. This will help you evaluate what you need to do to make it better.
31. Embrace technology. Whether it's EHR or a new medical device, staying current on healthcare trends will allow you to offer your patients state-of-the-art medical care.
32. Educate patients with handouts. Stock handouts and brochures pertaining to health topics your patients are facing. Send patients home with these to empower their managed health efforts and help them stay on track.
33. Publish print ads. You don't have to pay a fortune for a printed advertising campaign. Run a small print ad in one or two of your community newspapers once or twice a month to keep your practice on people's minds.
34. Be friendly. Not just you, but your whole staff. Your practice will get a bad reputation if you have a cranky, rude receptionist. Establish yourself as a practice with staff who truly care for their patients. Word gets around!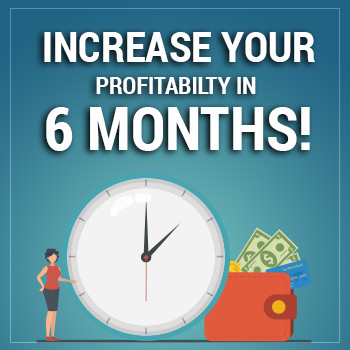 35. Host an open house. Hosting an open house allows people from the community to stop in and visit your practice. Offer a promotion for first-time patients who sign up for an initial consultation at your open house, and have visitors sign up for your newsletter by providing their email address.
36. Have a patient appreciation day. Hang balloons, serve refreshments, provide a small giveaway to every patient thanking them for their loyalty to your practice, and solicit reviews and feedback. Giving your office a festive look in honor of your patients will make them feel appreciated.
37. Publish journal articles. Getting yourself published in journals pertaining to your area of expertise will identify you as an expert in your local community.
38. Encourage positive patient reviews. It doesn't take much encouragement for a dissatisfied patient to post a negative review on Healthgrades. But sometimes it takes a gentle reminder for patients to post the good reviews. So put up a sign at the desk, include a link to review sites in emails and create a raffle for people who leave a review.
39. Make eye contact. Train yourself and your staff to look away from their computers in the waiting area and in exam room and into patients' eyes. Patients remember that. Don't type in patients' charts while they are talking to you. This will factor into their perceptions of your office.
40. Flex your schedule. Re-examine your office hours and consider operating under more flexible hours based on your patients' schedules.
41. Plan your blogs. Create a blog calendar so that you publish blogs consistently and aren't scrambling for last-minute topics.
42. Get associated. Join a small business association in your area to get to know other business owners and doctors you can collaborate with.
43. Sell products. Stock retail items in your practice to help boost sales. If you're an ophthalmologist, an optical shop is a must. Doctors and staff in other specialties can consider selling vitamins, pillows that promote proper neck alignment, special teeth cleaning supplies, etc.
44. Set goals. Don't just expect that your marketing efforts will fall into place. Set both short- and long-term obtainable goals, reviewing them with your staff at regular meetings.
45. Send appointment reminders. Mail postcards to or email patients reminders that it's time to schedule another appointment. If they don't call in for that appointment, call them as a courtesy.
46. Win patients back. Contact former patients and try to win them back with "We've missed you!" postcards. Don't forget to offer an incentive to come back to your practice.
47. Market to other physicians. Other doctors and specialists in your area could be a great referral source for new patients. Make sure to expand your outreach to include them in your marketing efforts.
48. Make an emotional connection. Talk to patients while you visit them in the clinical setting and get to know them on a personal level. Show genuine concern for their well-being. Once they have an emotional connection, they'll feel more loyal to your practice.
49. Listen. Listen to your patients as they explain the details of their condition and let them know you believe they are working hard at maintaining healthy habits. If your patient needs to vent over the long wait time, let them vent and then assure them you'll do what you can to fix the problem. Taking the time to listen to patients validates their concerns.
50. Build a brand for your practice. Everything you do to market your practice establishes your brand, which sets you apart from others in your field. Work with your staff to determine and craft what sets YOU apart and how to claim that identify for your practice.
51. Hire a digital marketer. You don't have to go it alone! If managing your digital marketing is too much for you, enlist some help from an expert source.
Don't know where to start when it comes to attracting and retaining patients? Practice Builders can help you create a plan of action to evaluate and boost your marketing efforts! Contact us at info@PracticeBuilders.com or 833-364-0793 to sign up for a free marketing consultation.