5 Painless Ways to Attract New Patients to Your Chiropractic Practice
Posted on

Marketing your chiropractic practice may feel like a pain in the neck, but it's necessary if you want to remain competitive and attract new patients to your office. We've got your back with five ideas you can use to market your practice and build your patient base:
1. Maintain a competitive online presence. It isn't enough just to have a website. You need a responsive website design that loads effortlessly on all mobile devices. Host a blog with interesting articles that your patients will care about to boost your search engine rankings. Post videos on YouTube that introduce prospective patients to your practice and explain common back ailments (…and how you can help alleviate those aches and pains!). Post a profile on LinkedIn showing your credentials, link with other physicians and therapists and post articles that will interest chiropractic patients. Bottom line: When it comes down to you and the other guy, he who has the stronger online presence gains the business.

2. Implement a referral card program. Give patients a referral card to pass along to a friend or family member to come in to your office for a free X-ray, free or reduced-cost initial consult visit or free massage. Someone who has been considering chiropractic care might jump on the opportunity if there is a special perk involved! Just be sure to limit how many cards you hand out and stamp the cards with an expiration date so you can control the maximum number of free consultation appointments you will perform by a particular date.
3. Make adjustments to your schedule. Examine your practice's hours and see if you can do better to accommodate your patients' schedules. Are you a straight 8 to 5 practice or do you have evening and weekend hours? Flexing your schedule to suit a variety of patient availabilities will boost your business. Considering that Saturdays are a somewhat slow day, you might be able to get away with not having a receptionist on hand if you can handle the phones as well.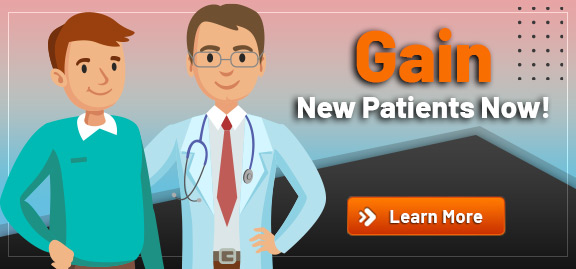 4. Buy print ads. You don't have to spend a fortune to get your name out in your local community. People really do read community newspapers and the ones that do take pride in supporting their local businesses. Even if you publish a bi-weekly or monthly print ad, the visual exposure will put you in people's minds. When the time comes for them to look for a chiropractor, they'll think of you first.
5. Expand your outreach. In your quest for patients, you have to think outside the box. Expand your marketing efforts to regional primary-care physicians, physical therapists and local gyms and sports centers. You could even connect with local attorneys if you want to reach out to personal injury patients.
Let us help you create a plan of action to attract more patients to your practice during a free chiropractor marketing consult. Schedule yours today – just email info@PracticeBuilders.com or call 833-364-0793.