7 Proven Ways to Make Patients Fall in Love With Your Practice
Posted on

The Harvard Business Review recently surveyed thousands of customers to understand their service priorities. It was found that customers desired "an effortless experience" the most. The same outcomes can be applied to the healthcare community, where patients are our valuable customers. The more effort patients need to expend to get what they want, the more dissatisfied they will become.
Nurturing relationships with your patients is an important part of growing a successful medical practice. In this age of innovation and automation, caring for your patients has never been more critical.
At any moment, an unhappy patient can share their opinion with the public through social networks and negatively affect your practice. This is why it is more important than ever to create an unmatched experience for your patients to help develop your practice's relationship with them into love. Creating love between your medical practice and your patients can help scale priceless positive word-of-mouth.
Creating a patient-focused culture of this nature is an opportunity that should not be overlooked. Most practices are failing when it comes to delivering the positive patient experience. This can be your opportunity to swoop in and enchant those patients into falling for your practice.
The Importance of Patient Satisfaction
Patient satisfaction is a marketing term that measures how services provided by a medical practice meet or surpass a patient's expectations.
Patient satisfaction is important because it gives healthcare providers with a metric that they can use to manage and improve their practices.
In a survey of 200 marketing managers, nearly 71 percent responded that they found a patient satisfaction metric very useful in managing and monitoring their practices. Here are the top five reasons why patient satisfaction is so critical:

1. It indicates patient's loyalty: Patient satisfaction is the best indicator of how likely a patient will come back in the future. Asking patients to rate their satisfaction level on a scale of 1-10 is a good way to find out if they will become repeat patients or brand advocates.
Any patient who gives you a rating of 7 and above can be considered satisfied, and you can safely expect him or her to come back and schedule repeat appointments. Patients who give you a rating of 9 or 10 can even become your brand advocates.
However, scores of 6 and below are warning signs that a patient is unhappy and at risk of leaving. These patients need to be put on a watch list and followed up so you can determine why their satisfaction is low. This is why patient satisfaction is one of the most effective metrics practices use to determine patient loyalty.
2. It is a point of distinction: In a competitive marketplace where practices compete for patients, patient satisfaction is seen as a key differentiator. Practices that succeed in these cutthroat environments are the ones that make patient satisfaction a priority in their business strategy.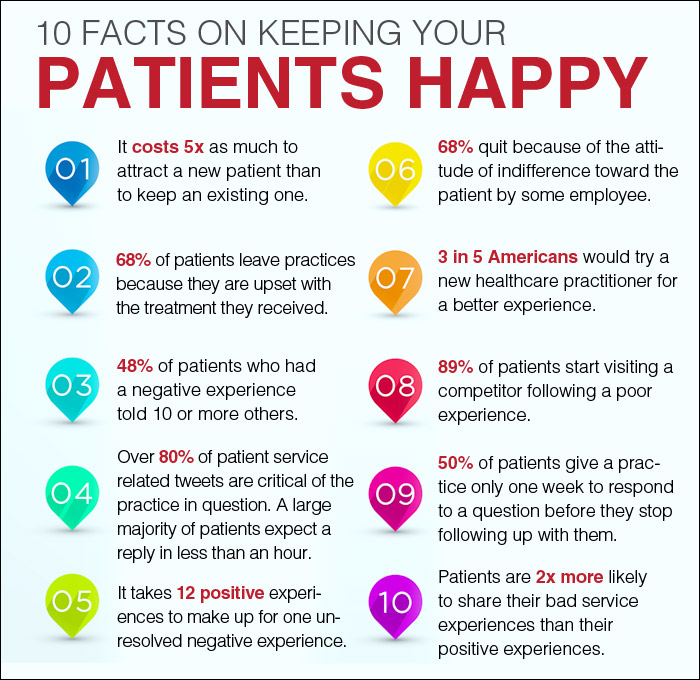 Practices that offer amazing patient experiences create environments where satisfaction is high and patient advocates are plenty. Not only can patient satisfaction scores help you keep a finger on the pulse of your existing patients, but it can also act as a point of differentiation for new patients.
3. It is cheaper to retain patients than acquire new ones: This is probably the most publicized patient satisfaction statistic. It costs six to seven times more to acquire new patients than it does to retain existing ones. Patients cost a lot of money to acquire. Your marketing team spends thousands of dollars getting the attention of potential patients, nurturing them into leads and motivating them to schedule an appointment. Why is it that you spend little or no money on patient retention?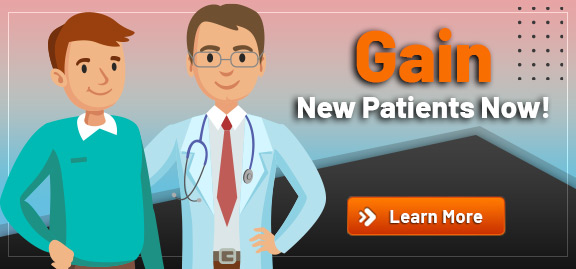 Imagine if you allocated one-eighth of your total marketing budget toward patient retention.How do you think that will help you with improving patient satisfaction and retaining patients?
Here are some the most effective patient retention strategies to get you thinking:
Use blogs to educate patients.
Use emails to inform of special promotions.
Use satisfaction surveys to listen to complaints and compliments.
Delight patients by offering personalized experiences.
4. It increases patient's lifetime value: According to a study by InfoQuest, a 'totally satisfied' patient contributes 2 to 3 times more revenue than a 'somewhat satisfied' patient. In addition, a 'totally satisfied' patient contributes 14 times more revenue than a 'somewhat dissatisfied' patient. Satisfaction plays an important role in how much revenue a patient generates for your practice. Successful practices understand the importance of patient lifetime value. By increasing patient lifetime value, you can improve the returns on your marketing dollar.
5. It reduces negative word-of-mouth: McKinsey revealed that an unhappy patient tells between 9 to 15 people about their experience. In fact, 13 percent of unhappy patients tell over 20 people about their experience. This is a lot of negative publicity. How much will that affect your practice and its reputation in your community?
Patient satisfaction is firmly linked to the bottom line and repeat appointments. What gets forgotten is how patient satisfaction negatively impacts your practice. It is one thing to lose a patent because he or she was unhappy. It is a different story altogether to lose 20 patients because of bad word-of-mouth.
In order to eliminate bad word-of-mouth, you must measure patient satisfaction on a regular basis. Tracking changes in the satisfaction level will help you identify if patients are happy with your services.
Most practices think they are the best and they have no dissatisfied patients. The reality is, almost 96 percent of unhappy patients do not complain. In fact, most unhappy patients will simply leave and never come back.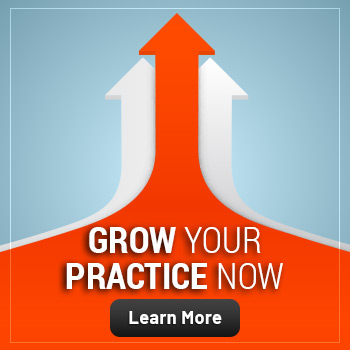 Patient satisfaction plays an integral role in your practice. Not only is it the leading indicator to measure patient loyalty, identify unhappy patients and reduce churn, it is also a key differentiator that helps to attract new patients in a highly competitive marketplace.
Tips to Increase Patient Satisfaction
As patient expectations are skyrocketing and profit margins are increasingly squeezed, focusing on positive patient experiences that boost engagement and add value to your practice is no longer an option: It is imperative. Research shows that when patients are fully engaged, they are both emotionally attached and rationally loyal to a medical practice. Not to mention, they are more valuable.
So, here are some important tips and strategies that practices can implement to increase patient satisfaction: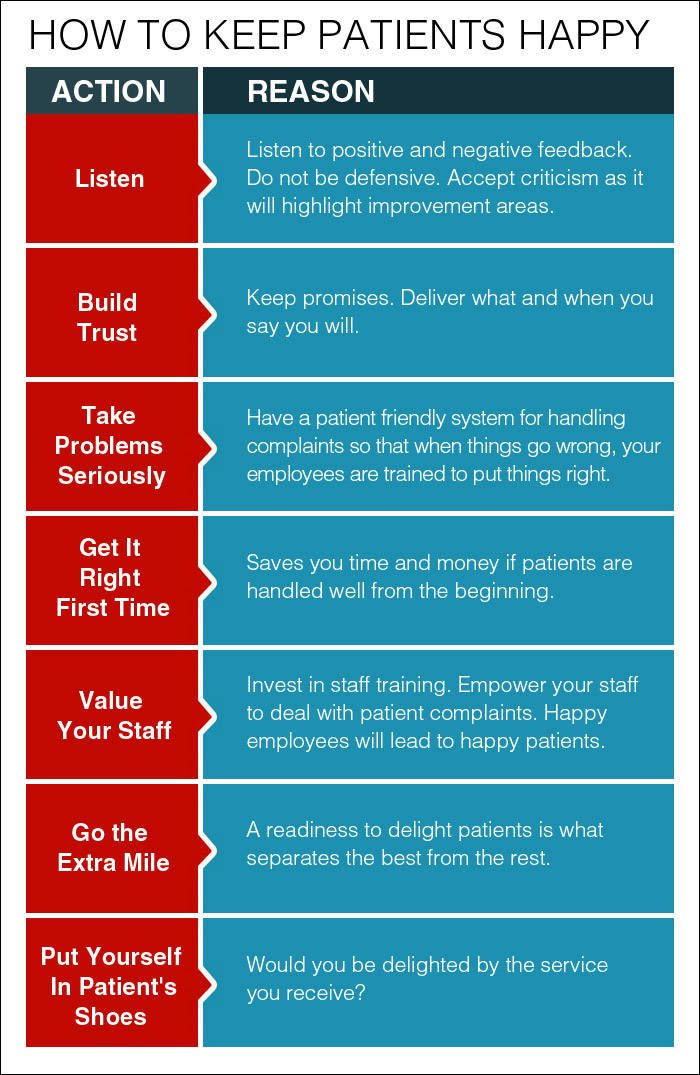 1. Treat your patients right: Happy patients tell four to six people about their good experience. This is a way to influence word-of-mouth about your practice. Do not act as a nameless or faceless practice; instead, talk with your patients as a person representing the practice. You must always address your patients by name, and tell them your name at the very beginning of your consultation.
2. Respect your patients: One-third of patients say they experience rude staff at least once a month, and 58 percent of them tell their family and friends. This is exactly how negative word-of-mouth can work against your practice's reputation for the long term. It is essential to be respectful of a patient's mood when trying to resolve an issue they have with your practice. Maintaining your patience is key to giving your patient the time to air their grievances. This creates the opportunity for you to resolve the issue and make them comfortable. The more comfortable the patient is, the more likely he or she will share valuable feedback that can help promote your medical practice.
3. Always listen to your patients: As much as possible, have a healthy dialogue with your patients and listen to what they have to say. When listening to your patients, take into account what changes your practice and staff should infer from this feedback. Your patients are the lifeblood of your medical practice, and not dealing with legitimate requests will likely cause backlash.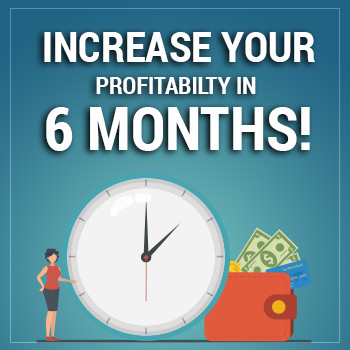 You can use the following methods to gather feedback from your patients:
Surveys
Observation
Patient service
Social networks
Online communities and groups
Emails and web forms
4. Offer ongoing support to your patients: The biggest reason for patient attrition is dissatisfaction with staff or service. You should do everything in your power to provide excellent service to your patients on an ongoing basis. You must respond quickly and enthusiastically, and offer a special offer or discount with the hope of up-selling the patient to consider more services. There is never any reason to slow down on satisfying your target audience, especially when they are having a conversation with you over the phone. It is essential to note that 81 percent of practices with strong capabilities for delivering excellent patient experience are outperforming their competition.
5. Treat patients like valued partners: Take your patient's feedback seriously and act upon workable requests. What is the point of listening if you are never going to act on that feedback? Make it clear that you want your patient's valuable feedback and that your practice values them as a partner.
It is important for you to be completely transparent and allow your patients to contribute to improving your service for the future. Focusing on your patient to this level is an effective way to strengthen their trust and loyalty for your practice.
6. Be transparent: Being transparent is a must. Much like the tips and ideas discussed above, transparency is an essential element in building trust and satisfaction from your patients. But, what does it mean to be transparent?
Transparency means that you are not afraid of opinion and feedback.
Transparency means that you do not hide any facts.
Transparency means your employees' personal and work identity blur.
Transparency means you like to have conversations with your patients.
7. Always keep your promises: Your word is your promise. Following up on your promises will show the transparency of your practice, while helping to build a feeling of trust with your patients. However, it is important to manage your patients' expectations in order to ensure realistic goals are set. You must remain consistent in your messaging so that your patients can learn what they should expect from you in the future.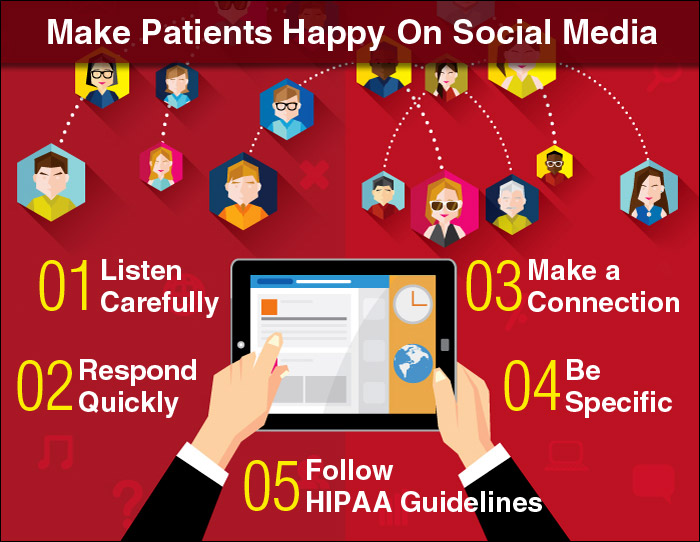 Conclusion
Everything starts and ends with your patients. This is an area where business is won and lost. So, keeping your patients happy and satisfied is your primary responsibility. Happy patients will bring you more patients and opportunities, while unhappy ones may cause reputation crises. Therefore, loyal patients are one of your most important assets.
However, patient experience demands constant nurturing with a greater focus on strategy. Whether it is through emails, social networks, surveys or face to face, as a medical practice looking to thrive and attract more patients, it is essential to focus on patient experience.
Remember, in a reality where your patients pay your paychecks, you must treat patients as if they were your boss.
Practice Builders' has decades of experience in helping our clients improve outcomes and enhance the patient experience. We create and implement the best practices in healthcare innovation along the patient journey. The result is improved the bottom line, increased sales and a strong online reputation. Contact us for a free consultation today.