Online Appointment Scheduling: Take Your Medical Practice from Patchy to Profitable
Posted on

When it comes to ease-of-use and convenience, most medical practices are not currently delivering the comfort and access that their patients desire. According to a report, nearly 81 percent of patients want to be able to book their doctors' appointments online, and almost 40 percent of patients would switch providers in order to get online access. However, Accenture has revealed that only 40 percent of the top 100 healthcare facilities in the country offer online appointment scheduling.
The biggest, and the most tedious, part of running a medical practice is scheduling appointments. Traditional or manual systems require a lot of back and forth with patients, which may lead to errors. These mistakes can adversely affect your relationship with patients and harm your practice reputation.
The technology available today, however, gives medical practice owners an opportunity to automate appointment scheduling. Online appointment scheduling tools offer a professional way to handle patient appointments and provide efficient solutions that allow practice owners to manage communications.
Online appointment scheduling helps further your practice's mission of putting your patients at the center stage and, in the process, improves your reputation and bottom line. This service reduces time-consuming phone calls and improves access to healthcare so that patients can schedule appointments with your doctors anytime, even when your office is closed. It also enables patients to stay on top of preventive care needs, helping control their upcoming appointments and tracking tests and checkups.
How Significant Is Online Appointment Scheduling?
Online appointment scheduling is gaining momentum quickly. According to a study from Accenture, by the end of 2019, nearly 66 percent of healthcare facilities in the U.S. will offer online appointment scheduling, and more than 64 percent of patients will book online appointments using different tools. Nearly 38 percent of appointments are likely to be scheduled online, creating more than $3.2 billion in value.
In addition to offering ease-of-use, online appointment scheduling can give you access to patients who have a tough time booking an appointment during their work hours. According to recent research, nearly 45 percent of appointments booked through online system are booked outside of work hours, and most patients visit their healthcare provider within 24 hours of requesting an appointment.
Though any medical practice is highly unlikely to see a 45 percent increase in patient visits just by using one of these scheduling tools, these tools can make it easier for your patients who are busy during the day to schedule an appointment. A lot of these patients desire the convenience of online scheduling and will choose a healthcare provider who offers this service.

Online appointment scheduling tools can also save your employees a lot of time, which will allow them to focus more on patients who are currently in the office so that patients can have the best possible experience. This is a much better use of your team's time than making or receiving phone calls, attending to voicemails and handling follow-up calls.
How Do Online Appointment Scheduling Tools Work?
In order to enable patients to book appointments directly from your practice website or social media page, the online appointment scheduling system will provide you with a URL that you can link to your website. This URL will be specific to your practice, so when patients visit it, they will be able to book appointments directly. You will not need to design a separate website or create any of the scheduling features – the hosting company will provide you with your own profile that you will need to maintain. However, you will be expected to ensure that the vital information, such as address, phone numbers, business hours, list of services, insurance providers, etc. is up-to-date.
Usually, the online appointment scheduling system interlocks with your practice management system and displays the available timeslot for each doctor. This feature maximizes the possibility that the appointment time requested by the patient is available. This feature is critical because, if the requested timeslot is already taken, your staff will have to request the patient to discuss other slots that might work for them, which negates the convenience of online scheduling.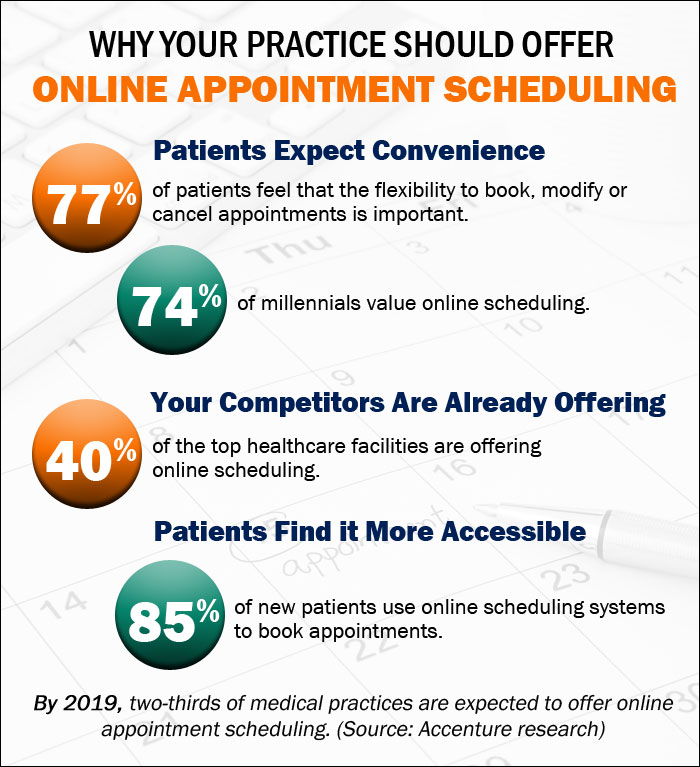 It is also essential to understand that a lot of online appointment scheduling systems that claim to harmonize with your practice management software are only able to read your schedule, not write to it. In this case, after you confirm an appointment through the scheduling system, you will have to manually enter the appointment into your practice management system. Preferably, the system you choose should be able to automatically enter appointment details into your practice management system.
If the online scheduling system does not sync with your practice management system at all, your patients will have to email you to request appointments, and they will not have any visibility of the available or booked timeslots. This would require you to reach out to individual patients to discuss alternative timeslots if the timeslot requested by them is unavailable. Once you agree on a time, you will have to manually enter the appointment in your practice management system.
Why Should You Use an Online Appointment Scheduling System?
A growing number of medical practices are going online with appointment scheduling systems. There is a greater need to understand why such systems do not just streamline appointments, but also benefit the practice, staff and patients. Appointment bookings, cancellations, follow-ups, reminders and other functionalities can now be handled online with efficiency and without all the chaos that is associated with manual appointment scheduling systems.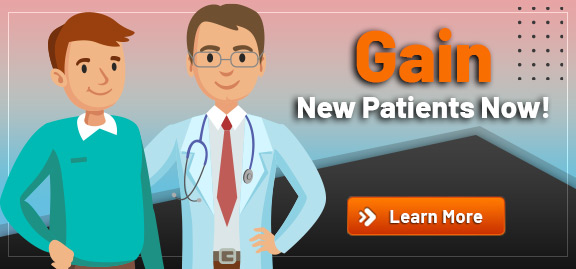 However, transitioning to an online system, or even changing providers, is a daunting process. We will try to make this process easy and pain-free by putting together the top 10 reasons why you should be using an online appointment scheduling system:
1. Empowered Patients
One of the biggest reasons an online appointment scheduling system is gaining popularity is that it enables patients to make the appointment to see their healthcare provider. These systems make it easy for patients to go to their computer screens, access the healthcare provider's website and make an appointment. In addition, patients can play a bigger role in making healthcare-related decisions. They can make an appointment to a provider other than theirs, in a matter of minutes, from the comfort of their home.
2. Better Physician-Patient Interaction
The provider can interact with patients without the need to call them, saving a lot of precious time. Scheduling an appointment online is an effective and a less costly way for doctors to communicate with their patients. The time previously spent doing office tasks can now be shifted to allow for more quality time with your patients. Your patients will value the extra attention and become repeat customers based on the level of personalized care you provide.
3. Enhanced Service Quality
A lot of times errors are made by the staff or patients while exchanging critical information. This may cause problems for both the patient and the provider when the patient arrives. Through online appointment scheduling, there can be no such thing as mistakes. Online booking systems take into consideration the workflows of patient communication. Most systems include features such as automated appointment confirmations, automated appointment reminders and thank-you emails. Appointment reminders can help reduce no-shows and allow time for rescheduling, so your staff can keep your schedule booked. Your pricing and cancellation policy can be easily communicated through these emails, reducing awkward conversations. Through automated emails, your patients will be well-informed about the details of their next appointment with you.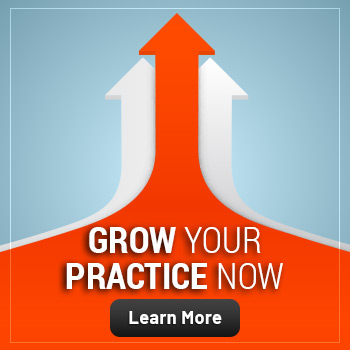 4. Reduced Employee Cost
Making appointments via phone calls requires a lot of attention and resources. Your patients may have to make a number of calls, go through the Interactive Voice Response (IVR), the receptionist has to fill in a number of forms and do a zillion more activities that have not much significance. Also, the practice owner has to spend a significant amount of money on the appointments. This expenditure can easily be reduced by using online appointment scheduling. These systems rarely need any effort from your staff, as most of the information is filled by the patient. According to a study, medical practitioners can save more than one full-time equivalent, which is factored at 160 hours per month.
5. Filled Empty Slots
Every vacant appointment slot costs you money. You must have determined your charges per visit based on your costs, and many patients may reimburse at a lower rate than your fee schedule. So, if you do not fill those appointment spots on your calendar, you are losing money you need to thrive in business. For most healthcare providers, the average visit is worth about $100 to $150. If you allow 30 appointment slots in a day and do not fill 20 of them, that is up to $2,000 in lost revenue. Online scheduling may work great for last-minute and same-day scheduling, as it can help you fill empty slots.
6. Appointment Reminders
Don't you hate it when a patient forgets about his or her appointment or gets the date or time wrong? Your staff must be spending a lot of time every day to manually go through your appointment schedule and sending out reminders just so that your patients will remember to come for the consultation they booked in the first place. Appointment reminders are now commonplace in the industry and are expected by patients. Most online appointment scheduling systems let you configure reminders and can automatically send your patients reminders every step of the way. This helps minimize 'no-shows' and makes your patients feel like they are important.
7. Increased Patient Satisfaction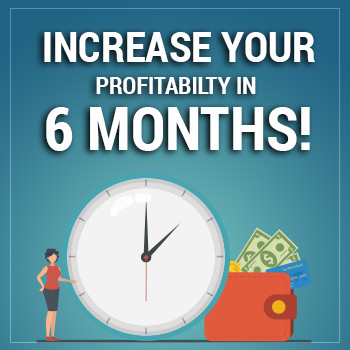 Two common complaints from patients are long hold times on the phone and the work it takes to schedule an appointment. Online scheduling systems can address both these problems and improve patient experience. A recent study showed that it takes eight minutes on average to schedule an appointment over the phone, and at least 30 percent of that time is spent on hold. No wonder patients get frustrated and start looking for another healthcare provider. With an online scheduling system, patients can access your appointment schedule at their convenience and pick a day and time that suit them.
8. Preserved Critical Data
Whenever a patient makes an appointment, you only get to know the patient's name and appointment time. Mostly, you would not know anything else without carrying your electronic medical records around the office. You may not even know the patient's medical history or medical problem. This lack of information will never make you prepared for the upcoming appointment. The online appointment system can reduce this stress of not knowing important details about the patient. Through the online appointment system, your patient can fill in an information page and communicate his or her medical history and health issue that he or she is facing. This will help you be more prepared.
9. Better Decisions
Trying to manage the growth of a thriving medical practice? Or are you looking to improve your operational efficiency? Regardless of the size of your practice, the detailed reporting available in online scheduling systems will help you make better decisions. Most of the online appointment scheduling systems provide the following reports:
Number of no-shows on a periodic basis
Total number of appointments by each staff member
Week-wise comparison of productivity
Number of appointments booked as a result of marketing and promotion
A patient's full appointment history
This accurate and easy access to critical data can help support both short- and long-term strategic decisions for your practice.
10. Cost-Effectiveness
Making an appointment with human involvement is expensive. Eventually patients are made to pay for this excessive expenditure in medical care. Even fixing appointments costs a lot of money. If you calculate the cost of having an administrative person, add their benefits and overhead costs, this can go over $100,000 per annum for one person. You can prevent this huge cost by simply moving to an alternate method: online appointment scheduling.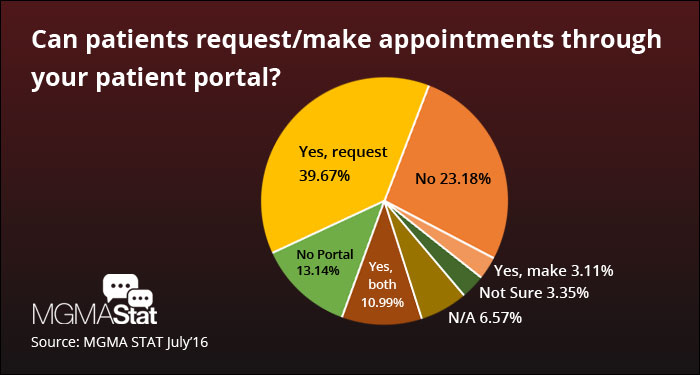 Wrapping Up
You probably can get away with not having online appointment scheduling for now, but eventually, your practice will have to embrace this trend. The sooner you do it, the better you can get your staff trained, and the more your patients will enjoy its benefits.
Hopefully, these ten reasons for using online scheduling software can help nudge you off that fence. For sure, it will require a lot of changes in the way your patients book appointments, but this may be one of the most critical changes you will ever make to your medical practice.
To talk more about online appointment scheduling, or anything else, please contact the healthcare marketing teams at Practice Builders.