8 Essential Metrics Healthcare Marketers Must Focus On
Posted on

Are you flushing your precious marketing dollars down the drain? If you cannot track how much revenue you are generating from the various marketing activities, you may end up wasting A LOT of money on activities that will never yield desired results.
Measurement is vital to successful marketing because it is the only way to recognize the effectiveness of your healthcare marketing activities. Unless you are able to track the revenue generated by every single marketing activity, you have no idea which of your marketing efforts are capable of attracting patients to your medical practice.
This is one of the biggest mistakes practitioners make in their healthcare marketing efforts. They have no idea how their marketing strategies are helping them, and they have no clue which marketing activities are generating the best results. It is only when you know which marketing activities work the best for your practice that you can create an effective healthcare marketing plan. For instance, if you know that direct mail is the best strategy for attracting quality patients to your medical practice, then you can look for innovative ways to integrate that particular activity into your healthcare marketing plan.
What is the best way for measuring healthcare marketing activities?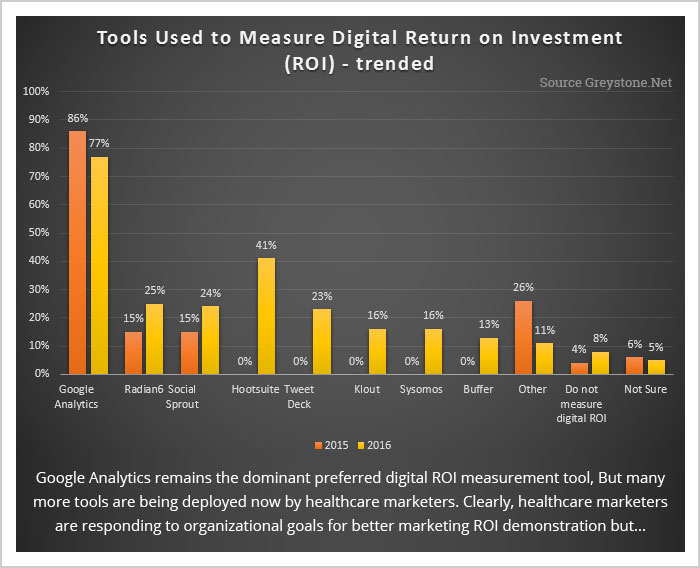 Monitoring. Monitoring. Monitoring.
There are a variety of ways to monitor each of your healthcare marketing activities, depending on the type of marketing you do. For instance, if you conduct an email campaign, the best way to track the number of leads generated is by using call tracking. Call tracking is a low-cost and precise way to identify whether or not your marketing efforts are paying off. By using call tracking, you can determine which marketing activities generate the most leads, which will help you calculate the revenue generated by the tracked marketing activity.

Whether you are tracking online leads using Google Analytics or tracking leads via call tracking, monitoring is important for the success of your healthcare marketing campaigns. This is because an increase in the number of incoming phone calls only means your marketing is working; it does not say that you are getting a healthy return on your investment. So, it is always a good idea to measure marketing activities against the amount of revenue they generate, not the number of phone calls you receive.
The success of your healthcare marketing efforts depends on how efficiently you track key metrics that influence ROI. If you are a healthcare marketer, here are the eight critical metrics you should be focusing on:
1. Acquisition cost per patient: The acquisition cost per patient is an essential piece of healthcare marketing strategy. Understanding how much it costs to acquire a new patient through the various marketing channels is a starting point for tracking the overall success of your healthcare marketing efforts.
Mostly, this cost tells you how much money is being spent for every new patient acquired. Patient and doctor referrals, paid ads, website, social media and other marketing channels factor into your cost, and each channel contributes to the success of your marketing campaign. While most marketers just divide all marketing costs by new patients acquired in a specific period, it is better to calculate the cost per acquired patient for every marketing channel. This lets you know which marketing activities are most effective and which ones require a more aggressive treatment.
How to calculate acquisition cost per new patient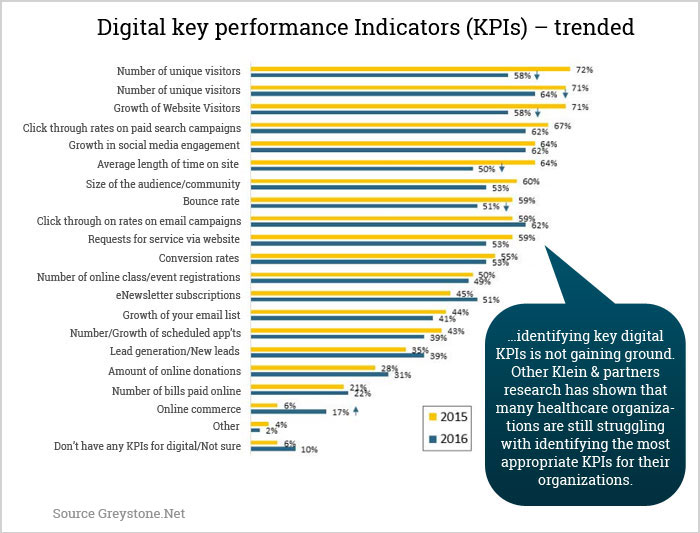 Thanks to some amazing digital healthcare marketing tools, understanding and calculating your acquisition cost per new patient is simple. These tools allow you to track which marketing channels your patients are coming from, and then decide the importance and effectiveness of each channel. This will help you efficiently develop digital healthcare marketing strategy.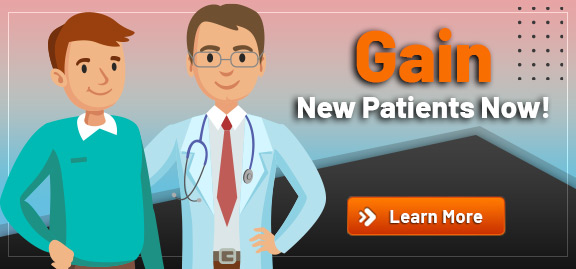 2. Patient's lifetime value: The lifetime value of a patient is about understanding how much value a patient can bring to your practice in the long term. This healthcare marketing metric is an excellent way to learn how patient satisfaction boosts your bottom line.
When a patient is happy with your services, he or she is more likely to come back to your practice and recommend your services to family and friends. This means your patients can become a powerful way to market your healthcare practice. Estimating the lifetime value of a satisfied patient will help you enhance customer service strategies way down the road.
Although initially it may seem you are losing money in acquiring new patients, the lifetime value of satisfied patients may increase your ROI by as much as ten times. This broad view can help you shift focus on customer service and delighting your current patients, rather than focusing purely on acquiring new ones.
How to calculate a patient's lifetime value
Calculating this metric requires some computation. In order to understand how much value a patient can bring over a lifetime, you will need to have the following information:
Patient acquisition cost
Rate of patient retention
Cost of appointment
3. Patient engagement: When it comes to healthcare marketing, an active online community or a social media platform can prove to be your best friend. The way patients interact with their healthcare providers divulges valuable information about their overall relationship. While ensuring a positive online interaction with patients, try to address and resolve any negative feedback at the earliest.
While patient engagement may seem like an insignificant metric and you may not directly link it to your ROI, it helps marketers understand how leads are responding to online content and how close they are to scheduling an appointment. Patient engagement can also help you see the extent of your brand outreach and refine your marketing strategy accordingly.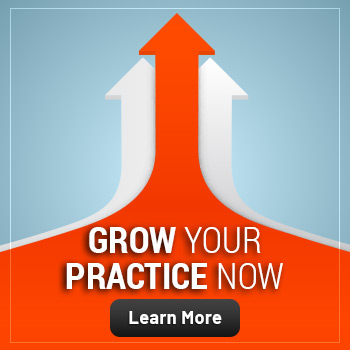 How to calculate patient engagement
Here are some of the key factors that can help you measure patient engagement:
Blog views and comments
Shares on social media platforms
Patient reviews and testimonials on third-party review sites
While a lot of factors play a role in understanding a medical practitioner's engagement with patients, paying attention to online patient reviews is the most critical.
4. Search engine rankings: Search engine optimization (SEO) is one of the essential components in your digital healthcare marketing strategy. When potential patients are searching for a healthcare provider, you want to appear on the top of those options. Appearing high in organic searches is critical for any healthcare provider as it is an excellent way to attract leads to your practice and gain new patients. Local listings are influential, as these show star ratings and patient reviews. Listings with positive patient reviews and best star ratings always get the most click-through from organic traffic. This is where the importance of digital content kicks in.
How to understand search engine rankings
You can measure this important metric by monitoring your page ranking for keywords that are relevant to your industry and specialty. Knowing your position in search engine rankings allows you to have a better digital strategy on how to improve or maintain your position. A variety of online tools can also lend insight on your search engine ranking.
5. Patient retention: Retention is much sought-after, especially in the healthcare industry. The success of a medical practice relies on repeat business. When existing patients return to your practice, it increases their lifetime value. A bad experience in a medical practice can force a patient away for good. As a medical practitioner, it is critical to address patients' concerns before they become widespread issues. A healthcare marketing strategy that focuses on converting negative patient experiences into positive ones will yield a great amount of success.
A happy patient who has had a good experience will not only become a patient for life but will also recommend your practice to family and friends via their social media or blogs, which can help increase your social validation. This makes loyal patients an integral part of your healthcare marketing strategy.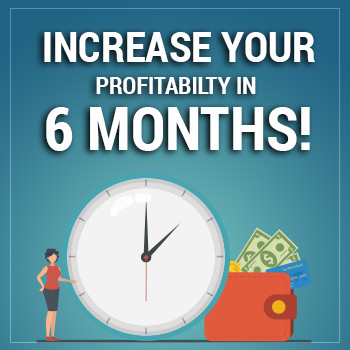 How to calculate patient retention
In order to know how many patients your practice can retain, you need to see how many current patients you have and how many you have lost and gained over a set period.
6. Valuable content: With regard to your practice website, you should have a strong idea of which sections and pages are driving most of your traffic and contributing to your marketing strategy. Sharing useful content is an effective way to acquire new leads. As a healthcare marketing professional, you must measure how well your target audience is responding to individual pages or type of content. This will help you hone your content marketing strategy. All of this relates to conversion rate optimization.
How to measure the impact of content
There are a lot of online tools that can help you understand the impact of strong content on your overall healthcare marketing strategy. However, Google Analytics is one of the best tools available online to measure these metrics.
7. Incoming call volume: Most medical practices complain about the volume of incoming calls and how much time their staff members spend handling them. A successful practice must have regular incoming calls and appointment requests from existing as well as new patients.
How to calculate incoming call volume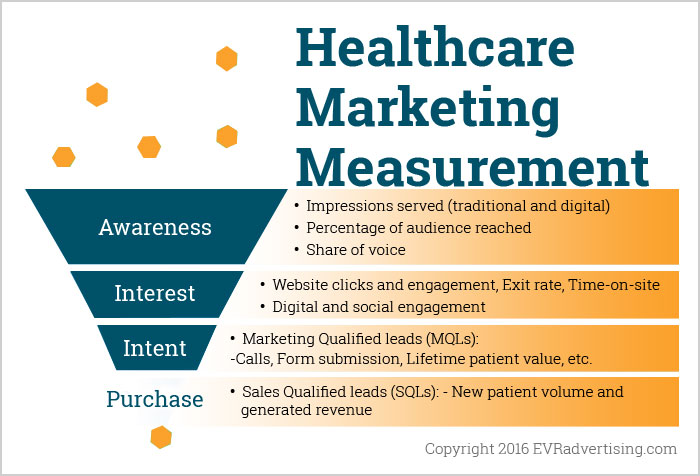 Most phone systems have built-in call tracking equipment, which can be your starting point. Another helpful tool is CallRail, which provides in-depth information on the number of patient calls your practice is receiving on a daily, weekly and monthly basis, and it helps you identify where each patient discovered your practice.
8. Customer service response time: Customer service is a necessity in order to maintain healthy relationships with patients so you can earn their loyalty and continued business. Patients expect you to give priority to their problems and address their questions quickly. Your healthcare marketing must include a patient service team that focuses on improving patient service and experience. The primary goal of that team should be to resolve issues effectively and promptly.
How to understand and improve customer service response time
Your digital healthcare marketing strategy should cover a patient's overall experience at your practice. Patients expect you to respond to their concerns through phone calls, emails and even social media. In order to calculate your customer response time, you can track the time when customer communication comes in and on average how long it takes to respond to their queries. Some social media platforms allow you to track this metric automatically.
Wrapping up
With extensive information available out there when it comes to digital healthcare marketing, it may seem a little overwhelming to make sense of everything. The best moves are the ones that define your marketing goal, set your plan of action and identify the marketing metrics that will help you discover how successful you were.
Different marketing campaigns have different goals and will yield different results. However, before any campaign, define what your healthcare marketing goals are so you know what to expect and how to strategize for more successful campaigns. However, regardless of your efforts, at the end of each healthcare marketing campaign, you must take the time to evaluate your success and note what you learn.
Measuring and analyzing healthcare marketing metrics can be difficult, and we would love to help you understand them in order to grow your medical practice. If you are willing to learn more about the powers of marketing metrics, give us a call.