Google Local Search Update: Why Online Reviews Matter for Your Practice
Posted on

Google's latest local search update has highlighted the importance of online reviews in a customer's decision-making process. Your practice's online reviews are one of the most reliable ways for potential patients to determine whether your practice is good or not. Reviews are often so reliable that 91 percent of potential customers read reviews before making a buying decision, according to a BrightLocal survey.
As the world's top search engine, Google is constantly striving to enhance and simplify the user experience. Google understands that one of the first things potential patients do when searching for a local healthcare provider is to read its online reviews. Knowing this, and understanding just how powerful reviews are, Google has now made it even easier for users to find them online. With the new update to Google's local panel in mobile search results, potential patients can easily navigate to see all your practice's online reviews. This will help them make quick and accurate decisions.
Being a healthcare provider comes with a lot of responsibilities. One responsibility you cannot afford to overlook is online patient reviews. Recent studies by BrightLocal.com reveal that nearly 84 percent of customers trust online reviews as much as a personal recommendation. Also, more than 54 percent of customers will visit the website after reading positive reviews online about the business. Combine these findings with the fact that Google now includes your practice's reviews on searches, this makes your online reputation even more
important.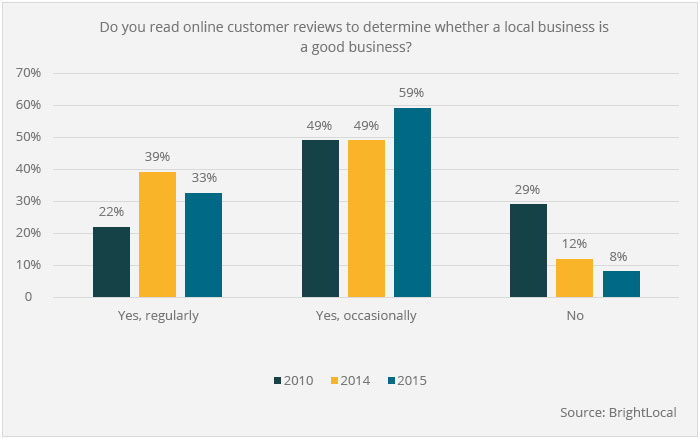 A positive online reputation is one of your most powerful assets for attracting potential patients. The social proof contained within reviews and ratings helps potential patients make decisions faster and with greater confidence. Google continues to recognize and emphasize the importance of online reviews and has included a more substantial component of its Knowledge Panel called "Reviews from the Web." This new section will feature customer reviews and ratings of businesses from third-party sites such as Facebook, Yelp and TripAdvisor.

Reviews from the Web is Google's attempt to give businesses a way to display user-generated content. This new section acknowledges that customers care about a business's reputation on trusted third-party websites.
How does this update impact your practice?
Likely rolled out as an extension of Critic Reviews, Reviews from the Web gives you the opportunity to showcase positive patient feedback and attract more patients.
With reviews from Google as well as other third-party review sites displaying directly in local search results, it is faster and easier for patients to find everything people are saying about your practice online. Do a quick online search for your medical practice to see what searchers are reading about you.
This update provides users exactly what they want: quick and easy access to your online reputation. It also highlights just how important online reviews are in a patient's decision-making process and places a practice's reputation into the limelight for everyone to see. You just cannot avoid it. Potential patients are going to read your reviews. Updates like these emphasize the importance of monitoring your online reputation and ensuring that your reviews outshine your competitors'.
Your practice's local search ranking will benefit indirectly from more reviews because potential patients will be more inclined to click on practices with more positive reviews, which will lead to higher click-through rates.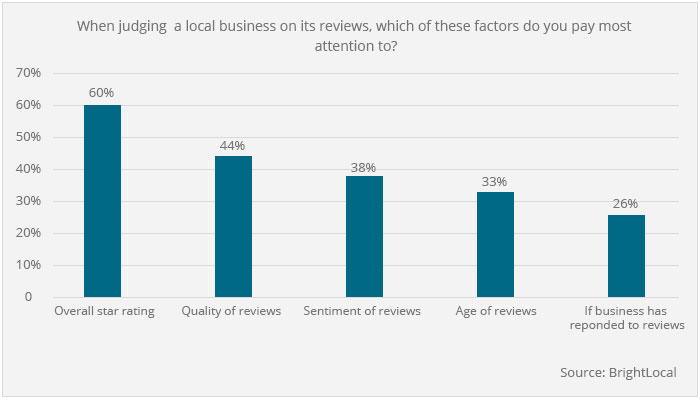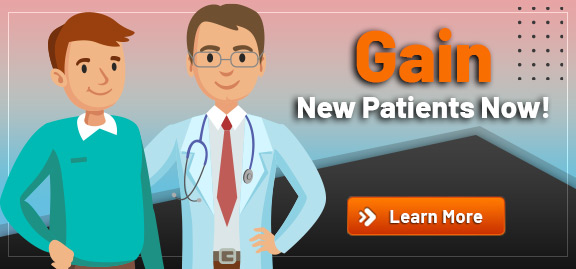 However, practices without a patient review strategy or unclaimed listings may find themselves at a disadvantage. Not only are patient reviews a ranking factor, but an influx of bad reviews is likely to drive away potential patients. For practices that have plenty of positive reviews to display and share, Reviews from the Web provides a valuable source of unique content that will engage patients and help attract more leads.
With Google displaying customer reviews from a number of external review sites, if you have been concentrating your review marketing efforts on a single site, now is the time to expand. Moreover, if you have not been considering a review marketing strategy, this is the time to plan one. You should focus your efforts on popular third-party sites such as Healthgrades, Vitals, Yelp and Facebook.
It is time to take control of your online reputation and begin asking patients for online reviews.
Improving your online reputation
Improving your practice's online reputation and gathering more reviews is one of the most efficient ways to take your practice to the next level. However, establishing and maintaining your practice's online reputation does not happen with a snap of your fingers. It requires an active approach to generate more reviews, improve star rating and respond to online reviews.
Regardless of the specialty or size of your practice, your potential patients are going to read and trust the feedback that your previous patients have given you. Moreover, if your reviews slant negative, most of your potential patients will go looking for your competition instead.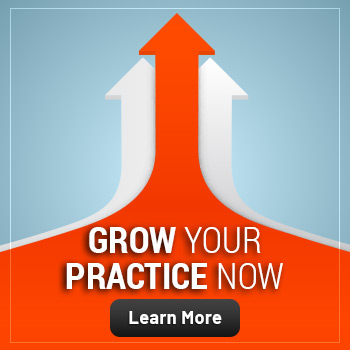 So, how can you turn around your online reputation?
1. Evaluate your patients' experience: The best way to generate positive reviews is to ensure you are giving patients a positive experience. If you are consistently delivering good services, your online reputation will reflect it.
Tips to improve patients' experience:
Take a good look at your recent patient feedback. Look for common issues, and take them seriously. Have many patients mentioned the rude staff, long waiting time or high prices? Identifying a few areas for improvement might be useful.
If you do not have a lot of online reviews, or if the reviews do not give you any helpful ideas for improvements, reach out to patients directly. Ask loyal patients for honest feedback about your services, staff attitude, prices and other important factors.
Another approach is to ask for feedback at the end of every consultation. You can ask insightful questions like, "How can we serve you better?" or "How has your experience been today?" You will be surprised how direct questions yield honest answers from your patients. You should train your staff to ask such questions, as well. When patients see that you care, they will be willing to share their feedback online as well as offline.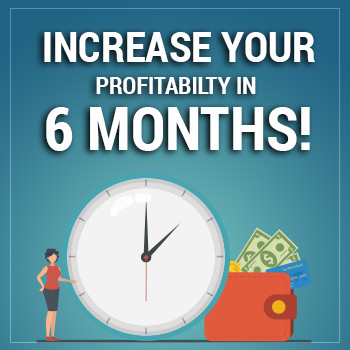 2. Ask for reviews: Getting reviews is as simple as asking for them. Most patients will gladly write a review when asked to do so. You can make this request at the end of every consultation. Based on the patient's feedback, it will be easy to determine if he or she is happy with your services.
3. Follow a systematic approach: No doubt online reviews can make or break your online reputation. If patients see mostly negative reviews about your practice, they will be more likely to choose your competitors. Positive reviews signify a brand that patients can trust. However, positive reviews do not just happen overnight; they are the result of great patient experiences delivered consistently. If you are treating your patients the way they deserve to be treated, they will end up spreading the good word about your practice to their friends and family.
4. Respond to negative reviews: Most healthcare providers do not just sit back when a patient leaves a negative online review. Instead, they take the time to reply to feedback and attempt to resolve the conflict. By responding to a negative review, you show the unhappy patient that you care about your patients' experiences and are continuously striving to improve your services.
While you may be tempted to get defensive when a reviewer seems unjustified, it is important to remain calm and look for a solution. In addition, you should offer to fix the problem and invite the patient to give your practice another try in the future. In some cases, a patient may even be satisfied with your response and decide to take down the negative review and leave a positive one in its place.
Conclusion
With updates like these, it is obvious that online reviews are about to become even more important. You must optimize your strategy to attract the best possible reviews for your practice and stay ahead of the competition.
Patients are leaving it up to search engines and third-party review sites to give them a narrowed-down list of the most trustworthy and relevant medical practices in their area. From there, they will take a few minutes to read and compare the reviews for top suggestions and confirm their decision within a matter of minutes. This means, as a practice looking to capitalize on this opportunity, it is your job to become one of the top local medical practices that Google recommends. You can do this by monitoring your reputation, generating positive reviews and taking the required steps to improve your local search rankings.
Schedule your free consultation with Practice Builders to learn how we can help you manage your online reputation and local search to win more patients. If you are struggling to establish or maintain your online reputation, there are plenty of reputation management consultants out who that can help you. The online reputation management experts at Practice Builders can help you gather positive customer reviews. Our experts will monitor your online presence while implementing effective strategies to help you look your best.