Improve Patient Satisfaction Through Efficient Call Handling
Posted on

Your front-office staff is usually your patients' first impression of your practice. Your front-office person represents your medical practice. Demonstrating unmatched patient service is essential. When a person calls your office, he or she is not looking for a chat. The caller needs help with something that the front-office employee is paid to fix. In order to offer that help efficiently, the front-office person needs to be proficient in call handling.
Call handling is a process, from start to finish, of greeting the patient, listening to the problem, offering a resolution, or an appointment, and saying goodbye to the caller. Efficient call handling is all about having a healthy conversation, and conversations with patients are critical. After all, conversations strengthen relationships, and relationships improve brand image.
More than in any other type of industry or business, first impressions are critical if you own a healthcare practice. It is important to make sure that the first impression you make on the phone when someone calls your office is as strong. Phone etiquette is important.
Why Is Phone Etiquette Important?
The first phone call with a potential patient is an important opportunity to set the tone for future interactions. It is your chance to build an image of professionalism and make the caller more confident in your ability to address his or her needs. With so much riding on your practice's phone interactions, it is important that you have trained and professional staff answering your calls.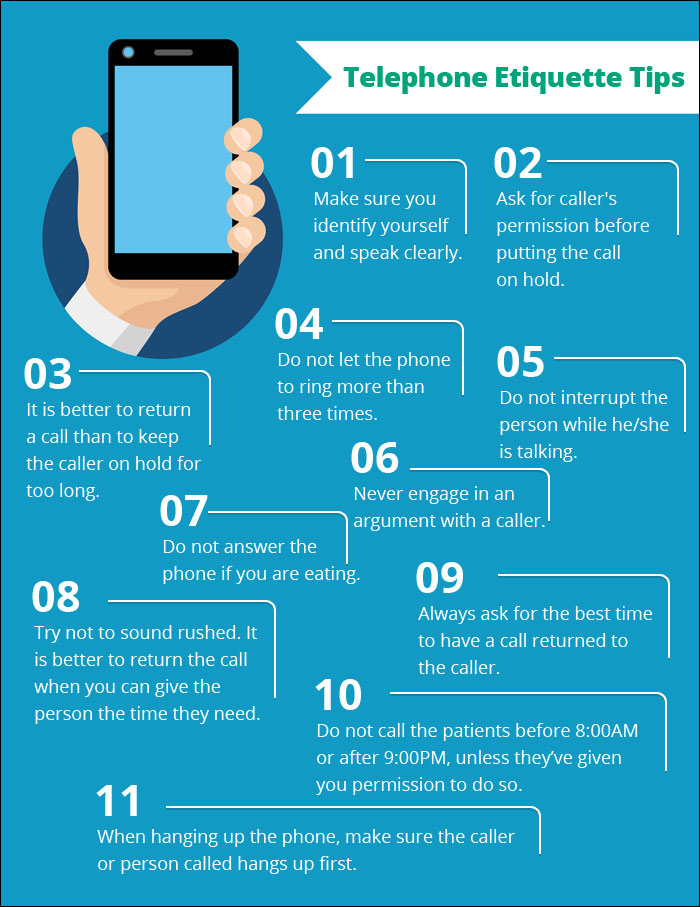 Do you know the way your staff answer phone calls to your business could be driving away customers?

According to a study by Marketing Land, 74 percent of people will likely choose a competitor after a negative phone experience. The most important step in any phone experience is the way the phone call is answered. This means a bad phone experience, such as long hold times, not being able to talk to the right person, lack of knowledge when answering questions, could do more damage to your practice than you might realize.
The link between your potential patients and your practice lies with the people who are answering your phone. The first interaction that a patient has with your practice is with the front-office staff.
Patients pay attention to more than you realize when they contact your office and talk to your staff. This interaction can make or break a relationship. Having a team of skilled staff to handle phone calls is critical. Wouldn't you want your phone calls to be answered by people who will make an excellent first and lasting impression? By ensuring that you have employees who can provide your potential patients with a positive and memorable experience, you can improve your chances of converting them into paying patients and retaining existing patients.
Everyone who is ever going to answer a phone in your office should receive training regarding proper phone etiquette so that the way they talk to your patients on the phone becomes one of your practice's strongest assets.
However, being an expert on the phone does not happen overnight. It takes training and practice. And even though it seems easy, there are small things you can do to make a world of difference to the people on the other end of the line. Whether it is the people at your office who handle incoming calls or the staff who books appointments, having proper phone etiquette can go a long way toward strengthening your practice's reputation.
You must communicate to your employees and expect that they will talk professionally with callers every time they answer the phone. This involves being polite and confident and engaging the patient in a manner that shows interest in their needs. Failure to do so can cost your practice a significant amount of business. This holds true when speaking to existing patients, as well.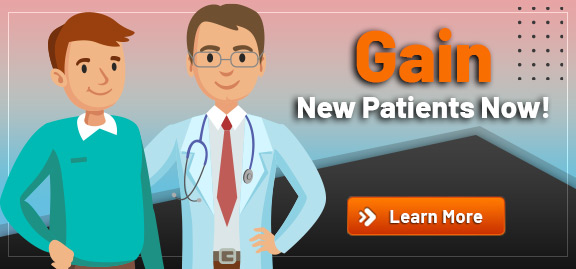 If your existing patients are calling your office, they are in need of your help or expertise. By having trained and professional employees who understand your practice and can perform well under pressure, you are likely to address the issue to the patient's satisfaction, and this will help improve patient loyalty.
Call Handling Mistakes That Drive Away Prospects
How can you improve the way your staff answers the phone in order to attract and retain patients – and drive revenue? For a new patient, there is nothing worse than being put on hold forever or bounced from one department to another. Here are some of the common mistakes to avoid while handling phone calls so you do not lose patients or cause frustration.
1. Offering Too Many Options: Callers are typically in a rush when they call, and they do not like being overwhelmed. Unnecessarily giving them lots of options might seem necessary to you, but for your caller it will only increase his or her frustration. Being transferred from one person to another, if even it is to resolve the caller's questions, could make them want to hang up. Instead, keep your conversation brief and to the point. Any more than that and callers will start to feel confused.
2. Putting Your Calls on IVR: Making it difficult for callers to speak with a human, and instead putting all your calls through automatic response systems or IVRs, is one of the most common complaints callers have. Sometimes callers have issues that only a human can understand, or maybe your caller wants to talk to a real person instead of an IVR. Even if you are putting your calls through an IVR, offer a way to get in touch with a representative quickly. Do not make your callers wade through lists of options before they get to talk to one of your staff members.
3. Asking for Unnecessary Information: If your caller has already provided the required information, do not make him or her repeat it. It shows that your staff is inefficient, and it is plain annoying. It also reduces efficiency and makes calls longer than they should be. One way to avoid this is by investing in software that keeps track of your callers' data, and your staff will not even need to ask much at all. The caller's information will be available at their fingertips when the caller calls in. This way, your staff will be able to resolve the caller's problem instead of trying to gather the information.
4. Not Asking for Feedback: One thing many practices do not do enough is to ask their patients for feedback. How will you know which aspect of your service is helping or hurting your business without asking your patients? It is important to devise a plan to have your staff ask callers for feedback on your services and staff efficiency.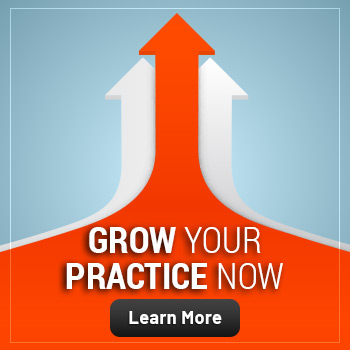 5. Lack of Call Handling Training: Training your staff is everything, yet so many practices fail to realize the importance of training their staff on phone etiquette. This is usually because most practices have a tight schedule, so they decide not to bother investing in quality training. Untrained staff can reduce patient appointments and severely damage your practice's revenue.
While you might think that your biggest concern is getting more patients to call you, the real challenge begins when people start calling your practice, but your staff is not trained enough to convert callers into patients. Is your staff trained or equipped enough to turn these prospects into patients? The first contact new patients will have with your medical practice is with the person answering your phones. If this experience does not go well, the chances are that prospect will not call back, or worse, may even tell other prospects about their not-so-happy first experience with your practice. You will end up losing many opportunities just because your staff was not properly trained to handle a call. So you need to make sure that the person answering your phones is properly trained and has the requisite knowledge to inform the caller and fix the appointment.
Unfortunately, a lot of medical practitioners are facing this problem and wonder why they are not able to convert most of their callers. If you are getting many phone calls but are able to book just a few appointments, it is time to invest in your staff and increase their new-patient closing rate.
Best Practices for Call Handling
When the job demands that an employee must talk to strangers all day, he/she must possess the relevant skill set.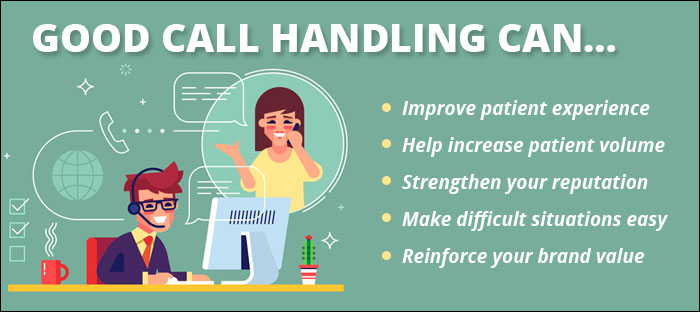 Staff members who handle patient calls have a tougher job than most may think. It takes time and effort to not only make their callers happy but also make their employer happy. Your staff members should communicate professionally and coherently every time they answer a phone call. They should also speak with confidence and in an engaging way.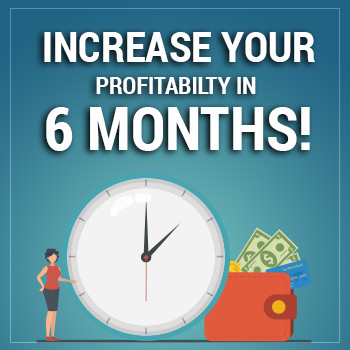 While many factors contribute to what makes a "good" call, here some of the best practices that will get your staff on the right road toward stepping up your medical practice's call handling etiquette in a big way:
1. Be Quick: The rule of thumb is that they must answer your phone before the third ring in order to not annoy your callers. The longer they let your phone ring before answering it, the more agitated your callers are likely to grow. Remember, the first impression means a lot.
2. Maintain a Positive Tone: According to a study conducted by Dr. Mehrabian, only 7 percent of the message people receive in a conversation is dependent on the words used. In addition, nearly 38 percent of the message is reflected in the tone of voice and 55 percent is made up of facial expression or body language. Since body language and facial expressions are not visible on a phone call, this makes the tone of voice the most important factor in a telephone call.
3. Personalize the Experience: Once the phone is answered with a positive tone, it is essential to make the caller feel as if he or she is a valuable person, not just another caller ringing through. Besides offering their name, the call handler should ask for the caller's name warmly, not as a question they must ask. Make sure they make the caller feel that they truly want to talk to him or her.
4. Smile When Speaking: If they cannot fake excitement in their voice, they should try to smile while answering the phone. They should keep working on it until it becomes a habit and they no longer have to force it. The aim is to sound as if they are excited to speak with the caller and ready to help them with anything they need.
5. Evaluate Appropriate Call Lengths: While the length of calls will vary based on callers' requirements, they should determine the appropriate length that most calls should strive for. This will help your staff follow consistent standards.
6. Empower Your Staff: Make sure your staff knows what they are talking about. It is critical to provide call handlers with the necessary knowledge to address patients' questions. This will ensure they have the skills and ability to address the needs of patients calling for assistance.
7. Leave the Caller Satisfied: Finishing a conversation on the right note can create lasting positivity and a satisfied patient. In order to achieve a happy ending to a call, staff should make sure the caller understands the information they passed along before they hang up. In case he or she needs to call back, share the best time, number and names of the contact person.
Wrapping Up
This is just the tip of the iceberg. Eventually, after imparting call handling training to your staff, you will create a team that is well-equipped to handle most situations. Once your staff members are trained, they will need to understand and adhere to the set standards.
At Practice Builders, we custom-design staff training programs to meet your practice's needs. These training sessions are designed to assess your current processes, suggest and implement improvements and create a culture of customer-first. All training can be imparted individually or as a package. During our consultation, we can help you choose which training topics are best-suited for your needs.
Also, read Patient Satisfaction – Why It Matters and How To Improve It