Is Your Dental Website Converting Visitors into Patients?
Posted on

Do you know that dental practices that take on a structured approach toward patient conversion are twice as likely to see an increase in profits? Here are a few compelling stats to get you thinking:
You have less than eight seconds to impress your visitor. After eight seconds, most of your website visitors leave.
Nearly 96% of your website visitors are not ready to buy.
The more landing pages you create, the more qualified leads you are likely to get.
Useful and informative videos can increase revenue by 144%.
A one-second delay in your website speed can result in a 7% reduction in conversions.
According to statistics, for every nine visits to your dental practice website, only one results in a confirmed appointment. Nurturing and engaging potential patients who have yet to become loyal patients is essential to growing your dental practice over the long term.
Decades ago, the promotional efforts of a dental practice were simple and straightforward. Business cards, traditional media and print listings were considered sufficient to keep a dental practice busy.
Today, though, running a profitable dental practice requires you to continually attract qualified patients through a variety of online marketing platforms, the most important of these being your practice website.
However, only building a website is not enough.
The design, as well the information that is included in your dental practice website, must be strategically chosen. You do not need potential patients to merely arrive at your website. Instead, these visitors must be motivated by the content that you use and the details that you have shared to call your office for an appointment.

The goal of a dental marketing campaign is not to simply increase online traffic. Instead, it is to attract qualified prospects and to convert them into new appointments.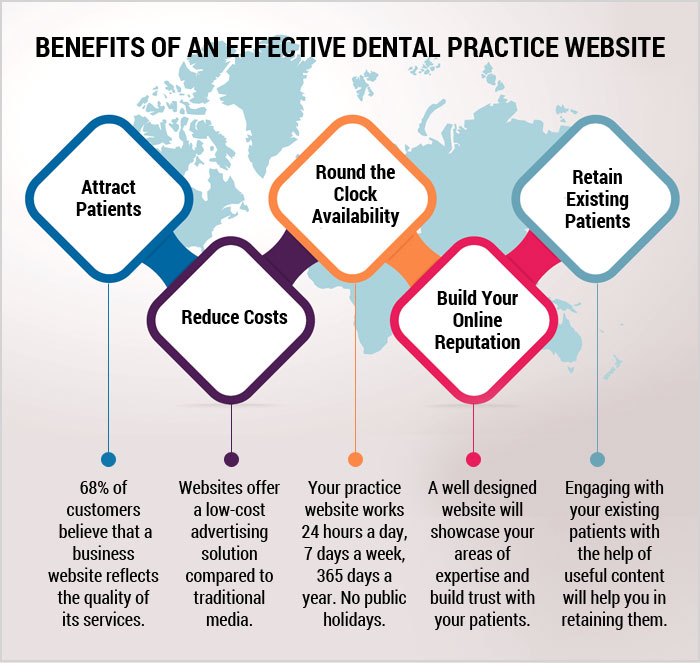 Elements of a conversion-driven dental website
According to Pew Research, nearly 72% of customers use the Internet to search for health-related information. To attract and convert these customers, you must have the following three basic elements in place:
1. Search engine marketing: An increasing number of patients are using search engines such as Google and Bing to search for a dentist in their area. Having a search engine-optimized dental website means that local people who are looking for your services will be able to find you online. But be sure your website follows these SEO best practices:
Include relevant keywords in your title tags.
Create separate pages for your services/procedures.
Add basic information, including your business name, address and phone number (NAP) to the footer on every page.
In addition, be sure to create a verified Google My Business page that links to your practice website, and optimize your Google profile with relevant categories. Finally, encourage your patients to post online reviews.
2. Modern design: The best dental websites feature an engaging design that looks great and is easy to use. A new patient will not be willing to waste time trying to search for information about your staff or how to book an appointment. Your website should make it easy to find essential information and look simple and attractive.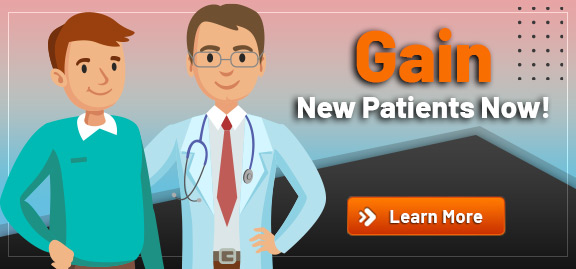 The goal is to engage new patients with calls to action (CTAs) that spark their interest and make them click to learn more about your practice and services. The first impression for your dental website is the most important.
Although the ultimate goal is to increase patient engagement, you can maintain consistency by using templates and colors that blend well with each other. Here are some of the details that potential patients look for when searching for dental care providers:
Dentist qualifications
Specialty procedures and treatments
Facilities or office features
Work hours and location of the office
Dental insurance and payment options
Before-and-after photos and patient testimonials
3. Persuasive CTAs: Having persuasive calls to action means you can convert visitors coming to your website into new patients who will call your office to request an appointment. Phone numbers should be mentioned prominently on the website. Inquiry and appointment request forms should be easy to find and fill out. Special offers and discounts, if you have them, should be prominently placed in order to entice patients who need an extra push to contact your practice. If any one of these essentials is missing or insufficient, your practice will end up losing patients to competitors who have been more diligent and aggressive in their online marketing efforts.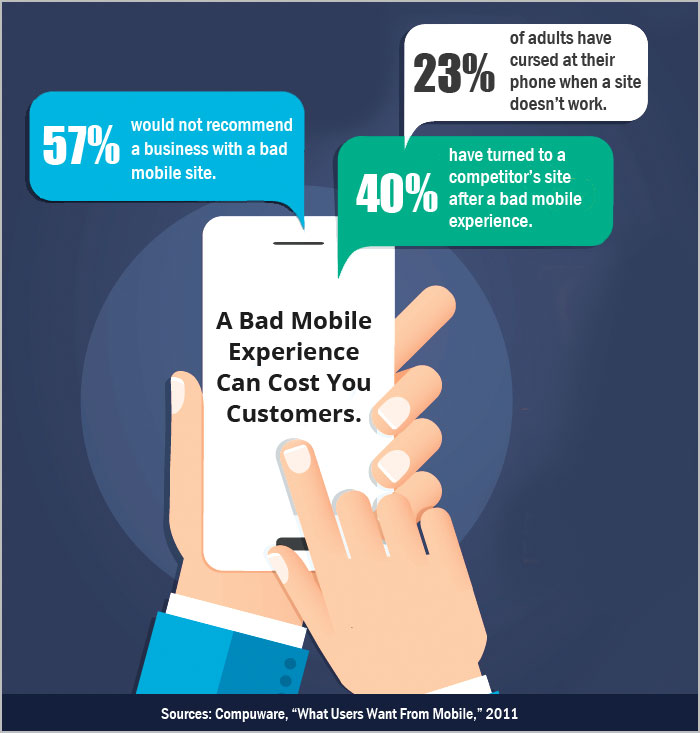 How to build a patient-converting website
Today, a dental practice's website is much more than a digital storefront or a brochure. It is a powerful, around-the-clock marketing tool that attracts and converts patients. However, for your website to attract new patients, your practice needs to be positioned correctly in the online marketplace. Simply put, you must understand what aspects of your dental practice are most valuable to your potential patients and put your best digital foot forward. However, giving your website visitors what they want is not as straightforward as it might seem.
A patient-converting website is designed to provide targeted and valuable content such as blogs, white papers, patient testimonials, videos and many more.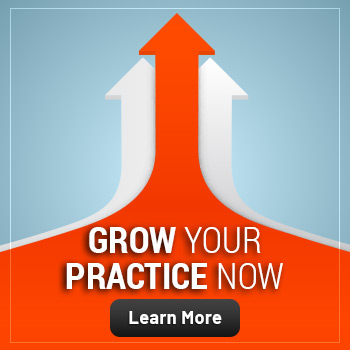 In order to build a dental website that attracts new patients and engages existing ones, you need to provide what they are looking for – access to valuable healthcare content that demonstrates your expertise and educates your target audience. This kind of content attracts new patients, retains existing ones, encourages content sharing and builds trust in your practice. Not to mention, this faith will guide new patients into your practice.
Now, where to start?
First of all, remember that you are building a dental website to attract patients, not a space shuttle. It is easy to lose sight of your goals when designing a website. If you are not careful, your dental website can turn into a school project rather than a marketing tool. This is because it is easy to get lost in the details – the color schemes, font types, logo – so many elements diverting your attention away from the primary goal. While it is true that your website must be esthetically appealing, your goal should be to attract and convert more patients.
If you start with this goal and work backward, you will build a very different kind of website than most of your competitors create.
Are you wondering what this different kind of website will look like? More importantly, how can you make sure all of these elements are working toward your goal of converting more visitors to patients?
Here are the four best practices in dental website design that will help you to stand out from your competitors:
1. Show your prospects the benefits of treatment: The primary purpose of your website to get more patients to book appointments. Therefore, the most important element is the copy. If you are to get prospects to pick up the phone or fill out the request form, your website is essentially a way to influence their decision. So, how can you write more convincingly?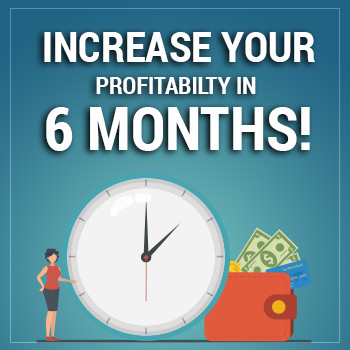 When potential patients visit your website, they want to know what benefits they will get by taking treatment at your practice. Rather than have them play the guessing game based on your skills or credentials, tell them directly how they can benefit from your services.
You can write about your education, years of experience, latest equipment and your state-of-the-art technology. However, if you wish to stand out, you will have to take a different approach. You will need to engage your patients in a conversation, empathize with their problems, explain how your treatment will make their lives better and guide them on how to book an appointment.
2. Ensure simple and mobile-friendly design: Your website design should be simple and easy to navigate. Your credibility may take a big hit if you present an outdated website full of bold colors and unreadable blocks of text. However, just professional design and engaging content are not enough. Your website must be mobile-friendly, i.e.; it must display properly across multiple devices. According to a recent report, nearly 23 percent of users exclusively use a mobile device to go online, while 37 percent of users mostly use a mobile device. Many of your patients will be looking at your website through their smartphones, and you should make sure your website displays properly across all devices.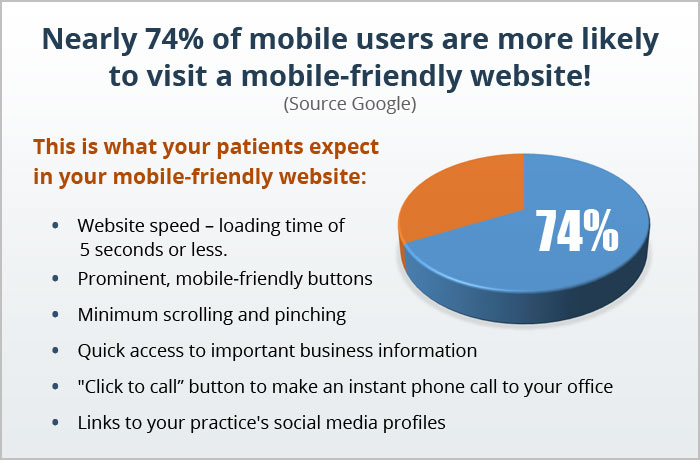 3. Establish yourself as an expert: Professional design and engaging content can create an impression of credibility. However, specialized content will show that you are a thought leader in your industry. By setting up a blog, and by regularly updating the blog with relevant content, you will establish your brand image by providing valuable information. Posting blogs will also improve your SEO ranking as Google places a high value on fresh, unique and consistent content.
4. Collect online patient reviews: If you have done everything right up to this point, your potential patient is just about to pick up the phone and call your office for an appointment. But just as a last check, they are going to look for online reviews for your dental practice. According to a Bright Local survey, almost 92 percent of customers read online reviews, and 68 percent of customers say that positive reviews make them trust a business more. If potential patients can easily find positive reviews for your practice, they will be much more likely to give your practice a call. This why it is important to make it easy for your existing patients to post reviews and to have all of your online reviews aggregated on your dental practice website.
Measuring success
Once you have your patient-converting website in place, it is time to organize your data. You should understand what web pages are most popular and which are not. You can use a free web analytics tool, such as Google Analytics, that monitors and reports website traffic. This tool will provide relevant information about how potential patients are using your website and help you draw conclusions about which areas are attracting and engaging patients and where to focus more efforts on.
Final thoughts
The above best practices can help you figure out what needs to change in your dental practice website so it can attract more prospects and convert more leads to patients. At Practice Builders, we understand that our clients lead busy lives and may not find the time to build or update their websites. This is why we offer a wide variety of dental website designs and dental practice marketing services, including SEO, social media marketing, blog management and many more. We can help your dental practice grow through effective online marketing.
Find out how Practice Builders can create an effective digital marketing strategy for your dental practice. Call 855-898-2710 for a free consultation.