Plastic Surgery Marketing: 7 Essential Elements of an Engaging Blog
Posted on

The data is convincing. Blogging rules!
With more than 330 million people reading blog posts at any given time, studies reveal that 70 percent of readers would rather learn about your plastic surgery practice or service through blogs rather than ads. 330 million people cannot be wrong.
Blogging is an efficient tool for driving traffic to your plastic surgery website, generating leads and acquiring more patients. In fact, medical practitioners who write three to four blog posts every month get 20 more lead submissions, 800 more website visits, 60 more Twitter followers and 50 more Facebook likes every month than practitioners who only write two blog posts per month.
An effective blogging strategy makes these numbers work.
Are you trying to write the perfect blog post that attracts clicks, likes and shares? An effective blog is one that gets read all the way through and has a profound effect on readers.
If used correctly, a blog can establish you as a leader in your niche, give you content for social media posts and drive traffic and conversions, not just in the short term, but for years after you hit the publish button. What does it take to create a successful blog for your plastic surgery practice? Here are seven key elements that define the best blogs.

1. The headline
It does not matter how much time and effort you have invested into the writing of your blog post, if no one is clicking on it because the headline is not appealing enough, you might as well not have written this blog post at all.
The headline of your blog post must be interesting. It does not have to be funny or mysterious, but it must be relevant to the body copy. Creating a headline based on a few simple tips can make all the difference in the world.
According to research, including numbers in a headline has the power to draw eyes and clicks. There are many explanations around this research. Some experts say it is because numbers are more attention-grabbing than words; others are of the view that numbers tell readers exactly what to expect. Whatever the reason, numbers work. This is why list posts mostly do well.
2. The hook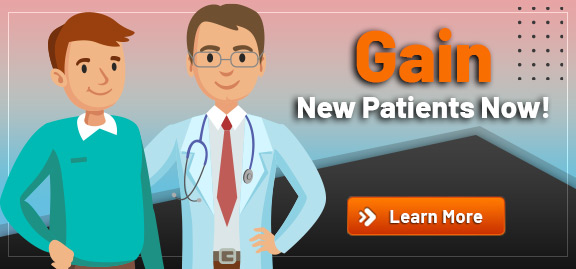 After you have convinced readers to click on your blog post, the next step is to secure or hook their interest right from the first sentence. That first paragraph in your blog post is the most critical in determining whether the readers will leave the page within seconds or hang around to read the complete blog post. Having a hook is essential.
What can serve as a hook? You can try asking a question. This is because once a question is posted, the readers' natural response is to look for an answer. Another successful approach is to tell a story. Nothing grabs readers' attention more quickly and thoroughly than a story. You can experiment with various hooks to see what works best with your target audience.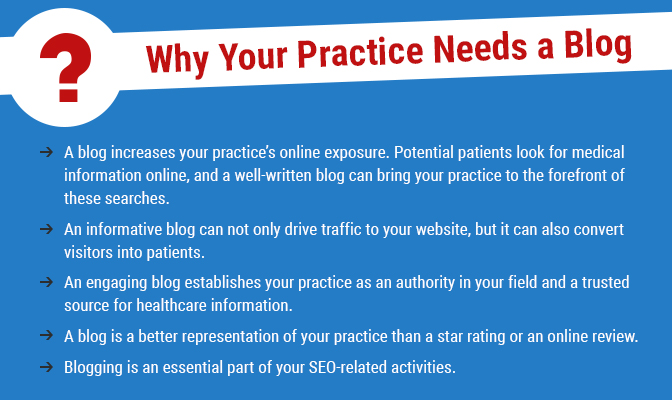 3. Visual elements
Reading the text on a computer or mobile screen is different from reading it on paper. There is something about the Internet that has conditioned us to prefer shorter blocks of text over long, dense ones. While a magazine article can have long paragraphs and complex sentences, readers prefer blogs to be visually broken up in a way that provides plenty of white space around and between the lines.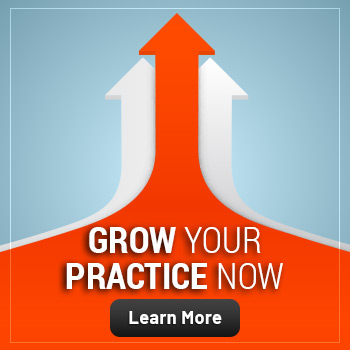 One way to achieve this is to use either bullet points, numbered lists or subheaders. Short sentences and paragraphs will help keep readers' attention. The ideal length for a blog post is a matter of debate. Some experts say 250 words or fewer is better, while others maintain that 1500- to 2000-word dense posts are more informative and practical. However, 500 to 600 words is a common standard.
Regardless of the size of your blog post, as long as it is broken up into smaller chunks, it will look welcoming to readers.
Appealing images often attract readers to your post. High-quality images and graphics will help break up dense copy, and videos will help convey your message using fewer words. However, make sure the images are relevant. This is because the right images will complement your writing, while the wrong ones could confuse your readers.
4. Engaging content
An engaged reader pays attention to every word and takes in all that you write. However, the only way to attract engaged readers is to create engaging content. It all starts with who you are and what you write. Here are a few tips to help you create engaging content: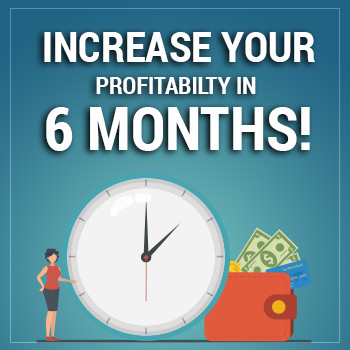 Include questions: This does not mean to have an incomplete post. The idea is to include questions that make readers reflect on how they can use the knowledge you have provided.
Write a promising introduction: Ever wondered how quickly readers make judgments about blog posts? This is because most readers decide just by reading the first few sentences if the blog is worth reading. An engaging introduction will make them want to read the complete post.
Weave stories: You can consider weaving a story into your blog post. Stories can also help convey a critical point. Adding a story to your blog post will also make it more engaging.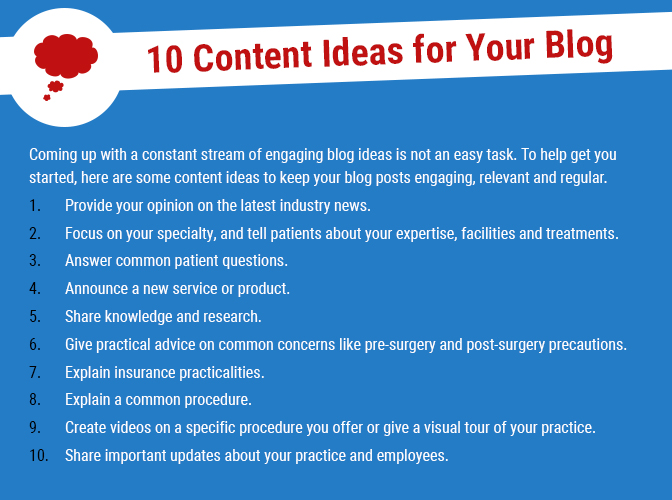 5. Attention to spelling and grammar: To err is human. Mistakes happen. It is possible (and normal) for a typo to slip through. However, while you must try to avoid it, you must also be prepared to accept it.
Here are some helpful tips for proofreading and copy-editing your posts:
Simply put your thoughts on the page – organized, in the correct sequence, but not proofed. Just write the blog post. Do not find faults, analyze or fix spelling and grammar.
Wait for a day or at least a few hours. You will be able to look at it with fresh eyes when you start copy-editing it.
You can rewrite or fix the blog during the copyedit phase. This is where you give the blog a renovation. You may change content, move sections or adjust your approach. The goal is to make the blog readable.
Proofread the blog post. Examine every punctuation and spelling issue. This is where you make sure your article will be read by thousands of online readers.
6. A call to action (CTA): This is the magic ingredient that will make your blog post worth it all. You have long informative content with a beautiful structure, internal links, good-quality images and flawless grammar. Now what? Every blog post needs a CTA. Your readers are ready to respond, to click and to engage. What do you want them to do? Whether your goal is to capture readers' email addresses, sell a product or download an ebook, you need to have a prominent CTA for each command, every time. CTAs are helpful for bringing in more conversions.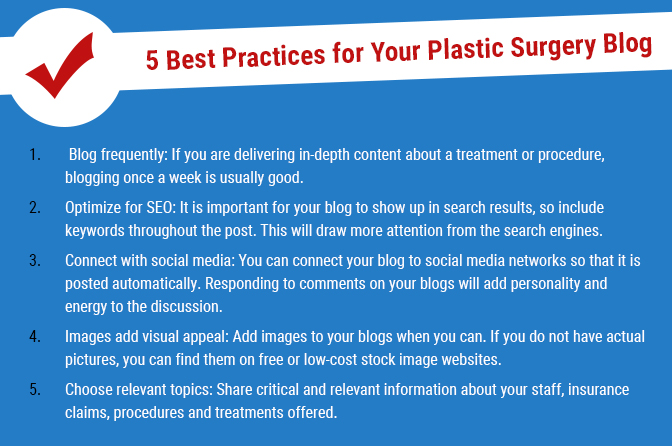 7. Highlight your services: Your blog is one of the best forums for educating both current and prospective patients about your products and services. For instance, you can create a series of posts discussing different methods of facial contouring in order to help readers decide which service is right for them. You could also educate them about any precautions that need to be taken pre- and post-surgery. This information can help them to become aware of their own healthcare needs and better understand when to call for appointments.
Concluding remarks
A few final points about writing the perfect blog for your plastic surgery practice:
Do not treat a blog post lightly. It is hard to write, and it takes time and effort to put together engaging blogs that educate existing patients and attract new patients. The proper headline, grammar and keywords are a must. When you copy-edit or proofread your blog, ask yourself:
Are there any words or sentences that I can take out?
Have I given the readers the most updated information I possibly can?
Is this information complete?
Are you too busy to manage a blog for your plastic surgery practice? Let Practice Builders help! We can plan an effective plastic surgery marketing strategy to get potential patients interested in your products and services. Contact a Practice Builders representative to learn more.