What Are Your Healthcare Marketing Goals for This Year?
Posted on

Just as we set goals in our personal life to improve our health, pay more attention to finances or devote more time to our relationships, a medical practice should focus on short- and long-term goals in order to be successful.
Marketing goal-setting is an art. It requires maintaining a midpoint between achievable targets and unattainable dreams. In fact, setting and maintaining strategic goals can be a somewhat torturous deliberation. Understanding that the key to success is not in crushing your goals and moving on but in defining them so that each effort serves a purpose. Goals should be set to influence the long-term and the short-term purpose of your medical practice. Consider the following key categories when mapping out your practice's goals.
Financial goals: Review the last two years to get a snapshot of how your practice is doing financially. Once you have a clear-cut picture of your current situation, determine reasonable goals for this year. For instance, if you have been attracting 35 new patients each month on average, bump that number up to 45 and think about how you are going to attract potential patients through your practice door.
Staffing goals: Take a look your turnover rate, training and development needs, improving employee satisfaction, establishing a retirement or incentive plan, conducting salary reviews or updating your employee manual to be in sync with how you function.
Physical surroundings goals: Take a look around your office, including your waiting area. What's needed to enhance the décor of your office? When considering improvements in your office decor, get input from staff to prioritize your list.

Patient satisfaction goals: Are your patients happy with the care and service you provide? When looking to measure patient satisfaction goals, consider conducting a patient satisfaction survey. You can set goals for reducing wait times, making the appointment schedule flexible, reducing billing errors and increasing referrals from existing patients.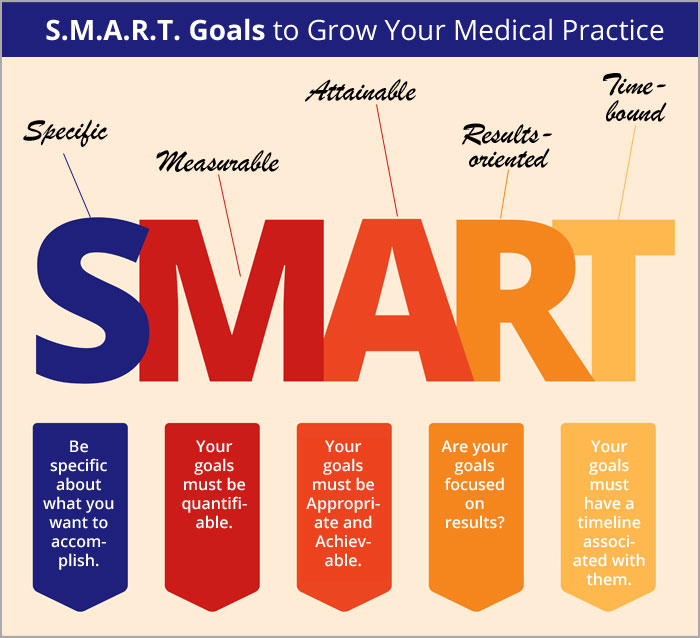 As a business, a medical practice can improve day-to-day performance and foster growth, even during an economic downturn, by applying the proven technique of goal-setting. Goals are long-term targets calculated to drive the practice toward the doctor's vision of success. More than just marks of achievement, goals act as motivators for the doctor and staff when used to assess the practice's progress.
Goal-setting is particularly valuable for medical practitioners who have little or no formal training on the performance factors that separate an average practice from an exceptional one. Once the technique of goal-setting has been learned, each practice will have unique goals based on the doctor's vision. When laying the foundation for success, all practices can benefit from these fundamental goals:
1. Increase revenue: There are various ways to increase your practice revenue, but one of the simplest methods is to focus more on the existing sales process. Take a look at how much revenue your practice is losing because leads are not being managed and followed up on. According to studies, in an average practice, almost 50 percent of leads are lost due to incorrect management.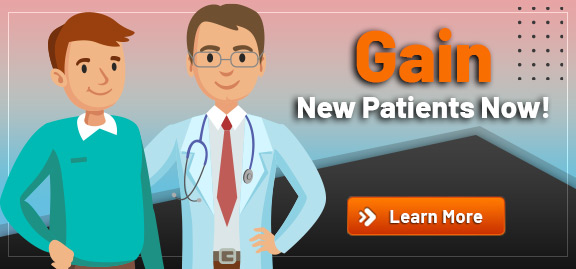 Steps to be taken:
Reduce average time taken to respond to leads.
Follow up with the sales team at least twice a week.
Review staff performance reports regularly
Hold biannual staff training sessions on call-handling practices.
2. Improve patient engagement: It is a known fact that happy patients bring in more referrals and increased repeat business, which will help support your financial goals. Increasing engagement with existing and potential patients is an excellent way to increase satisfaction. Patient reviews are a great way to benchmark this goal. Patient engagement will help your practice stay top-of-mind with your potential and existing patients.
Steps to be taken:
Using the right tools and technology is key to successful patient engagement. Make it a priority to have an effective patient communication system in place and a roadmap created to reach the target audience.
Implement patient retention programs. You can use email and text marketing to set up recurring reminders for patients when it is time for their routine checkups or lab tests. You can also announce incentive-based campaigns for patients who have not visited your practice lately. Offering an exclusive deal or free service is often an excellent way to get these patients back into your practice.
Send out regular communication to your patients informing them of your latest treatments, equipment, product discounts and any new deals you may be offering. You can also set up automatic emails that send your patients a special discount around their birthday or anniversary or holiday time.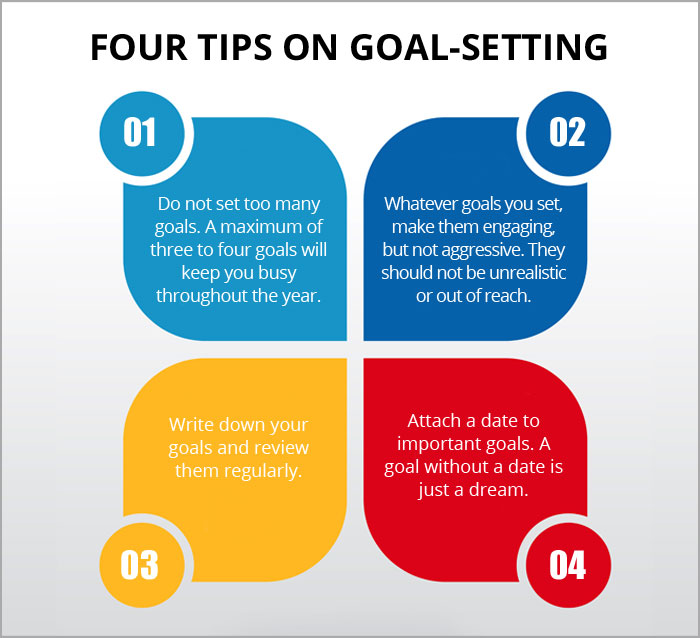 3. Reduce marketing expenses: Most practices approach marketing blindly, promoting their services on every channel and platform without tracking the performance. This may result in wasting a lot of advertising budget that could be spent elsewhere. You must resolve to focus more on quality and not quantity with your promotional strategy. It is important to determine which channels are resulting in the maximum conversation rate.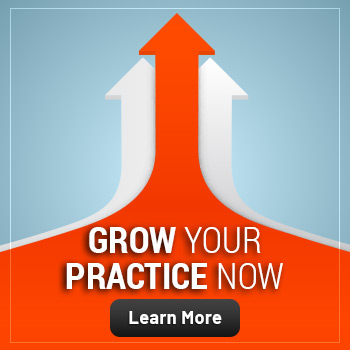 Steps to be taken:
Assign call tracking numbers to your advertising sources in order to get a complete picture of your marketing ROI.
Compare the quality of the leads different marketing sources are sending your practice. In addition, if advertising is sending you plenty of leads, but most of them are not converting, then the advertisement is targeting the wrong set of people and may need to be reassessed.
Evaluate marketing ROI reports consistently and hold quarterly budget review meetings to analyze and reallocate marketing budget based on performance.
4. Get more patient reviews: For most medical practitioners, online reviews cause great anxiety. However, with the abundance of third-party review sites such as Yelp, HealthGrades and Vitals, physicians simply cannot afford to ignore online reviews. Make sure to take a proactive approach to managing your online reputation. Your best line of defense against negative online reviews is to ensure the good reviews outweigh the bad ones.
Steps to be taken:
Implement a system for gathering and displaying authentic positive reviews from your loyal patients.
Learn from negative feedback and understand what needs to change. For instance, customer complaints about long wait times and staff behavior can be handled through better appointment scheduling and staff training.
Respond to negative reviews politely and professionally.
5. Automate key processes: For this year and the next few years, resolve to stop wasting your time, energy and resources on repeat tasks that can be automated. When the workflow is automated, there are likely to be fewer mistakes, and your admin staff will have more time to focus on things that matter, such as improving patient experience and providing outstanding care.
Steps to be taken: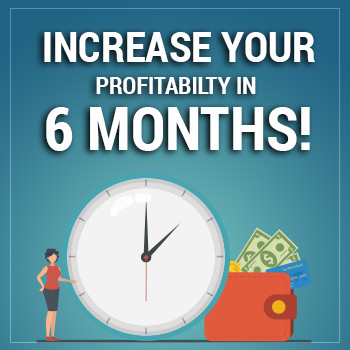 Put your lead-generating process on auto-pilot with automated email marketing systems.
Introduce an automatic appointment reminder system to your practice. You can send automated texts and email reminders to patients and free up your staff for more important tasks.
You can also reduce manual data entry by implementing an online patient information system. This will not just save time but also reduce errors.
6. Search for innovative marketing opportunities: Consider employing different methods to improve the brand image of your medical practice. Look for ways that communicate professionalism, ethics, value and care to your potential and current patients.
Steps to be taken:
Take time to comprehend and accept the value of a strong online presence. Whether it is creating a profile on Facebook, Twitter or LinkedIn, these social media networks give you access to an unlimited audience, which has tremendous marketing potential.
Use your marketing materials to educate patients, enhance patient acquisition and retention, and increase profitability.
A SWOT analysis of your medical practice will help you understand which marketing strategies to keep and which ones to discard. Be sure to capitalize on your strengths, minimize weaknesses and identify new opportunities for your practice growth.
Most medical practices stick to old ways of marketing. However, for this year, consider going outside your comfort zone and launch new promotional campaigns such as email marketing, social media and search engine optimization (SEO). Consider using simple yet compelling infographics as a visually engaging tool to convey important medical information.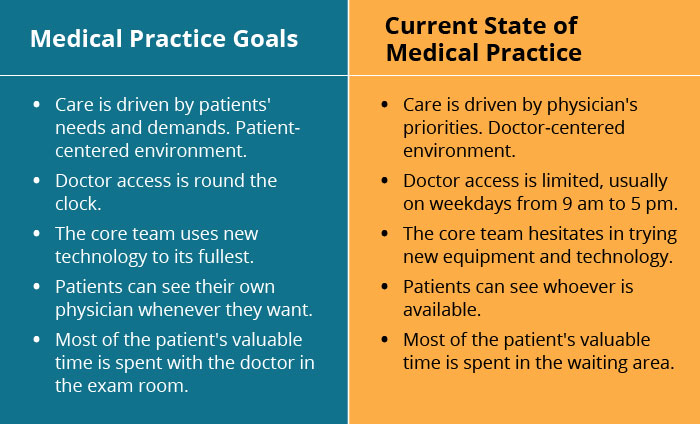 Conclusion
Today's medical practitioners must take a systematic approach to building and managing their practices. You must implement effective tactics to help you generate income to achieve short- and long-term financial needs. Practices will not reach full potential until they apply cutting-edge systems, state-of-the-art technologies. However, goal-setting can get the growth process started.
Medical marketing goals are essential if you want to expand your practice and provide valuable services to your patients. If you and your team are working on these marketing goals, you will be able to increase visibility and revenue for your medical practice. In addition, you will motivate your staff to have a renewed commitment to the visions and goals of your medical practice. So stay focused and celebrate success.
It is never too early or late to set marketing goals for your medical practice. All you need to do is focusing on areas in which you want to grow and then come up with innovative ways to market your services. If you need help, contact Practice Builders. We specialize in helping medical practices build and implement effective marketing strategies.