SWOT Analysis in Healthcare: A Self-Exam to Identify Primary Areas of Focus
Posted on

It seems like every marketing book provides a different understanding of the essential elements for building a successful medical practice. While some experts suggest quick-fixes, others advice a more "how-to" approach. Business books are often aimed at MBAs who understand corporate jargon, but not hectic medical practices. As a result, you may juggle and jostle to follow the next steps needed to grow your medical practice and attract new patients.
While your medical practice may have survived so far by acquiring a great location, hiring trained staff and delivering excellent patient experiences, the "pulling yourself up by the bootstraps" method will only carry any practice so far. Sure, hard work is an essential for any medical practitioner, but flourishing in today's ever-evolving environment requires strategic planning.
How can strategic planning help you strengthen the success of your medical practice while meeting patients' demands?
Why do you need SWOT analysis in healthcare?
Strategic planning not only helps you look for opportunities to expand your medical practice, it also makes you analyze your current condition. A good strategic plan includes a mission statement, which leads to planning, documenting and executing all the milestones that will be met.
Strategic planning for your medical practice is similar to driving a car across the country. You must be aware of where you are, critically examine your present condition and set milestones in order to reach where you want to be. It can be achieved by implementing a technique called SWOT analysis.

A SWOT analysis in healthcare allows a medical practice to explore internal strengths and weaknesses as well as external opportunities and threats.
What is a SWOT?
A staple of strategic planning, a SWOT analysis in healthcare is often used as a basis for business strategy. Using a mix of quantitative and qualitative information, this analysis will help you assess the strengths, weaknesses, opportunities and threats involved in your medical practice.
The data gathering process and performing a SWOT analysis may vary, and there is no single correct method. The size of your medical practice, the frequency of planning meetings and the changing markets are significant factors that affect the process.
What makes a SWOT analysis essential for medical practitioners is that it can help you see opportunities that you can exploit, understand weaknesses that you can manage and acknowledge threats that you may have overlooked.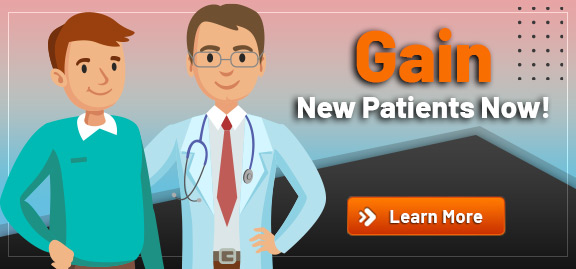 SWOT analysis in healthcare: Begin with the end in mind
For a driver to plan the fastest route, he must know his destination. Similarly, you must initiate the SWOT analysis by visualizing a destination, or an end point. To plan your "destination," you will have to define success as you see it, both as an individual and medical practitioner. You must be specific about your aims and goals and must have a clear vision of your practice. To be effective, your SWOT analysis for hospital must be based on a vision that emphasizes your strengths and matches how you see yourself.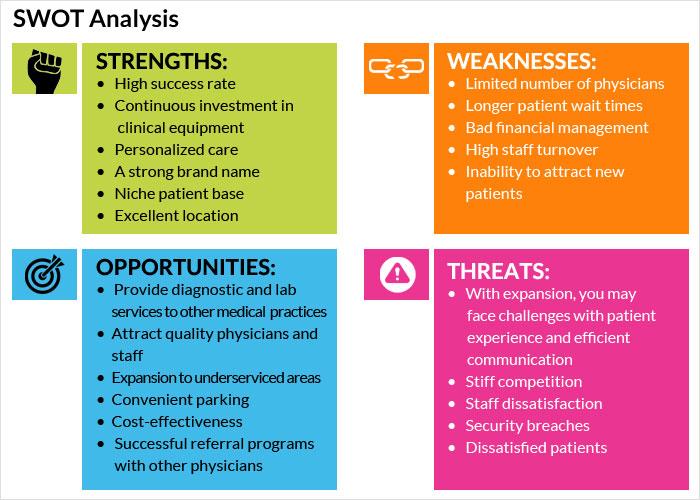 Essential SWOT elements
You can use a SWOT analysis in healthcare to assess resources and capabilities with regard to the competitive environment in which your medical practice operates. Your findings will guide you in deciding the future course of action of your practice. You can consider the following elements:
Strengths: The idea is to identify your strengths and leverage their power to establish your brand. You can quickly identify your strengths through your dialogues with staff. Your internal strengths may include skilled staff, few bad debts, a strong brand name, niche patient base, excellent location, etc.
Some of the questions to be answered are: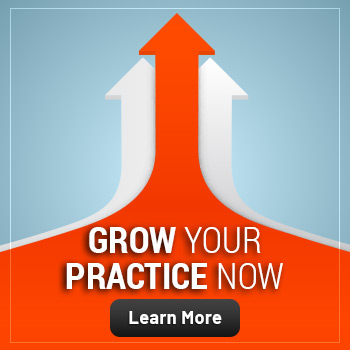 What inspires new patients to come to your practice?
What advantages does your practice have over local competitors?
Do you have access to any unique resources?
Weaknesses: A SWOT analysis is your opportunity for tackling underperformance in your practice. It is often difficult to recognize management and personnel weaknesses, except with hindsight. While assessing your weaknesses, it is advisable to be realistic and form a strategy to address your challenges. You will have to dig deeper into how your patients perceive your practice. Some of the typical examples of weaknesses in medical practices include a shortage of staff, waiting time, bad financial management, high staff turnover, poor location, shabby premises, outdated equipment and inability to attract new patients.
Some of the questions to be answered are:
What factors cause you to lose patients or keep you from attracting new ones?
How do you measure up against competitors?
How do your patients perceive you?
Opportunities: One of the most efficient approaches when looking at opportunities is to analyze if your strengths present any opportunities to your practice. Alternatively, is it possible for you to create opportunities by eliminating some of the weaknesses? You can also discover opportunities by changing technology, treatments and policies related to your specialty. External changes may open up new possibilities. For instance, changes in the law that requires patients to purchase a product. Some of the opportunities may include great location, convenient and ample parking, sufficient and well-trained staff, cost-effectiveness, successful referral programs with physicians, etc.
Some of the questions to be answered are:
Where are the obvious opportunities facing you?
Are there any upcoming medical trends that may provide opportunity?
Are there any special conditions that may open doors for your medical practice?
Threats: It is imperative to realistic about threats when conducting a SWOT analysis in healthcare. This is because the sooner you accept and face your threats, the sooner you can begin to handle them. Your aim must be to identify where your practice is and where you expect it to be in future. It is essential to visualize this before you embark on your journey to overcome the obstacles. Threats can be minor or potential enough to destroy your medical practice. You could be expecting changes that may directly or indirectly affect your practice and have far-reaching effects. For instance, a newly renovated office of your competitor may make your equipment look obsolete and may result in loss of patients. Threats may include anything that comes in the way of your goals. While no practice is immune to threats, the purpose of a SWOT analysis is to protect your practice against threats. Your threats could be stiff competition, staff dissatisfaction, security breaches, dissatisfied patients, etc.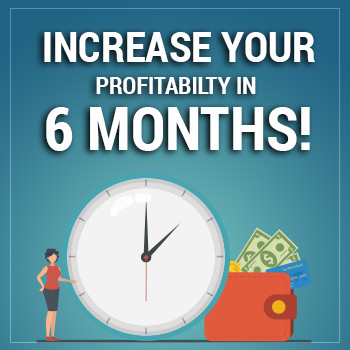 Some of the questions to be answered are:
What difficulties do you face?
Should you be worried about your competition?
Are technological enhancements making your facility look obsolete?
Could your weaknesses threaten your business?
Can you convert threats into opportunities?
It is critical to understand the strengths, weaknesses, opportunities and threats of your medical practice. The objective of a SWOT analysis is to carefully assess the services, culture, brand image, weaknesses and opportunities. You can perform a SWOT analysis to determine the positioning of your products and services in the competitive marketplace. By analyzing your SWOT, you can assess the current state of your medical practice and plan a course of action to reach your goals.
By asserting your strengths and overcoming your weaknesses, opportunities will present themselves.
Awareness of threats can help you survive in a cut-throat market. A SWOT analysis in healthcare is similar to doing an in-house audit as it provides the tools and knowledge required for strategically planning for a more productive approach.
Assessment time
Make it a collaborative effort and focus on evaluating your personal ambition along with the practice's goals. You may find the process a bit uncomfortable, but it will provide you with the ammunition to overcome and respond to weaknesses and threats. Here are some basic ground rules to help you streamline the process:
Keep your findings in perspective by limiting yourself to a maximum of three factors for each of the four categories.
Avoid over-complexity and confusion by keeping your replies simple and short.
Be specific and avoid gray areas.
Aim to form a competitive business strategy that helps you gain an edge over the competition.
Brainstorm to convert weaknesses and threats into strengths and opportunities.
Make sure you have trustworthy information when you are analyzing various elements.
Avoid making decisions based on opinion or guesswork.
Prioritize your tasks and reduce the list down to a reasonable size.
Document a plan of action for each item or goal.
What next?
Once you have brainstormed on all of these elements and evaluated your goals, you should have arrived at several tasks or items. These tasks or action items are what you should document in your SWOT chart. Go through the list and set priorities, make commitments and come up with strategies to deliver on each item. Ask yourselves:
How can we use our strengths for reaping more opportunities?
Can our strengths help us prepare for the threats?
Can our weaknesses be converted into opportunities?
You will need to answer these questions before you finalize strategies for achieving goals and positioning your practice for growth.
By using a SWOT analysis in healthcare to assess internal and external factors, your practice can unveil hidden opportunities while maneuvering potential threats.
Are you looking for swot analysis healthcare examples? Contact Practice Builders to discover how we can help you conduct a SWOT analysis or healthcare marketing strategies for your hospital. The result will be increased patient volume, enhanced reputation and overall growth.