Which Social Media Platform Is Best-Suited For Your Dental Practice?
Posted on

Dental Social Media
Chances are, your dental practice is on social media. Chances also are that you are not engaging in social media marketing for dentists appropriately. Maybe you have a dull account with whatever social network was popular when you signed up, and you post whatever and whenever you find the time. Or maybe you have joined almost every dental social media network and are now spending way too much time and energy trying to keep up. In short, your dental practice social media marketing game is not up to the mark.
As with any form of marketing and advertising, it pays to be strategic on social media, as well. You are better off choosing a few dental social media platforms and using them to their full potential.
Some practices have not yet begun to harness the potential of social media marketing for dentists. By spending as little as five hours a week, more than 66 percent of healthcare marketers enjoy enhanced lead generation with social media. A well-executed dental social media strategy can improve your search rankings, drive more traffic, and increase conversion rates.
However, how can you have an effective dental clinic social media marketing strategy when you do not even know which platforms to choose? With a plethora of options, it can get overwhelming to determine whether your practice needs to build an online presence using Facebook or Instagram, Twitter, or Pinterest.
When choosing the right social networks, there are some factors to consider, from the target audience to how your content and business goals will fit within its framework.
Social media marketing for dentists: Choosing the right platform
Exactly the way there's no 'right' drink to pair with your meal, there's no 'right' social media platform for your dental practice. To succeed in social media marketing for dental clinics, you need to understand your target audience, business goals, and how social media fits your overall strategy. If you've got the basics right, and you're committed to trying innovative dental social media marketing ideas, success is almost guaranteed.
Here is the complete guide to choosing the right social media platforms for dentists: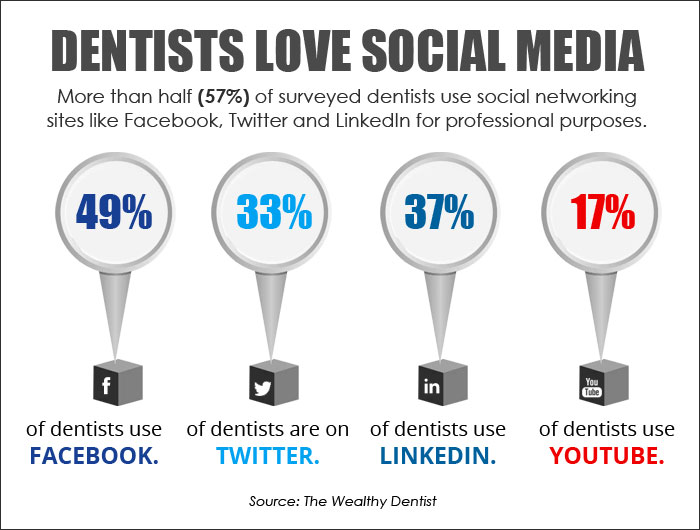 Facebook
With more than 1.7 billion active users, Facebook is the go-to social media platform for most businesses. Using Facebook, you can share visually appealing and informative content with your target audience. Facebook also help you to gather feedback from your existing patients. However, you have to be sure to monitor patient comments and respond promptly.
Audience: Usually between 15 and 49 years old. According to recent research, nearly 91 percent of millennials have Facebook accounts.
Best suited for: Practices looking to nurture long-term patient relationships.
The catch: Facebook operates primarily on a pay-for-play model, which means that your content share and posts may not reach a wider audience unless you are paying to boost your posts or advertisements. Per Facebook, for as little as $3, your posts could reach up to 500 people.
Should you be on Facebook?
Definitely yes, but only if you do not mind the intense competition. According to a report, more than 70 percent of online users use Facebook. It is by far the most popular social media platform. If your target audience uses the Internet, they are highly likely to be on Facebook. However, Facebook News Feed is a crowded place for your dental practice updates.
Instagram
Instagram has more than 800 million monthly active users and claims to have one of the highest engagement rates of any social media platform. Instagram claims to be the best platform for reaching millennials and other users who appreciate a good picture or video. This platform prefers visually appealing content, which sees more engagement here. However, avoid using stock photography on Instagram.
While considering Instagram, do not forget about hashtags. While other social media platforms such as Facebook and Twitter use one or two hashtags per post, Instagram encourages as many hashtags as possible, as long as they are relevant.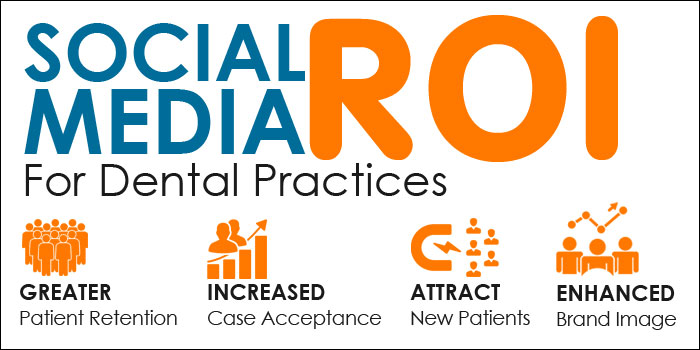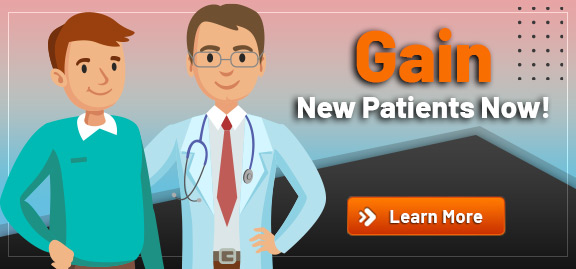 Audience: Nearly 90 percent of Instagram users are under the age of 35.
Best suited for: Practices that are looking for brand promotion by posting and sharing visually appealing content.
The catch: It may get difficult to measure direct ROI. In addition, it is difficult to link your Instagram account to a webpage except in your bio, which makes this platform better for brand promotion or assisting other social media efforts.
Should you be on Instagram?
Yes, especially if visually appealing content is your forte. Instagram works excellently in combination with Facebook or Twitter and may help your practice grow and thrive.
Twitter
With more than 7,000 tweets every minute, Twitter can secure a place in your social media strategy if you want to have real-time communication with your target audience. Twitter perfectly blends all types of creative communication, including videos, graphics and text. You can use features like polls and hashtags to catch the attention of its more than 350 million users.
According to a survey, 42 percent of Twitter users expect to receive a response within an hour of posting their query or concern. The USP of Twitter is that it can make your posts go viral within hours. You will attract more followers when your existing followers Like or Share your content. You can post news, dentistry updates and general articles on Twitter. Hashtags can help you increase momentum for your posts, so try to include as many relevant hashtags as you can.
However, your tweets can get buried in a users feed. Therefore, in order to maintain excellent visibility, it is essential to tweet at least a few times a day. While Twitter also allows prescheduled tweets, you should combine them with regular posts in order to increase patient engagement.
Audience: Twitter users are the most diverse in terms of age groups, but the majority of users are between 18 and 50 years old.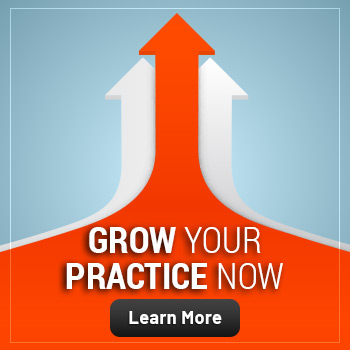 Best suited for: Practices with plenty of content to share and a goal to connect directly with existing and potential patients.
The catch: If your tweets are not live or trending, they may have a short lifespan. For high levels of patient engagement and a high follower count, you will have to be very active and share useful content regularly.
Should you be on Twitter?
Yes, especially if you are targeting a younger, tech-savvy crowd. Current and diverse content works great on Twitter. However, do keep in mind that a tweet reaches its peak after 18 minutes, so it is important to get your next tweet ready fast.
Pinterest
Contrary to popular belief, Pinterest is not just for travelers, foodies or fashionistas. With more than 100 million active users, it is one of the few platforms where older content can also do well.
Pinterest is essentially a visual platform on which people can "pin" content to their boards, which makes it one of the most effective platforms for website traffic referrals. This platform can work well if you have a "cool-looking" office or special offers or discounts that can be communicated visually. For instance, if you focus on cosmetic dentistry, you can utilize Pinterest to post visual content that establishes that side of your brand image and reputation. Remember not to overuse image filters, and get trained on ways to display visually appealing graphics and marketing images. When pinning content, do not forget to optimize your images.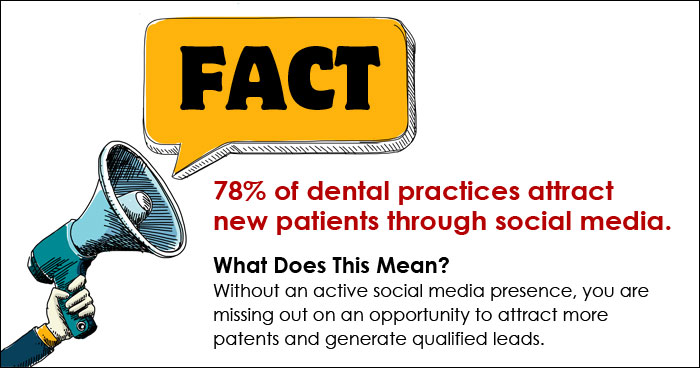 Audience: Nearly 85 percent of users are females, and 67 percent are millennials.
Best suited for: Practices that can share visually appealing content or can experiment with behind-the-scenes images or before-and-after images of patients, but with patients' consent.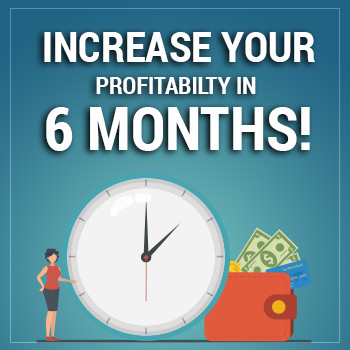 The catch: This platform is generally slow-moving and can be challenging to attract a large following. However, if you can manage to generate fresh content that is visually appealing, it can prove to be an ideal platform.
Should you be on Pinterest?
Yes, but only if you can frequently create content that is a treat to the eyes.
LinkedIn
Initially created as a social networking platform, LinkedIn has grown to become a powerhouse for small and Fortune 500 businesses alike, with more than 100 million users. If you want to network with your colleagues, peers and community, you must have an active presence on this platform.
Maintaining an active presence on LinkedIn will increase the visibility of your dental practice among other professionals. You can increase your professional credibility by staying active in LinkedIn groups and commenting on other posts.
While there are different opinions about what should and should not be posted on LinkedIn, a good rule of thumb is to stick to content that looks professional and is relevant to your dental practice.
Audience: More than 50 percent of users are between the ages of 30 and 64.
Best suited for: Practices that work with other professionals and want to increase quality and quantity of their professional referrals.
The catch: Unless you are a recruiter, you should not be selling anything directly to LinkedIn users. The only reason for your LinkedIn presence is to promote your brand, not any specific products.
Should you be on LinkedIn?
Yes, but only if you can play the business game. LinkedIn's niche audience is full of great insights on productivity, ethics, networking and recruitment.

Which platforms can bring you the most business?
Although we believe any dental practice needs just three social media platforms, this may not apply to every dentist. Eventually, it all comes down to your specific needs and business goals. Experts recommend Facebook and Instagram (followed by a few more) to build your dental brand and bring in more patients. However, it is advised to focus on one social platform first and gradually span out from there.
Facebook is one of the best social networking sites for maintaining close contact with your existing and potential patients. Not only will this platform help you build and sustain the loyalty of existing patients, but it will also help attract new patients. The secret to successful dental social media marketing lies in the value your services can offer to your patients.
Dental social media marketing is getting more critical as time passes, and you should not fall behind your competitors. At Practice Builders, we provide targeted social media dental marketing services to help dentists increase their brand awareness and bring in new patients. Now is the time to start! The Practice Builders team would love to help you.