Hiring a Healthcare Marketing Agency for Doctors? Don't Forget to Ask These Questions
Posted on

There are many reasons why you might be thinking of hiring a digital healthcare marketing agency for medical practice. Maybe you are hoping to free up more time to focus on patients, or perhaps you expect the agency to bring expertise to marketing campaigns that your in-house employees do not have.
However, not all healthcare marketing agencies are the same. While some agencies can completely transform your medical practice and generate lots of traffic and sales, others may fall short of your expectations.
There are a few boxes you must check before you hand over your practice's online presence and brand-building activities. Here are some of the many questions you must ask yourself as well as the agency before signing on the dotted line.
1. Does the agency understand your requirements?
Realizing what you need before you begin searching is essential. A social media healthcare marketing agency for doctors will have a different skill set than an SEO agency.
What do you need from an agency? A website redesign, or help with email healthcare marketing campaigns? Are you looking to boost your website traffic and leads SEO?
Evaluate your needs thoroughly, because it pays to be on the same page. The more aligned your relationship is with your agency, the more successful your healthcare marketing campaigns for your medical practice will be.
2. Do they have experience in your industry?
It's worth your while to look for a healthcare marketing agency that has experience in your medical specialty. Not only will they understand your pain points, but their SEO strategies and digital marketing expertise will help you to plan campaigns that are specifically catered to your target audience.

When you find an agency that has experience in your specialty, ask them if they have had success on a conversion goal that is similar to yours. A strong background in your specialty means the agency can not only help you build effective healthcare marketing campaigns for your medical practice, but also steer you away from ideas that are unlikely to work.
3. What visible results are they promising?
Always remember: "If it sounds too good to be true, it probably is." Apply this rule even when hiring a healthcare marketing agency.
If an agency is promising you results that nobody else has, ask them to prove it. Have them lay out the golden strategy that makes them stand out and separates them from other marketing agencies.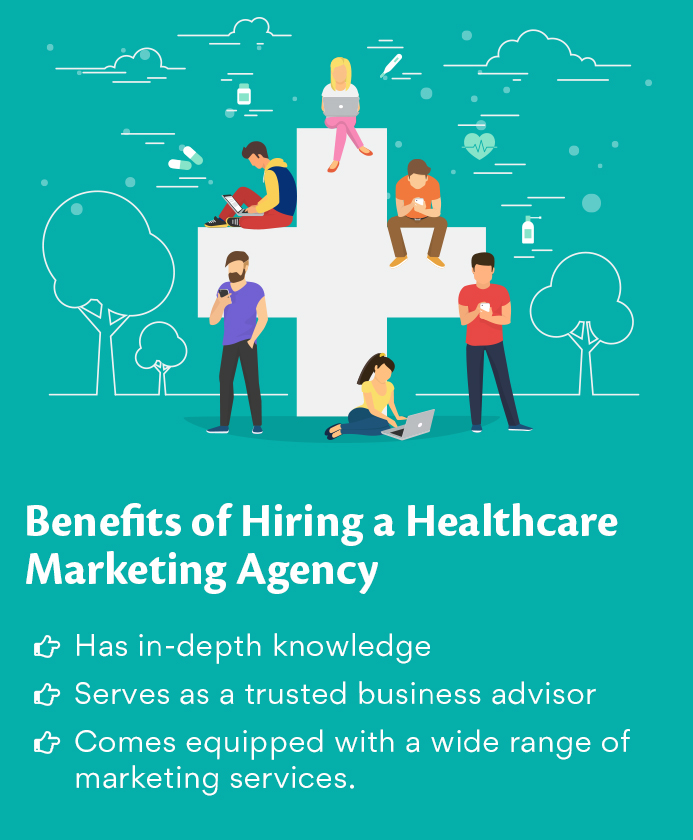 What is their strategy for achieving the claimed results? What makes them unique?
One of the many red flags to look out for is an agency that promises you bottom-of-the-funnel results.
While the end game of most healthcare marketing campaigns is to earn new patients, an agency should never promise or claim to boost your bottom figures. Even the most successful healthcare marketing campaigns will not necessarily bring in a slew of new patients, so watch out for these empty promises.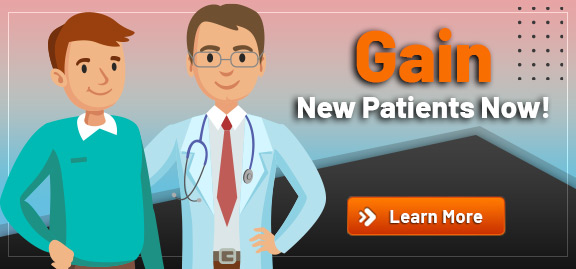 4. Are they using the latest tools?
If you are going to work with a digital healthcare marketing agency for doctors, you must know what tools they use.
Inbound healthcare marketing campaigns are like any other campaign; they require end-to-end experience. This is the reason your agency should be using the right tools to make the experience worthwhile.
For instance, if you are hiring the agency to handle your email campaigns for your medical practice, are they using tools like Campaign Monitor or MailChimp?
And you must inquire about their communication tools, as well. How will they keep you up-to-date on progress? Gmail might work for some agencies, but a tool like Slack can keep the communication flowing, and everyone will be on the same page.
5. Is their reporting effective?
Reporting is crucial to the success of your relationship with your healthcare marketing agency. A track record of robust reporting will reveal how transparent an agency has been with their clients. The last thing you need is a healthcare marketing agency for medical practice that makes big promises and then fails to report the truth if the campaign falls flat.
Although each agency reports differently to its clients in terms of format and frequency, you should always be kept in the loop. A professional agency will always provide you a baseline report and customize it to whatever goals you are trying to achieve.
Customization could mean a specific report about your website's organic visitor numbers, time spent by visitors on your website, cost-per-click of PPC ad campaigns and conversion rates.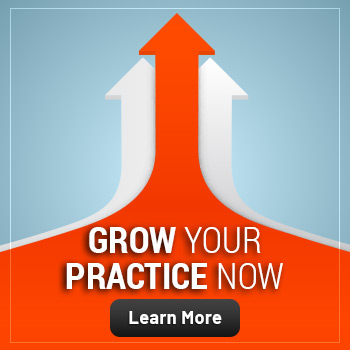 Your agency might struggle to prove ROI if it has not aligned the goals of your medical practice to various campaigns. Or they might conflict because the agency isn't collecting and assessing the right data.
Although increased patient engagement and brand awareness are essential for your medical practice, you need to know precisely how the agency will measure results and what metrics you want them to use to prove your campaigns are doing well.
If the agency cannot show you an increase in ROI from social media, they should be making it up in other areas such as an increase in organic traffic and leads for the website through SEO.
6. Do they practice what they promise?
If an agency is promising you amazing marketing campaigns or a professional website, but they don't have either one for their own agency, this is a huge red flag.
One of the most obvious signs if an agency is trustworthy is that they promise things that they have generated for themselves.
For instance, if you are looking for digital marketing agency to produce blog content, but their blog is non-existent, would you hire them? Or if you are seeking experts to manage your social media handles, but they hardly ever post on their own pages, should you still trust them with your brand image?
You should look into an agency's search engine rankings if you are interested in strengthening your SEO of your medical practice. They should be ranking higher for search terms in their specific industry. If they aren't, are they really good at SEO?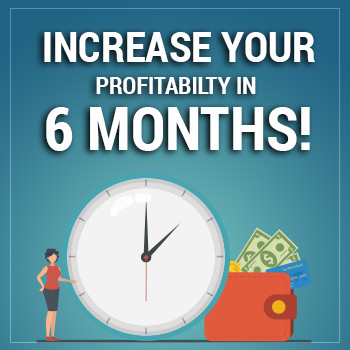 7. Are you comfortable with the size of the agency?
Some of the best healthcare marketing agencies only have five staff members. Some have 200.
A smaller agency can give you a more direct access to its people and a more hands-on approach. On the other side, the agency with five people working on your email marketing is unlikely to have the skillset that a larger agency can offer you.
A healthcare marketing agency for medical practice with hundreds of people will be able to offer you healthcare digital marketing services from video content to website development and everything in between. So consider these points when choosing your agency.
This does not mean you shouldn't consider a smaller agency, though. Even if a more modest agency doesn't offer niche services like video creation and editing, it will most likely provide essential healthcare digital marketing services like SEO, reputation management, brand creation and/or content creation.
Always remember that the bigger the agency, the less likely it will be for you to have control over every aspect of your campaigns. More prominent agencies will take the reins and handle everything for you. Sometimes this is a good thing. But sometimes it can negatively impact your relationship with healthcare marketing agency and create a sense of detachment.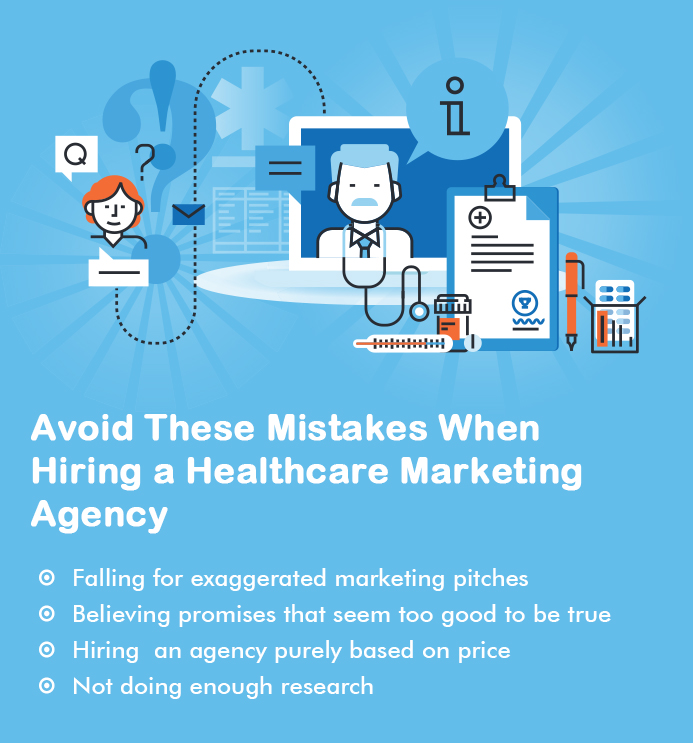 Conclusion
A digital healthcare marketing agency for doctors should check all of the boxes on your list before you sign with them.
Before you hire an agency for your medical practice, make sure you know every detail about it in terms of experience, expertise, size and price.
After your initial research, it's up to the agency to win you over and prove that they are the best fit for your unique requirements.
The best client-agency relationships are built on transparency and trust. Make sure you ask the relevant questions before signing on the dotted line.