3 Powerful Tips for Retaining Visitors on Your Medical Practice Website
Posted on

While there are many advantages of digital marketing, users' short attention span is not one of them. Since the rise of smartphones and other gadgets, the average attention span of human beings has fallen from 12 seconds to eight seconds. So, if your website visitors can only stay focused for eight seconds or less at a time, what does that mean for digital healthcare marketers? It means, attracting and retaining the attention of your website visitors, while tricky, is not impossible. The key? Driving visitor engagement.
In order to improve visitors' engagement on your practice website, ask yourself: How much time are visitors spending on your website? What pages are they looking at? How much time on average are they spending on each page? Are visitors clicking your calls-to-action? Most importantly, what percentage of visitors are performing the desired action on your website?
Why should visitors spend more time on your website?
The average time visitors spend on your medical practice website is an indication of how they feel about your brand name and services. If visitors are abandoning your website without spending enough time to read about your services, then something needs to be fixed.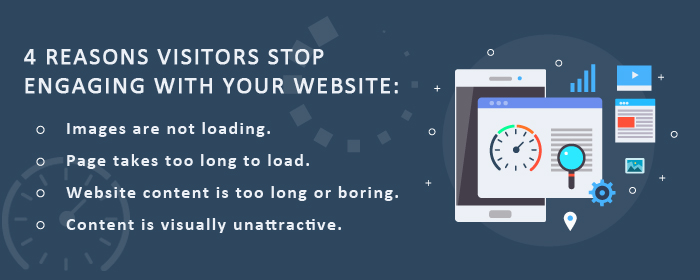 Abandoning visitors increase your bounce rate, which reduces your conversion rate and profits. A good time-spent metric depends on what kind of web content you are offering. For instance, if it is a long article and the average time spent by users on that page is just a few seconds, then it demands your attention. As a medical practice website owner, your goal is to make visitors stay long enough to see what you have to offer and how your practice is better than competitors.
Here are a few tips and tricks that you can apply to keep visitors longer on your medical practice website.
1. Create bite-sized content that is easy to read
According to a report, nearly 55 percent of visitors spend less than 15 seconds scanning a website. Visitors rarely read every word of your content. Instead, most readers scan the page to search for useful and relevant words and phrases.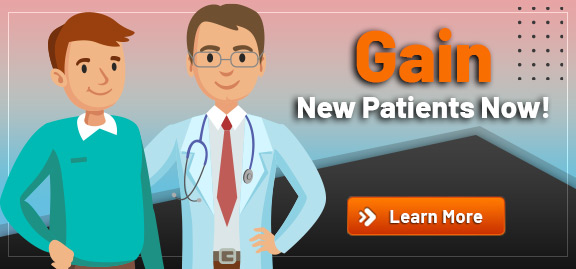 If your web copy contains long sentences and paragraphs that are difficult to scan, most of your visitors may not stick around to read it. Instead, they will leave your website to find content that is easier to scan. Here are a few tips to help you create scannable content:
Ensure readability by increasing your font size and line spacing. Simply increasing the line spacing and font size can make your content scannable and may result in a quick boost in your engagement metrics.
A thick wall of text without visual breaks is hard on the eyes. In order to increase readability, try to keep your sentences short and break up your content by including engaging visuals.
Subheadings can play an important role in keeping your readers engaged. Not only do subheadings provide an interesting visual break in your content, but a nicely written subheading can make a reader more curious about your content and keep them from clicking away.
Using bulleted lists will make your content stand out and help the reader scan your content for relevant information.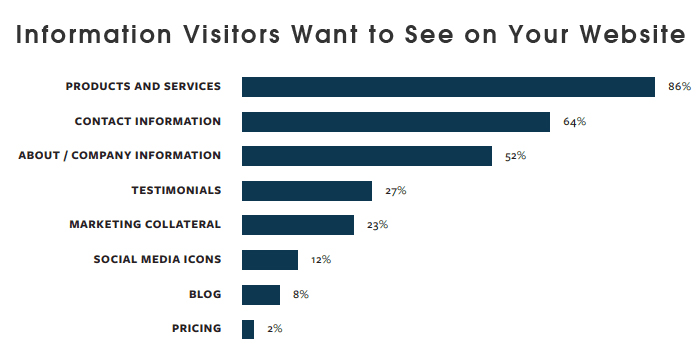 2. Use videos to tell a story
Visual storytelling is an important element of successful content marketing and is an effective way to drive visitor engagement – especially when you have specifically crafted the experience keeping your target audience in mind.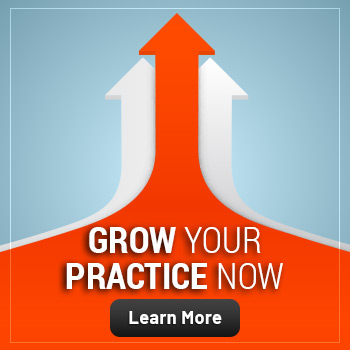 Videos are one of the most interactive and engaging forms of content. Adding videos to your web pages can boost patient engagement and increase the time visitors spend on your website. Videos are an interesting method of adding relevant content to your practice website. Content such as video blogs and patient testimonials can help build trust with your target audience. Videos, when optimized to reach maximum people, will increase traffic to your website.
If you have created a video that offers information about your practice or range of services, it should be something you want your website visitors to see. However, when planning to include a video on your website, be sure to avoid low-quality videos with unprofessional graphics. This is because low-quality videos would drive visitors away from your site. Instead, choose a professional video that offers useful information and can help visitors feel confident about your practice and services.
For instance, sharing an "explainer video" is a great example of making your website visually attractive and informative without adding lengthy content. Most of your website visitors would rather watch a video rather than read lengthy text. Adding videos on your website might seem like a lot of work, but it is not as tedious as it seems. In order to create videos, you can simply repurpose your existing content into presentation videos.
3. Create compelling calls-to-action (CTAs)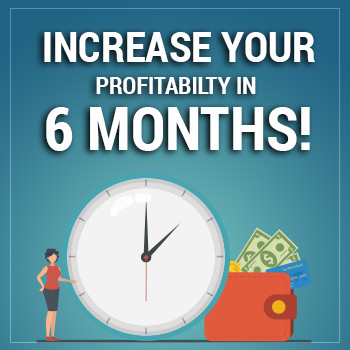 Think about CTAs as triggers for your visitors to perform the desired actions. A few compelling CTAs, if used judiciously, can boost your patient engagement rate. The keys to compelling CTAs are to use the right language and plan their placement strategically. The perfect time to request your visitors to take action is after they have finished reading through your content. Website visitors tend to leave once they have gathered the information that they were looking for. However, an appropriate CTA might give them another reason to explore your website some more.
A strategically placed CTA button can turn passive website visitors into engaged participants, ready to schedule an appointment or sign up for your promotions. Making your CTAs stand out will help you achieve your website goals. The content on your CTA buttons is your best opportunity to communicate with your website visitors. Clear and concise text can promote patient engagement and clarify your intent.
The problem with a static CTA is that a majority of your visitors may miss it. One of the best ways to handle this issue is by using an animated slide-in opt-in, which will grab visitors' attention without disturbing them. If you need help creating or revamping your CTAs, a web design professional can make sure that the buttons not only look great but also perform the way you want them to.
The short version
Keeping visitors on your medical practice website and reducing the bounce rate is one of the most important things for healthcare marketers and practice owners alike. Engaged visitors are more likely to visit your practice and purchase your services, or tell others about your practice.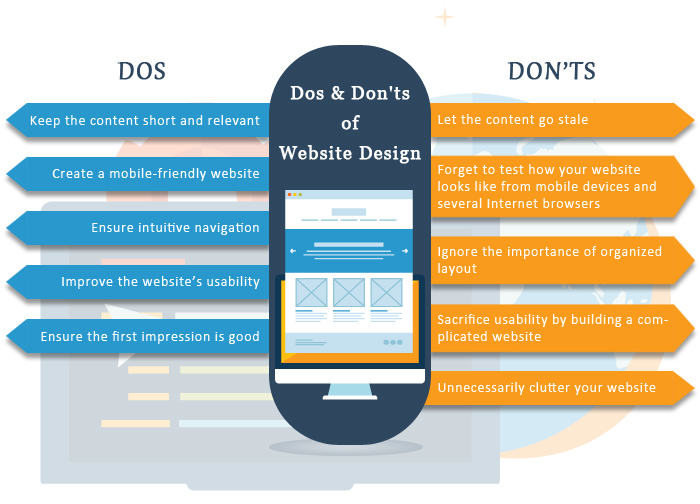 Fortunately, there are plenty of things you can do to attract visitors to your website and help them stay long enough to learn more about your practice. However, the most important element is to have engaging content that your visitors can relate to. Providing old content and stuffing your website with keywords might bring more visitors to your website, but it is not a long-term solution.
A successful website should strike the right balance between conversion goals and visual elements in order to sell your services and grow your practice. Your website should be striking enough to grab the attention of visitors, yet useful enough to convey the essence of your brand.
At Practice Builders, we specialize in healthcare website design. This singular focus gives us the expertise and insight to build healthcare websites that provide some of the best conversion rates in the industry. Contact us for a medical marketing services consultation.