6 Killer Social Media Post Ideas for Dental Practices
Posted on

Of the 7.9 billion people on planet Earth, more than 4.6 billion have Internet access; and more than 4.3 billion people have access to social networks. More than 98% of social media users access social networks through a mobile device. Most of them spend an average of 4 hours and 10 minutes browsing different social media networks every day.
With more than 50 percent of all dental practices using social networks for various purposes, doesn't it become challenging for marketers to cut through the digital noise, stand out from the crowd and become noticed? What kind of social media posts do dental marketers create to boost engagement and educate their followers?
In this blog post, we'll attempt to answer these questions!
Before we discuss social media post ideas, here are a few tips to get the most social media for dental practices:

Make your posts relevant to your target audience.
Make your posts interactive. By talking TO your followers, you will engage and connect with them.
Post with a purpose – to connect, to know your followers, to start a conversation, to get leads, to drive traffic, and to expand your dental practice.
Related Read: 5 Social Media Marketing Mistakes That Can Sabotage Your Dental Practice
Social Media Post Ideas for Dental Practices
Posting regularly is an integral part of any successful social media strategy for dentists. However, it's entirely normal for dental marketers to sometimes struggle with a creative block and not know what to post.
Here are some of the most effective (and customizable) social media post ideas for dental practices to help them boost engagement, drive traffic and increase conversions.
1. Share industry news: Sharing original content relevant to your specialty and target audience is one of the most popular dental practice post ideas. Whether it be a blog, video, or graphic, make sure you put your dental practice out there with originality. Sharing blog posts and exciting videos gives followers another reason to check back in with your page. Your followers will pay even more attention if you are updating your content regularly.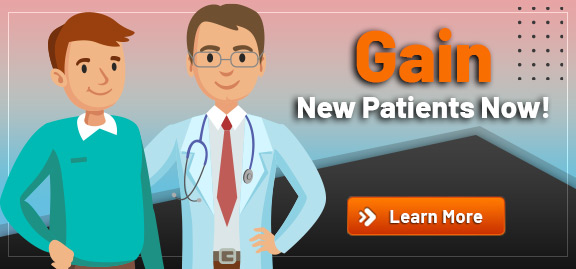 2. Share your updated business hours: If you had made any adjustments to your business hours due to COVID-19, it's essential to inform your followers. The last thing you want to happen is a patient arriving at your dental practice and your staff not being there. Be sure to create a social media post with updated information, including hours of operation or changes to your services. Make sure to pin the post, so it's one of the first things your followers see when they visit your page.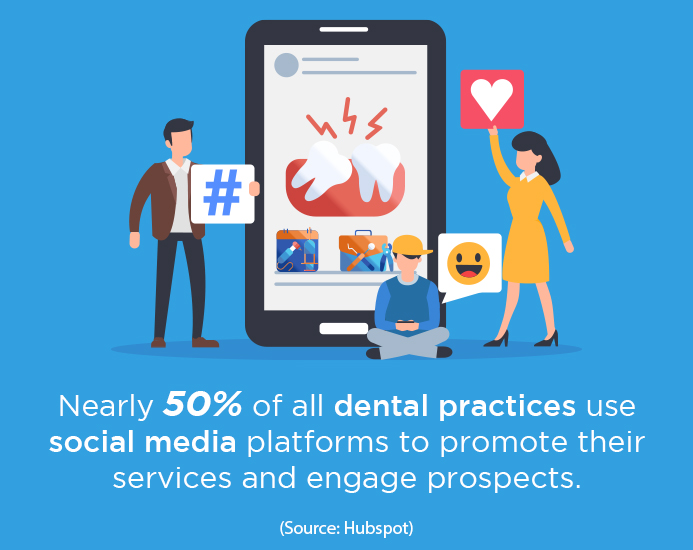 3. Share patient reviews and testimonials: Do you have loyal followers who love to post reviews of your services? If yes, you must use that content by sharing it on your social media profiles. Patient testimonials and reviews are a great way to build buy-in for your services. Prospects are more likely to try out a new service if they know others have already tried and liked it. You can repurpose patient reviews or testimonials in the form of video clips or reach out to specific patients and ask for a more detailed review of your services. Make sure to seek patients' consent before sharing their reviews or testimonials on social pages.
4. Run a contest: Running a contest is one of the most impactful social media post ideas for dental practices to increase engagement. It is estimated that almost 91 percent of Instagram posts with more than 1,000 comments or likes are related to a contest. When running a contest, make sure that the prize is related to your practice (think: free services). Game tickets and other unrelated gift items might attract freebie-seekers but will not help to translate those prospects into long-term patients. You don't need to run contests every week to reap the rewards. Contests are a successful social media idea, but only if done occasionally.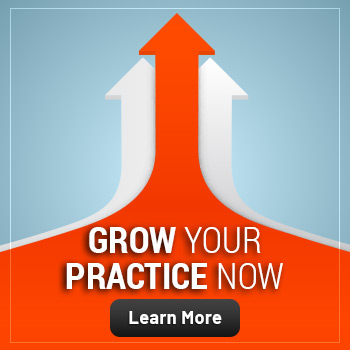 5. Create short video clips: Video content has become a must-do for forward-thinking dental practices. Unfortunately, many marketers see the investment in video content as being too complicated or out of their reach. When you consider it, video content gets more shares than text. With this as the focus, you will begin to give serious thought to dental practice social media ideas that incorporate video content. Bite-sized video clips are a perfect idea for social platforms like Facebook, Twitter, and Instagram as these clips require minimal editing, can be shot within minutes, and are easy to share. You don't have to focus on creating professional-looking commercials but short and engaging clips that keep your followers informed and entertained.
6. Go live: There's something compelling about a live video. In fact, according to reports, people spend almost three times longer watching live videos on Facebook than pre-recorded ones. Several dental marketers use live video streaming as a channel to answer followers' questions and educate their audience. Whether you are vlogging from your clinic or conducting a Q&A session, responding to followers in real-time establishes a personal connection with them. The best part? You can repurpose your video content and convert it into a blog or an infographic down the line.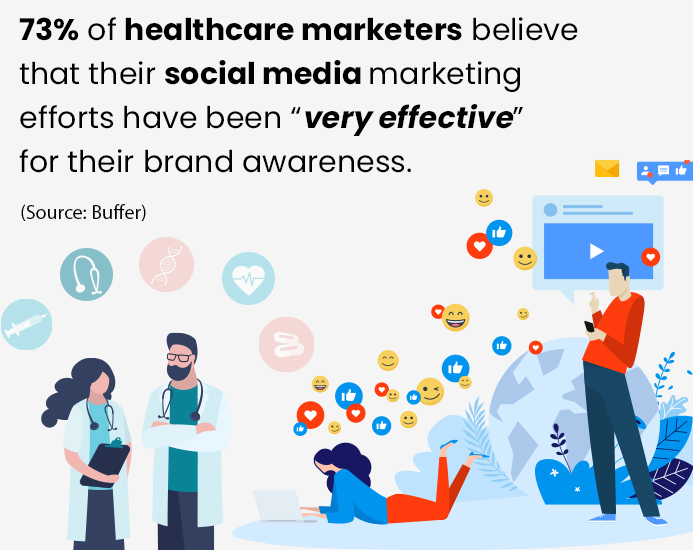 Related Read: Social Media Marketing For Dentists – The Ultimate Marketing Weapon?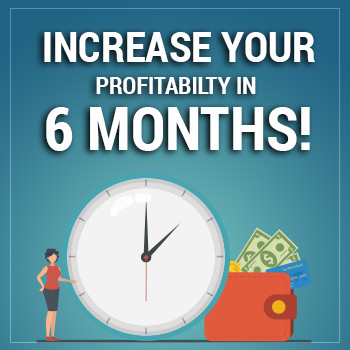 Conclusion
Are you tired of sharing the same old content on social platforms? Give some of these post ideas a shot. Dental practices should never feel forced to adhere to a particular type of content. With so many exciting ideas available, your social feed should never look dull or boring.
If you are looking for customized tips to help your dental practice reach stand out and reach growth goals, keep reading Practice Builders' blog here. You will get tried-and-tested tips to handle stuff like dental practice marketing, website redesigning, brand positioning, email marketing, and online reputation management. You will likely find the solution to some of your problems in our blogs.
Need help building or revamping your social media strategy? Contact social media marketing experts at Practice Builders for a complimentary consultation. We will help you build an engaging social media presence in no time!