6 Steps to a Foolproof Doctor Review Marketing Strategy
Posted on

Assuming you have understood the importance of patient reviews, it's time to get down to the real stuff: creating a doctor review marketing strategy for your medical practice.
Want to know what makes patient reviews so crucial for your medical practice? Read here.
It's no secret that gathering patient reviews can be valuable for strengthening your online reputation. However, obtaining positive reviews is a challenge for most healthcare marketers. This is because patients are motivated by their own goals, so it's not their responsibility to provide your medical practice with feedback.
Many patients are reluctant to fill out surveys or respond to your requests to provide reviews because of the inconveniences these activities can cause. Others may be skeptical of the questions you're asking and may not feel comfortable with providing honest feedback. This is where your perseverance and creativity, as well as some expert tips, will come into play.

Why Is Review Marketing for Physicians So Important?
Before we get to the steps, you should know why review marketing for hospitals is a game-changer.
Basically, a patient review strategy is a holy grail to improving your brand reputation, attracting more patients, increasing revenue, and creating more buzz about your medical practice now and in the long run.
Patient feedback can come in the form of reviews, star ratings, private emails, and video testimonials. You can use the feedback to encourage prospects to visit your practice and avail your services. Also, did you know that patient reviews impact your SEO? That's right; a well-written review with keywords can make you appear in Google searches and increase your online footprint. You'll never be as successful without a patient review marketing strategy as you could be.
Review Marketing for Doctors: 6 Key Steps
Now that you know why review marketing is so important let's go over the steps you can take to create a solid review marketing strategy of your medical practice.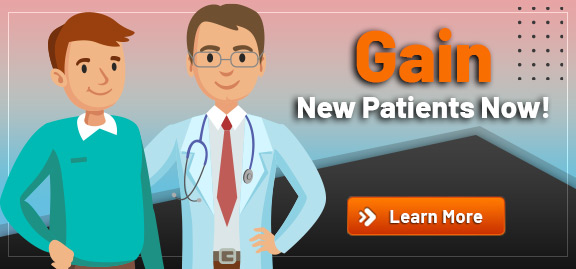 1. Set Up Profiles on Review Sites: You know your niche better than someone else will so make sure you are selecting third-party review sites that accomplish the following goals:
They attract relevant users.
Results show up when your medical practice name is searched online.
They make sense for your industry.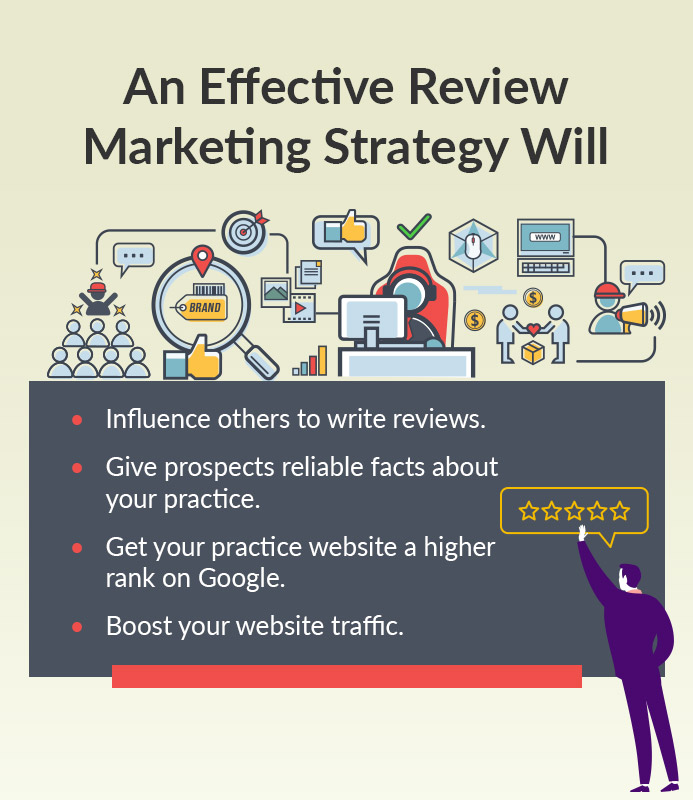 For most medical practices, a combination of Yelp, Facebook, and Healthgrades is more than enough. Once you've shortlisted review sites, set up accounts.
2. Ask Patients: Do you know the best way to increase reviews for your healthcare practice? Just ask your patients. Your patients know how important reviews are to your practice, and as long as you provide an excellent service, they won't be annoyed if you ask for a review. So, the next time a patient compliments you via phone, email, or in person, mention that you would appreciate if they left the same feedback in an online review on your website, or Yelp, or the review website of their choice.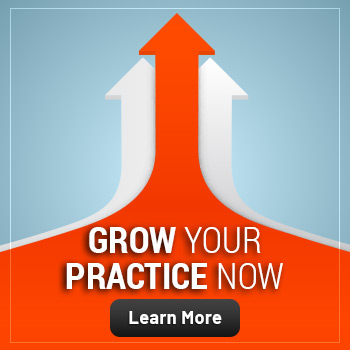 3. Make it Convenient to Leave a Review: The easier it is for patients to leave a review, the more likely you are to get reviews. Patients will go four levels deep on your website and then search for reviews section to leave a review. You'll have to make the process easy for them. An easy process will encourage patients to review your practice.
4. Display Reviews on Your Website: Leaving reviews on your practice website serves a few purposes.
Other patients can see that people are happy with your services.
Original, user-generated content is great for ranking and SEO.
Patients can read reviews, ask questions, and mark reviews as helpful or unhelpful.
If the reviews are mainly positive or glowing, share them on your social media handles and display them on your website.
5. Send Follow Up Emails: Post-appointment email requests for reviews have a higher response rate, which makes them one of the most effective ways to get reviews. To get the best response, schedule your review request email within a week of the appointment to take advantage of the positive feelings.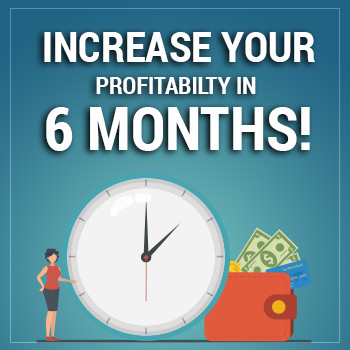 6. Incentivize if Appropriate: Consider incentivizing your review requests. However, do this with caution because no matter what specialty you are in, you never want it to look like you're paying patients to write glowing reviews of your practice. Maybe you could let patients know that anyone who writes a review in a specific month will be eligible for a free consultation.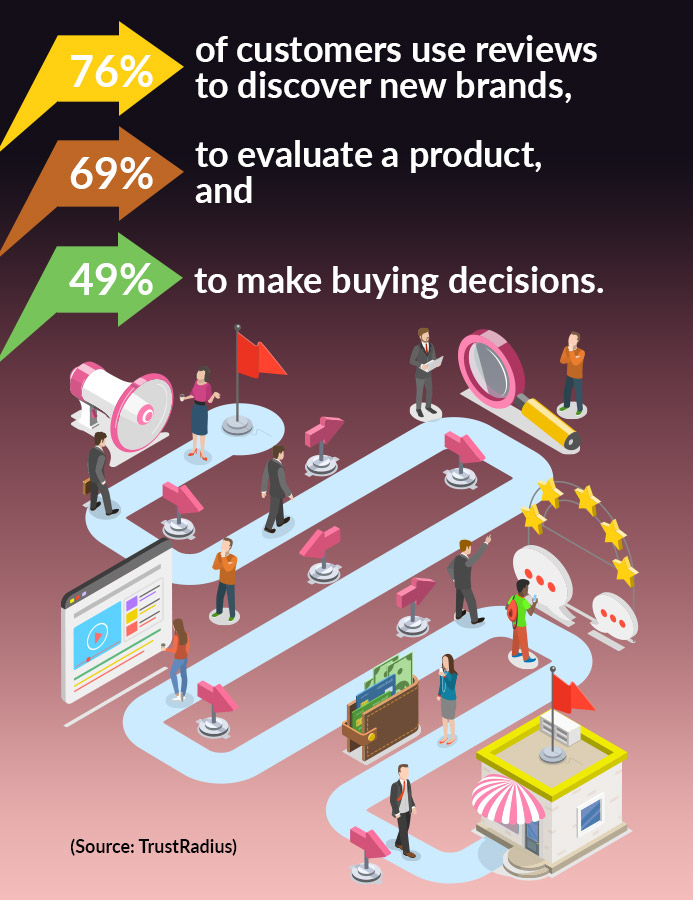 Conclusion
Patient reviews are a powerful tool that every healthcare practice must utilize to influence the patient volume and strengthen online reputation. By incorporating reviews in your content strategy and using them as a channel to connect with patients, you can establish a brand that is both engaging and trustworthy. This review marketing for clinics will positively impact conversions and help build a loyal patient base for years to come. At Practice Builders, we can make it easy for you to get more authentic patient reviews, leverage them in healthcare marketing, and use them to improve your conversion rate, SEO, and online reputation. Want to know more about how we can help you? Contact us today!