6 Steps to a Successful Healthcare Marketing Plan
Posted on
If you are just setting up your medical practice, it can be hard to know where to focus your efforts on achieving your business goals. After all, having read so much about social media, content marketing, online reputation management, and search engine optimization – it's normal to feel overwhelmed and unsure of what needs to be done and how.
When you feel like this, just take a step back and consider creating a healthcare marketing plan.
What is a healthcare marketing plan?
A healthcare marketing plan is a document that outlines the medical practice's marketing strategy and includes details about the specific actions to be taken for achieving business goals. A healthcare marketing plan also serves as a roadmap to execute and measure marketing efforts over a specific period.
A typical healthcare marketing plan includes SMART business goals and vision, resources, skills, and marketing tools to achieve these goals.

Why is creating a healthcare m marketing plan so important?
The success of your medical practice depends on your marketing plan. This plan will help establish your marketing strategy, and depending on the needs of your medical practice; this plan will change over time.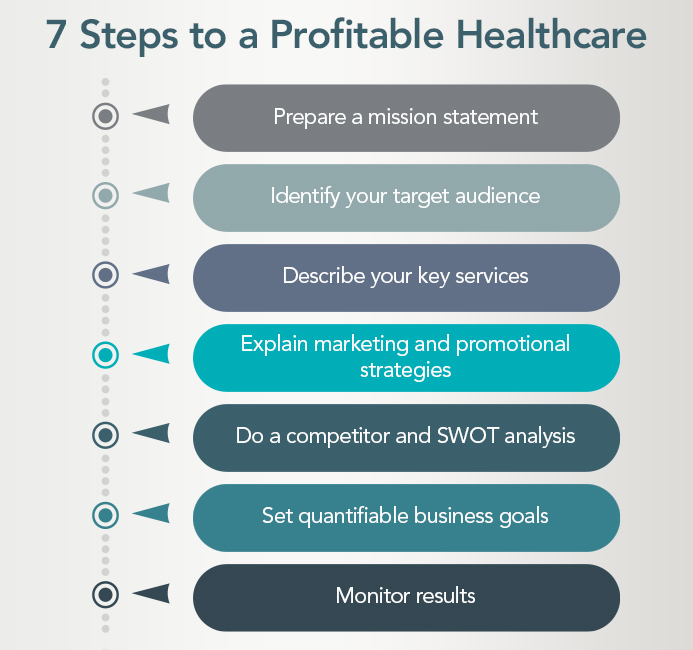 A successful healthcare marketing plan is set to understand your target market and competition. Your plan should also help you determine and handle your marketing efforts' impact and results, and it provides direction for future initiatives.
In this blog post, we look at the differences in creating a successful healthcare marketing plan, and how you can use it to achieve your business goals.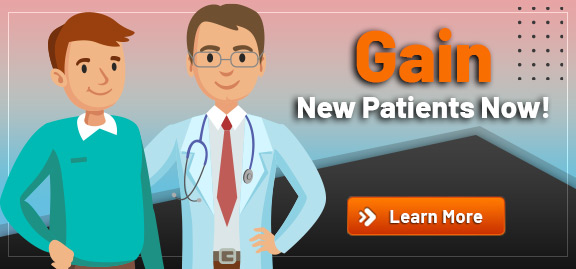 Steps for Creating a Healthcare Marketing Plan
Here are the critical steps to creating a successful marketing plan.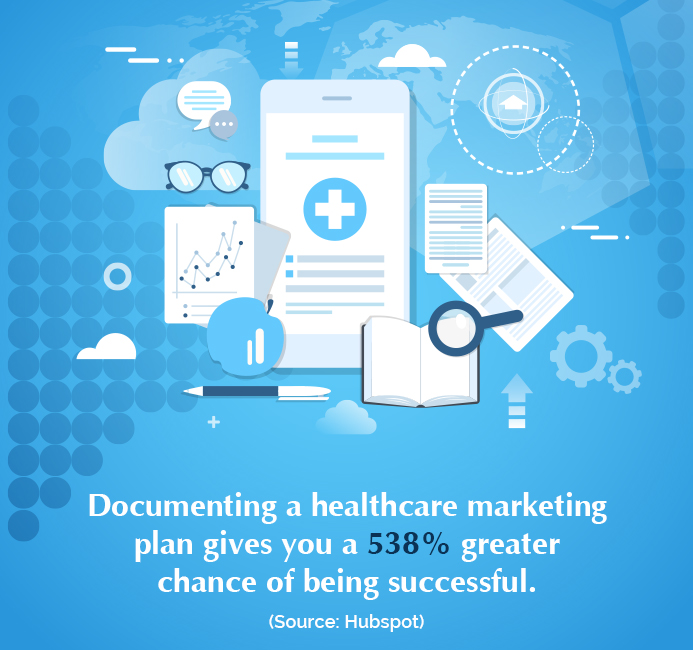 Step 1: Define your target audience
The key to any medical practice's success often lies within your target audience. You must know your target audience, including their demographics, location, and wellness habits, to offer them a service that perfectly suits their needs. Directing your services to "everyone" for fear of losing potential patients is one of the most common mistakes most healthcare marketers make. You may be thinking that restricting your audience will limit your medical practice's growth, but this isn't true. Start by finding a niche and dominate it by creating a service and a well-written message that responds to your target audience's needs.
Step 2: State your business goals
What was the business objective that drove the need to create a healthcare marketing plan? Was it increasing brand awareness, strengthening your online reputation, or improving your profitability? Make sure to state your business objective in your marketing plan clearly. However, be realistic about your goals. Make sure they are quantifiable and specific so you can assess the progress and measure the results. If possible, try to limit the number of goals to less than four, though two is ideal for most medical practices.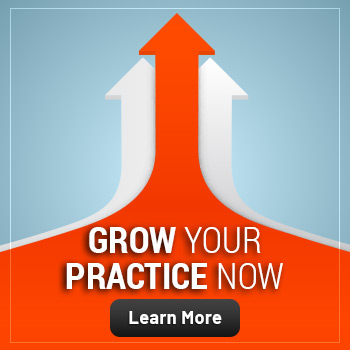 Step 3. Conduct a SWOT analysis
This is one of the most integral steps in creating a healthcare marketing plan. Assessing your current situation – strengths, weaknesses, opportunities, and threats – is key to getting started with your marketing plan. Conduct an extensive SWOT analysis to understand the current situation (also called situational analysis). Comparing your infrastructure, brand awareness, service quality, pricing, and online reputation score with your competitors (also called competitor analysis) will also help you successfully conduct a SWOT analysis. Think about how your services are better than competitors. Identify the gaps in the competitors' approach. Assess new services that you can you offer that will give you a competitive advantage. Think about your strengths what sets you apart.
Step 4: Establish key marketing strategies
After assessing your key strengths and weaknesses, it's time to detail the marketing strategies you will use to reach your business goals. We recommend taking each goal separately and listing the action items underneath it. This will allow you to see what needs to be done to push yourself toward that milestone. It is also a fantastic way to assess whether a particular goal is realistic or if it needs to be adjusted. You must keep your goals easy enough to stay motivated, and difficult enough to keep you complacent. Simply put, this part of your healthcare marketing plan should provide a tangible roadmap to help you achieve your business goals.
Step 5: Determine a budget for different activities
Most healthcare marketers dread this part the most! Since most marketers or medical providers are not great with numbers, the word "budget" can send them running for the hills. However, setting and managing budgets is a necessary evil when it comes to running a medical practice. In your marketing plan, aim to answer questions like:
What do you plan to spend on each marketing activity during the planned period?
Where will the money come from?
Are you keeping any money aside for an emergency? What if one of the scheduled activities demands more budget?
Budgets are not easy, but are important to being successful. It is better to tweak your plan now —rather than re-writing the entire plan six months down the road when you have forked over your credit card.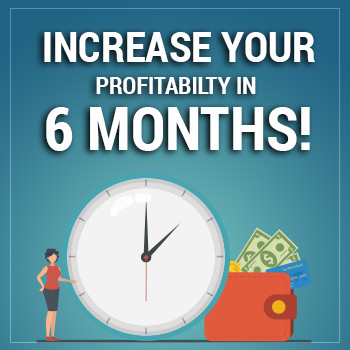 Step 6. Establish KPIs
A healthcare marketing plan's value lies in its effectiveness, which requires timely implementation and monitoring of results. It is essential to measure results against the benchmarks you set in establishing your business goals. Review your marketing plan periodically (we recommend quarterly) by comparing results with the implementation schedule. There are several ways to measure the results of your progress:
Increased bottom line
Patient survey scores
Increased patient volume
Improved referral sources
Reduction in the number of negative reviews.
However, if you find that the results are not as expected, assess your marketing activities to understand the reasons for the same. By regularly evaluating and monitoring your marketing strategies, you will be able to modify your plan timely and try more promising approaches.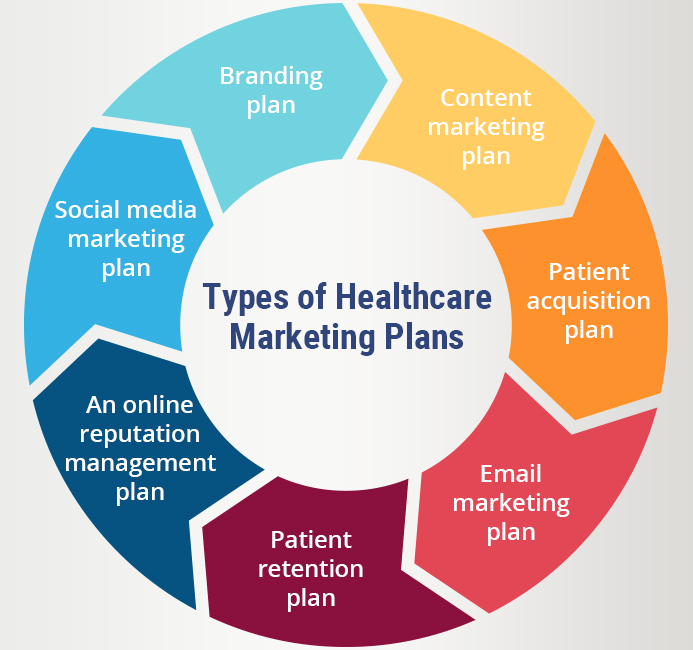 Conclusion
A successful healthcare marketing plan outlines realistic goals, practical strategies, and relevant actions based on market research and assessment of your strengths and weaknesses. However, the plan is only as good as your determination to implementing it. Your marketing plan should not just be a document that is put away on a shelf. Instead, it should be an evolving blueprint that monitors your progress and guides your efforts Marketing will show results when you are committed to it. It's up to you!
Looking to create a compelling healthcare marketing plan for your practice? Contact our experts today!