A 5-Step Guide to a Revamped Online Reputation
Posted on

Fix a Bad Online Reputation in 5 Steps!
We all make mistakes. Perhaps one of those mistakes caused some damage to your online reputation. Maybe something said in the office came across inappropriately. Or, maybe the phones aren't always answered on the first ring, and the calling patient got upset. Just because the mistake had been made doesn't mean your medical practice is doomed forever! You can take steps to check the doctor's reputation and make the necessary changes to fix it.
That said, this blog isn't just for medical practices with a bad online reputation. If you are new to setting your online reputation, these tips discussed can help build a strong doctor reputation from scratch. However, if your practice has been around for a while and you haven't been paying attention to your online reputation, we hope the stats shared here will motivate you to conduct a doctor's reputation check and put your practice on the path to success.
Prevention is better than cure! Read our experts tips for "crisis-proofing" your online reputation.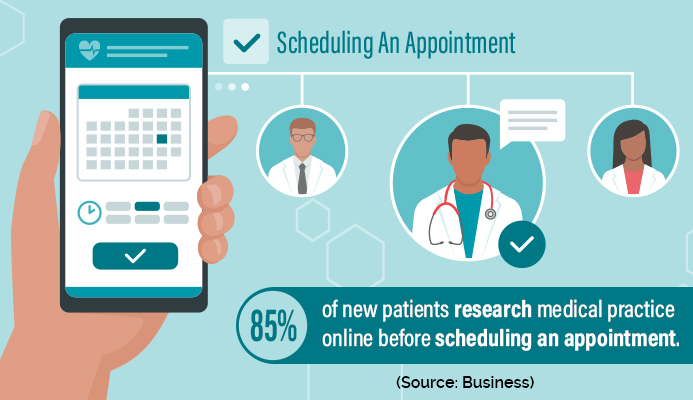 Why is the focus of online reputation improvement so important?
According to research, almost 90% of patients read online reviews and check out a doctor's reputation before choosing a healthcare provider. When prospects research your brand, this usually includes your social media presence, third-party reviews, and news articles that pop up when they type your practice's name into a search engine. An integral part of influential doctor online reputation management is understanding how your patients are searching for your brand and processing the information they find online about your practice.
Negative online reviews will stop majority of prospects from visiting your practice. By having a strong online reputation, you will stand a better chance of attracting these prospects.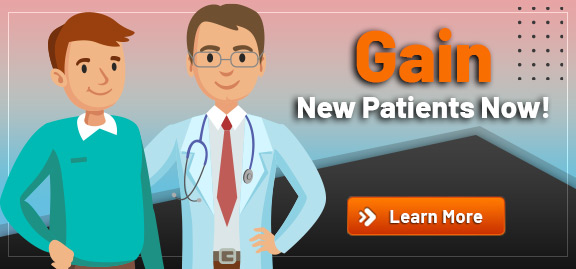 Doctor Online Reputation Management Tips
The consequences of losing control of your online reputation are devastating. If you start receiving bad reviews, competitors have an easy way of stepping into your current market Though difficult, it is not impossible to repair doctors' reviews and reputations. With some smart tactics and tested steps, it is possible to rebuild.
1. Build or reinvent your website
If your medical practice doesn't already have a website, create one first. Having a robust online presence is an integral part of a good healthcare search engine optimization (SEO) strategy. The more online traffic your website receives, the higher it will rank in search engines. This means when patients search for a medical practice like yours, your site will appear high in search results. Keeping your site attractive and functional is essential, and having fresh content will help you rank highly in local search engine results.
2. Claim your profiles on third-party review sites
With the majority of patients trusting online reviews as much as personal recommendations, you must optimize your presence on the major third-party review sites like Google, Yelp, and Healthgrades. Claiming (or creating) your business page on these sites is the first step. The next step is to add and modify the information that you want to display on the page. After you claim your profile, you can engage with patients who post reviews. If someone posts a review that you feel is untrue or offensive, the post can be modified or removed.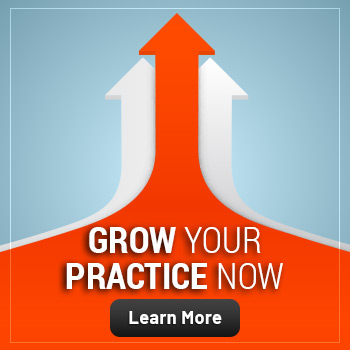 3. Get patients to post positive reviews
Gathering patient reviews is one of the most critical aspects of a doctor's reputation management. You must harness your patient base by encouraging them to be your brand's cheerleaders. A recent survey found that 7 out of 10 people will leave an online review if they're asked to. This means training your staff to ask satisfied patients to leave reviews of your services, is an effective way to gather more positivity. Your goal should be to generate a steady stream of patient reviews so that any prospect who is browsing review sites can find recent positive reviews of your practice.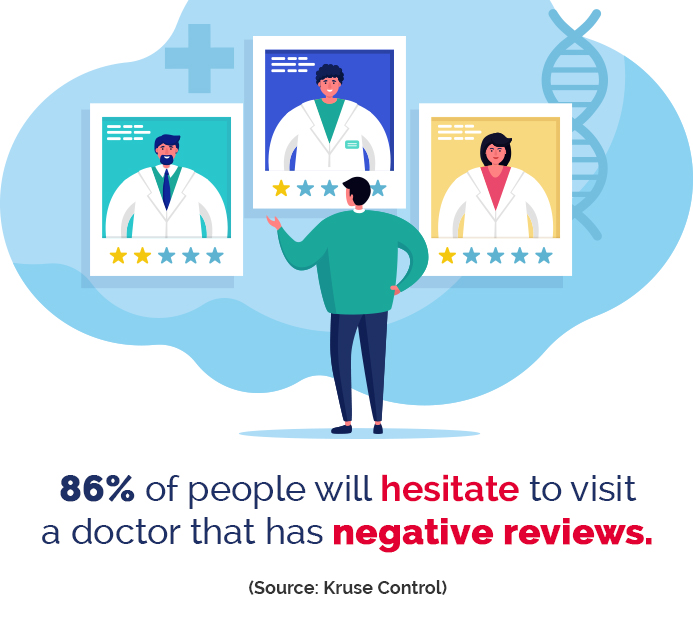 4. Monitor and control online conversations
Regularly check review sites and social networks for any new activity or comments. Some review sites allow you to respond directly to reviewers. You can use this feature to leave a quick note of thanks under positive reviews to show that you are committed to patient satisfaction. You will probably receive some lukewarm or scathing reviews occasionally. Addressing negative reviews may help you convert unhappy patients into happy ones. However, this task is often time-consuming, and you must strike the right tone, so you don't come off harsh or cold.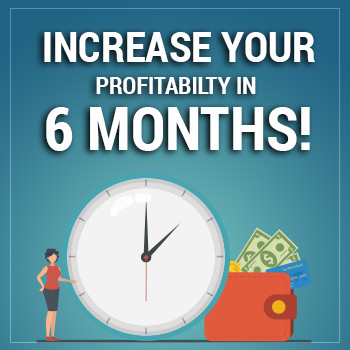 5. Hire doctor reputation management experts
Creating or revamping a website, optimizing online profiles, training your staff, and responding to online reviews may take a toll on your already packed schedule. You can consider hiring an online reputation management agency like Practice Builders to help you build, track, and maintain a robust online reputation. Most of these agencies use sophisticated doctor and medical office reputation management software to streamline building and maintain a positive online reputation.
Having a hard time choosing the right online reputation management agency for your medical practice? Read our guide here.
Conclusion
No matter how damaged a doctor's review and reputation may be, there are strategies and tactics to repair it. All you need to do is find a reliable partner who can help you build and maintain a spotless online reputation.
Want to take control of doctor online reputation management? Our experts can help. Contact us today to learn how our doctor reputation management services can help you.