6 Key Elements of a High-Performance Plastic Surgery Marketing Plan
Posted on

The drastic transformation of the customer journey means patients are now in the driver's seat. Not only this ‒ informed and aware patients are taking the lead and steering the course of their treatment. With so many choices empowering them to make decisions, patients are in complete control of their healthcare process.
Especially in the cosmetic and plastic surgery market, patients are comparison-shopping and taking much time to evaluate their options. A significant part of the patient journey is now invisible to the traditional sales view. In fact, the vast majority of the patient journey ‒ about 70 percent is complete by the time a potential patient engages with sales. So, marketers have a new challenge. They must learn how to get in front of patients, get involved in their journey much earlier and adapt to their evolved needs and preferences.
A plastic surgery marketing plan may not be at the top of a healthcare marketer's task list, but it should be. When a plastic surgery practice is looking to grow and succeed, the first course of action is to create a robust and proven marketing plan.
Just as someone would bring along a GPS device when going on a trip, medical practices need a marketing plan to help them reach their ultimate destination. Without an effective marketing plan, medical practices may find themselves off course.

An effective marketing plan will give a healthcare marketer a clear idea of the opportunities available in the local market, as well as a deep understanding of target audiences and competitors. Using this information, marketers can develop a strong strategy to guide them to success and growth.
Needless to say, one practice's marketing plan will be different than another's in depth, objectives and tactics. Even practices within the same area will find they have different business goals and marketing strategies based on their strengths, weaknesses, opportunities and threats. However, there are guidelines for a marketing plan that every practice must follow. Here are the six essential elements of a robust plastic surgery marketing plan.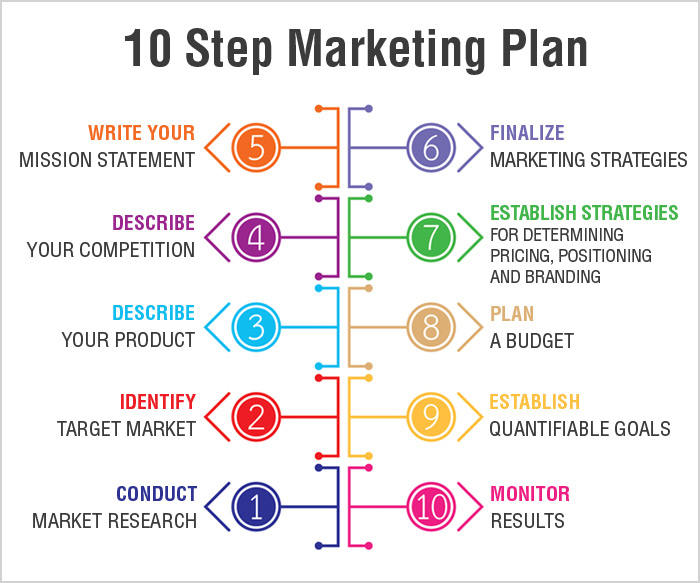 1. Keep patient front and center: The first step to creating a high-performance marketing plan is to focus on five essential objectives throughout the patients' journey. Reason? This will keep your patients at the center of your planning. These fundamental goals are: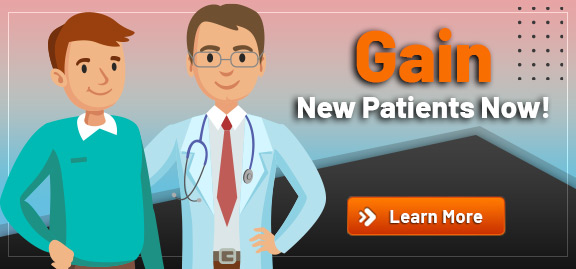 Attract: You need to attract patients and gain their attention by establishing trust through thought leadership.
Capture: Set up a mechanism for capturing their information.
Nurture: Grow the relationship by educating and engaging potential patients in a way that feels personal.
Convert: By this point, potential patients are ready to convert to a customer.
Expand: Continue to foster a healthy and positive relationship with patients.
2. Conduct a situation analysis: Many practices start with a SWOT analysis. This involves identifying their competitors, understanding how they operate and becoming familiar with their strengths, weaknesses, opportunities and threats.
Strengths include competitive advantages, skills, expertise, talent or other factors that improve your practice's position in the marketplace and cannot be easily imitated. For instance, a well-trained staff, low staff turnover and low treatment costs due to latest equipment and technology.
Weaknesses include factors that reduce your practice's ability to achieve its objectives. For instance, outdated equipment and tools, insufficient staff and a lack of staff training.
Opportunities help your practice to grow and be more profitable. These include expanding into new markets, adapting to technological changes and addressing patient needs. You need to look at how your practice's key skills can be utilized to take advantage of these opportunities.
Threats are nothing but barriers to entry in primary markets. These may include staff shortage, legal hurdles or too many competitors.
3. Finalize budget, timeline and target audience: When trying to figure out how to start with your marketing strategy, it is critical to identify budget, timeline and target audience. Identifying these three elements will help you focus your efforts and determine what will work best for your practice and business objectives. If you have a limited budget, try focusing your marketing strategies around social media, which will have the greatest impact for your hard-earned dollar. However, if your budget is flexible, you can look at paid ad campaigns that focus on branding. Having a defined timeline will help you stay focused and will ensure you complete the first objective before moving on to next one. If your healthcare marketing efforts are time-sensitive, paid ad campaigns are one of the most impactful channels that deliver almost instant results. If you have the staff to help you execute marketing plans, make sure everyone is on the same track and your objectives are aligned.
Properly defining your target market will help reduce unnecessary ad spend. For instance, while an extensive Facebook ad campaign will look impressive, if your target audience is not using Facebook to search for a nearby plastic surgeon, even the best campaign will not yield the desired results. Similarly, if you are trying to target millennials, then allocating your ad budget toward traditional radio as opposed to LinkedIn or Pinterest may be a missed opportunity.
When thinking about your marketing efforts, it is critical that you do not only focus on what you can manage, but also how you can maximize your ad spend by leveraging the most effective channels.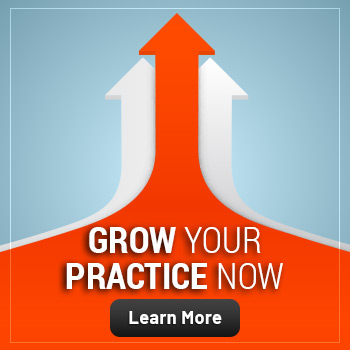 4. Utilize search engine optimization (SEO) tactics: Having a strong plastic surgery marketing plan that includes SEO tactics will fill the gaps in your marketing efforts. In today's increasingly competitive landscape, it is not enough to post Google Ads focused on popular keywords. There is a much larger target audience that can be captured through search engine presence, thus making SEO an integral piece of the overall digital marketing puzzle. High-quality, keyword-specific content can increase the effectiveness of your SEO efforts, while providing value to your patients, improving your search engine ranking and establishing your online reputation.
5. Include social media marketing and paid search marketing to jumpstart your efforts: Merely posting on Instagram once a day or making a comment on Facebook is not social media marketing. You will need to sit down and come up with a clear and consistent messaging strategy across all social media networks. For this, you will have to integrate a healthy mix of various content types, such as informational, promotional and engagement. As with any marketing strategy, an effective social media strategy should be simple and clear and include business goals that are measurable and time-sensitive.
If you are working with a team, make sure all stakeholders understand your goals. Make sure your brand image stays intact and is identifiable from one platform to the next.
If done correctly, social media marketing and paid search advertising are the most profitable marketing channels and can increase the number of leads coming to your website. You can start by conducting keyword research to determine what your patients are searching for in hopes of finding the type of services you provide. Plenty of online tools can help you conduct strategic keyword searches, rather than throwing a wide net that is more likely to produce a lower ROI. Once you have identified your keyword focus and have your ads set up, you can move on to your next marketing initiative.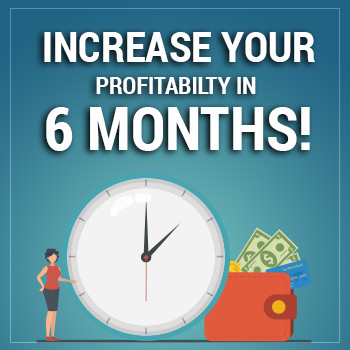 6. Monitor and analyze data: There is nothing more critical than ensuring your plastic surgery marketing plan is on track and effectively working to accomplish your business goals. Regardless of the marketing strategies and channels, all data should be tracked and analyzed regularly.
Tools such as Google Analytics and SEMrush can help you keep track of your marketing campaigns and website performance. These tools can provide valuable insights into where clicks are converting to sales, how patients are being acquired and at what stage they are being lost. Using this data, you can analyze your campaign performance and adjust strategies accordingly.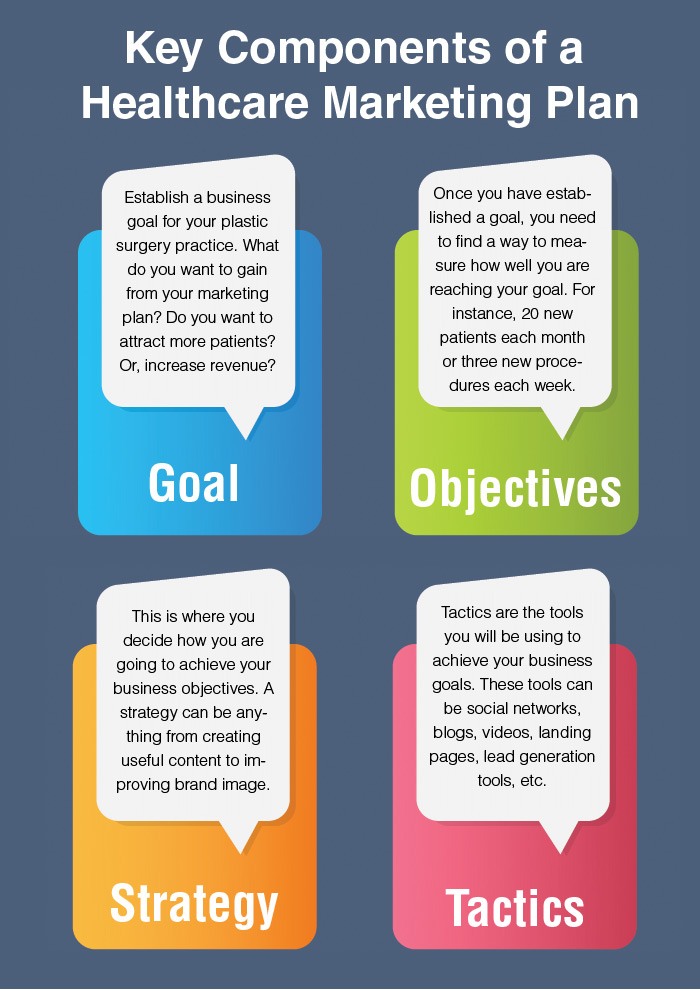 Closing thoughts
Overall, a high-performance plastic surgery marketing plan is one that addresses your patients' needs at every stage of the customer journey – even when they are not considering your services. A successful marketing plan is one that is flexible and adaptive and meets your patients at every touch point of the patient journey. After all, modern-day patients do not have just one path to reach your practice. There are hundreds of ways for your patient to find you, connect with you and schedule an appointment with you. Ultimately, the best plastic surgery marketing plan should focus on what really matters: your patients.
If you are ready to create a marketing plan for plastic surgery practice, but are not sure how to do it, contact our team at Practice Builders today. We have extensive experience with developing and executing plastic surgery marketing plans and would be happy to provide a free consultation to review your plastic surgery practice and discuss marketing opportunities available to you.