How to Keep Patients Coming Back?
Posted on

Just because patients are leaving glowing reviews of your practice on social networks doesn't mean they'll schedule their next appointment with you.
Yes, you heard it right. Retaining patients is harder than acquiring them in the first place!
Want to know how patient retention benefits your medical practice? Read here.
Much effort, time, and money go into acquiring patients, but not much thought goes into retaining them or making them come back. The occasional discount offers or the "We miss you" mailers will not help you much if you hadn't paid attention to your patients before they left you. Trying to get them back after they stop visiting you requires using damage control tactics in addition to marketing tricks. Not to mention that such behavior from doctors often has unintended consequences.

But let's get specific to why patients leave and why you should go the extra mile (or two) to identify such patients, engage them, and retain them.
Why Do Patients Leave Doctors?
Some patients shift to other cities, some die (unfortunately), and some experience lifecycle changes. However, in addition to these obvious reasons, there are some not-so-obvious reasons that disrupt patient-provider relationships:
1. Some lose interest (or faith) in your services: Such patients constantly prowl the Internet for their next provider.
2. Some are dissatisfied with your care quality: Your patients want the best, and if they think you're offering anything but the best, they start looking out for a new provider.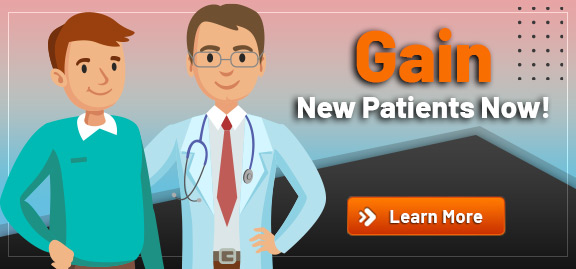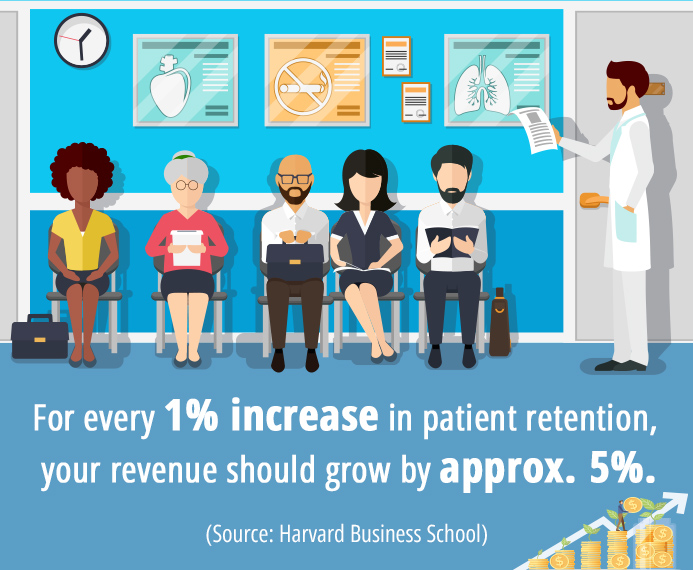 3. Some feel disrespected or ignored: Your patients schedule appointments, come on time, but then wait an hour to see you. And then they never come back. Why? Because they felt ignored — and probably they're right.
Curious to know more about why patients leave doctors? Click here.
How to Retain Patients?
1. Know Your Patients
You have to understand what motivates a patient to choose your practice over competitors. It can be anything from a convenient location to excellent service. Whatever is causing patients to choose you is your USP. For example, if it's the service, make sure to keep offering new services; otherwise, you'll begin to lose patients. Or, if you want to offer just a few selected services, then excel in them. To keep patients coming back, give them the same reason to stay that they had when they choose you.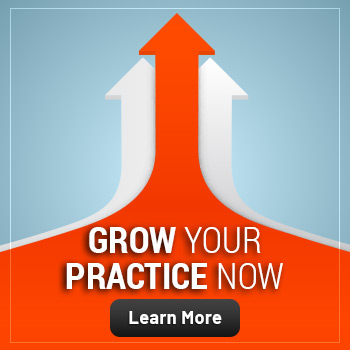 2. Make Patients Feel Important
To keep patients coming back, look for ways to connecting with them and making them feel important. You can begin by making sure your patients never have to wait to see you. If at all you need to make them wait, keep them updated about the wait time. Make sure to follow up after their appointment to make sure they had a pleasant experience. These small gestures will help ensure you stay in your patients' minds, and they think of you when it's time to schedule another appointment.
Did you know? Patient retention starts with treating your patients well. Read more.
3. Listen to Your Patients
If you want to retain patients and grow your medical practice, it helps to pay attention to what patients are saying. Surveys are a great way of understanding what's working about your practice and what's not. Another powerful tactic is to ask for feedback face-to-face or through texts and phone calls. These surveys and feedbacks will allow your patients to have a say in the running of our practice. They will feel connected, and it will build trust when you implement their suggestions.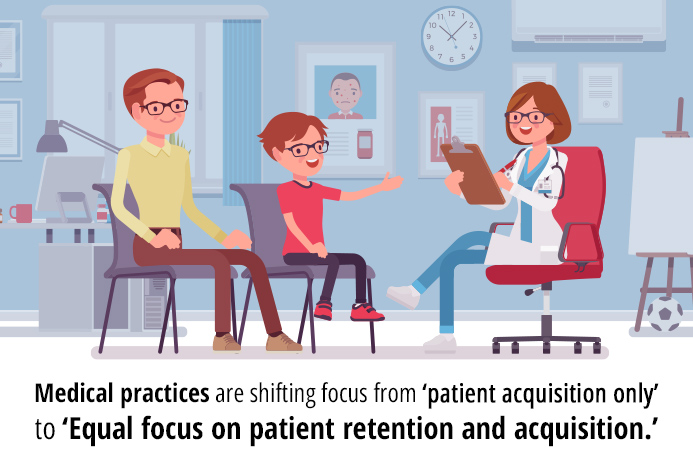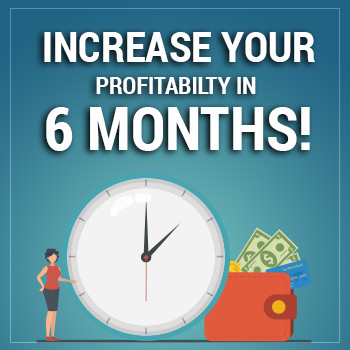 4. Use Social Networks to Engage Patients
Social networks are an excellent way of connecting with your target audience and staying on top of their minds, even when they aren't visiting you frequently. To engage patients, consider sharing informative updates on your social media accounts. You can also promote ongoing special offers, packages, and deals to entice patients to return. You can consider sharing details about any upcoming events that could be beneficial to your patients. By staying on top of patients' minds, they'll be thinking of your practice next time they need to see a doctor.
5. Protect Your Online Reputation
Patients prefer doctors with a strong, positive reputation. You need to take steps to maintain your reputation. However, building and protecting an online reputation is not easy in today's digital environment, where word of mouth spreads faster than wildfire. To keep patients coming back, healthcare marketers will have to up their game and control how their brands are perceived.
Conclusion
The point is – exactly the way there're reasons why patients leave, there're also reasons why they stay. And, patients stay loyal to your practice when they feel appreciated and safe and understood. So, if you are asking us – is implementing the patient retention strategy worth it? Well, it's worth its weight in gold. And, is it easy to implement? The simplest and the hardest to consume answer is – if you are having a difficult time retaining patients, this means you need to work harder in making them feel safe and cared for.
Want to get out of this loss-making situation? Contact us today. Our healthcare marketing experts will help you make patient retention a habit.