Is Patient Experience Management Your Audiology Practice's Top Priority?
Posted on

Managing audiology patient experiences can be tough, but with a solid game plan you will reach great success.
It didn't take a global pandemic for audiology practices to recognize the value of providing a good patient experience. Nonetheless, practices have had to make critical changes in their patient experience management game-plans.
Before discussing the importance of managing patient experience and essential strategies to ensuring a seamless patient experience, let's first understand what exactly is patient experience.
What is a patient experience in an audiology practice?
Patient experience in an audiology practice is the most important interaction a patient has with your staff, which includes times the patient calls or visits your practice.
Whether it's the first call to your audiology practice, engaging with your social media profiles, browsing your website, or even something as fundamental as making a payment after services, every exchange between a patient and your practice builds or damages the relationship – and impacts the patient experience.

The four pillars of patient experience management are:
Understanding your patients;
Creating a wellness journey map;
Helping patients develop an emotional connection with your brand; and
Capturing patient feedback to assess and monitor patient experience and satisfaction.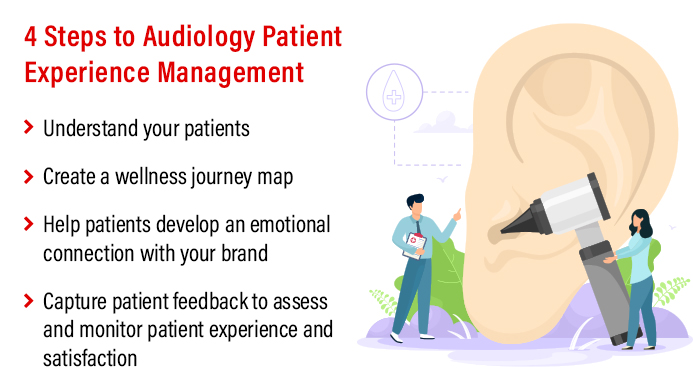 Why is patient experience necessary?
Patient experience management is a top priority for audiology practices. The reason is simple – practices that focus on improving patient experience increase patient loyalty and retention – leading to higher profits!
According to a report, 52 percent of patients will go out of their insurance networks to visit healthcare providers they are loyal with.
Attracting and retaining patients in an ultra-competitive healthcare environment is no small feat, and audiology practices that ignore the importance of delivering a seamless, practical patient experience can end up losing out to rivals who understand that it's patients who define good or bad service.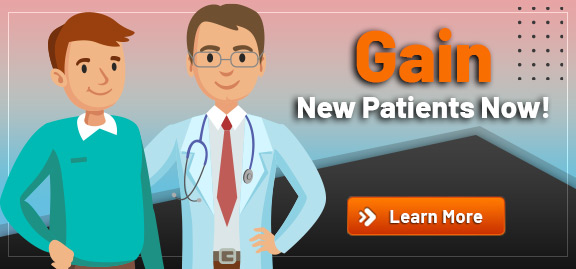 This means even one experience that does not live up to patient expectations could have drastic results on your brand's online reputation. If a patient isn't convinced with your services or the way your staff interacted with him or her, finding the contact details of your competitors is just a Google search away.
In fact, half of the patients say they would switch to a competitor after just one bad experience, according to the same report. In a case where there are more bad experiences, this number may snowball to 80 percent.
Numbers like these make healthcare practices and marketers realize that patient experience is their best chance to stand out from competitors. In other words, in a competitive healthcare landscape, good service and competitive pricing are no longer enough to build loyalty; a personalized patient experience can be your most significant differentiator.
Related read: Why Should Improving Patient Experience Be Top Priority for Doctors?
What are the critical audiology patient experience management strategies?
A patient experience strategy is creating a plan to provide a holistic view of all the interactions a patient will have with your brand. The strategy is created with the aim to provide a superior experience to patients and help you achieve business goals.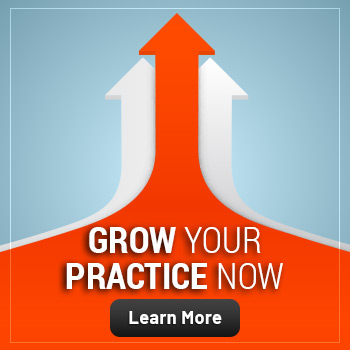 The real secret to improving the patient experience is to take explicit action. An effective patient experience management strategy helps you decide what you have to do in order to deliver a remarkable experience across interactions and measure the results to modify your strategy further.
The right strategy, if properly implemented, will help you reduce costs, increase brand value, and allow you to gain the much-needed edge to cut the noise and stand out from your competitors.
Here are some of the most popular and successful patient experience management strategies: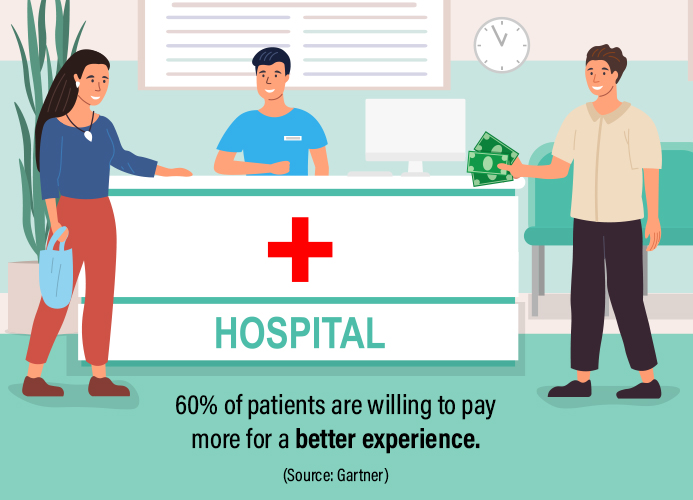 1. Understand your target audience and create an ideal patient persona
The key to making your audiology practice stand out is to be indispensable to your patients by understanding their needs. If you have the correct understanding of what your patients are looking for, what satisfies them, and what they expect from you, you may have the opportunity to turn their interest into loyalty. Understanding your target audience and mapping patient journeys to identify all touchpoints helps to deliver excellent patient experiences.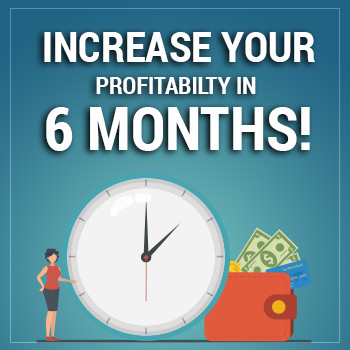 2. Define a clear patient experience vision
Your patient experience strategy indicates your business goals and values! It is about how you want your patients to think about your audiology practice. They must be clear on how your practice handles the vital components that constitute your patient experience vision. In this context, developing a patient experience vision is a vital step to transform the ways your audiology practice provides services to its patients.
3. Build a solid team to enhance the patient experience
Building a good team is all about hiring the right people. Audiology practices that deliver great patient experiences do so with a vision and purpose. They focus on building a dedicated and strong team by combining experience, skills, and knowledge. It proves to be a successful idea to enhance the patient experience. However, make sure your team works together to establish an excellent patient experience vision that aligns with your business goals.
4. Invest in the right tools to level up patient experience
Implementing suitable systems and tools is one of the best practices to increase patient experience. For instance, investing in proactive communication channels will help you ensure effective communication resulting in a fantastic patient experience. However, the end goal is to fulfill patient expectations and make them feel satisfied.
Conclusion
Rome was not built in a day, and neither will be your patient experience management strategy. So, don't expect your strategy to be ready and deliver results overnight.
Our advice? Experts at Practice Builders will advise you to work on defining and streamlining your patient experience, but do so under the notion that things will evolve as your audiology practice and patient base grows. Gradually you'll learn to communicate with patients on their terms and collect crucial data along the way. With time and experience, you will also find it easier to make informed decisions about your patient experience management strategy. Till then, keep learning, keep experimenting, and keep reading our blogs on more tips and tricks on improving your patient experience.