8 Proven Patient Retention Strategies That Work
Posted on

Leads. Patients. Appointments.
These are the three most critical goals of every medical practice.
If you want to build a thriving practice, you will have to take care of your most significant assets: patients.
Unfortunately, most practices are obsessed with lead generation but clueless when it comes to patient retention. Sad, but true.
Of course, acquiring new leads is terrific, but retaining existing patients should be your primary focus. This is because studies have revealed that nearly 68 percent of appointments come from existing patients.
You must not underestimate the power of a loyal patient base. According to research, 12 percent to 15 percent of patients who are faithful to a single practice represent 55 percent to 70 percent of appointments.
Retaining your patients is a crucial aspect of your medical practice.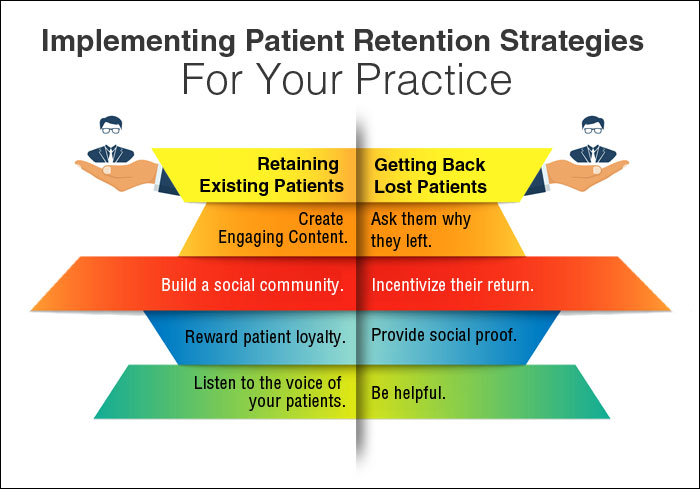 Undoubtedly, converting leads to patients is a challenging process. However, your efforts can pay off if you focus on the ultimate goal: patient retention.
Considering that loyal patients will always come back for your services, they are one of your best business assets. If you are unable to retain your patients – in other words, if you are churning and burning – you will be losing a lot of money.
According to recent data, almost 20 percent of patients are lost by an average medical practice annually, due to lack of service quality. By losing a patient, you waste 7x the resources used in converting a lead into a patient.
To help address this problem of losing patients, here are the eight key patient retention strategies that can work wonders.
1. Plan "Surprises" in Patient Service

We all love surprises. Surprises come suddenly and are not planned. Surprise packages do not have to cost a fortune.
When it comes to surprising your patients, think of a valuable service that you can offer them – without their knowledge.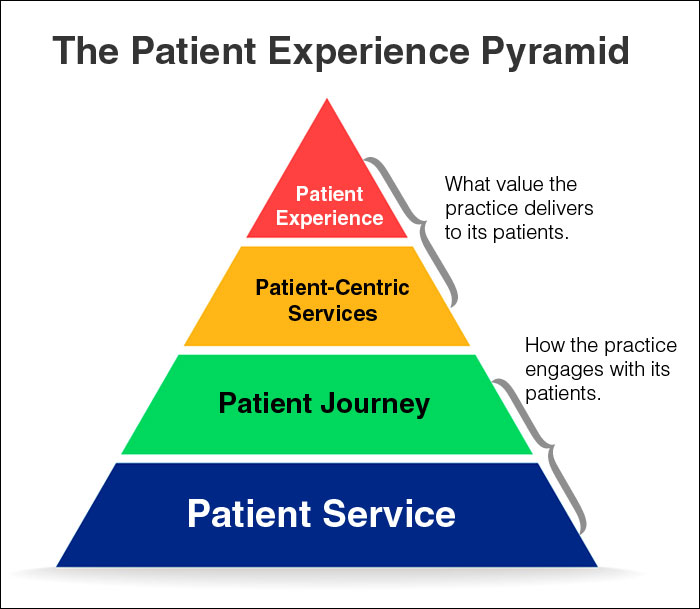 You can consider sending a handwritten note to your patients. Your patients may love it because it shows how much your practice and staff value them since they took time to write to every patient personally.
If you want your patients to trust your practice, you should go beyond the normal service and come up with surprise packages that can motivate your patients. Surprising your patients will drive them to post positive feedback online about your practice. Trust us; a positive online review is worth its weight in gold.
You can consider offering your patients freebies and discount coupons when they are least expecting it. This will change the lens through which they see your practice.
2. Set Patient Expectations
Give your patients something to look forward to.
In recent years, patient service has gone beyond attending to healthcare issues and complaints. You also need to meet, and exceed, their expectations.
However, it is challenging to please someone you barely know. So, get to know your patients intimately. Understand what they want from your practice, and use these pointers to set expectations.
As you set and meet patient expectations, you are empowering them. According to experts, patients want to be enabled, not controlled. You have to act with empathy. One of the best ways to set and meet patient expectations is to be honest when committing. This is where most medical practices fall flat. The majority of them make unrealistic promises to their patients. Be honest and straightforward about their health issues. If you do not achieve promised results within the stipulated time, do you know what will happen? You will fail as a brand.
Here is our advice to all healthcare professionals: "Do not overpromise if you cannot deliver."
Realizing that your patients' satisfaction is key to retaining them will help you build a sustainable practice. Once patients are poorly treated, they will not forget the negative experiences for a very long time.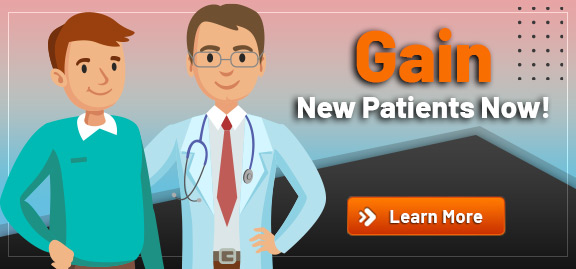 3. Build Patient Trust Through Relationships
Successful practices are built on trust. When a patient comes to your practice, and if there is no trust, the relationship dies.
Seeing how important trust is to your practice, you have to consciously make attempts to promote trust. As you initiate a relationship with new and existing patients, you will have to give them the opportunity to trust you.
Ideally, when you are looking to build trust with your patients, use patient behavior data to deliver value with your services. That way, your patients will continually accept and appreciate your recommendations.
The moment patients discover that you are not trustworthy, they will switch to your competitors. Nothing scares patients away like negative experiences and unmet promises. Worse, they will share the negative feedback with others.
A survey conducted by a marketing firm stated that nearly 83 percent of patients would recommend a practice to others if they trust the brand, while 82 percent will stick to a practice if they trust it. This means, when you build and grow trust, your patients will gladly promote your brand, without being asked to.
4. Use Marketing Automation to Engage Patients
Marketing automation refers to allowing some of your routine marketing tasks to be handled automatically by software.
Monitoring and keeping your patients updated manually is a time-consuming process. This is because there are so many processes to be repeated daily just to keep your practice fresh in the patient's mind. Automation can set you at a faster pace than your competitors. The idea is to use automation to re-engage your patients. Automation can help you communicate stronger and faster with your target audience.
Delivering excellent patient service and making it easy for patients to access vital information and support is critical. And this is one of the many reasons why you need to automate your marketing processes. For instance, Front Desk software can help you plot your patient persona, set up a marketing campaign and collect vital patient data.
Through marketing automation, you can manage your patient contacts, send regular emails, schedule promotional newsletters and send text messages and appointment reminders. Standardizing your routine processes will enable you to deliver on the promises that you made to your patients.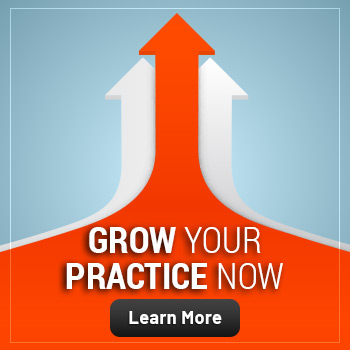 Regardless of how you look at it, marketing automation can help your practice in so many ways. A most important fact is it can help you engage and retain your patients.
5. Improve KPIs Around Patient Service
A key performance indicator (KPI) is a measurable value that demonstrates how efficiently your practice is achieving its key business objectives. Most medical practices use KPIs to evaluate their success at meeting targets.
KPIs are a kind of roadmap because they help you envision what the future holds for your practice and what direction you should be taking. By carefully studying your KPIs, you can tell what gets your patients excited or upset.
At the end of the day, whether you want to improve patient service or track how your staff treats your patients, KPIs can reveal everything.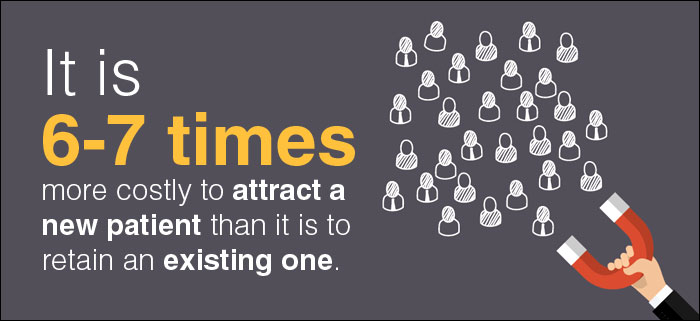 Here are the five crucial KPIs for active patient engagement:
a) Response Time: When patients indicate interest in your practice, response time is a metric that measures how quickly you contact potential patients with an email or a phone call. Time is critical here. If you delay making contact with your leads, your conversions will be low. Experts believe your response time should fall between 10 and 20 minutes.
b) Conversion Rate: Conversion rate is a key performance indicator that's critical to every practice, irrespective of specialty. This KPI measures the response you get when you call or send an email to a new patient. As you send promotional or introductory emails, how many of them were opened? Out of the opened emails, what percentage led to appointments? You can measure the conversion rate within your funnel to determine how you are attending to patients' specific needs at every stage.
c) Funnel Drop Rate: Getting new patients to your list is fantastic, but you must measure how often existing patients unsubscribe from your list. This is what this KPI is all about.
d) Actions Per Engagement: When you start to measure your patients' responses to emails and calls, you will be amazed by the result because their behavior pattern will begin to emerge. This new behavioral pattern can help you determine how many times you need to engage with your patients before they take the desired action.
e) Communication Freshness: When was the last time you sent an outreach email or had a conversation with your existing patients? What was the outcome of that discussion? Until you are passionate with your patients and trying to engage with them, your practice will likely suffer.
6. Leverage Patient Feedback Surveys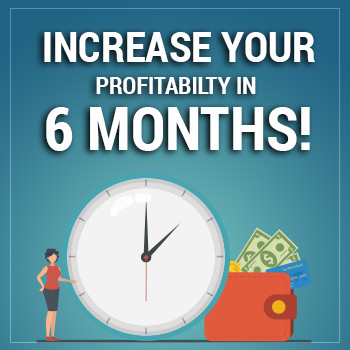 Patient surveys are powerful tools for building engagement. Surveys may look boring, but most patients like them.
Hearing directly from patients how they feel about your services and staff is a great way to cement the bond that already exists. Essentially, surveys can help you develop engaging content for patient retention.
When patients are given a chance to express themselves, they reveal their thoughts and feelings about your practice and staff. When patients complain, be sensitive enough to catch the pain points. Try to understand the areas they are not satisfied with and why. Improving the weak areas will turn things around.
Through effective feedback, you can re-engage a patient who is about to give up on your practice.
7. Develop a Frequent Communication Calendar
A communication calendar is what you use to keep in touch with your patients at regular intervals.
A communication calendar is similar to an editorial calendar that helps you keep track of your content strategy. You just cannot fail with a communication calendar.
A communication calendar is a programmed sequence of events, special offers and handwritten notes that you can send to your patients using marketing automation software. The programmed series of events is important for generating leads and converting leads to patients.
Practices that maintain a communication calendar find it easy to engage with their patients. This is because the frequent communication eliminates doubts, improves trust level and persuades the patient to come back again.
There are several communication calendar tools available online that allow you to send cards and letters, schedule phone calls and send appreciation messages to patients periodically.
Frequent communication can make your patient feel valued and informed. According to recent statistics, practices that communicate with their patients more than 10 times a year have 300 percent more profit than those that lost contact with their patients.
8. Learn From Patient Complaints
Do you feel like running away from patients who complain?
Wrong.
On the contrary, you should run to these patients. Patients who complain are your greatest marketing asset.
It is through negative feedback and complaints that you get to know the defects in your services. Complaints tell you what you should improve in your practice and what to ignore.
Here is what you need to know:
A patient who complains is willing to stay. Some patients disappear without leaving feedback. This is not good for your practice.
If you resolve the complaints in their favor, almost 70 percent of complaining patients will stick to your practice. Give attention to your complaining patients, because they still trust your practice.

Conclusion
From small practices to large hospitals, these eight patient retention strategies have been implemented time and again, and the results have intrigued even the pros.
As anyone would expect, none of these strategies can yield overnight results. You will need to be patient as you implement them.
There is nothing more frustrating than implementing a strategy and giving up only because you did not see instant results. Stay put. Do not give in.
Learn how experts at Practice Builders can help your practice improve patient retention rates. Our team has the knowledge and expertise you need to take patient retention to the next level. Contact us to learn more about our patient retention tips and strategies.