Proven Marketing Strategies to Grow Your Podiatry Practice
Posted on

Whether you're considering starting a podiatry practice or you've building your own practice for years, you still need sound marketing for long-term success. You need the most effective podiatry marketing available.
But if you're like many other podiatrists, you probably have little or no background in healthcare marketing and you may not know the first thing about podiatrist marketing. Your focus is rightfully on helping people get out of pain by solving their foot and ankle problems.
Your greatest ongoing need is to attract, engage, convert, and retain patients. That's where marketing comes in.
Podiatry marketing is very much like other types of healthcare specialty practice marketing. To be successful at it, you need the right plan and strategies to get you in front of as many patient prospects as possible. With that in mind, let's take a closer look at 20 proven podiatry marketing ideas that can add new patients to your practice.
1. Consider every available marketing channel
There's no magic bullet in marketing just as there are no magic bullets in medicine. But there are hundreds, if not thousands of ways to attract and engage prospective patients. There are traditional marketing strategies that include print advertisements, radio and TV commercials, billboards, and word-of-mouth. Then there are digital marketing strategies that include websites, online business listings, search engine optimization, social media, online reviews, blogs, podcasts, and email campaigns, just to name a handful.

2. Ask for referrals
This is one of the most overlooked marketing strategies in healthcare and one of the easiest to implement. Best of all, it won't cost you a penny and it takes less than 30 seconds. All you have to do is ask a happy patient for a referral.
Get in the habit of responding to every positive patient comment with something like, "I'm happy to hear that, Mrs. Patient. I'd love to help more people like you, so if you have a friend or family member you think would benefit from my care, please send them my way."
Teach your office staff to do the same and you'll be surprised how many new patients turn up. Satisfied patients are generally happy to suggest the names of family, friends, and coworkers who may need a podiatrist.
3. Facilitate online reviews
Your online reputation can make or break your podiatry practice. Your objective is to get as many positive reviews as possible. By stockpiling positive reviews on platforms such as Google, Facebook and Yelp, your practice becomes more relevant, visible, and valuable for people looking for quality podiatric care in their community.
This strategy is like asking for referrals. Only this time, you'll be asking happy patients to post reviews online. You can ask in person or by text after appointments. You can also automate this process using a reputation management system or software program that finds all your current reviews and publishes new reviews for you.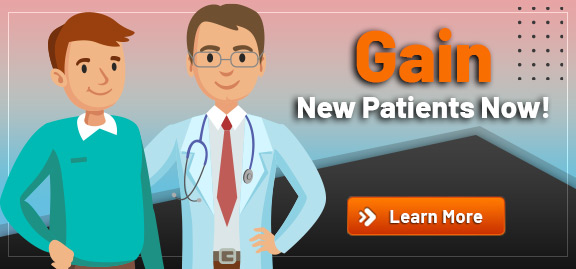 4. Power up your online presence
If you already have a presentable, user-friendly website and a Google Business Profile (formerly called Google My Business), then you have your foundation. Now it's time to supercharge your online presence by optimizing your website content for search engines, starting a blog, and joining social media platforms where your patients are likely to hang out.
Don't forget to register your practice account with Google. It's a great way to amass online reviews and improve your standing in search results. The process doesn't take much time and asks for things like your practice name, physical location, phone number and other contact information.
5. Advertise in local media
Some practices still rely on traditional marketing. Buying ads and getting featured in local magazines and newspapers is another way to get exposure for your practice. Many successful practices continue to use traditional marketing channels to establish themselves in their local communities. One word of caution: traditional print advertising can be costly, so you'll need to establish a budget that fits your needs.
6. Open social media accounts
In the beginning, people used social media for staying in touch with their friends and family. Over time, medical practices jumped into the fray, using social media to engage with current and prospective patients. Today, savvy practices focus on one or two social media platforms (i.e., Facebook, Instagram) where most of their patients congregate. And they post on social media about once or twice each week. They also check their social media accounts regularly so they can answer patient questions and respond to prospects interested in their practice.
7. Ask for referrals and reviews
Don't hesitate to ask your patients for referrals and reviews. Most patients enjoy being helpful by sharing their opinions or referring someone new to a practice they are happy with. Get everyone on your staff into the habit of asking for a referral or review whenever a patient offers positive feedback.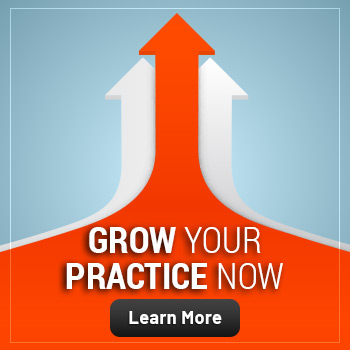 8. Encourage patients to share reviews
Happy patients will gladly share reviews based on the quality of service they receive from your podiatry practice. When patients are happy with their care, they're more likely to post on review sites or tell you about their friend with a foot issue.
9. Hire the right staff
Much of your success will be based on the quality of your employees. Excellent care starts with your receptionist, assistants, billers, and other office staff. Be particular about the types of employees you hire. They should be upbeat and focused on delivering great customer service.
10. Text COVID-19 updates
COVID-19 severely affected healthcare practices around the world. Even now as the pandemic wanes, you should keep patients informed and safe. You can do this by sending out text messages prior to appointments to help patients feel more secure about their visits.
11. Share COVID-19 protocols
You don't have to rely exclusively on texts to share your COVID-19 protocols. You can have the conversation by phone or in person. Your patients should know what to expect when they step into your office and whether you still require safety procedures like mask-wearing and social distancing.
12. Complete paperwork before appointments
Many podiatry practices ask patients to register on their online portal and complete forms before stepping into their offices. This reduces the time patients spend in your reception area, where there's more potential to spread germs and viruses. Practices that use paperless forms and patient portals are better able to maintain safe conditions in their office.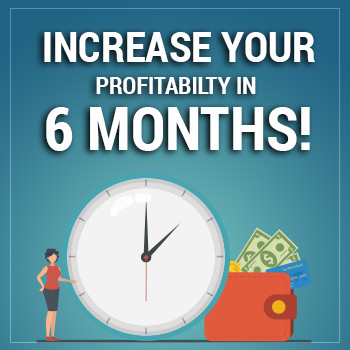 13. Offer telehealth consults
Telehealth became popular during the pandemic, giving patients the option to see their providers online via their computers, tablets, and smart phones. Now, even as the pandemic eases, many patients still prefer these virtual visits. They prefer the time-saving convenience of seeing their providers from the comfort and privacy of their homes. Telehealth is especially valuable for your patients who are disabled, have transportation issues, or live in remote locations.
14. Improve communications
More than ever, patients want transparency from their healthcare providers. They want open, honest communications about their health conditions, diagnoses, and treatment options. They want clear instructions about the proper use of prescription medications and home self-care regimens. And they want reliable information about the benefits your practice provides.
15. Embrace email
Email is critical for podiatrist marketing. If you were starting a podiatry practice today, you'd have to consider email outreach near the top of your marketing to-do list. Email is an inexpensive, high ROI form of communication that allows you to share more detailed information than either phone calls or texts. Unlike other forms of digital marketing, email can also be fully automated to save you time and expense.
16. Trust word-of-mouth
Good old-fashioned word-of-mouth marketing is still one of the most reliable sources of new patients for your podiatry practice. The best way to encourage word-of-mouth is by continually focusing on your quality of care. When patients receive exceptional care and treatment, they'll be much more likely to tell their families, friends, and co-workers.
17. Optimize local SEO
Local SEO is about increasing your website's visibility for those prospective patients who want podiatric services in your area. Optimizing your healthcare site for local SEO will help you:
Reach more local patients by increasing your site's visibility to search engine web crawlers
Boost your website's rank in local searches
Make a positive first impression with a well-designed website, which will make patients more inclined to engage with your practice online
Enhance your site's user experience (UX) for patients
Improve patients' perceptions of your practice
18. Don't waste dollars to save pennies
Instead of stressing over miniscule ways to save your practice money, think in terms of costs versus patient benefits. Like other health practitioners, podiatrists need to watch their budgets carefully, but they should never focus on profits over people or waste dollars to save pennies.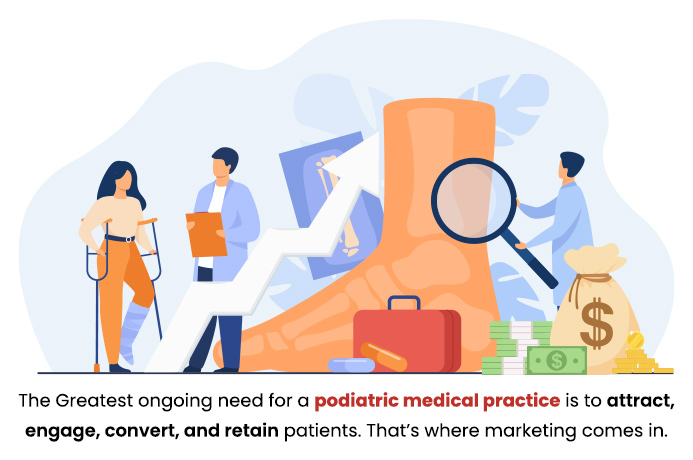 19. Make patients feel like VIPs
There are many small actions your office can take to make patients feel valued and recognized. People love hearing and seeing their own names, so putting their names at the top of your text messages is one very simple way to make them feel special. Some practices also give small, thoughtful gifts to new patients to show their appreciation and make patients feel welcomed. Treat your patients with respect and look for ways to show how much you care about them.

20. Know that quality patient care is everything
Always put your patients' needs first. If you're not providing exceptional care, your marketing strategies and any dollars invested will be wasted. Remember that truly caring for patients is the best way to personalize their experience and increase their satisfaction so your podiatry practice can consistently add new patients and revenue.
Get Help from Podiatry Marketing Experts
If you need help with marketing, consider partnering with a healthcare marketing agency that's experienced in marketing for foot and ankle specialists. A good podiatrist marketing plan can be elevated to greatness when it knows how to use all the marketing channels available. These include patient reviews and reputation management, list management, local search engine optimization, social media, telehealth, and email marketing. While most healthcare marketing firms can't teach you how to set up a podiatry clinic, they can teach you about effective podiatry marketing and help you implement your plans. To learn more, contact us.