The 'Secret' to Handling Patient Complaints
Posted on

Every medical practice owner wants to see only positive reviews about their services. The truth is, we don't live in a perfect world, and you will get negative feedback, however hard you try to please patients. There's no way around it: patient complaints happen.
Patients can complain about lots of things – faulty products, service delays, rude staff, communication issues, and untidy waiting areas- just to name a few. Patient feedback can help your medical practice grow and gain an edge over the competition. For instance, if a patient complains about a rude staff member on the phone, it might heighten the need to do telephone training for your employees.
Related: Do You Know What Makes Patient Feedback So Important? Read here.
But what happens when a disgruntled patient takes it to the Internet? Well, everybody on social networks and third-party review sites gets to see the one-star rating and poor experience a patient had with your practice! Just one such instance is enough to ruin your online reputation.

How to Respond to Patient Complaints?
A well-drafted response to a patient complaint is more than self-defense. It's an opportunity for your medical practice to show care and concern. By responding sympathetically to patient complaints publically, your practice will get a face and become relatable. Not to mention that your response can be a chance to make things right with the complaining patient and win over all the others who stumble across it.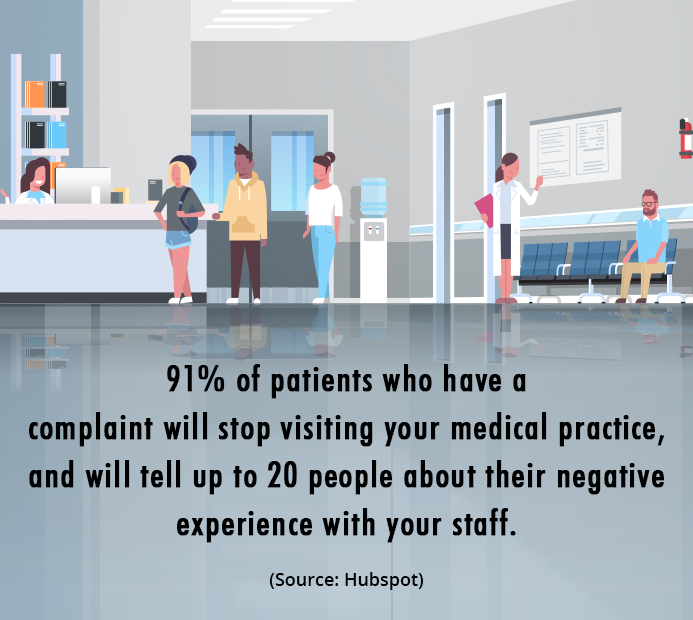 But what is the correct way to respond to patient complaints? Here're the four key steps:
1. Acknowledge
Even if you don't think the patient is right, it's essential to acknowledge the problem and thank the patient for bringing the problem to your attention. You can begin your response with something like this: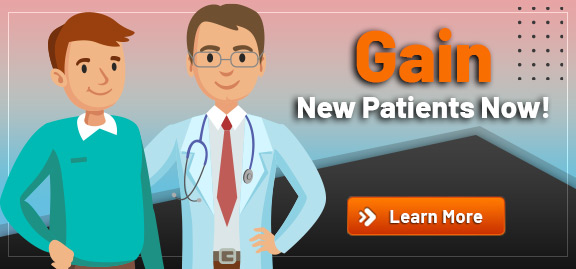 "Thank you for sharing your feedback and letting us know about this problem."
2. Apologize
Acknowledging the issue won't help if you can't apologize. Even if you feel that the patient is wrong, take the high road by giving an apology. Not only will an apology pacify the agitated patient, but it will also show others that you care about providing high-quality service. Make sure your apology is sincere, to the point, and delivers the right message.
Here's how you can apologize to patients:
"We apologize that our services did not meet your expectations. We have set high standards for ourselves and are sorry to hear that your interaction with our staff wasn't what you wanted it to be. Your satisfaction and wellbeing are our priority".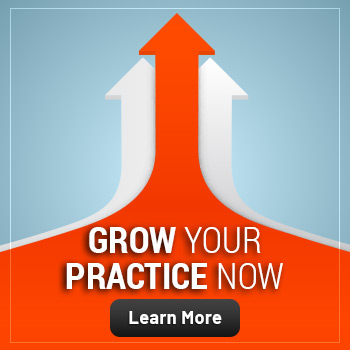 3. Explain
Often, an apology is sufficient to resolve a situation. However, sometimes you'll need to furnish more information to clear the misunderstanding. Here's how you can explain the problem: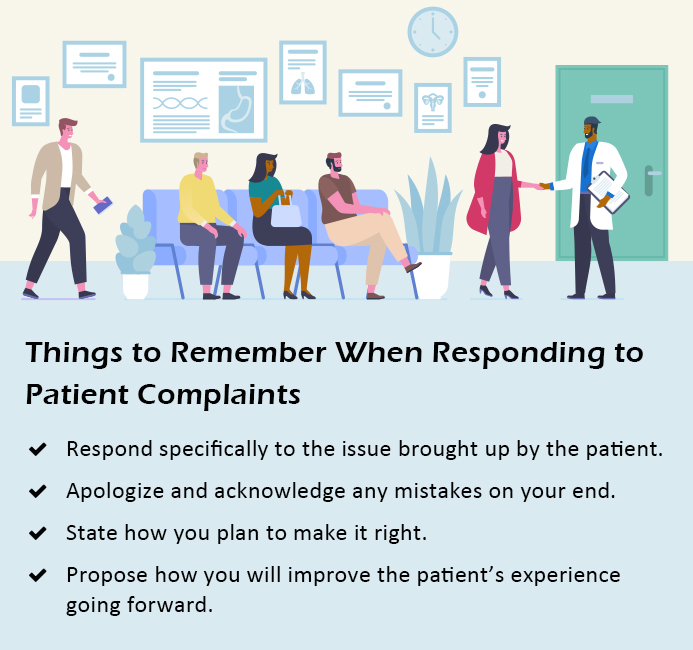 "We truly apologize for the miscommunication that took place during your last visit to our practice. A technical issue with our appointment scheduling software caused us to lose information about the upcoming appointments. As a result, there was a longer than usual waiting time for your scheduled appointment.
Our sincere apologies for the inconvenience caused due to this. We have resolved the technical issue, so feel free to re-schedule an appointment. We hope to see you soon."
4. Offer to Resolve
As a patient, there's nothing worse than having a bad experience with a medical practice and have them brush it off as if it was nothing. In your patients' eyes, the issue either cost them time or money. As such, be willing to go the extra mile to compensate the patient for revisiting your medical practice. An apology will work most of the time, but if it doesn't seem to work, a free consultation will give them a good enough incentive to revisit your practice. Your willingness to go that extra mile could mean the difference between a patient lost or a patient gained.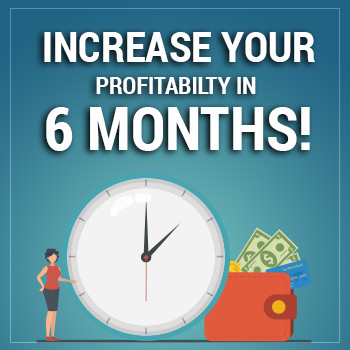 Conclusion
In a perfect world, every patient review would be positive. Unfortunately, this isn't an ideal world. It may seem unfair, but it's essential to acknowledge patient complaints and prepare for them. If you ignore complaints, your patients will leave you.
Related: Do you know why patient leave medical practices? Read here.
Not just this, frustrated patients may continue to share their negative feelings with others, which will cause even further damage to your online reputation. It may seem challenging, but responding to patient complaints is part of maintaining your brand's integrity and reputation.
Want to be proactive at addressing patient complaints and managing your online reputation? Contact us today!