How to Grow a Medical Practice Into a Thriving Business
Posted on


As a doctor, you must go through many years of schooling, then work for years to acquire the technical acumen and treatment skills you need to be successful at your chosen profession. Then, after you've dedicated massive amounts of time and effort, you decide to take the entrepreneurial route. You decide to start your own private medical practice.
That's when you realize you are playing in an entirely new ballgame requiring a whole new set of skills. Only this time, it's about how to grow your medical practice into a business. But where do you learn how to become a business owner? Where were you taught how to grow a healthcare business and take it to the next level? Who taught you how to start your own medical practice? If you are like most physicians, you realize there's been a huge gap in your education.
Where do you learn the core principles of running a business? Where do you gain the tools and strategies needed for business growth? How do you learn the leadership skills you'll need to lead your healthcare team? In this article, we'll provide you with sound advice about how to grow a medical practice into a thriving business.
Common Challenges in Setting Up a Medical Practice
Setting up a medical practice is filled with hurdles stemming from the nature of the healthcare industry. Common challenges include:
The need for flexibility. You will face constant change as medical technology evolves and unpredictable regulatory and legislative shifts occur. If you're not flexible in the face of these changes, you'll be unable to meet your patients' ever-changing needs.

The need for strong relationships. Medicine is a very personal matter. Patients must feel safe before entrusting their health to you. You need to develop strong relationships with your staff and patients from all walks of life. To build trust, you'll need to prioritize personal relationships with patients, colleagues, staff members, and referral sources.
The need for healthcare marketing. As with any business, you'll need a  solid marketing plan to grow your medical practice. You'll need to find a top-notch marketing team to help you adapt to constant market changes. Once you know how to market a medical practice, you'll be able to attract, engage, and retain enough new patients to grow your business.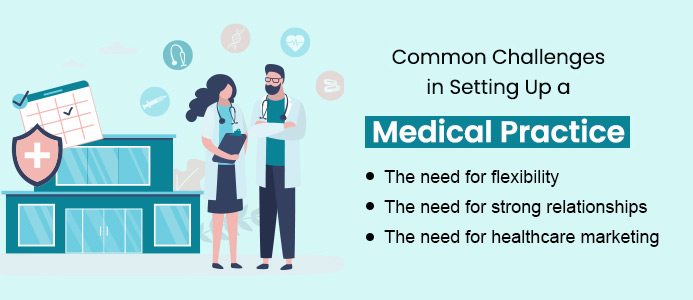 Learning Medical Practice Growth Strategies
To grow your business, you need medical practice growth strategies that will continuously attract and deliver more patients to fill your schedule weekly, monthly, and yearly. Here are some strategies that will help you adapt and grow: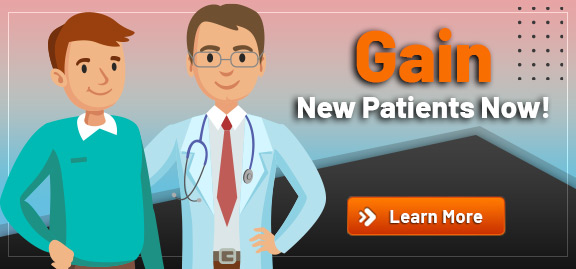 Overcome Your Perceived Limitations
Your mindset is critical. Think about your perceived limitations. For example, you may think it's hard to find a reliable long-term receptionist. They either leave after a few months or you may even need to fire some. The cost of turnover is killing your bottom line. You may think you have to stay in urban areas to keep your patient volume up, but the overhead you're paying on your space is killing your profits. You might believe that patients get so frustrated over their insurance that they can't ever be fully satisfied. They subconsciously blame you for their insurance woes.
Instead of perceiving those problems as limitations, see them as opportunities. It's all in your mindset. You can overcome your challenges or give in to a defeatist mentality. The choice is yours.
Shift Your Psychology
Realize that the main chokehold on the growth of any business is always the owner. About 20% of that chokehold comes down to the nuts and bolts of running a business. The remaining 80% is about your psychology – your fears, personal limits, and the stories you tell yourself about why your practice isn't growing the way you want it to.
You may think you need a new strategy to make real change. But what you really need is a new mindset. Most people know that exercise is a great strategy for being fit and healthy, yet 70% of Americans are overweight. They don't have a strategy problem. They have a mindset problem. The only limits are the ones that you create for yourself. With the right mindset, you can master building your medical practice.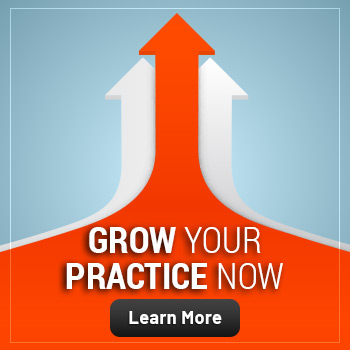 Learn How to be a CEO, Not Just a Doctor
You worked hard to become a doctor but it's time to add a new title. You are the CEO of your healthcare practice. You are a business owner, and you must build your business. You must innovate and find better ways to meet your patients' needs than anybody else. To succeed as the CEO, you must deliver improvements to your patients' lives.
Fall In Love With Your Patients
Your medical practice has a purpose, which has nothing to do with you. It's about your customer, your patient. Instead of falling in love with your services or technology, fall in love with your patients. Understand who they are, what they want, what they fear, and how your medical practice can meet their needs and provide the quality experience they want.
Forget about cultivating satisfied customers. Even satisfied customers will leave you for a better deal. Instead, think about cultivating raving fans. Growing your medical practice means making yourself irreplaceable to your patients.
Make It Easy For Patients To Refer Friends and Family
Your ideal patients can produce more ideal patients. To maximize your current patient base, make it easy for your raving fans to spread the word about your medical practice. Use all the marketing tools at your disposal, including your website, social media, and online reviews to get the word out to your patients quickly and easily.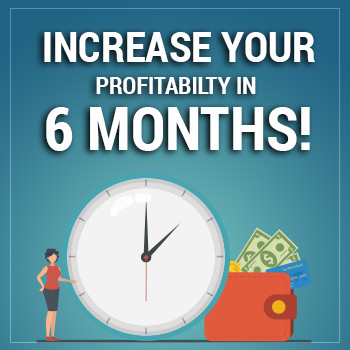 Hire Slowly, Fire Quickly
Remember that it's not the person you hire who will make a difference in your business, it's the person that you don't fire. The sooner you part ways with employees who are a bad fit, the better. Take your time to determine if a candidate has the right nature, the right personality, and the right core values to align with your practice. Take the time to find superstars for every position. Hire slowly to find the best people.
Outshine Your Competitors
Keep your current patients and attract new ones by outshining your competitors. Give your patients a straightforward, positive experience at your practice. To grow your medical practice, always deliver patient-centered care so everyone who walks through your doors feels special.
Know What Business You Are Really In
An important question to ask yourself is, "What business am I really in?" If you own a dental practice, you are not really in the teeth business. You are in the business of creating smiles or giving people joy. If you own a medical practice, you are not in the healthcare business. You are in the business of giving people hope and making them feel better. Instead of focusing on the process, focus on the value that you bring to patients' lives.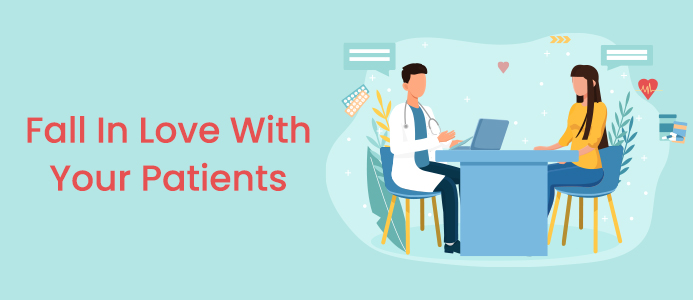 People don't care about your process; they care about how they feel. Focus on the result, not the process for achieving that result. That way, you will immerse your patients in the experience you want to create from the very beginning and, eventually, turn them into raving fans. When you create a pipeline of raving fans, you're on your way to growing your practice.
Determine What You Really Want
Decide what's most important to you when you consider how to start your own medical practice and why you are doing it. If you're just starting a medical practice for the money, you're eventually going to burn out. Remember that success without fulfillment is really the ultimate failure.
There is nothing worse than achieving everything you thought you wanted and yet not feeling fulfilled. Celebrate your successes and acknowledge your accomplishments but make it a priority to learn what brings you passion and joy and how your medical practice can fit into that. Once you understand the merits of achievement and the art of personal fulfillment, you can begin to make real and lasting changes in your healthcare business and in your life.
Looking for a marketing partner who can help you grow your medical or dental practice? Get to know the healthcare practice marketing specialists at Practice Builders. To learn more, visit practicebuilders.com or call 855-898-2710.