Crucial Tips to Reduce Long Patient Wait Times
Posted on


Do you still refer to your reception area as the "waiting room"? If so, you might have a serious problem with patient satisfaction at your practice. It has been well-established that longer patient waiting times negatively impact patient satisfaction. Long waiting times quickly erode patient confidence in your practice and damage their perceptions about your quality of care.
The term "waiting room" itself has negative implications. It implies that patients will be waiting for their appointments there. By continuing to call it that, you reinforce the notion that it's okay to make patients wait to receive care. That may be fine for you, but it's not okay for today's patients. The rise of healthcare consumerism has led to more demanding patients who expect you to respect their time and stick to their appointment schedule.
If, for example, a patient has an 11 am appointment, they probably expect to be seen within no more than 30 minutes of that time, or no later than 11:30 am. Making a patient wait for 45, 60, or 90 minutes will all but guarantee that the patient will want to excoriate you on social media and write negative reviews about your practice — or tell their friends and family all about their epic wait and wasted time. In this article, we will explore the issue of how to reduce wait times for healthcare and offer you 13 proven ways to reduce patient wait times.
How did we get here?
The COVID-19 pandemic fast-tracked healthcare consumerism and spurred several changes in the healthcare industry. During a severe slowdown in patient visits, healthcare practices were forced to modernize their business processes and focus on making improvements that would positively impact patient wait times and appointment times.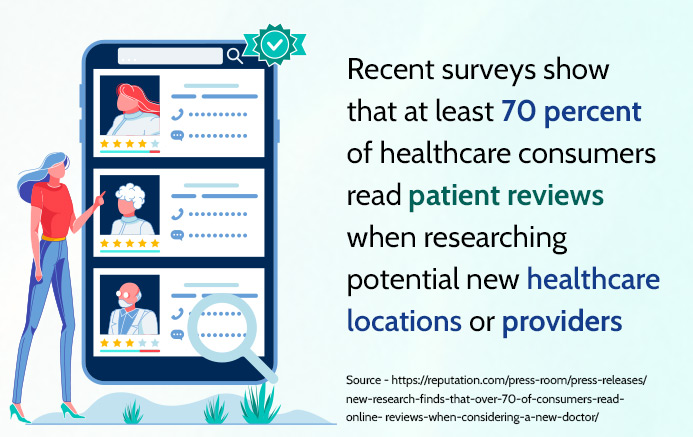 To further complicate matters, healthcare consumers now prioritize patient experience and many physicians are leaving private practice, flocking to hospitals and larger medical groups at an alarming rate. According to recent statistics, only about a quarter of physicians are still running private practices.
This shift is providing greater financial stability for physicians, but it's left many patients looking for alternatives as they find themselves waiting longer again in larger, busier practices and hospital reception areas.

So, the question becomes, "What changes has your practice implemented to meet your healthcare consumers' changing needs and expectations—and are they enough?" If you're not modernizing your practice and streamlining your processes to meet today's healthcare consumers' changing needs and expectations, you're losing revenue every day.
Healthcare consumerism has shifted the paradigm from provider-driven to patient-driven healthcare decisions and patient experiences. As a result of these changes, more patients expect seamless digital interactions and a healthcare experience that's as innovative and advanced as other consumer service sectors.
Healthcare consumerism has taken on a retail mindset
Having a retail mindset means patients are no longer willing to put up with inefficiencies like long patient wait times at the doctor's office. Today's patients fully expect to wait 30 minutes or less for scheduled in-person appointments and 20 minutes or less for virtual visits or telehealth wait times. And we're being generous.
When it comes to wait times, less is always more.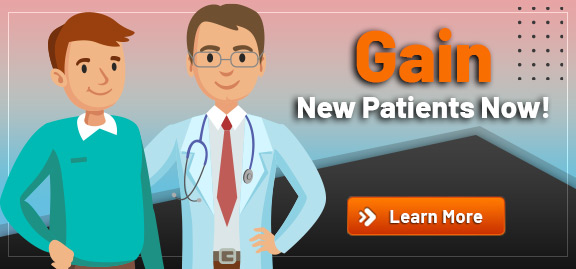 The fact is that healthcare consumers have never enjoyed and always complained about long wait times in the office. They begrudgingly accepted it because there weren't many alternatives. Long wait times were the rule rather than the exception.
Thanks to recent advancements in technology and an explosion in options such as telehealth, minute clinics, and other fast-track walk-in services, healthcare consumers have been empowered to find healthcare organizations that will meet (or exceed) their expectations.
Online patient reviews and patient testimonials have more power than ever before
More consumers are reading online patient reviews than ever. Most recent surveys show that at least 70 percent of healthcare consumers read patient reviews when researching potential new healthcare locations or providers. Among female consumers, that number is nearly 80 percent. And that's not all.
Healthcare consumers require five or more positive online patient reviews before considering a new provider or deeming a provider trustworthy. These reviews aren't limited to primary care physicians. Even patients who receive a specialist referral from another doctor are likely to conduct their own online research, and if they don't like what they see in your patient testimonials or online patient reviews, they will look for other provider options.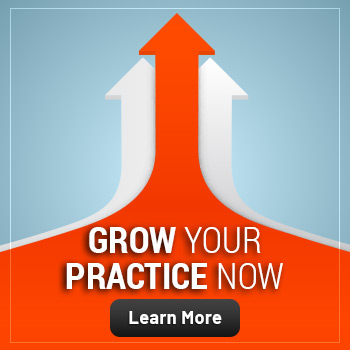 Your competitors are disrupting the marketplace
Major recognizable brands like CVS, Walmart, Target, and Walgreens, and new players like Optum Health, are disrupting the healthcare marketplace with their walk-in and minute clinics. There are also innovative outpatient services such as urgent care centers and telehealth services that are giving healthcare consumers exactly what they want.
The growing popularity of these alternative services underscores the fact that you must create a patient care experience that keeps them coming back. If you want to keep patients in your hospital or medical group, you must be competitive with these modern, more efficient healthcare environments.
Losing patients is costly
Today, about one-third of patients will leave a doctor's practice simply because they are dissatisfied with wait times. When you consider that the cost of acquiring a new patient can be hundreds of dollars, and that the lifetime economic value of a patient to your practice will almost always be far greater, your losses can be substantial.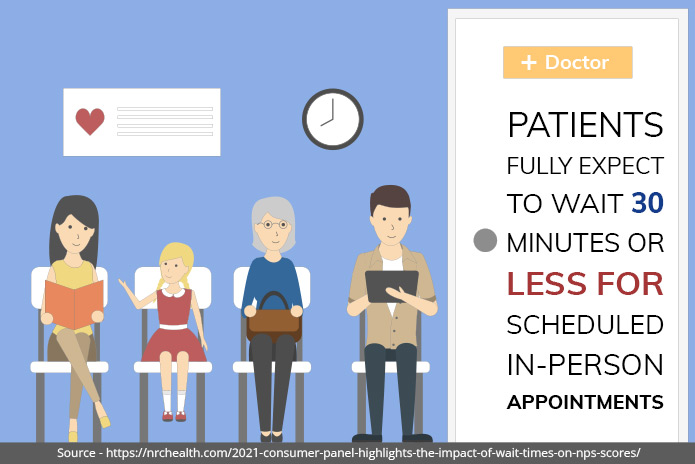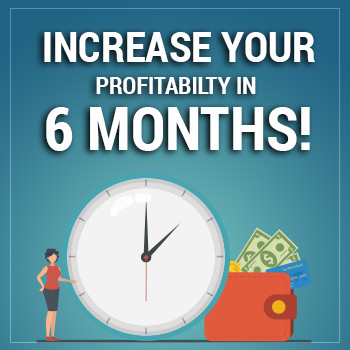 So, how can you reduce patient wait times and retain patient volumes in your organization?
If you haven't done so already, you should start by conducting a thorough audit of your office systems and processes. You should leverage your current and emerging technologies to make on-time appointments a priority and rebuild your processes around patient needs and preferences. You should streamline your appointment workflows and ensure that every patient is seen as quickly as possible.
Here are 13 ways to reduce patient wait times
You can reduce patient wait times, improve patient satisfaction, enhance the patient experience, and reduce revenue loss by following these tips:
Offer digital check-in services that allow patients to submit necessary medical forms before their appointment.
Offer no-hassle online appointment scheduling and rescheduling.
Stay on schedule by leveraging physician assistants and nurse practitioners for routine and non-urgent visits.
Introduce and integrate efficient virtual care services like telehealth or telemedicine. Make sure your telehealth wait times are always shorter.
Conduct regular patient satisfaction surveys.
Send email or text-based patient appointment reminders to reduce your risk of no-shows.
Develop a published policy about cancellations, no-shows, and late arrivals. Consider charging fees for same-day appointment cancellations, no-shows, late arrivals, and late-notice rescheduling.
Optimize and automate appointment re-filling. If you have a cancellation or reschedule, call patients who are scheduled for later dates and offer them earlier appointments. This will increase the satisfaction of those patients, fill your queue, reduce revenue losses, and provide earlier appointments for patients who want them.
Identify and resolve scheduling bottlenecks quickly.
Streamline your internal processes and communications.
Use a mobile-based virtual queue to keep patients out of the reception area.
Provide a comfortable, welcoming space for those who must wait in your office. While it's nearly impossible to eliminate patient wait times completely, you can still make their experience as pleasant as possible. You can offer complimentary, secure wi-fi services, printed or onscreen educational materials, and comfortable seating. Also, consider moving patients from your reception area into available exam rooms as soon as they become available. Patients will appreciate this forward momentum in their appointments.
Most importantly, listen to your patients and their needs. If you fall behind on your schedule, update your patients immediately. They will appreciate your honesty, transparency, and willingness to correct any waiting issues over time. If you really want to hold yourself accountable for delays, offer patients a gift card to nearby coffee or pastry shops as a way of saying thanks for their patience and apologizing for the delay.
Decreasing patient wait times is a surefire way to improve patient satisfaction, which in turn supports patient retention, increased patient volume, and increased revenue over time.
If you'd like to know more about how to reduce wait times for healthcare, talk to the experts at a healthcare marketing agency like Practice Builders. To learn more, visit practicebuilders.com or call 855-898-2710.