Use Your Healthcare Practice Website Design for Subtle Promotion
Posted on

If you thought that your healthcare practice's website design wasn't important enough to be part of your healthcare marketing plan, think again. Did you know that you can set up the design of your healthcare practice's website to subtly promote and market your practice? From the menu placement to your contact information, everything you add to your site has a subtle marketing potential. Here are tips on how to use your website design for marketing:
Clear Menu Options
Good navigation helps potential patients find what they're looking for on your practice's website. This will help ensure that they stay on your site, hopefully long enough to book an appointment or contact you for more information.

It will also decrease your bounce-back rate. If your potential patients can find everything they need on your website, they're likely to stay on it longer and not go back to other search engine options, which can decrease your SEO ranking.
Keep Contact Info Front and Center
Since you're a healthcare practice, you have one main goal – getting patients to book an appointment! Keeping your contact information front and center in your website's heading will keep it easily accessible. If your contact information is readily available, it will help ensure that people who want to contact you will be able to do so easily.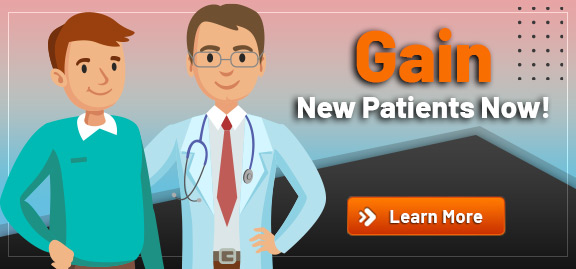 Show Off Your Social Media Sites
Social media is so important for marketing because everyone is so connected and online thanks to the rise of mobile devices. Be sure to highlight the fact that you're on social media prominently on your website. Not only will it help you gain more followers, it will also help you connect with your current patients and potential patients visiting your site for the first time.
Add Testimonials From Patients
If you don't have a testimonials page on your website, it's a great marketing strategy to have one. If potential patients are debating switching to your medical or dental practice, creating a page of positive reviews and experiences can help convert those website visitors into new patients.
Do you need to update your website to add more online marketing strategies? We can help! Our services include building new websites for healthcare clients to help them attract more patients. Contact one of our healthcare marketing consultants at 855-898-2710 or info@practicebuilders.com.