What Are the Consequences of Poor Patient Service?
Posted on

Patient service is the most important thing for your medical practice to get right. Excellent patient service can overcome poor marketing, but it is extremely difficult and very expensive to replace poor patient service with even the most delightful marketing.
It is normal for minor mistakes to happen or to encounter patients who are impossible to please. These are considered small bumps in the road and do not tarnish your service quality.
However, the following situations are considered unacceptable:
Long wait times
Not listening properly
Lack of knowledge and experience
Unprofessional and ill-mannered
Healthcare providers who are guilty of bad patient service traits end up facing severe consequences – most of which are difficult to handle and may lead to the practice's failure.
Price of Poor Patient Service Is High!
You can have the most efficient staff in the fanciest office; however, if you fail to consider how to meet and exceed the needs of your patients, you will lose your business. Not listening to your patients is one of the biggest mistakes medical practitioners make, and it may lead to irreversible consequences such as:
Dissatisfied patients
Lost business
Damaged reputation
Not listening to patients is not the only mistake that may have an irrecoverable effect on your practice. Tardy patient service may also lead to angry patients. Treating patients without any respect and leaving their problems unattended is the fastest way to become "known" for the most terrible patient care.
In addition, it takes much more time, effort and money to acquire a new patient than to retain an existing one. Therefore, patient retention is a crucial marker of success for your medical practice. A practice's patient retention is drastically affected by the quality of its patient service. Almost 89 percent of patients will stop visiting a practice after a poor service experience.

In order to satisfy patients, practices have to keep up with the latest technological advances and train their staff or suffer the consequences. By introducing an efficient patient service strategy, your practice will have not only positive feedback but will also earn its patients' trust and loyalty.

Consequences of Poor Service
Potential patients have a wider choice than ever before when it comes to choosing their healthcare provider. Patients also have the options and capabilities to compare services. Thanks to online reviews and patient engagement channels, your practice's performance will be under scrutiny all the time. Your existing and potential patients will have no qualms about switching over to your competitor, should they consider him or her a better provider.
In fact, failing to respond to patients' expectations can have weighty consequences. Their expectations are high, and falling short of them is easy. Brand ambassadors are invaluable to your brand. These loyal patients are often so delighted with your service that they actively recommend your practice to others. The opposite of brand ambassadors are brand detractors; they are your previous patients with an especially low opinion of your practice and care quality.
Unfortunately, it is easier to disappoint a patient than to satisfy one. In addition, unhappy patients are more vocal than happy ones, and their message is far-reaching.
According to a report by WalkerInfo, customer experience will surpass price and product as the key differentiator by 2020. Patient experience and quality care are decisive factors for most patients. Keeping this in mind, it is essential for healthcare providers to understand how a poor patient experience would impact their bottom line. Here are the three most severe consequences of poor patient service and what you can do to handle the negative impact.
1. Negative Online Reputation
Your brand's online reputation is valuable and you would not want to lose control of it. However, your reputation is the first thing to be impacted when you have an extended streak of poor patient service.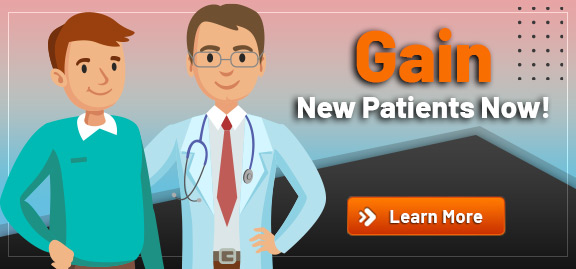 Patients today are quick to write negative reviews online when they have a "below expectation" experience with a healthcare provider. In addition to leaving scathing reviews, patients vent their dissatisfaction on social networks for the entire world to see.
Just in case you think potential patients are not paying attention to or reading online reviews about healthcare providers on social media, 82 percent of American adults read online ratings or reviews before booking an appointment. The same study also found that 88 percent of people are influenced by online reviews when choosing their healthcare provider. (Source: Pew Research Center)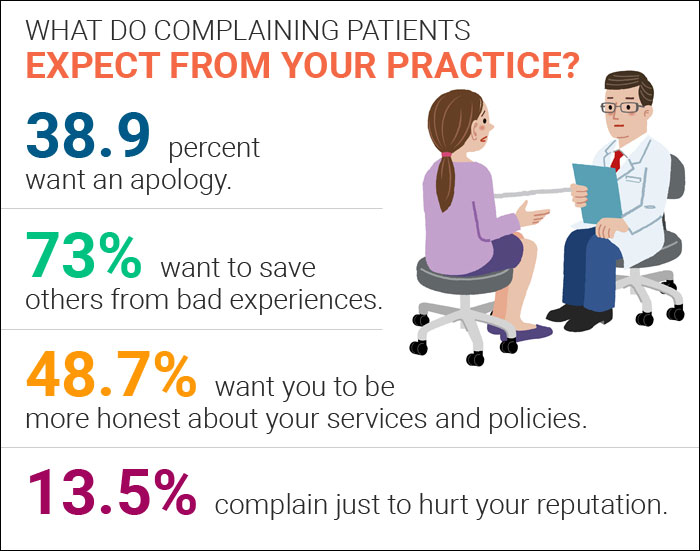 What this adds up to is a drastic dip in patient volume, but more importantly, a major decrease in word-of-mouth marketing, which is the most valuable marketing tool a medical practice can have.
Tips to Fix Damaged Reputation
Have someone in your office reach out to those patients who have experienced bad service to make amends. Most of the online complainers are hoping to receive a response or a reaction to their negative review. This means that you can avoid bad reviews simply by reaching out to the reviewer to learn the cause of the problem.
Responding publicly to negative online reviews, accepting responsibility for the awful service experience and informing people that you are trying to resolve the issues can do wonders for reducing the negative publicity surrounding your brand.
However, try to move such conversations to a private discussion. Never go back and forth publicly because you will risk doing more damage to your reputation than good.
After you have reached out to the patient, based on their feedback, address the problems internally. Set a higher standard for patient service and make it a top priority.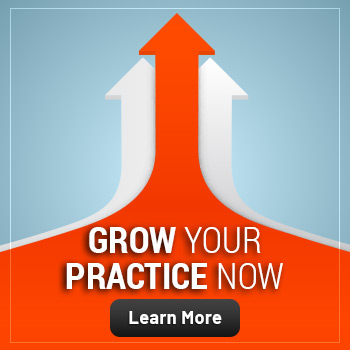 2. Low Conversion Rates
Bad patient experiences can kill your conversion rate.
In a study by Harvard Business Review, good patient experiences drive conversion rates. Based on patient feedback, this study revealed that patients who had the best experiences spend up to 140 percent more compared to those who had a bad experience. Regardless of the size or specialty of your practice, patient experience will impact the bottom line as well as patient lifetime value.
Patient experience suffers the most in a poorly managed office. This is because the understaffed team often does not have enough time to help patients address their pain areas or make treatment decisions. A 2017 survey by TimeTrade revealed that nearly half of customers were "extremely likely" to make a purchase when helped by a keen and knowledgeable staff. The same finding can apply to medical practices. When your patients cannot find the help they need, they leave with a bad experience, which can hurt your bottom line and patient loyalty, perpetuating the cycle of low conversion rates.
How to Repair the Damage
Excellent patient service does not begin after the appointment; it starts the moment a patient enters your office. Your front-desk person is the first point of contact for all patients. Prompt and courteous responses, from the beginning, will show patients they are valued. Patients will hesitate to come to your practice if the team cannot fulfill their requests and expectations.
Efficient processes and friendly staff are two of the most important factors for improving the patient experience. However, do not ignore the details. These small things can make patients feel that your staff is willing to go the extra mile. You can consider something as simple as offering free Wi-Fi to patients in the waiting room or even a cup of coffee. You will be surprised at how much impact these little gestures can have on patients. You should take that extra step to ensure your patients are comfortable the moment they step into your office. If you want to grow your practice, you will have to focus on ways to set yourself apart by providing the experience patients expect.
3. Low Profits
Lousy patient service can create a downward spiral of revenue and profits.
First, your online reputation gets damaged, and you start losing referrals, and then your loyal patients start to leave. At this point, you need to either cut costs or increase your marketing budget to attract new patients and retain the existing ones.
If you cut costs to compensate for the lack of revenue, you have to improve your patient service through training or recruitment, which requires money, effort and time. On the other hand, outspending your poor patient service might attract new patients, but the problem only gets worse with time.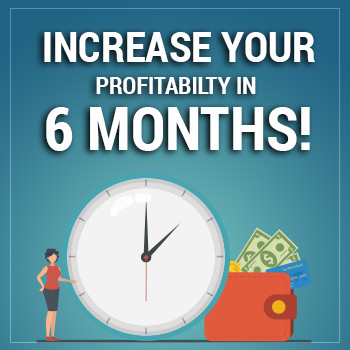 According to Accenture Consulting, superior patient experiences lead to an almost 50 percent increase in net margins, regardless of the size, type or location of your medical practice. With today's patients "shopping" for healthcare services, patient experience plays a key role in improving your bottom line.
How to Improve your Bottom Line
Address problems with patient service early and often. Regularly survey patients, chat with them when you can, and monitor your patient service KPIs. The best way to resolve complaints related to poor patient service is to prevent them, but the second-best way is to correct them before they get out of hand.
Prevent patient dissatisfaction before it happens and deal with it when it happens. Treat your patients with respect and train your staff to do the same. Never leave negative feedback or complaints go unresolved, and take the time to get into details.
Patient service is the most crucial element of your practice management that, if ignored, can hurt your return on investment (ROI). Quality patient care ensures not only that patients return to your practice but that they keep recommending your practice to their family and friends. It builds brand ambassadors, making them your biggest advocates when trying to attract potential patients. By focusing on patient care and training your staff on the value of positive experience, you will see more profit.
The Bottom Line
It goes without saying that the Internet has empowered patients to share the truth about their experiences with healthcare providers and practices. These days, instead of contacting your front-office executives directly, patients tend to spread the word to the masses through various social networks.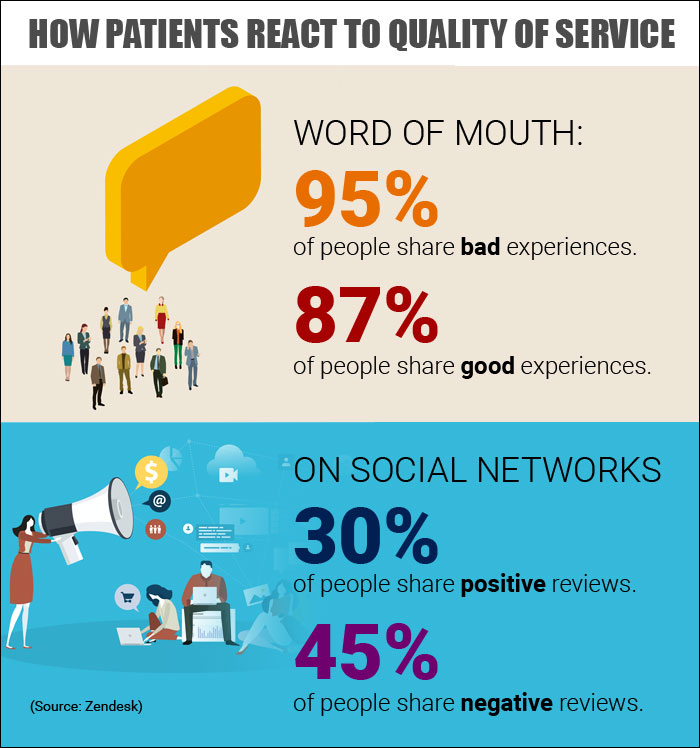 To alleviate the side effects of poor patient service, prescribe customer service training for your front desk employees.
For every unhappy patient who expresses his or her dissatisfaction to your team, many more patients will keep silent and most likely never return to your practice. Others will share their negative experiences with their friends and family. Thanks to social networks, there is a strong possibility that patient dissatisfaction will come in the form of angry tweets, rants and negative reviews.
An unhappy patient has a lot of power over your reputation. Potential patients are actively searching for unfiltered reviews before choosing their next healthcare provider. Once your online reputation takes a plunge, it will have a severe hit on your patient volume.
So, go the extra mile for your patients and steer away from delivering the bad patient experience. Most importantly, keep reminding your patients why they chose your practice in the first place.
To learn more about the front desk staff customer service training and its impact on patient experience, retention and practice growth, contact the experts at Practice Builders.