What to Know About- Digital Transformation of Medical Practices
Posted on

Digital transformation has become increasingly popular in recent times. Yet, amidst all the white noise about medical practices investing significant time, money, and efforts into digital transformation, let's take a step back and answer a fundamental question, "What does digitally transforming your medical practice mean to you?"
Is it about keeping the latest tools and offering the latest procedures? Or, is it related to how patients want to interact with your healthcare brand?
In this blog, let us explore what digitally transforming your medical practice in 2021 looks like, what you can expect, and how, if done right, it can contribute (and even accelerate) to the growth of your medical practice.
What do we mean by digital transformation?
Precisely the way biological evolution ensures that a species survives the changing conditions in the world, digital transformation ensures that a medical practice continues to grow irrespective of the changes in behavioral patterns and preferences of patients.

Simply put, digital transformation is all about leveraging advanced technologies to build and strengthen a medical practice's online footprint. While many medical practices view digital transformation as a disruption, it has the potential to add incredible value for your reputation and bring multi-faceted benefits to the medical practice.
Digital transformation covers areas like marketing, sales, and even patient service. It goes beyond promoting your practice online, trying to attract more patients, and staying ahead of the curve. A successful digital transformation begins and ends with patient experience.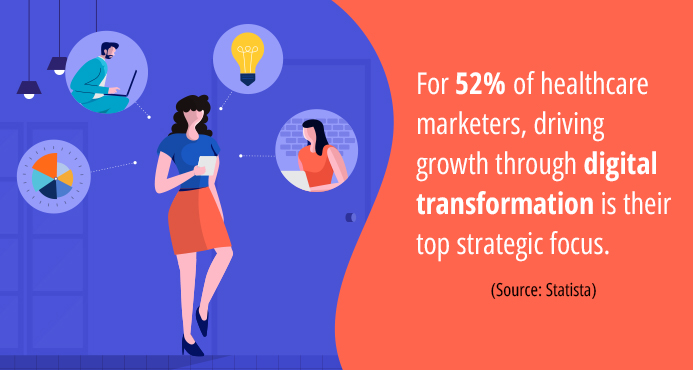 How does digitization impact patient engagement?
No doubt, digital transformation is changing the way medical practices operate. As practices move from traditional processes to intelligent applications to manage their day-to-day operations, they have a chance to reinterpret how they attract, engage, and retain patients.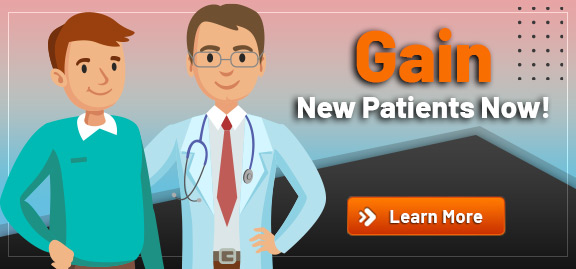 An increasing number of medical practices are taking a step back and revisiting their existing processes of patient acquisition and engagement. Questions like, "How can I reinvent my processes to add value to every patient interaction?" and "Are my processes delivering a memorable and personalized patient experience," are being asked by many practice owners today.
How can digital transformation benefit your medical practice?
There are many ways digital transformation will benefit your practice. Some of the key benefits are:
1. Streamlines existing processes
If you have been running a successful medical practice for a couple of years now, you know that implementing any new process is challenging and time-consuming. In a fast-paced world where time is of the essence, you cannot afford to spend weeks or days fixing redundant processes. By using cutting-edge technologies, medical practice operations such as communication, data storage, and analytics can become more adaptable and collaborative, maximizing results.
2. Increases overall efficiency
Because all your processes are now streamlined, you no longer have to worry about unexpected bottlenecks thanks to digitization. Digital processes allow seamless flow of inter-departmental information, eliminate redundant tasks, and improving your medical practice's overall efficiency. This will also help reduce the operational costs associated with complex, time-consuming workflows. The digital transformation of your medical practice will help prevent workflow bottlenecks. Also, streamlined processes mean that jobs can be done quickly and easily, based on your staff's changing priorities and goals.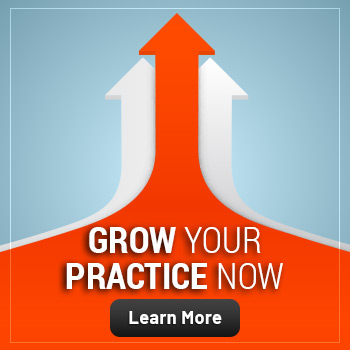 3. Empowers employees
Technological advancements empower the staff to become more proficient and productive in day-to-day tasks. Streamlined processes allow employees to accomplish their tasks quicker. By learning and implementing digital transformation, employees are exposed to the latest technologies such as artificial intelligence and machine learning. Thus, digitization allows employees to capitalize on efficiency by using powerful tools and getting the job quickly. Also, learning advanced skills goes a long way in boosting employees' personal growth.
4. Promotes an environment for growth
With digital transformation comes a solid patient base, increased patient engagement, automated workflows, and efficient processes. This is the reason medical practices that implement digital transformation find it easier to grow. For instance, an organization with no online presence whatsoever probably generates sales through retail stores and word of mouth. However, by building an optimized and robust website, the medical practice will attract more patients. This means, more opportunities to promote services, generate leads, and earn more profits. Further, by tracking existing patients' behavioral patterns and feedback, the medical practice can create more services that appeal to its target audience and expand accordingly.
Tips to building a digital transformation strategy
Here are some essential tips to help you excel: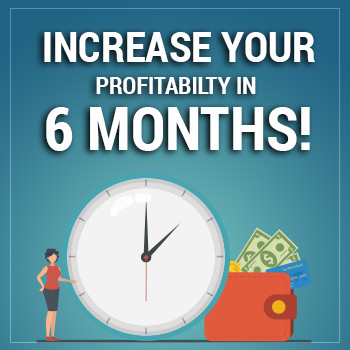 1. Assess your industry
The first step to digitalize your medical practice is to look at what your peers are doing. Then, start by assessing what strategic moves your competitors are making. What is their digital strategy like? Has digitization positively impacted their medical practice? What are the patients' expectations like? These questions must be answered before dipping your toes in the world of digital transformation.
2. Define your path
After research, it's time to design your strategic path based on the insights. This means building the operational model you wish to implement to deliver services to your patients. Based on the model you choose, assess your internal operations, and chalk out a plan of action. Which operations must be prioritized? What kind of analytics would you need to measure progress?
3. Planning
Once you have established a path and plan, break it down into concrete, tactical steps. Next, consider all the resources, fix a deadline, and plan your digital transformation strategy. This step involves meeting with experts who have the domain expertise to help you fill the gaps.
4. Transitioning
The transition from the old processes to a new digitized ecosystem takes time. This is why you must gradually shift to the future infrastructure and platform while maintaining the existing ones to ensure no data loss or system failures.
Conclusion
Digital transformation accelerated across many industries in 2020. The year 2021 and beyond will also see the rapid scaling of digital initiatives across medical practices of all specialties.
If you're looking to transform your medical practice digitally and want the best team by your side, please reach out to us. Our medical practice marketing experts will ensure that you reach your digitization goals!