5 Biggest Online Reputation Management Mistakes Doctors Make
Posted on

Online reputation management (ORM) is about searching, protecting, and improving content potential patients might find about your medical practice online. The process is by no means simple – negative comments, fake reviews, unethical competitors are all part of the course.
While it may not be possible for every healthcare marketer to control or remove those hurdles, some marketers looking to build a stellar online reputation end up making self-destructive mistakes that turn everyday challenges into severe consequences.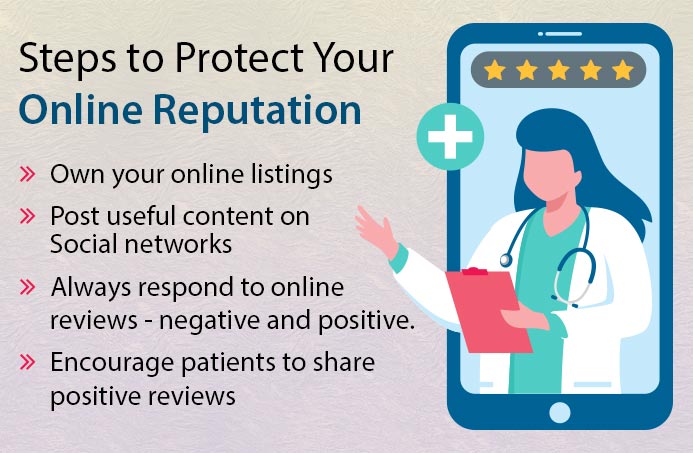 Also Read: Online Reputation Management FAQs: You Asked, We Answered
What are these mistakes, and what are the steps to avoid them? Let's find out!

Common Online Reputation Mistakes
When managing a medical practice's online reputation, even minor mistakes can blow up into severe consequences. Here are five online reputation management mistakes doctors must avoid at all costs.
1. Not claiming online listings
A surefire way to take control of your healthcare brand's first online impression is to claim and update every piece of information available online on platforms like Google, Yelp, and Healthgrades. These listings are one of the first things to pop up in search engine results. Unfortunately, most medical practice owners ignore online listings and let go of this fantastic opportunity to acquire more patients.
According to a report, more than half of local healthcare providers still haven't claimed their Google My Business listing. Not updating these listings is more disastrous than missing them. Keeping incorrect information online is reputation loss as well as revenue loss. In addition, potential patients who try contacting your practice through the listing may be surprised and frustrated to find your medical practice closed when the listing indicated it would be open.
2. Ignoring social media comments
When patients have a question or a complaint, how do they let your medical practice know? Over the phone? Via email? In-person?
Well, not anymore. The majority of your potential and existing patients will prefer to use social networks to voice their concerns and complaints. Taking care of patients online is essential for brand perception, but it also impacts your medical practice's bottom line.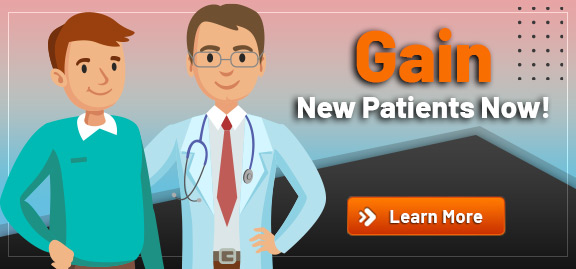 Patient care is an opportunity to form a relationship, not just solve an issue. On the other hand, healthcare brands that ignore patient complaints on social networks risk losing them forever. When patients complain and get no response, most of them never return to the same medical professional again.
Make time to check back to see how your followers engage with your posts and read notifications for patient questions and concerns.
Also Read: Why Online Reputation Management Is Essential for Medical Practices
3. Disregarding online reviews
Consider this scenario: Your marketing team invests heavily in digital marketing programs – writes blogs, creates engaging videos to increase brand awareness, and shares the content on social networks to engage the audience. But the result isn't as expected. Neither your website traffic increased nor your bottom line.
What could be the problem? As soon as potential patients look more profound and research your brand name, they find negative online reviews. A few bad reviews here and there from disgruntled employees or dissatisfied patients are acceptable. Still, the real damage happens when there are no positive reviews from satisfied patients to balance the score. The only thing potential patients are left with is an unrepresentative sampling of negativity to influence their choice of healthcare provider.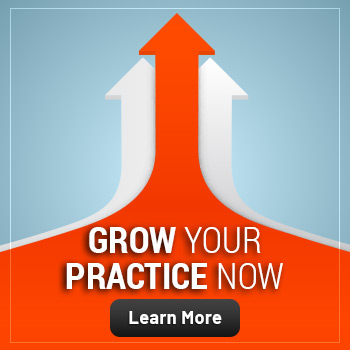 Why should you pay attention to online patient reviews?
Simply because an overwhelming number of people read online reviews before visiting a medical practice, it might be impossible to prevent unhappy patients from posting negative reviews. Angry patients aren't the only ones with a; happy patients will also be willing to share their experiences online – you need to request them.
4. Delegating ORM to inexperienced employees
What happens when medical practices realize they need help with their digital footprint? Usually, they hire the right staff internally or partner with firms specializing in digital branding and online reputation management, such as Practice Builders.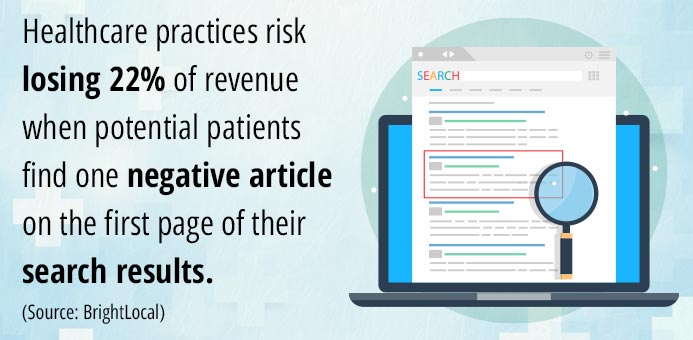 But sometimes, medical practice owners delegate responsibilities internally — often to employees who lack the relevant experience. It is not uncommon, for instance, for owners to delegate online reputation management or social media monitoring responsibilities to interns or assistants.
Unfortunately, this one mistake often leads to many more. Those mistakes can undo months or years of hard work spent building up a strong brand and a loyal patient base. There's nothing wrong with involving your employees in your social media management or online reputation management activities, but do yourself a favor and leave these crucial tasks to a professional online reputation management agency.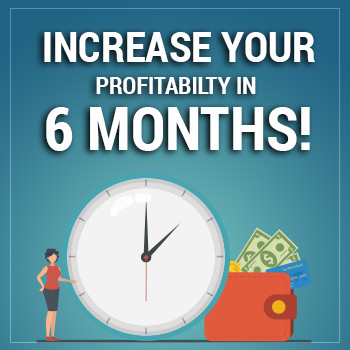 Also Read: The Whys and Hows of Choosing an Online Reputation Management Agency
5. Posting fake online reviews
It is vital to obtain reviews for your medical practice, but it is not an easy task to accomplish. Refrain from the temptation of posting fake patient reviews.
Fake reviews are a problem because they will get you caught by Google. You will either be penalized or even blocked. Most third-party review platforms have policies against posting fake reviews. Also, never post fake reviews for your competitors. This might hurt their reputation temporarily, but it will hurt your medical practice more if it gets out in the open. You'll look shady and underhanded, and your patients won't be impressed.
Conclusion
Online reputation management for doctors is very crucial. Avoiding these five common mistakes will help you steer it in the right direction. Not to mention, partnering with the right online reputation management agency to build, protect and manage your online reputation is another step in the right direction.
Continue reading our blogs for more tips and insights on medical online reputation management.
Are you looking for professional help to fix your online reputation? Get in touch with us and discover a better way to manage your medical practice's online reputation. Contact us today for a complimentary ORM consultation.