10 Proven Lead Generation Strategies for Your Medical Practice
Posted on

Does this situation sound familiar to you?
You have been successfully growing your medical practice through word-of-mouth referrals and retaining existing patients; you have a healthy online reputation, experienced staff and things are going very well. However, you have lately started to realize that referrals may no longer be enough to sustain your practice for long. You want to try some online healthcare marketing and lead-generation tactics, but you are not too sure which strategies to implement and what approach to follow. However, despite your lack of knowledge about online marketing companies, you still want to leverage the Internet to grow your practice. This is why you are reading this. Right?
The good news is that there are some effective tricks and strategies for improving lead generation. However, the bad news is there is no magic wand; nothing that will instantly help you dominate your target market and drive leads to your practice.
When most healthcare marketers think about lead generation, they tend to focus on the conversion part of the process and, therefore, put more emphasis on the perfect call to action and getting website visitors to take the required action, such as filling out a form. Marketers get so engrossed in perfecting the conversion process that they forget the process of how to get their target to their website. They forget that lead generation starts long before the visitors fill out the contact form.
You just cannot have a strong conversion process without a strong lead-generation mechanism. Lead generation becomes effective the moment your target audience first hears about your practice if you want to have a robust lead-conversion strategy.
You Must Make a Bigger Impact
For an average consumer, the abundance of information often results in attention scarcity. Your lead-generation strategies must aim higher if you want to make a lasting impact on your target audience. Most potential patients today are doing their research online, comparing services of various healthcare providers. And by the time they make that first call to your office, they do what they want. This means that you have to continually create content that gives these seekers the information they need to make the final decision. You want to be able to communicate with these potential patients with highly personalized content.

It is nearly impossible to be effective at any lead-generation strategy if you do not have content. If you are thinking of investing in lead generation without using unique and useful content, you will end up generating low-quality leads from potential patients who are only looking for the lowest price and convenient service. Why? Because if you give potential patients no other criteria by which to evaluate you, they will always make a decision based on price (or ease of location). If the price is their main criteria, that is going to be their default mode of decision-making.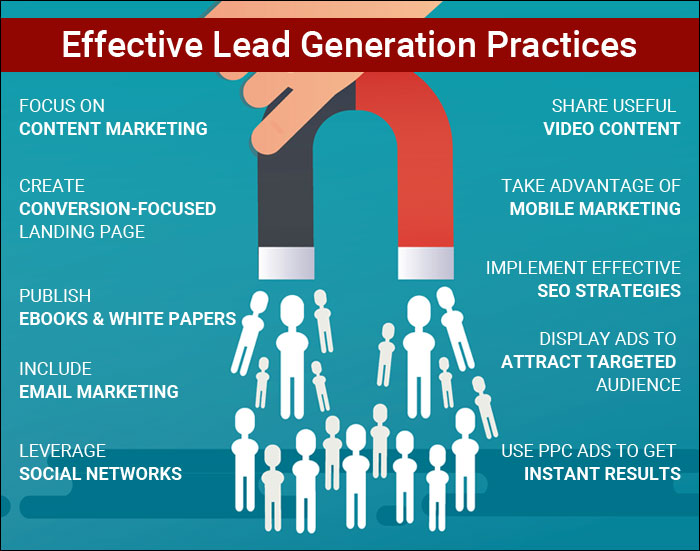 Good content has the potential to drive a significant amount of leads to your practice website. Content marketing presents a huge opportunity to create relationships and trust between your practice and potential patients.
Here are 10 of the most effective strategies to help you improve your lead-generation rates and for continued lead nurturing down the road.
1. Create an Impactful Landing Page: Potential patients visit your website to read content. But how can you make them stay for long and keep coming back? What page opens when traffic lands on your website? What kind of content do you offer at this stage? While the "About Us" page is ideal as a landing page, it will not do much as far as attracting leads for you. You may experience high bounce rates and low-return visitor rates.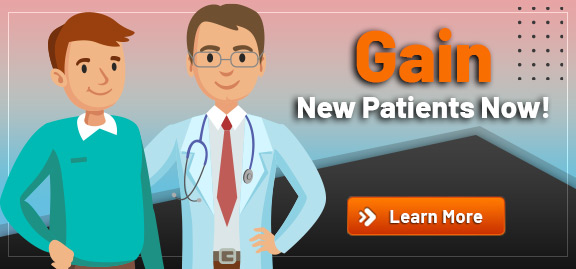 Lead-generation landing pages have an even more specific purpose. If your website can draw and engage prospects, landing pages will turn them into leads. According to a survey from Ascend2, nearly 93 percent of respondents said improving conversion rates is one of the most important objectives of a landing page. A high-converting landing page generates leads faster than any other content on your website. Through your landing page, you can extend marketing offers, collect contact information from your site visitors and also understand engaged prospects.
2. Focus on Social Networks: In recent years, social networks have become a legitimate lead-generation channel. With Facebook advertising, Twitter cards and LinkedIn's sponsored ads, social networks have come a long way in strengthening lead-generation campaigns. Driving targeted traffic to your practice website should be the core objective of using social networks. However, unless you have a large team to manage your social media marketing, it is a mistake to attempt to be present on every social network. Most healthcare marketers agree that it is important to implement a patient-centric approach when it comes to social media marketing efforts. A blanket approach is a good one to take. So if you can avoid it, do not push the same message out across all networks. It is critical to tailor your messages based on who your target audience are and what they expect from you.
3. Share Unique and Useful Content: Compelling content plays a significant role in generating leads. This includes the tools used to generate traffic, such as a blog, search engine optimization (SEO), paid ads and social networks. Creating compelling content is critical to establishing yourself as an expert in your specialty. When you publish valuable content that educates and entertains your patients, you earn their loyalty. It is easier to convert leads once you have gained their trust. Here are some of the ways useful content can generate leads:
Attracts target audience to your website.
Keeps website visitors engaged enough to provide their contact information, such as email ID.
Continues to keep leads engaged to eventually become paying patients.
Creates enough brand awareness to motivate visitors to call your office for an appointment.
4. Start a Blog: The top three goals of good content marketing are lead generation, thought leadership and brand awareness. This shows how crucial content marketing is for lead generation. That is because when you create unique and useful content, it has the possibility to go viral and be seen by potential patients, eventually attracting more leads. However, for the content strategy to work well, you should write your own blog. It may interest you to know that most healthcare marketers have their own blog. This is so they can attract their target audience who may end up becoming regular customers. Blogs are one of the most effective lead-generation tactics on the Internet. An updated and consistent blog can help you boost your search engine ranking and make it easier for potential patients to find you.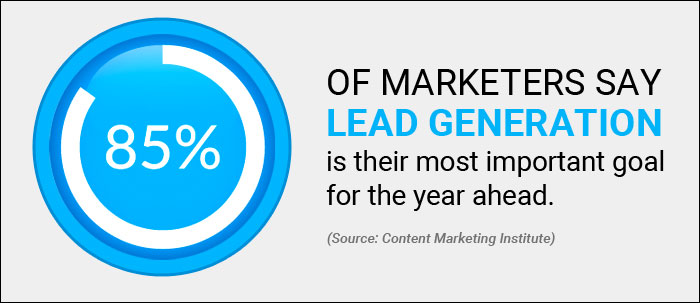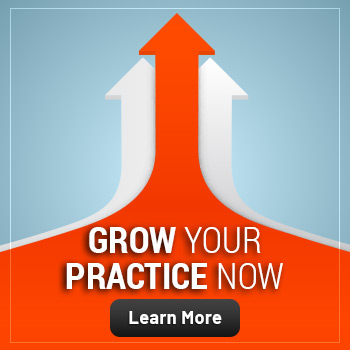 5. Leverage Email Marketing: Email marketing is one of the best sources for lead generation. Many medical practices turn to email marketing to generate leads as it has proved to be the most successful tactic over the years. Lead generation through email marketing is mainly dependent on how effectively you draft your message. Your email needs to capture the reader's attention, provide relevant information, encourage interest and have an effective call-to-action. To achieve this, you must first start by building a compelling subject line. The subject line of your promotional email determines whether the potential patient is going to read your email and become a vital part of your email. Write the email's subject line in a way that provides value, is relatable and is actionable. In addition, the subject line must be short and stand out from your lead's cluttered mailbox.
6. Nurture Strong Relationships With Patients: Sometimes we get so engrossed in getting hold of what's new that we forget what is already in front of us. If you are using your practice's resources to attract new patients, you need to spare some resources for your current patients. You can consider reversing the scheduling process by following up with patients for a new appointment slot. You can also send email reminders before scheduled checkups to ask your patients to post an online review for your practice. Similarly, if you have prescribed medication to a patient, you must follow up and ask if the treatment plan is working or if the patient is experiencing side effects. These small steps can mean a lot to a patient as it shows that you care about their well-being, which will help keep them around for a long time.
7. Encourage Online Patient Reviews: Online reviews are one of the most efficient ways for growing new leads and attracting potential patients to your practice. You must encourage your existing patients to share their feedback through an online review. You can do this by sending a follow-up email thanking the patient for his or her visit and encouraging them to review your practice online. You can also offer discounts or free services to motivate patients for posting online reviews for your practice. With the patient's permission, you can also make these reviews public by sharing them on your practice website. It will not only help improve lead generation and strengthen patient relationships but will also get your name out there.
8. Deliver Unmatched Patient Service: According to recent survey on what motivates customers to make recommendations, a whopping 93 percent of respondents said "a positive experience with the brand" is the most important aspect. A positive brand experience makes customers happy, and happy customers are the most potent marketing assets you can have. Happy patients are a powerful lead-generation channel. They will talk about their experience with your brand anywhere and make prospects interested in your brand. There is no way your existing patients will refer others to your practice if they are not satisfied with your attitude and services. You have to show real interest in your existing patients. Your bedside manner and the look and feel of your practice are very important. You must be able to communicate with your patients and make your presence positive and uplifting.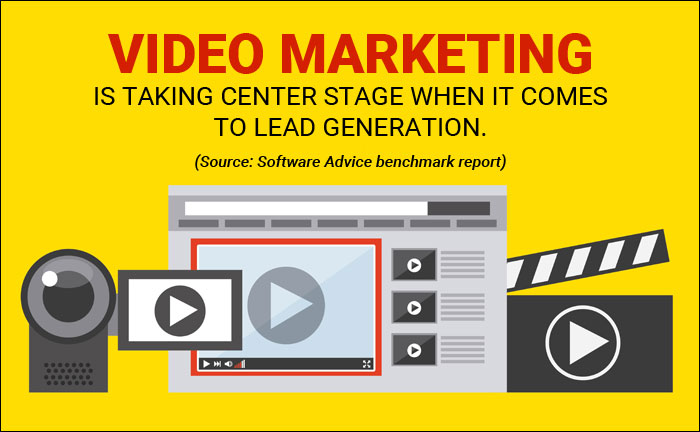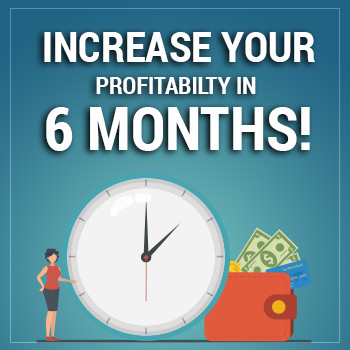 9. Do Not Underestimate Video Content: Human beings process visual content 60,000 times faster than text content. In addition, our Internet-dominated lives are increasing our appetite for quick and easy visual content. Therefore, visual content should be an important component of your lead-generation strategy. While informative and shareable infographics are a great way to visually present complex information, the popularity of video continues to skyrocket. Videos are a surefire way to stay ahead of the marketing curve. Educational, how-to and FAQ videos are simple to create and provide value to your target audience.
10. Educate Your Patients With eBooks and White Papers: Offering free white papers and eBooks is a great way to create email lists to better segment your target audience. According to healthcare marketing experts, you can do this if you provide something of value to your potential patients. They will then give you their respect, time, loyalty and their business. Targeting your eBooks and white papers to the target audience is important and can be done in various ways, including Facebook Ads, LinkedIn Groups or Twitter hashtags.
Conclusion
Lead generation plays a role in every practice's marketing strategy. Think about how many websites you have visited recently that you will never return to again. Not only did those practices fail to capture your attention, they also failed to reconnect with you in the future.
Generating high-quality leads is an integral step toward growing your medical practice. The more prospects drop into your sales funnel, the more leads you will produce and the more paying patients you will gain. You must remember: In order to attract good leads, you must be looking in the right place. Moreover, the more active you are in the process, the more success you will have. If there is one "secret" to producing qualified leads, it is to be more active.
At Practice Builders, we know how to attract and generate new leads for medical practices. In fact, we have a whole team of experts who can help you earn the trust of potential patients. Contact us today to design a unique lead-generation strategy for your medical practice.