4 Hacks to Up Your Healthcare Online Reputation Improvement Plan
Posted on

You might be in awe of your caring staff and amazed by the quality of services provided by your practice, but what should matter most is if your target audience thinks the same.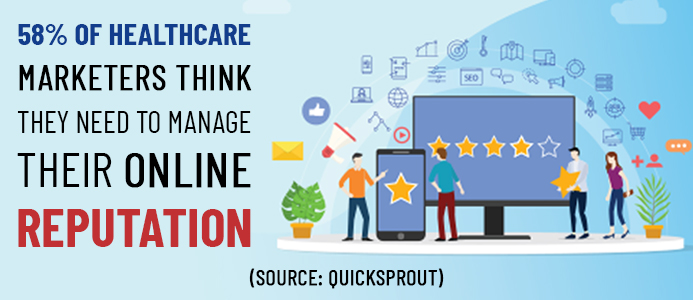 Unfortunately, there is nothing much you can do to control how people perceive your brand and what they post online about your medical practice. Negative reviews take up a part of many practice owner's lives. The best thing you can do is monitor what is being said about your brand online and take steps to minimize the impact of negative comments on your practice.

In short, being aware of your brand's online mentions and responding appropriately, is what healthcare online reputation improvement entails.
What is the right way to do healthcare reputation management?
Your healthcare practice's online reputation is constantly evolving and being re-defined by online reviews, blog posts, and social media comments. When a new patient discovers your practice, they make assumptions and decisions based on the content available online. If you want to cut through the noise, keep your practice afloat, attract more patients and maintain a stellar online reputation. These points will help you to manage and improve the online content proactively.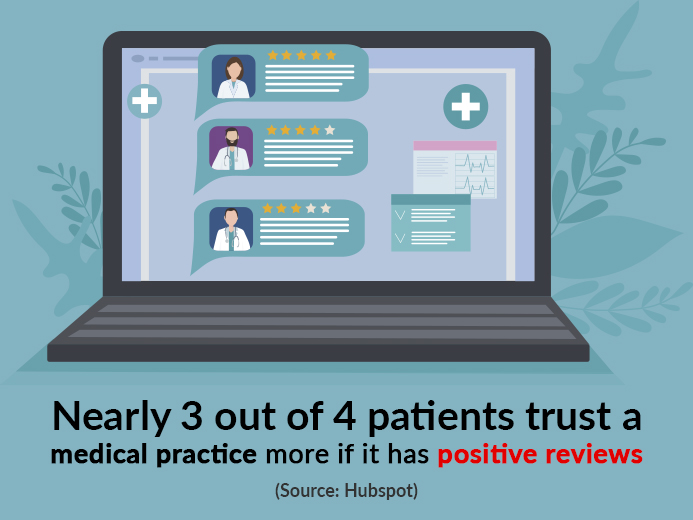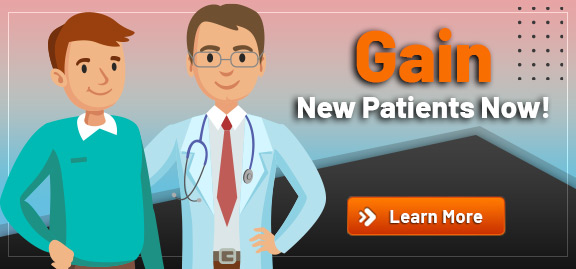 Without any further ado, let us look at some easy and effective hacks to build your healthcare online reputation improvement plan:
1. Keep your online presence up-to-date
Taking the reins on how your website appears on Google and across the search engines is extremely important. This means updating your Google my Business listing, claiming your profiles on third-party review sites (especially specialty-specific sites) with the correct information for your medical practice. You can also consider blogging to answer common queries at least once a month. You may consider sharing the latest gadgets or services and how your practice is planning to introduce them. Sharing relevant information will show search engines that you are active and authority in your niche, improving your online ranking.
2. Leverage social networks
People may leave bad reviews for your medical practice on your social media handles that may reflect poorly on your brand. The good news is that you can use healthcare reputation management tools to track and respond to social mentions of your brand. You can use these tools to respond to online reviews, especially negative ones, to show your patients that you care about them. When responding to negative reviews, the first step should be to acknowledge the problem and connect offline with the reviewer. If the reviewer agrees to talk it out, do anything in your power to resolve the issue and request that they update the negative review accordingly. Often, a negative review can be converted into a positive one if you talk it out with the patient and resolve their problem.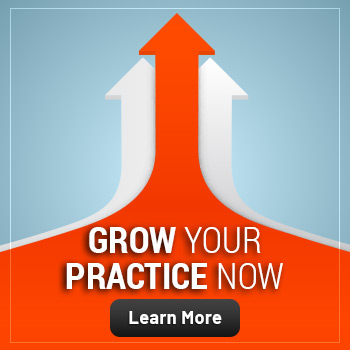 3. Stay on top of online reviews
You may begin to notice a pattern in the negative reviews by regularly monitoring sites where people post reviews of your medical practice. This pattern will help you fix problems in healthcare reputation management you may never have noticed otherwise. If patients consistently complain about call wait times, you can evaluate your scheduling practices and hire more staff or implement an automated appointment scheduling software.
4. Hire a healthcare reputation management consultant
If you feel overwhelmed by the responsibilities associated with maintaining a stellar online reputation, you are not alone. Many different medical practices turn to healthcare reputation management firms to help manage their online presence. Healthcare reputation management is a full-time job. Experts who can provide the right amount of attention and expertise can help doctors who lack the time or skills needed to get it right. Find an experienced healthcare reputation management vendor that you trust with your reputation and delegate the tasks.
Conclusion
To survive the posts of upset patients, be aware of how and when to actively protect your online reputation. Regardless of your size and specialty, you cannot afford to neglect online reputation management.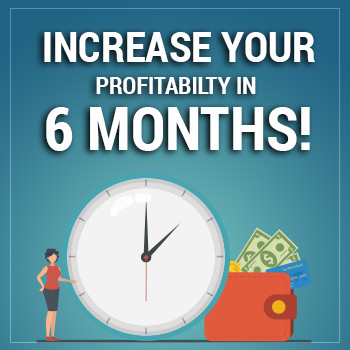 At Practice Builders, an experienced healthcare reputation management agency, we understand the importance of building and maintaining a robust online reputation.
Contact our experts to know more about how our healthcare reputation management services can help you achieve 5-star online ratings and reviews.