5 Digital Marketing Ideas for Hospitals in 2022
Posted on

Have you started planning your digital marketing strategies for 2021? Are you wondering how to add that necessary flare to make your campaigns stand out from the crowd? If yes, you have come to the right place!
In order to be successful, your healthcare marketing campaigns for 2021 should do much more than just promote your medical practice. Your campaigns should be memorable, engaging your target audience, and provoking them to take the next step. For all of this to happen, you will have to think outside the box. Along with a creative mind, you must also have knowledgeable information about your target audience, preferred digital channels, marketing budget, goals, and timelines.
Innovative Digital Marketing Strategies for Hospitals
Digital marketing for hospitals is evolving rapidly. Strategies that worked brilliantly earlier, outside of digital marketing, are losing steam. In fact, there are numerous studies to prove how healthcare marketers are using digital marketing strategies like social media management, search engine optimization (SEO), and pay-per-click (PPC) advertising to reach their target audience more than ever before. Influencer marketing is an excellent example of a successful digital marketing strategy for hospitals. The question is, what digital marketing strategies do we expect to work better than others in 2021?

Read on!
1. Content Marketing
This strategy aims to create and share relevant and engaging content that promotes interest in your brand and services by your target audience. The most common types of content include infographics, blogging, video, ebooks, and white papers. Hospitals use content marketing to attract more visitors to their website, grow their email lists, and generate more leads. The best part about this digital marketing strategy for hospitals is that you can get as creative as you like and easily track results by analytics.
2. Search Engine Optimization (SEO)
SEO is all about optimizing your hospital website to rank higher in search engine results, for phrases and words related to your hospital. SEO can be explained as a technique that helps your website rank higher in organic search results, making your content more visible to prospects looking for your brand or service via search engines like Google. The more keywords your website ranks for — and the higher it ranks — the more prospects will see and become familiar with your website and hospital.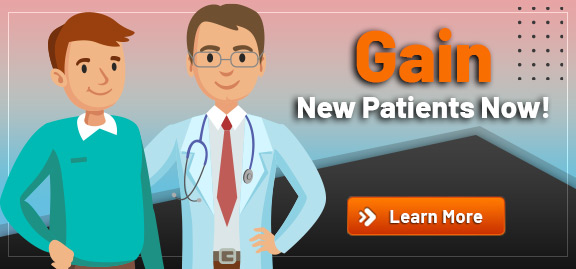 SEO consists of patient persona research, keyword research, and on-page SEO. Researching these three areas can help you understand online search patterns, so that you can optimize your website to get discovered by the right people at the right time.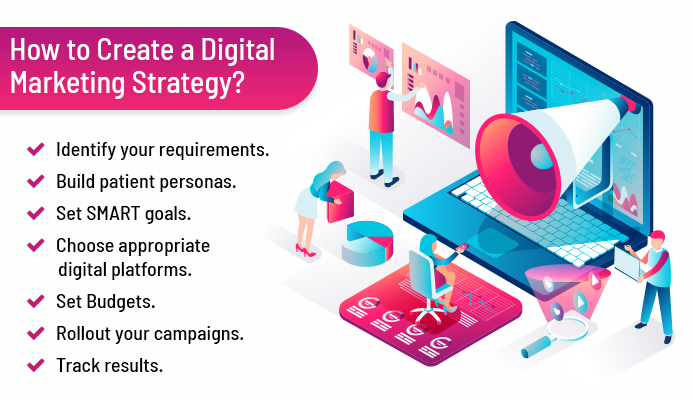 3. Email Marketing
This strategy has been one of the most influential and popular digital healthcare marketing strategies for hospitals. With email marketing, you can attract, engage, and market to your own list of subscribers, increasing your chances of turning passive patients into paying patients. You can utilize various methods to grow your email list, including promoting downloadable health-related content, capturing email addresses on the website, and retargeting patients with paid ads.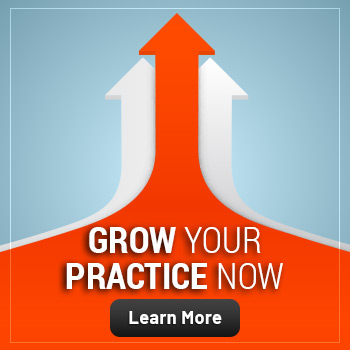 4. Social Media Management
Most of us are familiar with social networks such as Facebook, Twitter, and Instagram. In addition to being great for staying in touch with family and friends, they are also powerful tools to grow your hospital. A well-created digital marketing strategy that includes social media marketing will allow you to reach more new patients, engage existing ones, and drive unpaid traffic to your hospital website. If planned well, your social media marketing strategy can complement your paid ads and content marketing campaigns.
5. Influencer Marketing
Though influencer marketing goes back as far as the 1920's, its popularity skyrocketed in the early 2000's. This digital marketing strategy for hospitals involves partnering with well-known celebrities to promote services that are offered to their fans and followers. Hospitals can use influencer marketing to reach different niche audiences, gain more followers on social networks, and drive revenue. One of the biggest reasons this strategy is successful is because most influencers have a highly engaged niche audience who are very likely to try the recommended services.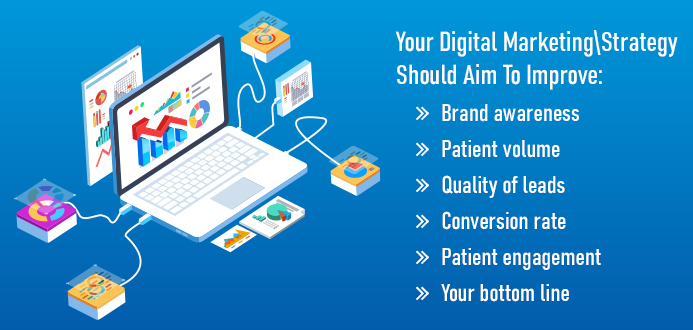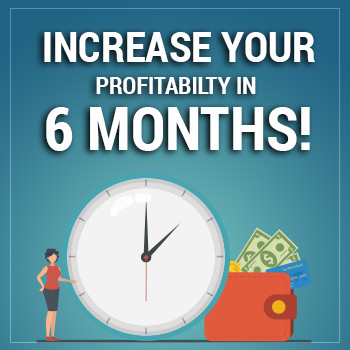 We can tell you a 'Secret' Doctor Healthcare Marketing Strategy That Will Make or Break Your Practice. Interested? Here it is!
Conclusion
The success of your digital marketing strategies for hospitals depends on the planning and execution of them. This is the reason most successful hospitals partner with Practice Builders, a full-service digital marketing agency for hospitals that provides custom, results-driven healthcare marketing solutions.
Start building your personalized growth strategy by contacting our award-winning team of experts today!