Chiropractor Reputation Management: Tips and Tricks
Posted on

It's 2021, and if you're still not convinced with the idea of building and managing your chiropractor practice's online reputation, read these stats:
57% of people will only consider a brand if it has four or more stars.
40% of potential patients may not even consider your practice due to negative online reviews.
A positive reputation online helps patients trust practitioners and boosts search rankings.
But what can you do if your chiropractor practice is facing bad online reviews and your services are being criticized on social media networks? With all the hard work that goes into getting organic website traffic and attracting patients to your practice, you cannot afford to ignore the attacks on your online reputation.
How can you fix your Internet reputation?
That's one of the most frequently asked questions – "How can I fix my online reputation?"
Chiropractor reputation management is challenging. Negative reviews and comments are public – every remark about your staff and every stone launched at your services leaves a digital scar that potential patients can see. Instead of waiting for the storm to pass, following an aggressive online reputation management approach is the best way to minimize the damage and fix your bad online reputation.

There are a lot of misconceptions about chiropractor reputation management. Some marketers and practice owners believe that fixing a bad reputation online is about social media monitoring, while others think it has more to do with patient relations, and some have no clue how an attack on online reputations can impact their bottom lines.
The key to minimizing the impact of a bad online reputation is to have an aggressive online reputation management strategy in place. By planning, you will be better prepared to respond and minimize financial loss.
What is the average cost of online reputation management?
What is the real cost of a damaged reputation? Well, it can lead to a loss of patients. When patients feel that you didn't respond well to negative comments and remarks left by other patients, they might feel insecure and take their business to your competitors.
Patients may also choose to vent their opinions on social networks, which may further damage your online reputation. It is crucial to have an aggressive approach to dealing with social media crises. Most healthcare marketers believe that negative posts on social networks are one of the greatest reputational threats.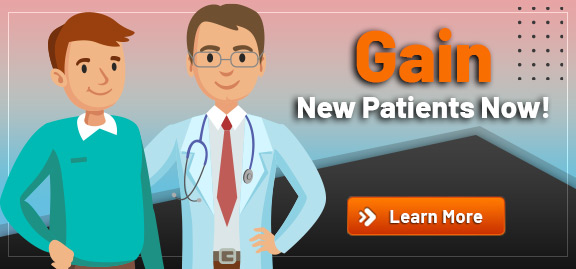 Online reputation problems, if ignored, can flare up and cost your practice thousands or hundreds of thousands of dollars.
Chiropractor Reputation Management Tips
Now that you understand why your practice's online reputation matters, here are some proven tips and tricks to help you protect and build up your reputation.
1. Monitor Social Media Accounts
Merely having multiple social media accounts for your chiropractor practice is not enough to protect your online reputation. They must be regularly maintained to attract an organic fan following. By frequently filling your social media feeds with exciting content, you will boost engagement rates, increase your influence, and have the opportunity to interact with existing and new patients.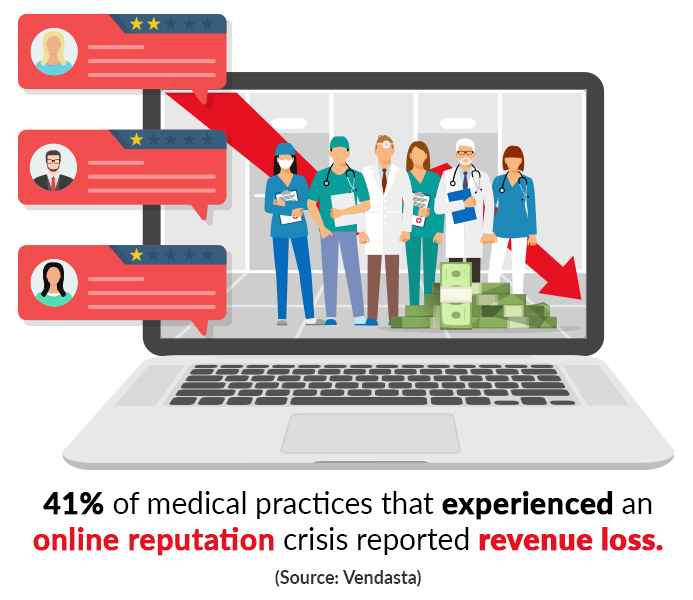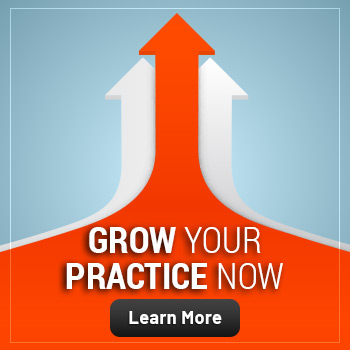 2. Respond to Online Reviews
This is probably the #1 online reputation management tactic. According to various reports, the majority of people read online reviews before choosing their chiropractor. With this in mind, asking your patients to provide reviews on Google My Business, social media profiles, or third-party review sites like Vitals will help you build a positive reputation. In addition to collecting new reviews, reputation management also depends on how you respond to negative reviews. Make sure to respond to every single online review you receive – negative or positive.
3. Post Blogs Frequently
Posting blogs is a fantastic way to build and improve your online reputation. Frequent blogging will allow you to demonstrate expertise and leadership in your niche. Your blogs will help you gain a loyal following by providing readers with trusted answers to common questions related to your services. Also, blogging will improve your rankings by boosting your local SEO.
4. Build Relationships With Patients
When responding to negative comments online, keep in mind that problems highlighted in some of the comments might be valid. Rather than merely disregarding negative comments, address them professionally while considering if the feedback can be used to improve your services. Always treat your patients with respect and value their feedback. The way you respond to negative comments online could very well be driving current and potential patients into your competitors' offices without even knowing it. Listen to every single complaint and respond with respect rather than defensiveness.
5. Accept and Fix Your Mistakes
We all make mistakes, but not handling them quickly and professionally can be detrimental to your practice. If you and your staff make a mistake, own up to it and make a genuine apology to the affected patients. A sincere apology followed by genuine amends will work wonders in diffusing challenging situations and repairing relationships with patients.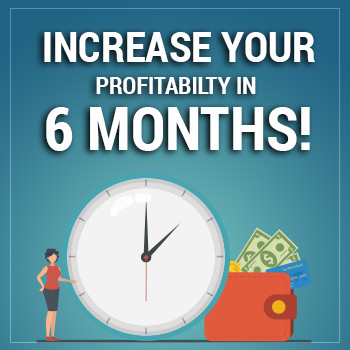 6. Never Engage in Arguments Publicly
Regardless of who is right or wrong, engaging in public mudslinging will almost always damage your image more. By reacting to criticism emotionally, you could end up saying or doing things that damage your online reputation. The best way to avoid a public argument is to move the conversation offline. Staying professional will likely win over more patients than being "right" in a public argument.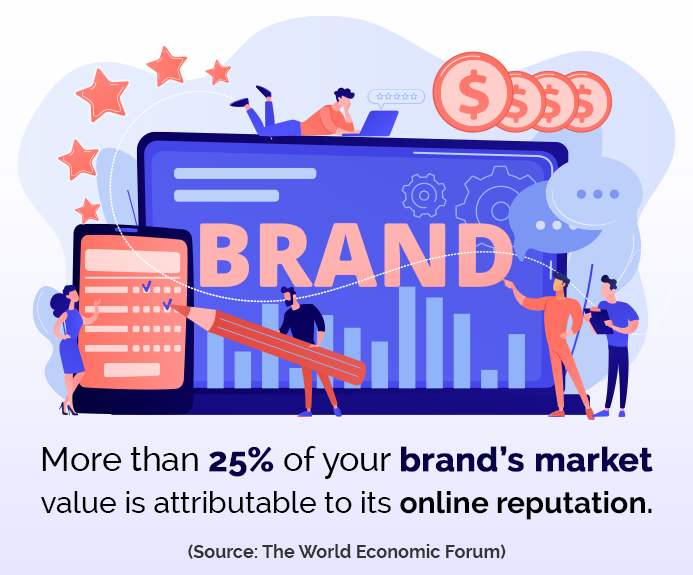 7. Invest in Aggressive Online Reputation Management Strategies
Establishing your online reputation requires an investment of time and money. However, many chiropractor practices neglect their reputation until a severe problem arises. Proactive chiropractor reputation management is an essential element of your healthcare digital marketing strategy. If you lack the know-how needed to build and protect your online reputation, consider hiring an experienced online reputation management agency to handle it for you.
Conclusion
If you are not happy with your online reputation, then start fixing it today. The longer you wait, the more damage your chiropractor practice will incur. If the problem is still manageable, start with some of the DIY tips discussed here. However, when things start to get out of hand, know there are professional online reputation management agencies like
Practice Builders out there to help you. Contact our experts and start fixing your reputation today.