Marketing Tips for Medical Practices During the COVID-19 Pandemic
Posted on

Three months ago, the world was a different place. And then the coronavirus came, and everything changed. The pandemic is rattling the world as a whole, and businesses, including medical practices, are scrambling to manage this pandemic – both internally and externally.
If you are a medical practitioner, chances are you are dealing with a rush of coronavirus patients. For coronavirus-infected people, it can be a life-and-death situation. As patients navigate this uncharted territory, medical practices need to respond with sensitivity and empathy.
The Internet is rife with patient questions like:
Is a headache a symptom of the coronavirus?
Is coughing a sign of the coronavirus?
Is the coronavirus contagious before symptoms show?
As a medical practitioner, your job is not only to treat your patients but also to make sure that they are informed and ready for any health-related crises that might arise. Yes, you need to support your overworked staff during these trying times, but you must also look for ways to engage your patients.
Our team at Practice Builders is busy advising medical practices about how they should adjust their marketing efforts in response to the coronavirus pandemic, and we thought it would be a good idea to share some of our thinking with our readers, as well.
Marketing Ideas for Medical Practices During the Coronavirus Period
The core of this healthcare marketing strategy is a three-pronged approach to educate patients about the coronavirus, identify infected patients and treat them appropriately.

Educate: Stay in touch with all your patients. Help them stay healthy by sharing best practices and addressing any misconceptions they have.
Identify: In case some of your patients are experiencing symptoms of coronavirus, it is essential to determine if the illness is regular flu or COVID-19.
Treat: Once you have identified positive cases of COVID-19, triage them appropriately and make sure they receive care as soon as possible.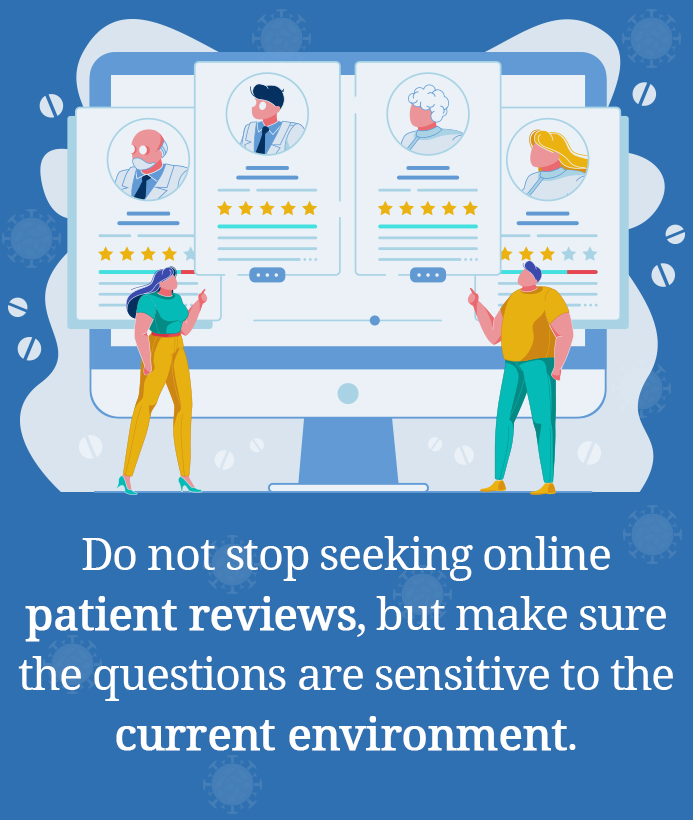 Effective Ways to Engage and Educate Patients
Given the degree of confusion and hysteria around us, you need to reach out to every patient on your contact list, even patients who have not visited your practice for several years.
As healthcare providers, you should take a proactive approach in dispelling misinformation and keeping patients safe. The message you can send to patients should contain information about how dangerous the coronavirus is and what makes it different from other viruses. At the end of your message, do not forget to share actionable tips to help patients stay safe from this pandemic.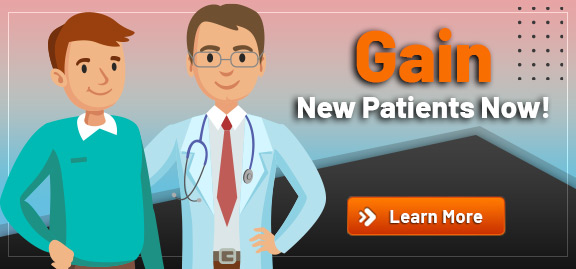 Website:
We understand you might be experiencing an influx of patient inquiries, mainly if they think they have been exposed to coronavirus or how to test for coronavirus.
Unless your medical practice is offering specialized services such as telemedicine or in-person evaluations for potentially infected patients, it's essential to educate your patients (and the public in general) about what coronavirus feels like.
We recommend creating a mobile-responsive web page telling patients every bit of information about COVID-19. You can also use this space to inform people about your extended services.
You can use this sample message on your website:
"If you are experiencing symptoms that may resemble a coronavirus infection, we strongly recommend getting evaluated immediately. You can call this number [Phone Number] to schedule an in-person visit at your earliest convenience."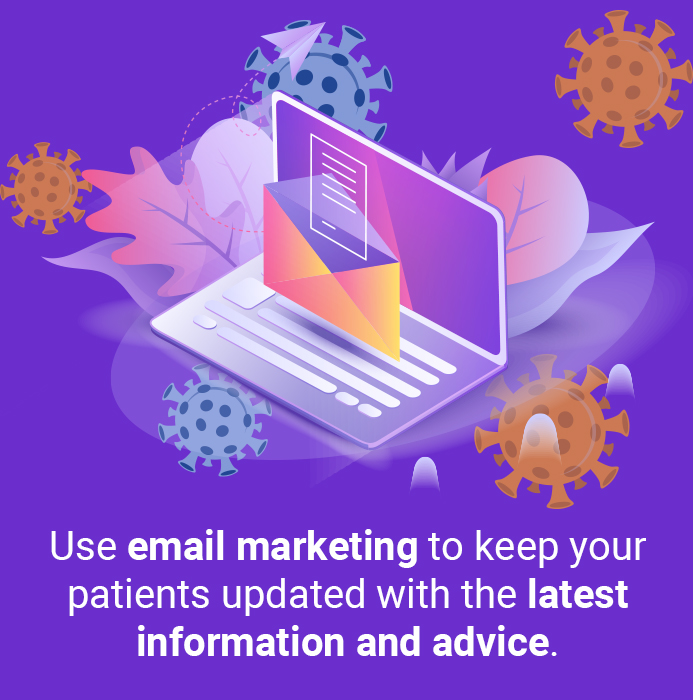 Send Appointment Reminders
If you are currently sending out appointment reminders, you will understand the importance of automated messages. Consider extending free screening to potentially infected COVID-19 patients. In your reminder messages, you can include more than just the time and date of appointments.
Use this opportunity to inform patients about the sensitivity of the situation, how quickly coronavirus is spreading, who is at risk and the steps your patients can take to stay safe. You can also include a link to information about coronavirus symptoms and treatment.
You can use this sample message for sending out appointment reminders:
"We wanted to remind you that your next appointment with [Doctor's Name] is scheduled for [Date/Time].
We look forward to seeing you.
"We genuinely care about your well-being, so if you are living in a high-risk area for COVID-19, or if you are experiencing fever, cough and shortness of breath, please call us immediately at [Phone Number]. Until you see us, please avoid contact with others."
By making this simple change, you can help reduce the unnecessary spread of infection.
Leverage Social Networks
Due to an influx of mixed information online, your patients might be confused about whether they are infected with COVID-19 or what steps they should take if they have COVID-19.
Apart from the general precautionary measures, such as washing your hands, avoiding sick people and practicing social distancing, there's no rulebook to staying healthy and safe. Your patients may want to ask a hundred more questions, including but not restricted to:
What are coronavirus symptoms, and when and where should I get tested?
How does the coronavirus spread?
Can I recover from the coronavirus?
How will I know if I have the coronavirus?
How can I differentiate between regular flu and the coronavirus?
There are no right or wrong answers. The best you can do is utilize channels like social networks, email marketing, blogs and paid ads to spread the right information about this pandemic and drive people in your community to appropriate websites or content.
If you have not yet started sharing coronavirus content on your website and social media profiles, you can start right now. This is the right time. Just make sure that whatever information you share is medically accurate and does not provoke any negative sentiments. Also, ensure that appropriate ethical and legal safeguards are in place.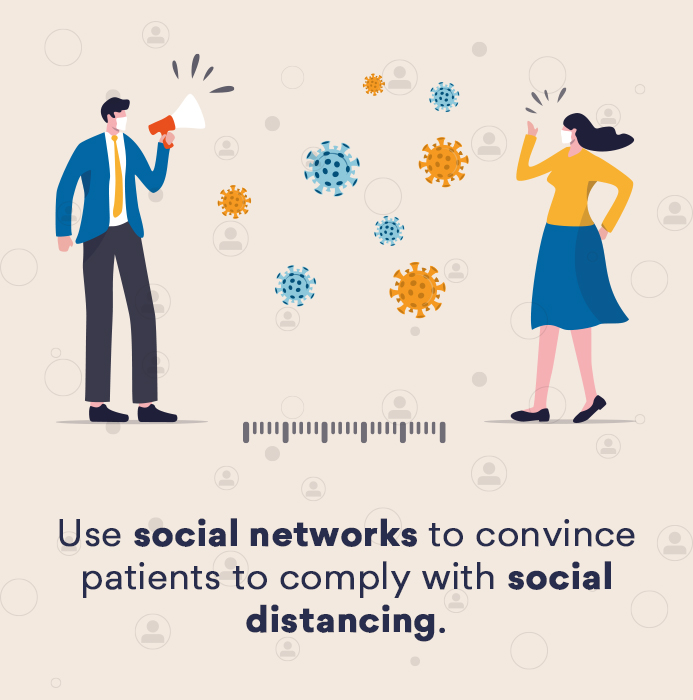 Key Takeaways
Make sure your website is optimized for coronavirus-related searches. Update your Google My Business page with the most accurate, up-to-date information so that patients do not waste time looking for your updated contact details. Improve your website user experience to make sure it educates visitors on common signs and symptoms of the coronavirus. Explore paid advertising opportunities, including social media ads, to spread the right information about the coronavirus. If the rush of patients is keeping your busy and frequently updating social media is not a viable option, consider sending an email to your patients, telling them how they can perform self-quarantine for the coronavirus. You can make a quick video telling people what COVID-19 is and what its symptoms are. Short videos will not only help educate your patients but will also help you stand out from the crowd.
These are trying times for all healthcare professionals. Simple yet effective communication can help reduce your patients' fears and eliminate misinformation while ensuring they are well-informed and have seamless access to care.
At Practice Builders, we can ensure active patient engagement on your behalf so that you can do what you are good at: patient care. Let's all come together during this hour of need. Stay safe; stay healthy.
Contact us today for a free demo of our services.