25 Ways to Measure Patient Satisfaction
Posted on

The assessment of patient satisfaction is an integral part of quality improvement activity done by health care providers. The instrument of the patient satisfaction provided here is intended to equip you with three aspects to measure and grow your practice with highly satisfied patients. These sections are- Strategic Milestones, Quick Solution Guide, and Checklist of Cares.
I. Strategic Insight
1. Elevate Cognitive Satisfaction by Giving Information
Higher Quartile Range 4.71 to 5 Patient Satisfaction Score is linked to Good Nursing Care (on a scale of 0-5)
Patient satisfaction with nursing care is not significantly related to patient acuity or other individual patient data like age, gender, marital status, length of stay, type of treatment, number of previous visits, race, payer source, pain, or presence of chronic health problems. We have uncovered that psychological safety and information giving were found to contribute significantly to patient satisfaction with the ED nurse. Patient satisfaction with nursing care contributed significantly to the patients' intention to return to the practice.
2. Identify Affective & Instrumental Communications
Health providers who wish to improve patient satisfaction and compliance should first identify components of communication needing improvement, and refine the skills to better serve patient empathy-related constructs.
Five hundred fifty outpatients at a large university hospital in Korea were interviewed with a questionnaire on patient satisfaction. On analysing the data by using structural equation modelling, patient-perceived physician empathy significantly influenced patient satisfaction
To test a model of physician empathy related constructs for patient satisfaction and compliance, get an expert opinion from right healthcare marketing expert.
3. Uplift Behavioural Satisfaction
A physician's behaviour is a main component in patient satisfaction. Hospitals tend to create a very harsh brick-wall approach that can harm patient satisfaction and care. To some extent, patient's may be over-questioning out of fear, which can cause some strife- think of how busy a hospital can be, and the weight of care that is in place. When confronted with such types of situations, doctors tend to give a rude reply. On the other hand, a physician's medical knowledge is very important for the care for patients, and unique clinical best practices of specialties would be a major determinant for the patient's medical use. Many studies have revealed the fact that patients expect to have a comfortable and warm interaction with a physician who appears to be technically competent and gives adequate information about the illness.

Prenatal-care and preventive care are essential factors for the many women who face issues during pregnancy, as well.
The impact of Behavioural Subscale is apparently significant along with other two subscales of measuring patient satisfaction – Cognitive Subscale and Affective Subscale.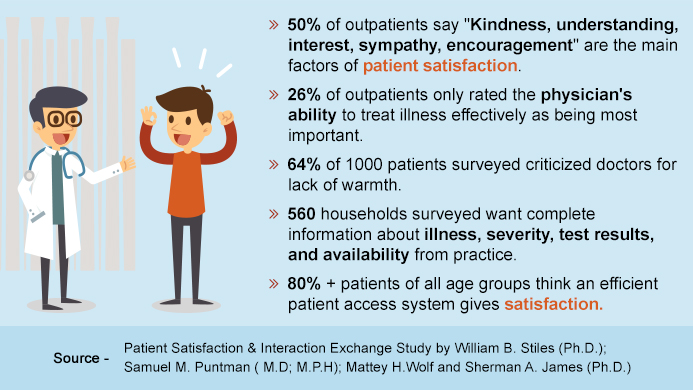 4. Get Patient Satisfaction By Laboratory & Diagnostic Care
World Health Organization (WHO) has recommended to country members to promote and develop healthcare services through the laboratory under the primary healthcare approach. A research study by Abera, R.G.; Abota, B.A.; Legese, M.H.; Negesso, A. has found that laboratory services impact significantly on patient satisfaction, indicating through laboratory services, hospital management can improve patient satisfaction.
5. Implement Preventive Healthcare
Patient-centred relations and motivation by physicians in bringing preventive changes in patients' lifestyle such as smoking, alcohol, weight, and physical activities has been proven. Implementation of good practice preventive care has the potential to significantly enhance healthcare results by lessening the prevalence of amenable risk aspects. The services of healthcare are well placed to address the issues of chronic disease prevention and administration, with every medical care visit being a potential chance to provide preventive care.
6. Impact Patient Satisfaction with Pre-natal Care
Deriving patient satisfaction from prenatal is a primary element in the healthcare sector for evaluating service delivery. Pregnant ladies prefer clinics which provide better facilities, such as pre & post-natal consultation, clinical tests, physical examinations, and knowledge about conditions, with friendly behaviour from the doctors. Satisfied patients have reported that practices have helped in easy scheduling the next visits and providing comfort during the natal phase.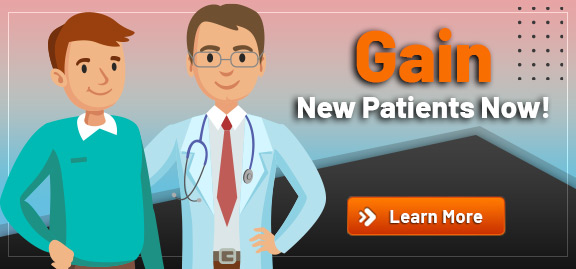 7. Focus on Patient Satisfaction with 'Follow-up Care'
Assess your practice on two questionnaires, lying deep in heart of every patient stepping in for follow ups-
"The physician gave me a thorough check-up" and "Are you satisfied with the services of paramedical staff'.
The findings of patient satisfaction study encourage healthcare organizations to boost their service delivery for follow-up patients and collect feedback from them after each follow-up visit. Having a feedback via software or online, is ideal way to get precise insight into satisfaction score during complete treatment lifecycle.
8. Measure Patient Satisfaction via Referral & Review Tracking
Patient satisfaction not only directly impacts repeat walk-ins but also the top factor for referrals walk-ins. Making a mark on review driven market with satisfaction surveys and testimonials is a necessity for which your strategy shall include collecting and allowing web visitors to read reviews and engage in satisfaction polls about you.
Understand that the first interaction with your office is either the opinion maker or breaker, whether it is a receptionist or medical assistant, that first interaction is the face of your practice. You want – you need – that individual to be helpful and respectful.
Ask your medical solution provider to equip you with analytics dashboards, where you can easily track review trends and the course of your patient satisfaction graph. Practice Builders has been equipping insightful dashboards and analytics system to numerous clinics, which has been precisely informing them of their patient satisfaction scores and trends.
9. Swift Registration Creates Satisfied Patients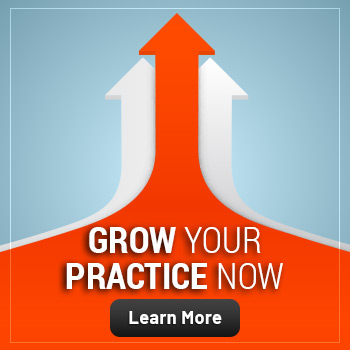 Registration being the first interface of a patient with your health facility, it shall essentially include the validation of demographic and insurance information while capturing patient data. With a durable foundation of medical records, data collected is utilized by multiple members across the healthcare team, to include Patient Accounts, Patient Information, Clinicians and Health Information Management.
10. Use Technology – Choose Solution Partner Wisely
Utilizing a reminder system integrated with your appointment scheduler is a key metric of successful customer help and schedule management. With alerts, notifications, and e-mailers, you can remind and notify patients and even get confirmations. Such system driven alerts and notifications are key factors to help patients understand that while waiting at the appointed time Clinics are transitioning by integrating appointment schedulers with cloud EHR they will send automated appointment reminders for a patient's overdue or upcoming follow-up appointments. This ensures that the patient's health is on top of your mind.
II. Quick Solution Guide
Below are Quick & Hassle-free Steps proven to augment satisfaction score among patients. Start your transformation journey to make your patients speak – "This is a great place that offers great service."
Happier and smarter staffs are the best source to channelize happier reviews from your patients. Train your staff to provide the best possible service by:
11. Answering the phone promptly with a smile in their voice
12. Never leaving a caller on hold for more than two minutes (it always feels longer when you're the one waiting)
13. Answering questions with "Let me find out," not with "I don't know"
14. Returning phone calls promptly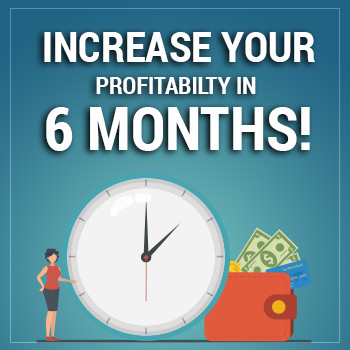 15. Politely and professionally asking feedback questionnaire. Asking patients for reviewing tour dental practice and guiding them to the review sites is a key skill that your staff should nurture
16. Publish your patient satisfaction polls, reviews on your blog, social pages, handles. Take one step ahead with tie-ups with other portals to allow posting your patients review.
III. Checklist of Cares
The variables of patient satisfaction and validating seven interpretable factors, were identified impacting a patient satisfaction cumulative score of 68.03%
These were labelled:
17. Nutritional Care, involving items about quality of foods and serving:
Quantity of the food
Quality and taste of the food
Food-service time
Cleanliness of the food
Cleanliness of food service staff
Courtesy of food service staff
Cleanliness of the dishes
18. Physician Care:
Communication of physician
Concern and caring by physician
Information given by physician
Contacting to physician
Skill of physician
Behaving respectfully in privacy by physician
19. Nursing Care:
Information about services by nurses
Meeting by nurses
Information given by nurses
Skills and competence of nurses
Amount of time your nurses spent with patient
Nursing staff response to patient's call
Behaving respectfully in privacy by nurses
20. Room Care:
Room temperature
Room lighting
Room airing
Quality of the bed
Room security
21. Sanitation Care:
Cleanliness of bath and toilet in room/service
Cleanliness of the bed
22. Infrastructure Care:
The sign of directions
Cafeteria
Information at entrance
Parking
23. Information Touchpoints:
Set up feedback kiosks to take patient feedback in hospitals,
Multi-channel feedback enablement – via SMS, IVR, Online, By Invite, and App
24. Feedback Response Management:
Let teams work together on feedbacks and act using response management system by Practice Builders. Your solution provider will equip you to easily tag lower feedbacks and mark those which require follow-ups. Take corrective actions to close the feedback loop.
25. Meet Daily with Satisfaction Team:
Set up instant alerts for negative feedbacks and perform the schedule daily digests with your people looking to uplifting patient satisfaction score.