5 Things That Determine The Online Reputation of Your Practice
Posted on

In an age where research for physicians and healthcare facilities is done primarily online, the way your medical practice is represented online is of utmost importance to your growth and profitability. As a medical practice owner, it is more important than ever to pay attention to your online reputation.
Your medical practice's positive reputation is one of its greatest assets. A strong reputation will differentiate your practice from the competition, and patients will pay a premium to consult a reliable healthcare professional they can trust.
In the past, a medical practice's reputation was established over time by word-of-mouth. Today, thanks to the Internet, reputations can rise and fall based on online reviews instantly accessible to a wide audience. A positive review can bring a flood of business. A bad comment can make a dent in your bottom line.
Most healthcare professionals today have realized that online reputation can make or break their practice. According to research, nearly 84 percent of potential patients research medical practitioners online before setting foot in their office. This means your patients know what others say about you before they even get to meet you.
Checking online reviews is not just a passing trend. In fact, according to a study conducted in the US National Library of Medicine, more than 90 percent of searchers look up online reviews before engaging in business with an organization. When patients find doctors with outstanding online reviews, they are likely to spend more money to see them. In a recent study by Software Advice, almost half of the patients surveyed would happily go out-of-network to be seen by a healthcare professional with more favorable reviews.
While your brand identity can be defined by the service you provide, your reputation is a much bigger concept. It is often constructed by other people's perception of your brand, whether they are your existing patients or prospects. Everyone has an opinion of what value your brand adds to their life, and those opinions form your reputation.

Focus on these key areas and not only will you see an improved online reputation, you will also experience better success with your brand and increased patient volume.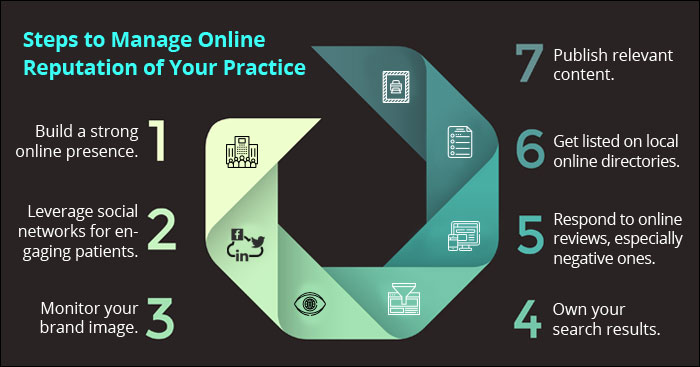 1. Quality of patient service: Most online complaints stem from bad patient service. According to a study conducted by Accenture Strategy in 2015, 64 percent of customers defected from businesses due to bad customer service. Worse than losing business and revenue, negative word-of-mouth from angry customers creates a ripple effect of bad publicity. Negative feedback spreads faster than positive feedback. Never let your patients leave dissatisfied. Ask them about their experience, and deal with grievances before they snowball.
While large hospitals may have access to the latest and most sophisticated software to deal with patient complaints, small individual practices have the advantage of human touch. According to a 2016 report by Salesforce Research, nearly 66 percent of people would consider switching brands if they were treated as a number rather than an individual. Smaller practices have the advantage of being able to respond individually to their patients. Better yet, these practices can create custom solutions that make the unhappy patients feel heard and taken care of.
For smaller practices, social networks can be a simple and cost-effective way to hear what people are saying about their brand and to connect with patients. It can even be used to pacify angry patients. Many irate patients simply want their complaints to be heard. Giving them a place to rant, and get a response, can neutralize some of the reputation-damaging content.
Online reputation management is not just about minimizing negative publicity. It can also be about circulating positive content that brings attention to your brand value and quality of service. Patient success stories can be a great way to boost your practice's profile on the Internet. Patient success stories also happen to be one of the most successful forms of marketing.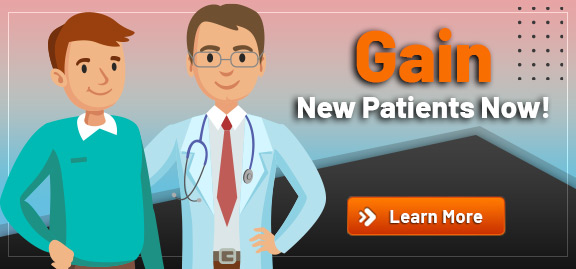 Remember, a practice's reputation starts and ends with its patient service. By providing unmatched service and fixing problem areas, you can improve and repair your online reputation before it goes wrong.
2. Nature of online reviews: Regardless of the size of your practice, people talk about you online. They may be sharing experiences on Facebook, rating your practice on Google+ or leaving a comment on one of the review sites. Potential patients who read these opinions take them to heart.
A survey conducted by the Pew Research Center found that nearly 40 percent of US adults read online ratings or reviews before purchasing. That statistic is even higher for Americans under age 50. In the online world, your loyal patients, as well as detractors, have an equal opportunity to express their opinions. Patients hold all the power, and they can use it to build the online image of your practice.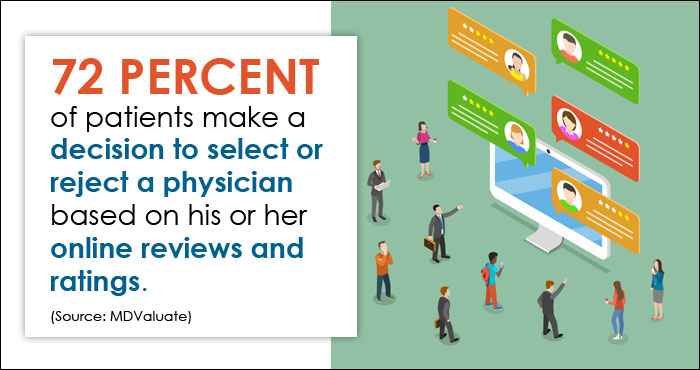 The words of your existing patients become the social proof your potential patients will look for when assessing your practice's credibility and reputation. So instead of fearing negative reviews or pretending that they do not exist, you must take a proactive approach to addressing online reviews. Always acknowledge feedback from your patients. Show your appreciation for the positive feedback, and manage negative feedback by working to resolve pain areas.
Getting high ratings and positive reviews are great for your practice, but do not feel content in just acquiring that five-star reward. You must learn to leverage it to improve the patient experience and brand development. On the flipside, if someone reviews you negatively, you need to engage them and find out how you can improve. It is easy to ignore negative feedback as trolling, but if you want to be successful, you need to engage with the naysayers and find out what steps can be taken to turn that one-star into a five-star next time.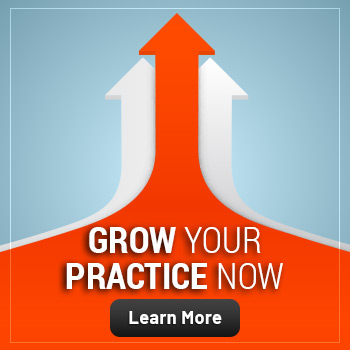 The positive reviews you receive can be your best marketing tools. You must promote positive reviews on your website and draw attention to the good things your patients say about your service. There is no better narrator for your awesome service than a happy patient. However, before sharing reviews, always seek written consent from the patient to protect his or her privacy.
3. Social media presence: It is not enough to just "be present on social networks." It is important to act the right way, as well. Social networks play an integral role in establishing and improving your online reputation. The huge number of platforms available, their popularity in search engines and how quickly they can spread the good word about your practice – all of these make social networks a powerful tool in your reputation management arsenal. If implemented effectively, social networks can impact your online reputation in three ways: establish, repair and strengthen. It is important to have a strong social media marketing strategy that helps you determine the type of content you will be sharing and the manner in which you will be interacting with your target audience. Without a strong strategy, a seemingly random comment can snowball into a huge reputation problem.
In addition to creating a solid social media strategy, you can use these networks to your advantage with these best practices:
Claim your brand name on major social platforms.
Use social networks most relevant to your target audience.
Post useful content consistently.
Use a variety of social networks, such as online forums, blogs and the big four (Facebook, Instagram, Twitter and Google+).
Whether you are looking to establish your online reputation or repair damage, full engagement on social networks is a must. Although there are way too many social networks to effectively keep track of everything everyone says about you, the real-time publishing nature of social networks can help you see a fairly accurate picture of how others perceive your practice. And knowing what your target audience thinks of you is the first step to managing and protecting your online reputation.
4. Local search ranking: Healthcare is primarily a local industry, with the majority of patients preferring a local physician so that they do not have to travel. This makes it critical for medical practitioners that their website shows up in local searches by their target audience. Being visible on the search results page increases the chance that a potential patient will book an appointment with you, and he or she could end up being a repeat patient.
Managing your local presence is the most critical task for any healthcare provider. According to Google, almost 73 percent of all online activity is related to local searches. Your medical practice, for the most part, relies on people who live in or near the same area where you are located. It is uncommon to see a patient from Chicago scheduling an appointment with a doctor in Boston.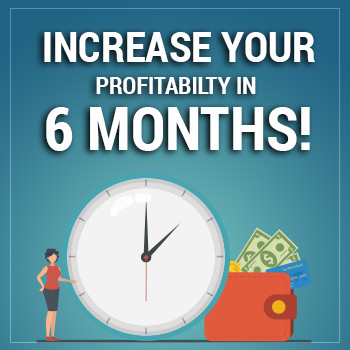 For instance, when a potential patient searches for "physician in Edison" on Google, various options come up on the first page of search results. If you are a physician in Edison, then you will want your medical practice listing to appear in the top few positions in the search engine results. Correct? According to a survey from Search Engine Land, 50 percent of customers who searched on their mobile phones visited the store within a day, and 34 percent who searched on their desktop did the same. This means the ranking has a direct influence on in-store traffic.
Google My Business is Google's business listing service. This service allows you to develop a page where you can add vital information about your medical practice that people are searching for, including your address, work hours, phone numbers and services.
5. Frequency and relevancy of blog: Blogging is an effective way to build and maintain your online reputation. Consistently posting relevant content on your blog will show that you know your target audience and are happy to keep them informed. You may provide wellness tips, announce local events and share updates about your practice. You can promote the blog using Twitter and use it to engage with existing and potential patients.
As you include blogging as part of your online marketing strategy, you will see a positive change in the way potential and existing patients perceive your brand and social media presence. Just by including a few plug-ins on your blog page, you can enhance your social media presence and strengthen your online reputation. You can allow your readers to share your blog posts on social media platforms.
If your blog topic is useful and well-written, it will be shared multiple times, increasing your online visibility and attracting business opportunities.
Blogging is not merely a way to share your ideas and thoughts. It can help you develop a community, grow a loyal patient base and build a brand that customers can trust. A consistent and informative blog sends signals that your practice is knowledgeable and trustworthy and is expanding. If used correctly, a blog can establish you as a leader in your niche, give you content for social media posts and drive traffic and conversions, not just in the short term but for years after you hit the publish button.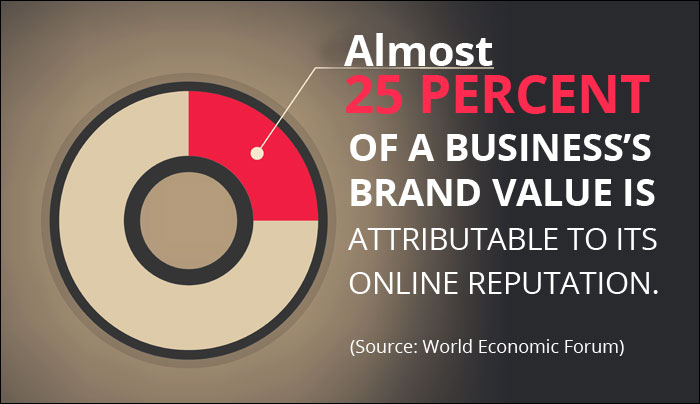 The Bottom Line
No matter the size of your practice, being active online and monitoring your brand mentions is important for maintaining a positive online reputation. Now more than ever, patients are sharing experiences on Facebook or tweeting about your services and leaving feedback on your blog instead of calling your office directly.
How your office responds to these online comments and criticism can make or break your online reputation, which in turn will impact your bottom line. If you think you can ignore online reviews and feedback, think again. Your online reputation is more important than you realize.
As a healthcare practitioner, your online reputation can position you as an expert – and determine the success of your practice. Take full advantage of various online tools and strategies while protecting your reputation from potentially damaging information that you cannot control.
Online reputation management for physicians is a worthwhile investment that will pay off professionally and personally. This is why most healthcare providers choose to hire professionals to help them build and improve the online reputation of their medical practice.
If you need help with physician reputation management, Practice Builders is an award-winning marketing agency offering SEO, social media marketing and reputation management solutions. Contact us today for a free demo.