Running Short of Ideas to Grow Physical Therapy Clinic? Try These!
Posted on

Once you've set up your clinic, the next question is: how to grow physical therapy clinic? Because if your practice isn't growing, it's probably shrinking!
Growing a physical therapy clinic isn't easy. The success of your clinic depends on your efforts to grow profits using various services. From staff training to digital marketing, every aspect of your physical therapy practice deserves attention.
Rapid growth won't happen overnight, but there are several physical therapy growth ideas you must implement to take your practice to the next level. No doubt, it'll take time and effort, but when you start reaping the benefits, you will see that the effort is worth it.

Physical Therapy Clinic Growth Ideas
For your convenience, we've put together real-life ideas from successful physical therapy practices – ideas you can pick up and implement right away, without wasting time on research or test. And, these ideas won't need you to spend a fortune in implementing them.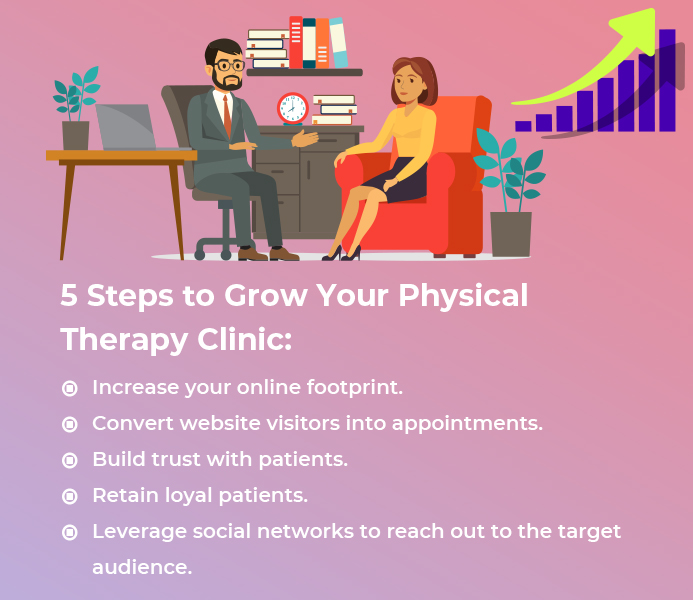 In this blog, you'll discover five physical therapy marketing ideas. If you want to take it slow and safe, test one idea at a time and see how it impacts your growth and revenue.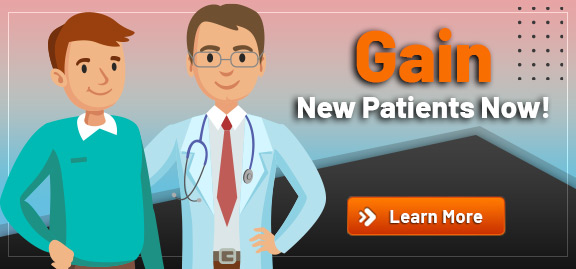 1. Revamp your website: If your website is not converting visitors into patients, it's time to revamp or design it. Your service may be excellent, but if your website looks like it was designed a decade ago, potential patients will move to competitors who have more impactful and aesthetically designed sites. Your website should be easy to navigate so that potential patients can easily find what they are looking for. Your website should also help create a feeling of trust and motivate visitors to take action. If your practice is struggling to attract patients online, it could be because your website is not appealing enough and turning prospects away. You need to hire a physical therapy marketing agency to help you develop a mobile-friendly and easy-to-navigate site for your practice.
2. Work on improving patient service: If you don't provide quality service, you won't satisfy existing patients, who are a significant source of bringing in new patients through word-of-mouth marketing. Providing good quality, personalized service is all about taking the extra step to make your patients feel special. Let your patients know that they are valued. If they have questions or concerns, make sure you address them right away. Social networks are a great way to understand your patients by monitoring their comments and following your brand mentions. If your existing patients find the service satisfactory, they will not hesitate to encourage others to consider your practice.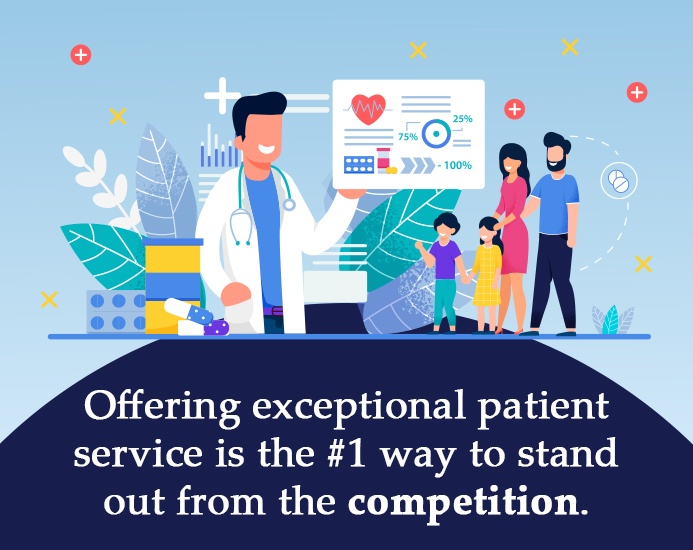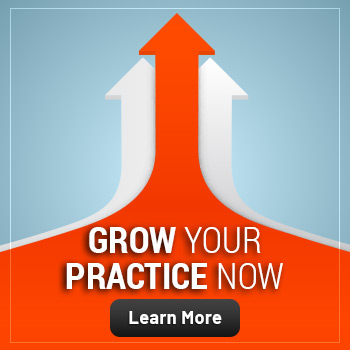 3. Partner with local physicians: Partnerships between healthcare providers are symbiotic. This means both doctors benefit from helping each other. We're not talking about buying out or merging with other practices. Instead, we are asking you to share each other's patient base, referring patients to each other. Partnerships can be even more effective if you find the right physician to partner with. In fact, physicians or primary care providers (PCPs) can offer a great deal in terms of boosting your patient volume as well as brand awareness. Just make sure you find a doctor who's willing to refer patients to your practice.
4. Advertise on local business online directories: Google My Business is one of the most popular online directories in the US. People often go to GMB to find about local healthcare practices and read what other patients say about those practices. Advertising your physical therapy practice in a directory like Google My Business will put you in front of prospects who need your service. Getting your practice listed on Google My Business will enable Google to organize your business details and display them to searchers in a fashionable manner. So, if you haven't claimed your physical therapy practice on Google My Business, it's time to do that.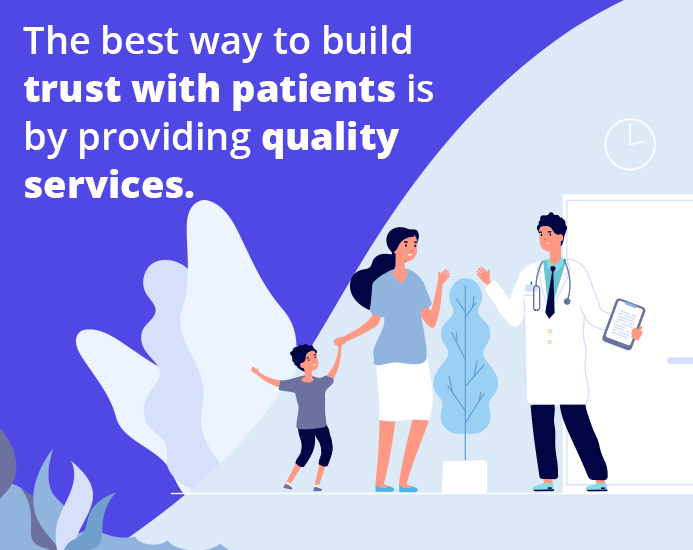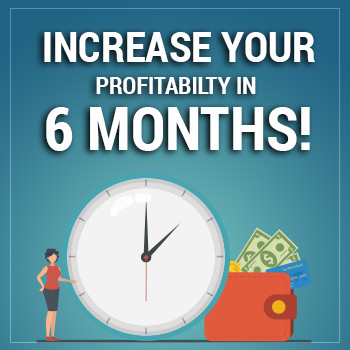 5. Leverage social networks: Social media, without a doubt, is a powerful healthcare marketing tool. It helps you reach out to thousands of potential patients at once. Make sure your physical therapy clinic has a page on major social media platforms, and you are spending enough effort and time on keeping your followers engaged. Listening to your followers and responding to their comments will help you make them feel valued. You will also understand their likes and dislikes and find a way to meet their expectations. The best part is – you don't have to spend a lot of money to engage people on social networks. Just keep an active presence and make your followers feel heard.
Looking for more ideas to market physical therapy clinic? Read here.
Conclusion
Once you dive in and start implementing ideas, you will know what works and what doesn't. Take note of these ideas and use them again to help your practice move forward. The goal is to stay relevant. Keep refining the approach and focus on strategies that bring good results. In the end, your hard work and persistence will help you achieve the desired growth.
Need help mapping all of this out? If yes, contact us, and we'll love to explore the opportunity to help you plan and implement your physical therapy practice growth strategies.