A Complete Guide to Patient Retention at Your Medical Practice
Posted on

There is a lot of information available about how to attract new patients to your medical practice, but not much thought is given to patient retention. What most medical professionals do not seem to realize is that retaining a patient requires less time and money than acquiring a new one.
Whether you have recently set up your practice or have a successful 20-year career, patient retention will always be critical to your success. As a medical professional, have you ever wondered why patients do not return to some practices? What do patients expect? When some of the patients were asked reasons for their dissatisfaction, this is what they reported:
1. Feeling of being neglected or left out
2. Poor communication or misinformation
3. Feeling rushed
4. Lack of description for tests and procedures
The real issue is: Medical practitioners do not have enough time to ensure patients' needs are met. As a result, medical practices are always facing situations where patients drop out of treatments before their completion. Here are four main components of patient retention, which if implemented correctly, will help your practice:

1. Educate: Make sure you educate your patients on all the treatments you offer. Create a brochure to leave with your patients and tell them the URL to your website. Always keep your website and printed literature updated. You can play informational videos about your practice and services in your waiting area for your patients to watch.
2. Ask: You can ask your patients about their experience with your practice, and to return to your practice for any further needs. Your patients must know that you value them and the trust they have in you. You can request your loyal patients to recommend your practice to their friends and families.
3. Measure: In case the patient leaves your practice despite all efforts, you must learn the reasons behind this decision. Do not let such incidents go unnoticed or it will hurt your reputation and business. It is critical for you to measure patient satisfaction. However, measuring satisfaction is one thing, but implementing changes based on patient feedback is what will eventually matter.
4. Communicate: Always look for innovative and efficient ways to communicate with your patients while they are at your office. Keep communication lines open at all times. You can use patients' email ids for sending out satisfaction surveys, monthly newsletters, discount coupons, etc. For a more personalized touch, you can call your patient after a procedure to check if they are recovering well. These gestures will make a pleasing impact on the way a patient perceives your practice. According to published reports, email marketing is the most effective tactic for patient retention, yet most medical practices lack an automated platform for providing the right information to the right patient at the right time.
So, do you have any strategies in place for retaining patients? Not every suggestion or plan that you read online will be tailored for your medical practice. Standard methods such as an active referral system, online visibility, SEO tactics, supportive staff and your commitment will ensure your success at retaining patients. Here are some of the basic, but effective, patient retention strategies to consider: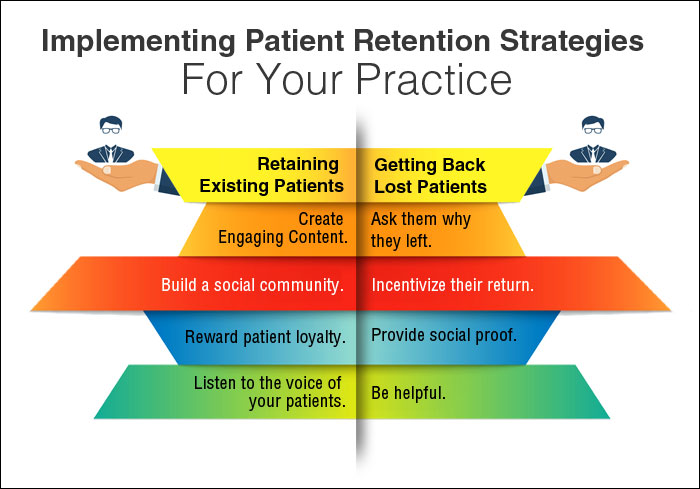 1. Inform patients about their next appointment: Make sure your patients are told the date and time of their next appointment and encouraged to return. While this may not seem vital, it is one of the most common causes of patients not coming back for further treatment. When your patients come for their first appointment, show them a personalized calendar with a treatment schedule that is tailored just for them. A customized calendar will convince your patients of your commitment and the importance of their next visit. Before they leave your office, your staff should give them a schedule that shows their next appointment date. You must train your employees to emphasize the next appointment when the patients are leaving your office.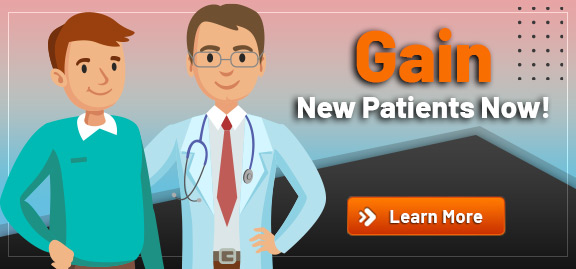 2. Make the appointment process easy: Never play hard to get, especially for your patients. If your patients are having a difficult time scheduling an appointment, they will be upset before they even come to your office, or they may choose a competitor over you. Ideally, it should not take more than a couple of minutes for your patients to schedule their appointment on your calendar.
3. Send appointment reminders: Your patients may forget or miss their scheduled appointments. It is important to ensure that they are regularly informed of upcoming appointments to make sure they do not compromise their health. You can consider automating your appointment reminders via emails and texts. In some practices, automated appointment reminders have reduced 'no-shows' by more than half.
4. Follow up after the appointment: After the patient leaves your office, make sure to send an email or call them to ensure they are following all the instructions. It is a good idea to show them you are interested in their well-being and recovery. You can also consider keeping patients up-to-date on the progress of their treatment.
5. Gather patient information: Be sure to collect key data points, such as patient's name, birthday, contact number and email, from every patient. There still are some practices that don't collect and save this information. This data helps in locking necessary patient retention tools. Using patient contact numbers and email, you can easily automate appointment reminders, important updates, birthday wishes and more.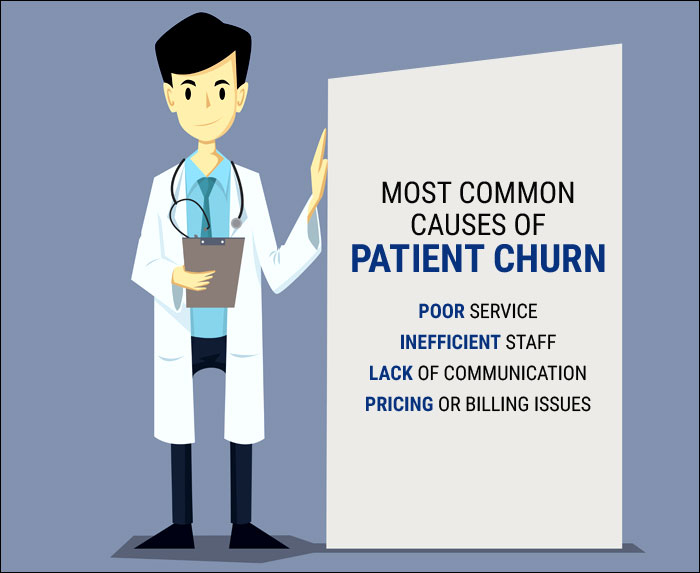 6. Keep the patients updated: You can send out newsletters carrying practice updates to your patients. In the newsletters, you can also include a call to action to refer someone or schedule an appointment. Newsletters can also be used to remind patients of all of your service lines and treatments. Be sure to include website and social media links.
7. Strong referral system: Your first step should be to look at the people in your practice, as they are your cheerleaders. You can get referrals from patients, staff members and other professionals. To build a strong referral system, consider setting up a team of professionals and loyal patients who will act as your brand ambassadors.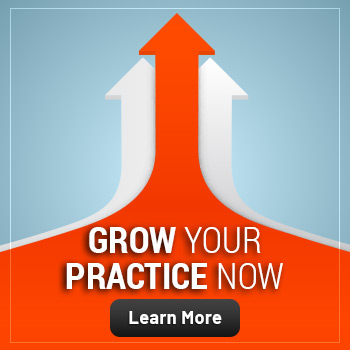 8. Focus on each patient: Be respectful and tolerant while listening to patients' concerns and myths about their illness. Your patients will only feel connected to you if you are listening to their worries. During an appointment, ask about their lifestyle, habits, sleep patterns, etc. Sometimes patients do not realize what may be affecting their health and how to fix it. As you guide them through the rough spots, they become more confident and encouraged.
9. Send out satisfaction surveys: Sending satisfaction surveys to your patients will help you to see whether or not your treatment is having a positive impact on their well-being. Through these surveys, you patients may express their positive and negative experiences. Such surveys give you the opportunity to re-examine your strategy and change the aspects that aren't yielding positive results. According to the Medical Group Management Association, nearly 80 percent of "better-performing" practices are using patient satisfaction surveys.
10. Simplify billing process: Simplifying the payment process is another way to increase patient retention. This is because patients will be more likely to come back to your practice if the billing process is transparent and straightforward. You do not have to overhaul the entire process. To begin with, you can ensure bills are written in clear and easy-to-understand language, minimize medical jargon, outline multiple payment options, have easy-to-locate contact information and provide maximum transparency in itemized statements.
11. Gift card promotions: You can increase patient retention by introducing gift card promotions. These initiatives will act as an incentive for your patients to make appointments at your practice. Each month, you should randomly give away a few gift cards to patients who booked appointments with you.
12. Build personal relationships: You should try to develop and maintain positive relationships with your patients. Simple gestures, such as ensuring that your staff is courteous, patients were offered water when they arrived at your practice, go a long way in building a lifelong bond. You should train your employees to walk each patient through their appointment with helpful instructions, preparing for a lab test or checking out.
13. Develop a marketing campaign: Satisfying and retaining patients is a crucial part of a successful medical marketing program. You can start by contributing to a blog, posting on social media and sending emails to your patients informing them about appointments, general health tips, surveys, industry news, testing results and much more. If the patient is not a regular one at your practice, your social media posts will play a critical role in maintaining a connection.
14. Get your systems up-to-date: It is advisable to invest in the right tools and to run your practice. With the increasing popularity of electronic medical record software, you should have a fully automated system for maintaining customer data, scheduling appointments, sending reminders, improving billing processes and other information management.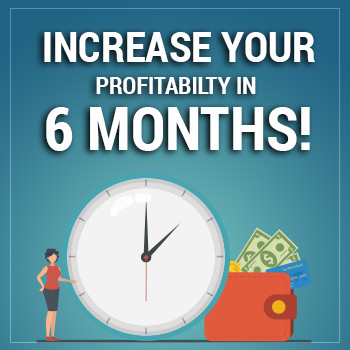 15. Promote patient engagement: Patients are important stakeholders in their healthcare and can provide valuable input for improving the quality of your service. Therefore, you must encourage them to make choices about their treatment plans and keep them informed of the latest healthcare options.
16. Be polite: Your staff should be trained to interact politely and professionally with patients. You must take some time to listen to how they answer patients' questions and if they are courteous enough to help patients. The behavior of your staff will significantly impact your patient retention rate.
17. Educate patients: Educated and informed patients are usually the most satisfied ones. If your patients are happy with the quality of your service, they will return to complete their treatment. Many patients derive satisfaction from learning about their illness. They want you to tell them all you know about their illness and the further course of action.
18. Adopt flexible working hours: To attract more patients to your practice, you may have to make a few adjustments to your work schedule. If you listen to the reasons why your patients miss their follow-up appointments, you will know that the biggest reason is their inability to arrive at your office at the set time for their treatment.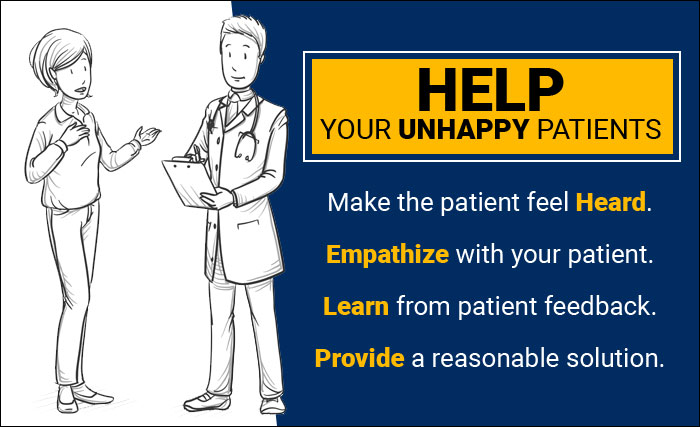 19. Manage your reputation: Reputation marketing produces steady results, whether online or offline. The majority of patients who search online for local physicians are more likely to see a directory review rather than your practice website. Also, most patients who want to come to your office will trust online reviews about your practice more than a referral from a satisfied patient. Therefore, promoting your reputation will make the community see you as a trusted medical practitioner.
20. Be empathetic: This is a very effective way to improve patient retention. Try to put yourself in your patient's shoes and think like one, from the first contact on the phone until the patient leaves your office after treatment. During this role-playing exercise, be as critical and as observant as possible. Your role playing should cover welcome greetings from your front desk, experiences in the waiting room, interactions in the exam room and billing department.
21. Motivate your staff: The secret behind a winning team is a mix of people working hard toward one common goal. Patient retention has a lot to do with your staff and their attitude. When hiring, pay attention to the best combination of polite, efficient, professional, pleasant and optimistic staff.
22. Provide unmatched customer care: You must strive to go above and beyond to enhance the patient experience. Always use patient's first name in all communications, take steps to lessen boredom in the waiting room, and train your staff to be warm and friendly – these are small gestures that will boost your patient retention efforts.
23. Tactfully handle upset patients: When you notice an angry patient at your office, try to be calm, polite and empathetic. It might be a good idea to ask how their day is going and if there is you can do to make them feel better. A little sympathy can make someone's day.
24. Handle negative reviews calmly: Even the best medical practices receive negative feedback. If your practice receives negative feedback, it is best to handle it promptly and professionally. Thank the reviewer for the feedback and address their concerns. Even if you cannot resolve the issue, make them feel heard and apologize for their unpleasant experience at your office.
25. Don't lose heart: Even if a long-time patient leaves your practice, don't despair. The first step is to contact the patient and find out the reasons they left. Try to address and resolve their concerns, if possible. However, if the issues are not fixable, thank them for the input, make the suggested changes, and let them know. By maintaining a constant touch, they may eventually come back to you.
Comfort leads to satisfaction, and patient satisfaction leads to retention. Learn how Practice Builders can help your practice improve patient satisfaction and retention. We have the knowledge and expertise you need to take patient retention to the next level. Contact us to learn more about our patient retention strategies.