Asking Patients For Online Reviews Giving You Sweaty Palms? These Tips May Help!
Posted on

,

In case you've been wondering…
How to get more patient reviews?
What other doctors are doing to gather reviews?
What are the dos and don'ts of getting patient reviews?
We've got you.
Patient reviews are essential. Because positive reviews translate into more patients and higher revenue. A few positive comments from a happy patient can impact your bottom line more than an entire paid ad campaign. Positive reviews are often the reason a new patient chooses you over competitors.
Look at the numbers – 80% of people trust online reviews as much as they trust recommendations from family and friends. Because we live in the digital age, 95% of people read online reviews. And that number is growing every day. It suggests that your target audience is scanning the internet for reviews of your practice and services.
If you can show that you have many satisfied patients, you'll look much more trustworthy and legitimate in a prospect's eyes. Positive online reviews also help your local SEO. Search engines like Google see new reviews as fresh content, and the more positive reviews you can gather, the more positive you'll look to search engines. This is especially true of local medical practices looking to boost their local SEO.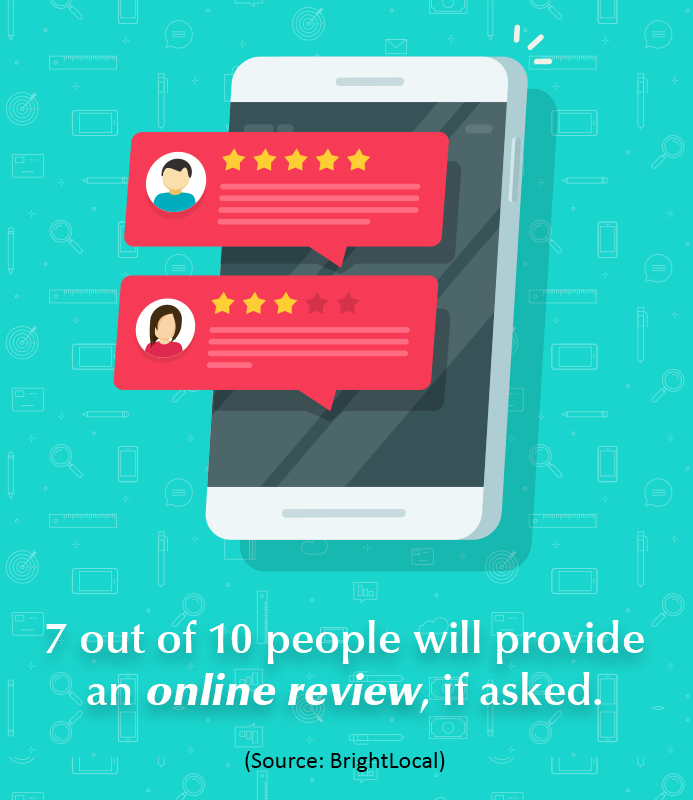 Bottom line: Patient reviews matter. In this article, we'll explore a dozen smart ways to ask your patients for reviews.
12 Best Ways to Ask for Reviews
Soliciting new reviews can be tricky. Asking or encouraging your patients to post positive online reviews of your practice requires some creativity. These statistics underscore the importance of online reviews and online reputation management:
79% of patients use online reviews in their provider selection process
30% of patients avoid poorly rated healthcare providers
63% of patients check 10+ reviews before choosing a healthcare provider
77% of patients consider the review's age as important
Here are some tips to help you get started:
1. Send Targeted Emails
Emails are one of the smartest, most effective ways to gather patient feedback. It's a good idea to segment your email list into those patients most likely to post reviews. The list should include loyal patients and those who have visited your practice three or four times in the recent past. Always personalize your emails to specific patients, and write as if they're coming from you or a staff member rather than the practice. Stick with plain text emails as they have higher open rates. And remember to display your call-to-action (CTA) prominently.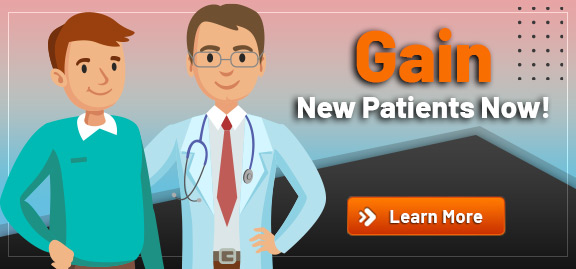 2. Use SMS
Most online reviews are posted from mobile devices. Features like voice dictation typing are enhancing patients' ability to engage with their providers and write reviews straight from their smart devices. If you send patients review requests via SMS, there's a good chance they'll click on the link. The open rate of text messages is a whopping 98 percent, whereas emails typically have a 40 to 50 percent open rate. Still, sending your review request through SMS requires some thought, because of the character limitations.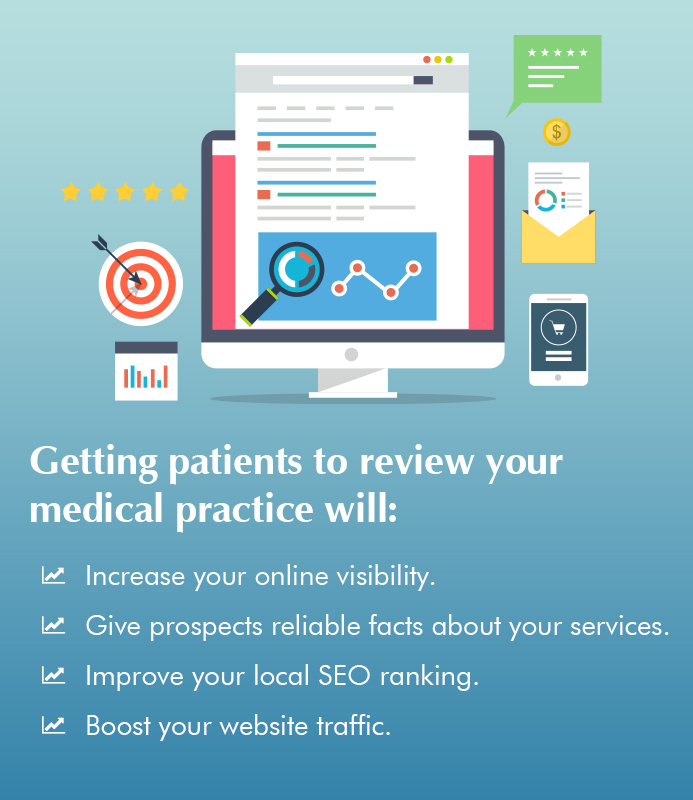 3. Design Web Landing Pages
An increasing number of healthcare providers are creating dedicated landing pages to collect patient feedback and generate reviews. It's a great way to encourage patients to share their experiences at your practice. You can facilitate these landing pages using survey forms and review generation software. Once you have set up your feedback page, identify touchpoints to drive patients to the page. Share the link to your review page across your social media profiles or give patients a friendly reminder during their appointments.
4. Ask Directly Right After the Appointment
A more personal and direct way to ask for reviews is during the appointment. Picture this scenario: towards the end of a patient's visit, you hand them an iPad to fill out a short form. You can publish the feedback you capture through this form as an online review. Asking for reviews right after the appointment is a great way to capture positive reviews immediately after the care experience. It's also a valuable opportunity to strengthen your patient relationships. Directly asking patients for online reviews works. According to BrightLocal, 7 out of 10 people will provide an online review if they are asked.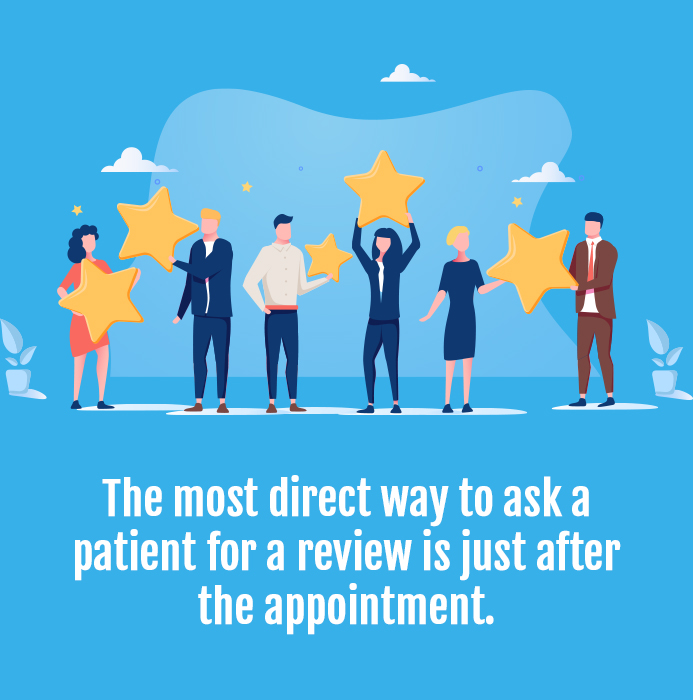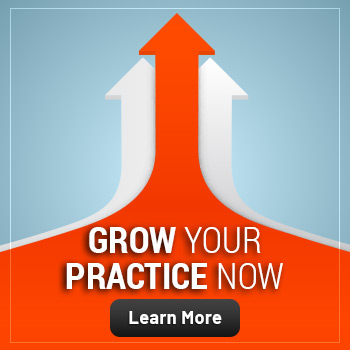 5. Link to Your Online Listings from Your Website
Simplify the process for patients to write online reviews. Place your review links across your website to direct patients. Save your patients the time they'd spend searching for the best places to put their reviews.
6. Print Instructions
Some patients want to share their positive feedback with you, but they just aren't tech-savvy about navigating review sites. Use printed instructions to help these patients easily post their reviews online.
7. Snail Mail
Now that computers and digital communications like email have taken over, most people are receiving less snail mail than ever. That makes snail mail a great way to reach older patients and those who are used to receiving physical mail. It costs a little more, but it can help you better connect with more patients and lead to more new reviews.
8. Make a Video
Videos get attention. People watch over one billion hours of videos on YouTube every day. Try making a brief video where you thank patients for visiting your practice and ask them to leave a review. Include a direct link to your review platform or website.
9. Use Social Media
According to Statista, over 80 percent of all Americans use social media. Connect with patients on Instagram, Facebook, Twitter, and other social platforms. Ask them to share their positive experiences with others on those platforms.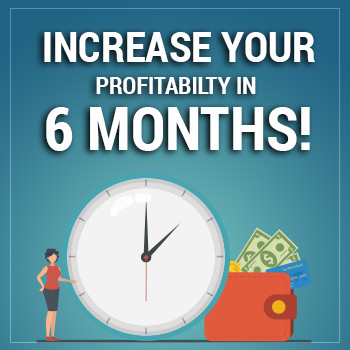 10. Enhance Patient Follow-up Calls
When your staff makes follow-up phone calls after patient visits, encourage them to suggest that patients write online reviews. This method can be extremely effective with the right patients and circumstances.
11. Make It a Standard Procedure
Involve every member of your office team in asking for reviews. You're going to need your staff's cooperation and support to make it work, so ensure that asking for online reviews is part of your office's daily routine.
12. Use Online Reputation Management Software
Asking patients for reviews and managing your online reputation can be time-consuming. Save yourself the time you'd rather devote to providing quality care for your patients by using reputation management software for doctors. The right application or system will be a key asset in asking your patients for more reviews, improving your patient relations, and managing all your reviews in one place.
Conclusion
Positive reviews play a huge role in convincing prospects to choose you over your competitors. Using a proactive reputation management tool will help you generate more positive patient reviews to take your practice to the next level.
Remember, the most effective way to get patients to post positive reviews about your practice is to consistently deliver excellent experiences. Focus on providing what your patients expect and need from you. Positive patient reviews are worth their weight in gold, so keep looking for new ways to generate more.
Still, wondering how to get patients to write reviews for your practice? To learn more, simply contact us.