Asking Patients For Online Reviews Giving You Sweaty Palms? These Tips May Help!
Posted on

Are you wondering…
How to get more patient reviews?
What tricks other doctors are following to gather reviews?
Are there any dos and don'ts for getting reviews?
We've got you!
Patient reviews are essential. Very important. Do you know why? That's because positive reviews mean more patients and revenue.
A few positive comments from a happy patient can impact your bottom line more than an entire paid ad campaign. In fact, positive reviews can be the reason a new patient chooses you over competitors.

Look at these numbers – nearly 84% of people trust online reviews as much as they trust recommendations from family and friends.
Because we live in the digital age, more than 92% of people read online reviews. And that number is growing every day! Similarly, even your target audience are scanning the internet for reviews of your practice and services.
But there's a catch here!
Your prospects won't just read any review. They are looking for good reviews –relevant, positive, and latest ones.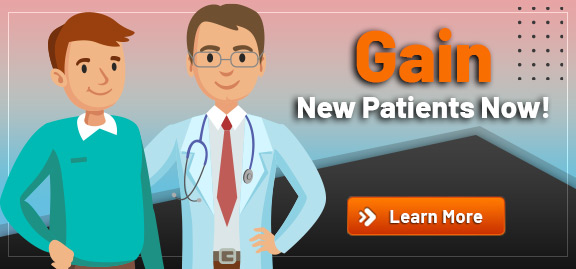 Complex, isn't it?
If you can prove that you have a line of satisfied patients, you'll look much more trustworthy and legitimate in a prospect's eyes.
And, did we mention that online reviews help your local SEO as well? Yes, they do!
Search engines like Google see new reviews as fresh content, and the more positive reviews you can gather, the more positive you'll look in search engine's eyes. This is especially true of local medical practices looking to boost their local SEO.
Click here to read more about how patient reviews can impact your SEO.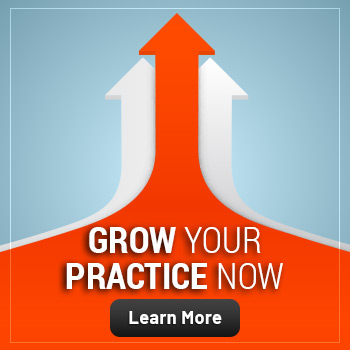 Bottom line: Patient reviews matter.
But to encourage your patients to post glowing reviews of your practice, you have to know how to ask them.
Smart Ways to Ask Patients for Reviews
Soliciting new reviews can be tricky. It's not an upfront point-and-click strategy like sending a mass mailer or setting up Facebook ads. Asking or encouraging your patients to post positive online reviews of your practice requires you to be creative and smart. Here are some tips to help you get started: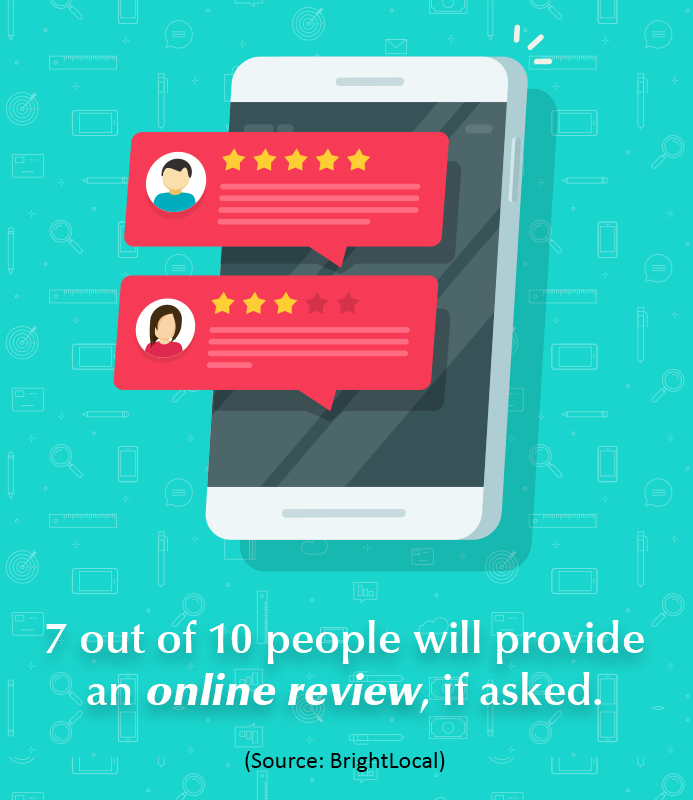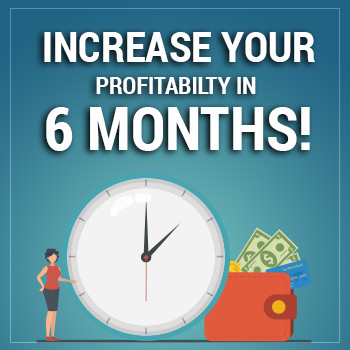 1. Send Targeted Emails
Emails are one of the smartest and the most popular ways to gather patient feedback. It's also a good idea to segment your email list into those most likely to post reviews. The recipients on the list should be loyal patients or ones that have visited your practice at least three to four times in the recent past. Always personalize emails, and write as if they were coming from a person – and not the brand as a whole. As much as possible, when sending emails for review requests, stick with plain text emails as they have higher open rates. Also, in plain text emails, your CTA will be prominently displayed. However, email isn't without disadvantages, and the biggest one is that you'll have little to no contact with the patients.
2. Use SMS
Did you know that the majority of online reviews are posted from mobile devices? Features like voice dictation typing are ushering in patients' ability to engage with their providers and write reviews straight from their smart gadgets. If you send patients a review request via SMS, there's a decent chance they'll click on the link. The open rate of text messages is a whopping 98 percent, whereas an email has a 40 to 50 percent open rate. Still, sending your review request through SMS requires careful thought, mainly because of the channel's character limitations.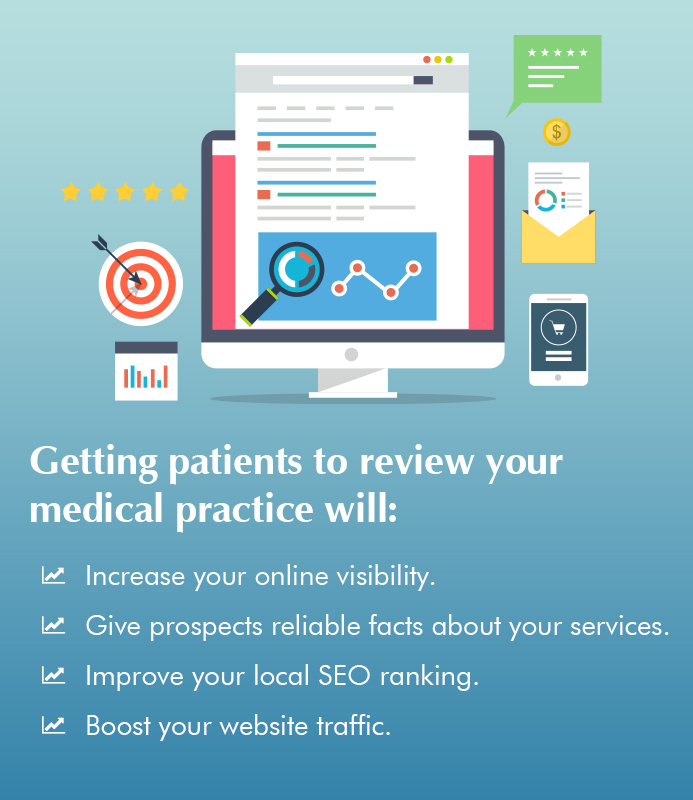 3. Design Landing Pages
An increasing number of healthcare marketers are creating dedicated landing pages to collect patient feedback and generate reviews. It's a great way to encourage patients to be more vocal about their experiences at your practice. You can consider facilitating these landing pages through the use of survey forms and review generation software. Once you have set up the page, identify touchpoints to drive patients to the page. You can share the link to the review page across your social media profiles or give patients a friendly reminder during the appointments.
4. Ask Right After the Appointment
A more personal and direct way to ask for reviews is during the appointment. Picture this scenario: towards the end of a patient's visit, you hand over an iPad to your patient to fill out a short form. Feedback captured through this form can be published as an online review. Asking for reviews right after the appointment is a great way to capture actionable reviews after the care experience. It's also a valuable opportunity for your medical practice to strengthen your patient relationships.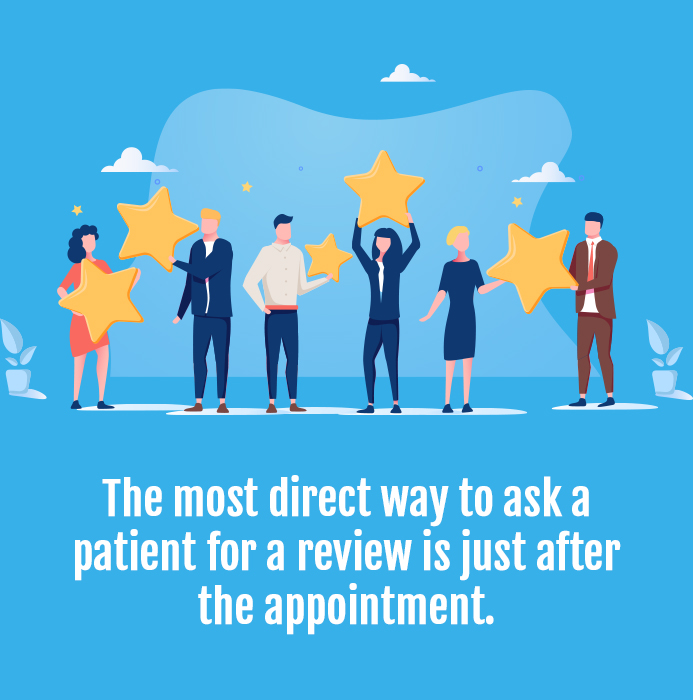 Conclusion
The most effective and smartest way to get patients to post positive reviews of your practice is to consistently deliver excellent experiences. Focus on providing what your patients expect from you. Glowing testimonials and 5-star reviews will start flowing in even without asking. And, if you happen to receive negative reviews, don't panic. Just follow up, apologize, and fix the problem. Patient reviews, especially the positive ones, are worth their weight in gold, so it doesn't hurt to keep looking out for new ways to get more!
Still wondering how to get patients to write reviews for your practice? Contact us today!